Reading Time:
5
minutes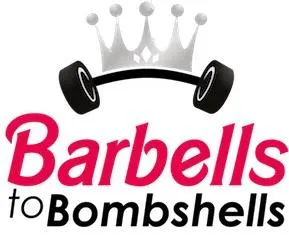 About Barbells to Bombshells
Barbells to Bombshells (B2B) is an activewear company that makes chic clothing for babes who lift, run and do everything and anything else. The brand makes comfortable and technical activewear that is still fashion forward and sexy.
I first noticed the B2B brand when I saw their heart booty leggings on a girlfriend. I remember NinaBRoze making their own variation of Heart Bum leggings but I unfortunately never got to try them before they stopped producing activewear and shut down the brand.
B2B is definitely a brand you should try. Read my review to determine if you need these in your closet!
Barbells to Bombshells Review: Heart Booty Leggings
I chose red and black because they would be great for Valentine's day. I usually don't do themed classes, but these were too perfect to pass.
#1 Size: Per the B2B size chart, I chose a size small to review. The leggings were a perfect fit for a size 4-6 bottom. I am a size 6 in lululemon for sizing reference. I would go for you TRUE SIZE in B2B bottoms.
They also sent me a sports bra in medium for review but it was too small. I am usually a size 8 in lululemon sports bras. It came with cups for added support. I would not follow their size chart and size up in their sport bras. Next time I am going for a size large bra.

#2 Style: B2B makes long leggings, crops, shorts, tanks, tees, sweaters and accessories. All their activewear is made for the babe who lifts and does everything in between.
#3 Inseam: The length from the crotch to the bottom of the pant measures 26″ in the size small pant. The leg opening sits above my ankle and doesn't bunch up. I cannot wear the leggings over my heels.
#4 Rise: Standard rise with the waistband sitting just below my navel. The leggings have a 9″ front and 11″ back rise.
#5 Waistband: The waistband is tall and measures 2.75″. There is a seam inside the waistband for a stay put fit. The tall waistband sits just below my navel. I didn't experience any slippage during practice. This waistband also has a pocket in the left front of the hip.
#6 Fabric
Fabric Content: 87% Nylon and 13% Spandex blend
Fabric Feel: The fabric feels durable and a bit stiff when you first try it on and touch it, but softens as you break them in. The fabric is comparable to Athleta's Lycra fabric. Read my Athleta Chaturanga review here.
Fabric Performance:

Quick and Dry Wicking
4-Way Stretch for a form-fitting and compressive fit.
Mesh panels for breathability, making it great for all sports and activities.
The leggings have not pilled and I've worn them three times.

Opacity: The red fabric helps with opacity. The leggings were 100% opaque in the red areas (except mesh, obviously). I did experience some see-through in the black fabric areas around my calves and could imagine if the black fabric were on the bum area, it would be see-through too. The fabric is NOT white-backed.
Fabric Features:

Heart design is sewn into the bum area of the leggings.
Reflective logo on the back waistband of the pant.
Red mesh panels wrap along the back and side of the pant.
There is one waistband pocket in the front left of the hip area.
#7 When to Wear: B2B is great for wearing during exercises and beyond. I recommend their pieces for all activities.
#8 Cost: B2B leggings are affordable and cost $55-75. Scroll down for my 10% off coupon code below!
#9 Gusset: The leggings do not come with a gusset. There is an + shaped seam in the gusset area of the pants. Despite not having a gusset, I did not have to worry about the seam splitting.
#10 Stitch Seam: The leggings are constructed with a plain/overlocked seam. I did not experience any bulkiness from the plain seam. There is a seam inside the waistband for a stay-put fit.
#11 UPF Protection: Not disclosed.
#12 Made in China.
#13 Care Instructions: Machine wash cold inside out and hang dry the leggings. I hang to dry on a foldable this one. The care label also mentions avoiding softeners, dry cleaning, bleach, and ironing.
Should I Buy Barbells to Bombshells?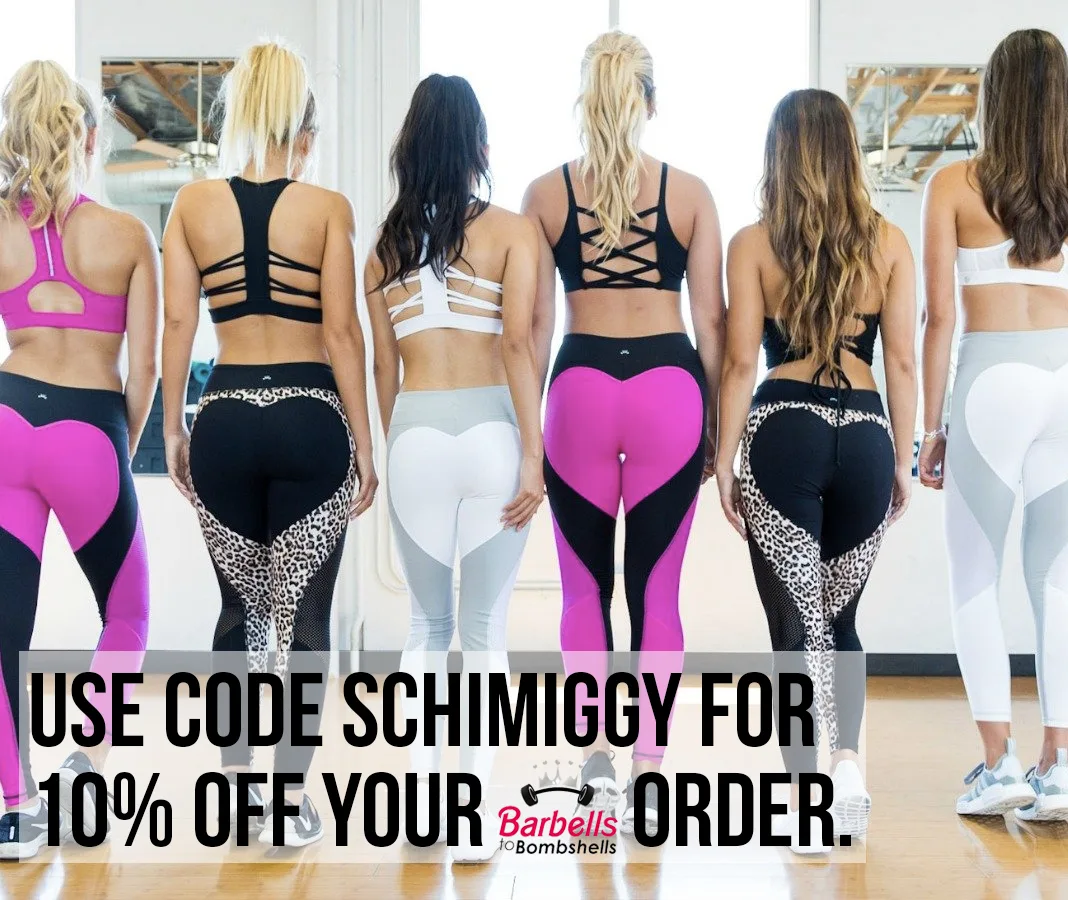 Yes you totally should! If you want to flaunt your backside, B2B's Heart Booty leggings are the way to go. The leggings were very comfortable and looked great on. They were overall better than I had anticipated. They are also perfect for all types of high to low-impact activities. I can't wait to wear these EVERYWHERE!
I would love to try the Heart Booty leggings in white to further assess their opacity. It's hard to find white leggings that are truly opaque (not see through).
Where to Buy Barbells to Bombshells
Buy Barbells to Bombshells through their online store. Use Barbells and Bombshells coupon code SCHIMIGGY for 10% off ALL your orders. Enjoy!
---
For more fitness fashion discounts and deals, please visit my Fitness Instructor Discounts + Brands page.
I was not compensated for this review. All opinions and thoughts are my own and 100% honest!