Reading Time:
6
minutes

About SPANX
SPANX revolutionized the shapewear industry in the early 2000s.
The brand was created by Sara Blakely who had an idea to make the best hosiery ever and she executed it strategically.
I remember wearing them under my formal dresses and looking bomb dot com. The shapewear smoothed out any visible wrinkles or bumps.
They were not cheap by any means, but they worked and worked really well.
Soon I was seeing SPANX in high-end department stores and everyone and their momma had a pair.
Fast forward years later, SPANX decides to create the same figure shaping product but in the form of leggings. I was excited to give SPANX leggings a try.
Let's head into my review of their Faux Leather Leggings.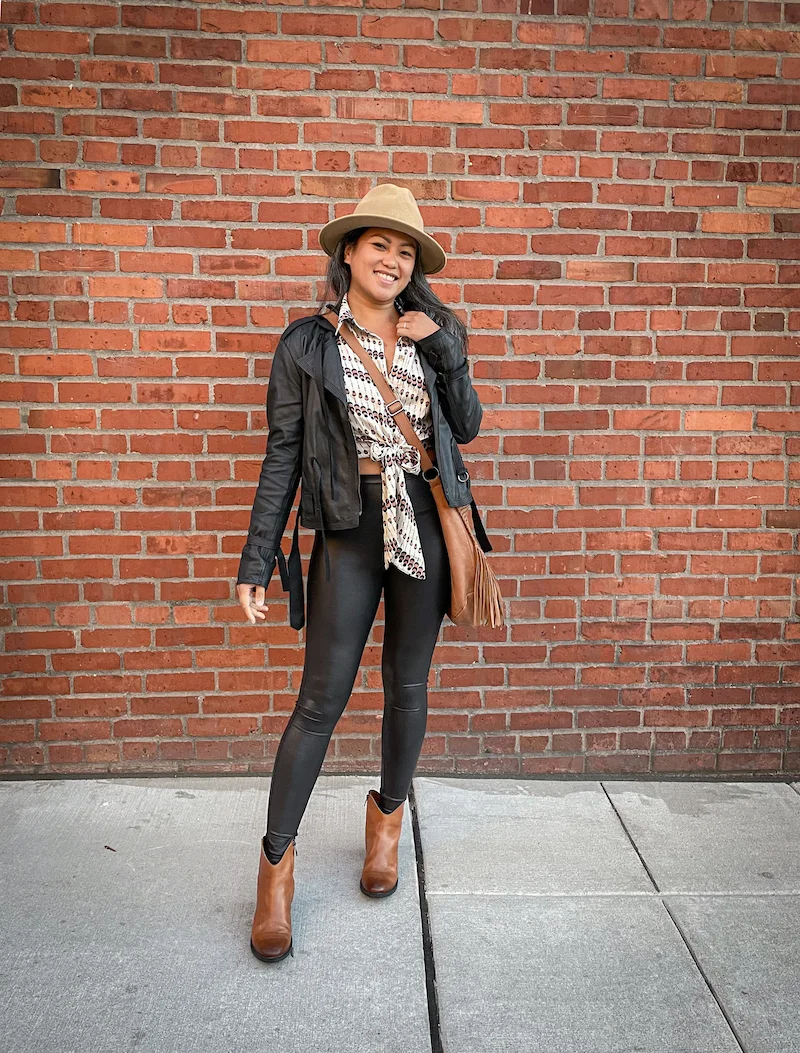 SPANX Leggings Review
I chose black SPANX leggings because they're the easiest color to wear. I also received them at a discounted price.
When I first saw held the pair up to my face, I was thinking they would be a tight fit. Looks can be deceiving. I then tried them on and immediately noticed the difference physically.
The leggings were very compressive and form-fitting. And after 2 to 3 wears, they stretch a little and fit perfectly.
Let's delve deeper into the review!
How do SPANX leggings fit?
I was able to get a pair of SPANX leggings for really cheap during one of their online sales.
SPANX leggings run small, so I would suggest sizing up in SPANX. The fit was compressive but will stretch over time.
I purchased a Medium and it fit perfectly. I am a size US 6 for reference.
If you're in between sizing, I recommend sizing up for a more comfortable fit. If you want a more compressive fit, size down.
I could fluctuate between both sizes depending on what occasion I was wearing my leggings for.
SPANX also makes pants in PLUS SIZE, making SPANX a size-inclusive company.
What are SPANX leggings designed for?
SPANX offers long and cropped leggings, shapewear, underwear, bras, socks, hosiery, and even men's products.
SPANX leggings are made with a single front panel for a camel-toe-free fit. They also have products for EVERYBODY and offer plus sizing.
SPANX leggings are made for people who want shapewear for their waistlines and legs.
How long is the inseam on SPANX leggings?
SPANX legging inseam measures 27″ and can be worn over the ankles. I am 5'5″ for reference.
What is the rise of SPANX leggings?
The leggings have a high rise fit and sits 1/2″ above my navel.
How tall is the waistband on SPANX leggings?
The Power Waistband (a tall waistband) is my favorite feature about the SPANX leggings.
The waistband opening has a seam at the top so that the pants stay put. The waistband measures 4″ tall and tucks it all in.
Thew waistband hides all my bumps and lumps extremely well. The waistband is double layered and made to fit at your natural waist and keep it all in.
SPANX Faux Leather Fabric Details and Features
Fabric Content:

Body is 87% Nylon/13% Spandex/Elastane blend. The waist Lining is 80% Polyester/20% Spandex/Elastane blend made from imported materials.
The fabric also comes in plenty of colorways including wine, navy, dark grey, black, leopard print, etc.

Fabric Feel:

The fabric feels like faux leather and has a slight rubbery traction when running my hands across the surface of the pant. I was concerned with dust and objects sticking to the pant, but that never happened while wearing or washing.
The fabric has a glossy sheen to the surface, which looks great in low light and helps the leggings really stand out and look fashionable.

Fabric Performance:

Fabric is quick-drying and semi-dry wicking
The fabric has 4-Way Stretch and allows the fit to contour to the body.
Depending on the size you choose, your pants can be compressive or more relaxed.
The stickiness of the fabric made it great for crow pose or any poses requiring arm to leg connection.
The fabric has a bum lifting effect which is part of their signature shapewear fabric blend. I was very impressed with this feature.

Opacity: The leggings are 100% opaque! I am glad to report they are not see-through!
Fabric Features:

No pockets
No visible logos on the exterior of the pant.
Leather-look fabric
The Faux leather leggings also come in a variety of colors which include seasonal and staple colors.
When should I wear SPANX leggings?
SPANX leggings can be worn anytime and anywhere. It's great piece to transition from studio to street.
Throw a comfortable sweater on your SPANX leggings for a fashionable Winter look. Check out these sweater styles you can wear with leggings.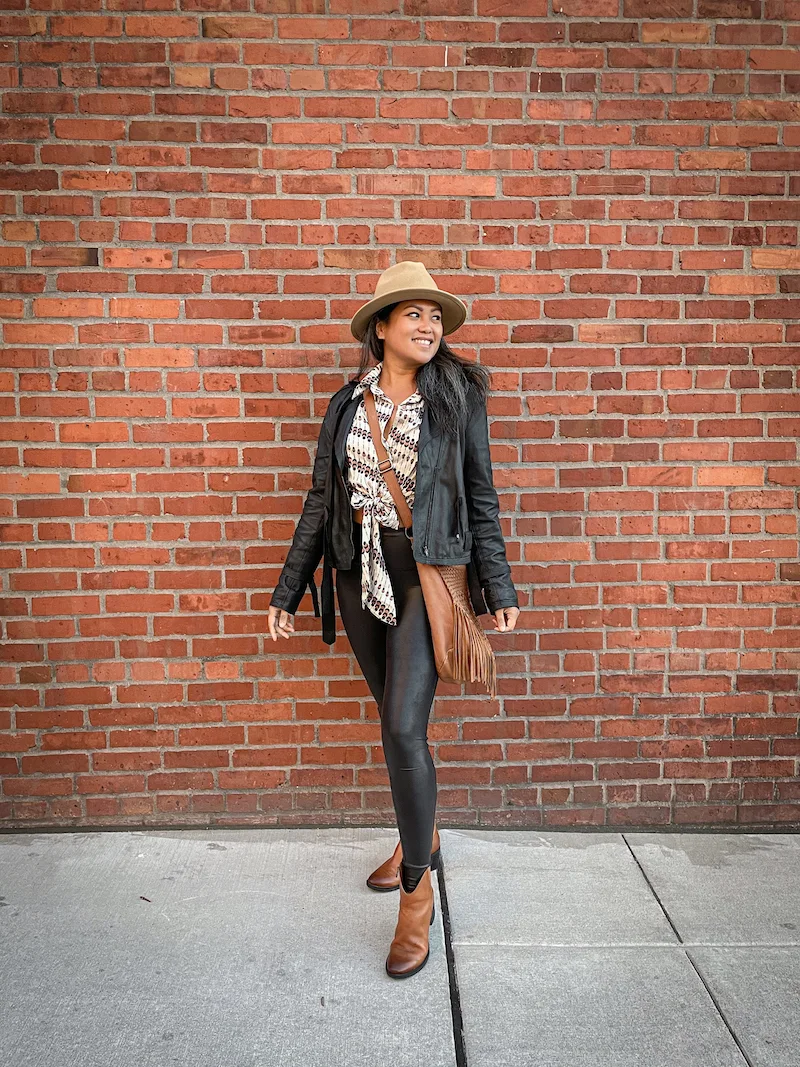 How much do SPANX leggings cost?
SPANX leggings run from $82 to $114 depending on style and size. The Faux Leather Leggings cost $98, but they are totally worth it!
SPANX leggings are offered through various retailers, so be sure to shop around for the best deals. I've listed some retailers down below.
Do SPANX leggings have a gusset?
SPANX leggings come with a triangle-shaped, single layer gusset. The gusset is sewn into the pant with overlocked stitching.
What seam is used on SPANX leggings?
Plain/overlocked seams are used throughout the pant. The outseam has unique stitching that contours to the body. I did not experience any chafing issues with their seams.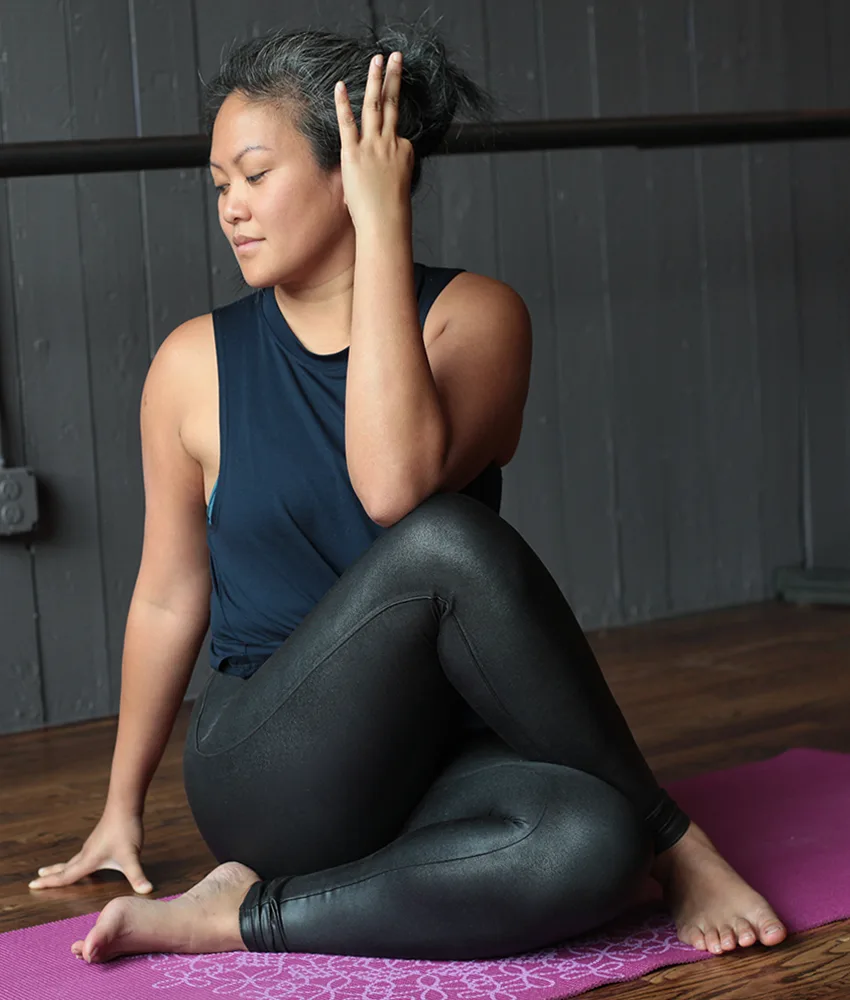 Do SPANX leggings have UPF protection?
Not disclosed.
Where are SPANX leggings made?
Made in China.
What are the care instructions for SPANX leggings?
I wash my SPANX leggings by hand with cold water and then hang dry. I hang to dry on a foldable rack such as this one.
Since the leather look may fade with wear, I recommend washing your leggings inside out and avoiding drying in sunlight for the best results.
Should I Buy SPANX? Are they Worth it?
Yes, you totally should!
I was surprised that I fell in love with SPANX. I always try to go against the hype, but there was proof in the pudding after I reviewed the SPANX faux leather leggings.
I would wear these anywhere and anytime. They're so comfortable and the visible outseam allowed the leggings to look more like casual leggings than athletic leggings.
This was great for transitioning from studio to street.
SPANX specializes in shapewear, so it's no surprise that their leggings offer the same support.
They do cost a pretty penny but are worth the investment!
Where to Buy SPANX Leggings
Buy directly from SPANX and get a 15% off coupon code when you use this link.
SPANX leggings can also be purchased at these other retailers:
I hope this SPANX leggings review was helpful to you! Please let me know if you have any comments or questions below. We'd love to hear them!
Got more questions? Feel free to e-mail me!
If you found our SPANX review helpful, please share it on Pinterest. Thanks for your support!
---
Thank you for visiting today! If you found this encouraging or informative, please connect with us on Instagram, Youtube, Pinterest, Facebook or Twitter. We'd love to meet you!
Sign-up for our monthly newsletter for updates and more. We promise we won't spam you! Feel free to unsubscribe anytime.
For more fitness fashion discounts and offers, please visit our Fitness Instructor Discounts + Brands Directory or favorite brands coupon codes list.
If you're a brand and want to submit a product for us to review, please use this form to get in touch.
This site uses affiliate links. Clicking on or purchasing via an affiliate link may result in commissions for us which help keep the content flowing and lights on at Schimiggy Reviews. You may read more about this in our privacy policy.