Reading Time:
4
minutes
Updated: 7/27/2023 | Best Hard Shell Carry-On Luggage
Most Important Things to Look for in a Carry-On
Size – The Federal Aviation Administration sets a maximum size limit of 45 linear inches for a carry-on, which translates to a 22-inch x 14-inch x 9-inch bag (including handles and wheels). However, acceptable dimensions for carry-on bags can vary by airline. In addition to meeting the requirements of an airline, consider whether you really need your carry-on to hold a lot or whether you prioritize something more compact. Expandability may also be an important feature.
Material – Decide if you want a hard or soft case carry-on. We opt for a hard case because it allows us to keep our belongings protected from breaking and being dented while in transport.
Warranty – We love having peace of mind by getting luggage that comes with a warranty. Many brands will offer a limited lifetime warranty and select few will offer a full lifetime warranty.
Compartments – Similarly, think about the way you want to use your carry-on. Is it important to have a front pocket for easy access to important things like a laptop or passport? Do you want to store lots of little things inside interior compartments for organization, or are you ok with keeping everything in one big main compartment? You might also look for tie-down straps to keep everything in place.
Wheels – First, decide whether you want a rolling carry-on or something you carry on your shoulder or back. If you choose a rolling bag, look for features such as smooth 360-degree spinner wheels (four of them are best) and a telescopic handle.
Color Options – Colors make people happy! Choose a brand that has colors that reflect your personality.
Smart Features – Nowadays, some pieces of luggage include built-in battery packs to charge your phone, and a few even have high-tech features like GPS tracking capabilities, WiFi connectivity, and built-in luggage scales.
Best Hard Shell Carry-On Luggage
#1 Monos
Monos is an online travel gear brand specializing in luggage and bags. They offer a regular carry-on ($285) and a larger carry-on plus ($306) suitcase.
We honestly love our Monos suitcase and highly recommend this brand because of how durable their suitcase shell is.
Use this link to save $20 off your first order at Monos.
#2 Away
Away is another very popular luggage brand specializing in hard shell cases. Their suitcases also have the option to include a battery pack.
Their carry-on bags come in the regular carry-on flex ($325) and bigger carry-on ($295) sizes.
Don't forget to use this link to get $20 off your first order at Away.
#3 Quince
Quince is known for replicating popular brand-name products and selling them at a fraction of the cost. The majority of their items are also made sustainably! It's a win-win for everyone who shops at Quince.
They have hard-shell suitcases that are very similar to brands like Away and Monos. And at half the price, they're a great option for your next carry-on suitcase.
Read our Quince carry-on review to learn more. Use this link to save $20 off your first order at Quince.
#4 Level8
Level8 is hard shell luggage brand that comes with a limited lifetime warranty.
Read our complete Level8 review to learn more.
#5 Rollink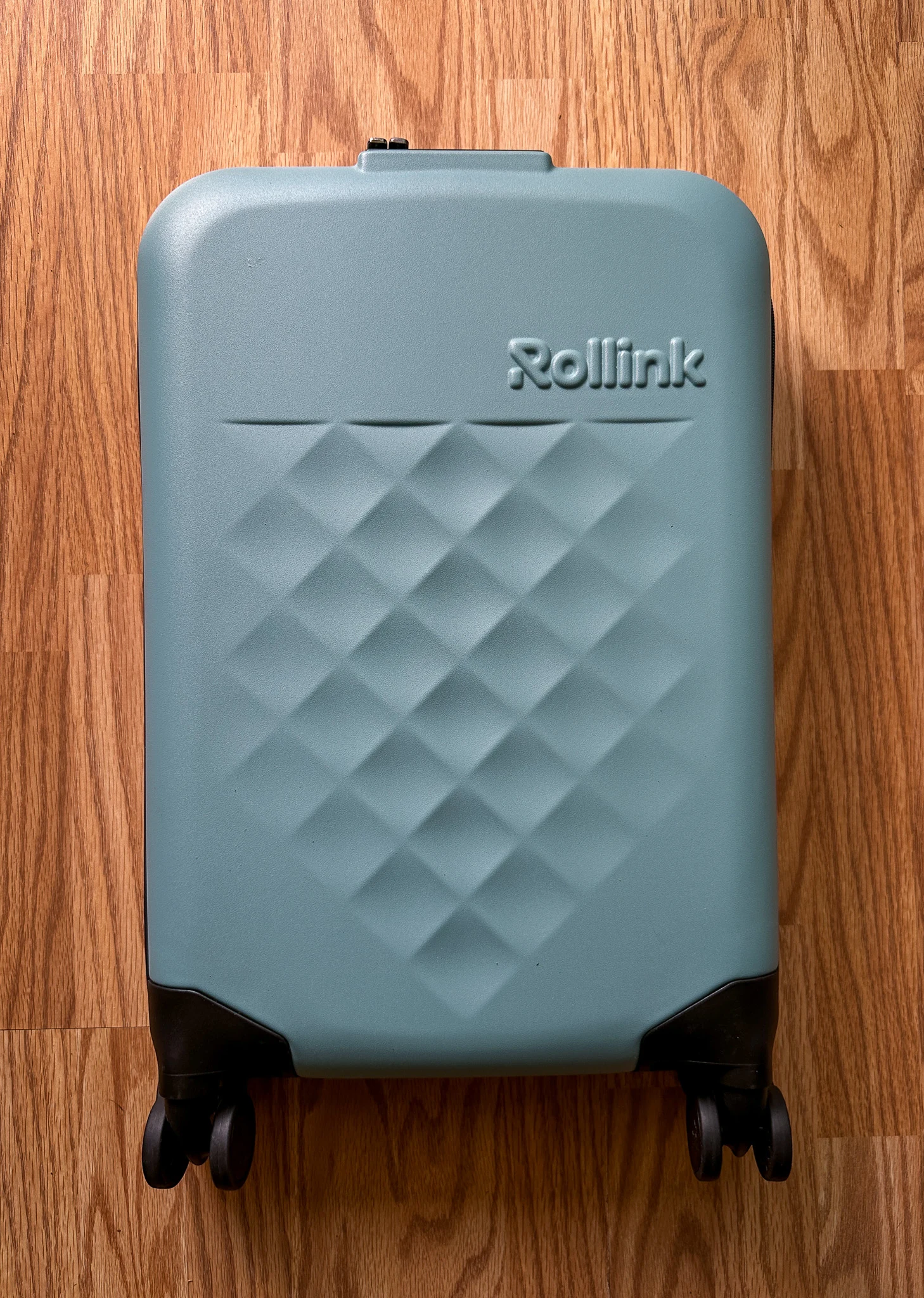 Rollink is known for their collapsible suitcases. They offer luggage in bright and fun colors.
Read our full Rollink review.
#6 BÉIS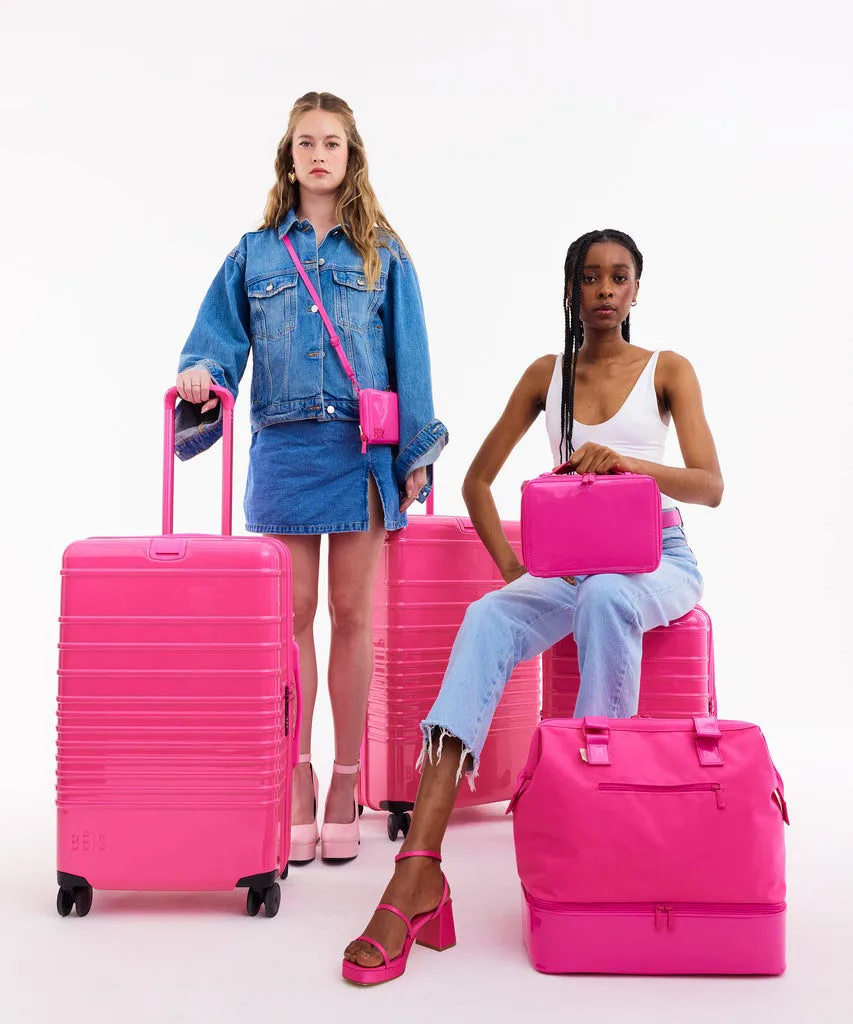 BÉIS is a popular luggage brand by the Pretty Little Liars actress Shay Mitchell. They also debuted a Barbiecore luggage line in July 2023.
Use this link to save $15 off your first purchase of $100 or more at BÉIS.
You can also shop for BÉIS luggage at Nordstrom and REVOLVE.
#7 Samsonite
Samsonite is a trusted brand that is sold in many retailers.
#8 Solgaard
Solgaard is a online luggage company and their suitcases come with expandable packing shelves. The shelves expand from the suitcase and can be hung on any bar or hook so that you can easily see and access all your belongings.
Their suitcases also come in fun bright colors, including limited edition colorways that are sure to make you stand out.
Read our Solgaard review for more information.
If you found our post on the best hard shell carry-on luggage helpful, please share it. Thanks for your support!
---
Thank you for visiting today! If you found this encouraging or informative, please connect with us on Instagram, Youtube, Pinterest, Facebook or Twitter. We'd love to meet you!
Sign-up for our monthly newsletter for updates and more. We promise we won't spam you! Feel free to unsubscribe anytime.
For more fitness fashion discounts and offers, please visit our Fitness Instructor Discounts + Brands Directory or favorite brands coupon codes list.
If you're a brand and want to submit a product for us to review, please use this form to get in touch.
This site uses affiliate links. Clicking on or purchasing via an affiliate link may result in commissions for us which help keep the content flowing and lights on at Schimiggy Reviews. You may read more about this in our privacy policy.