Reading Time:
5
minutes
This was a sponsored post by multiple brands. As always, my opinions are honest and 100% my own.
I'll be honest. I am not very kind to my skin. I often neglect it. Sometimes for days. In order to get me into a routine, I have to find super simple ways to keep my skin moisturized, or else I won't do it all.
All of these brands mentioned below have reached out to me to offer me samples of their products. I decided to do a roundup and give my readers a quick summary of my experience with each product and let you know if you should or shouldn't buy it. I plan on doing this quarterly. Sometimes I find treasures, sometimes the products are just OK and sometimes (unfortunately) designated for the T(rash).
About My Skin
My skin is dry dry dryyyyyy. It's like a shriveled carrot during the Winter and cracks under the Summer sun. I have slight harlequin ichthyosis on my legs. I am cursed with lizard skin. I rarely wear make-up and when I do, it's super simple and sometimes barely noticeable. What I care most about is trying to retain the youthfulness in my skin as I get older. I am 34 years old and those forehead wrinkles are-a-comin'! Brands reach out to me quite frequently and I love trying new stuff. I never know what will work for my high-maintenance skin. What I do know is that I need to take care of it now more than ever. Makeup always comes secondary, and sometimes never, but skincare is a must and hence these product reviews!
Below are my beauty roundups that I've tried to help combat my dry skin.
2018 Fall/Winter Beauty Review Roundup
#1 belif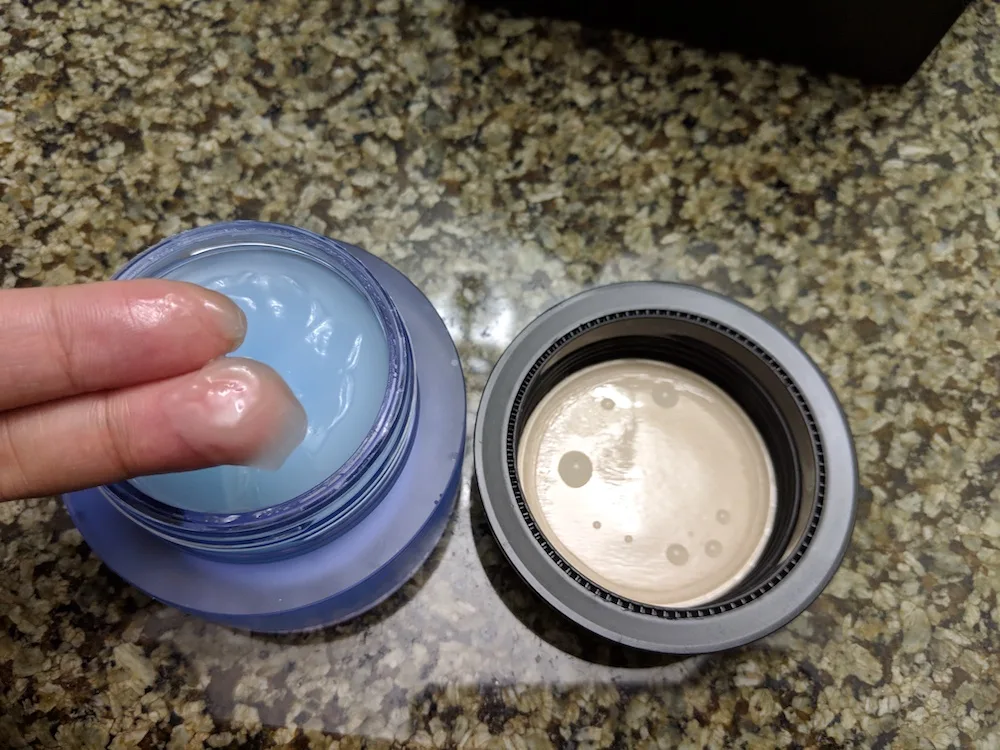 I was intrigued by belif after coming back from Korea. We stayed in Myeongdong in Seoul, South Korea–which I consider a Korean beauty (known as K-beauty) mecca. There were 2-3 K-beauty stores on EVERY BLOCK. Korea hands down has the biggest obsession with beauty and you can see it as part of every man and woman's lifestyle in Seoul. It's all super affordable too.
I received the full size belif Bomb Sleeping Mask and a sample sized Aqua Bomb Moisturizer. Instructions say to apply the moisturizer first and then the sleeping mask. I did this for a week and noticed my skin feeling softer and plumper. The product feels like jelly and glides on easily. At times, I also found myself wearing it throughout the day. The mask dries clear and is not irritating at all. I definitely recommend belif for its gentle and effective moisturizing properties.
The Sleeping Mask costs $34 and can be purchased on Amazon, Sephora, and directly from belif.
#2 Teadora
I tried an all natural and vegan beauty brand! Teadora is a skincare brand with a factory based out of Bellevue, Wash. Teadora is also women-owned and operated. I love that everything is natural. I had an opportunity to do a full review of some of their products. I chose a body wash, body butter, and an all-purpose oil.
The body wash smells like citronella and has a gentle lather. It's safe to use on my face and body. I absolutely love the body butter! It absorbs immediately and doesn't have a scent. The oil was a little heavy and I felt soaked at times. It was effective on my legs, but not for my hair type or nails. Read my full review of Teadora's skincare products here.
Buy Teadora on Amazon and Teadora. Use this link to get 20% off your Teadora orders!
#3 Neutrogena Hydro Boost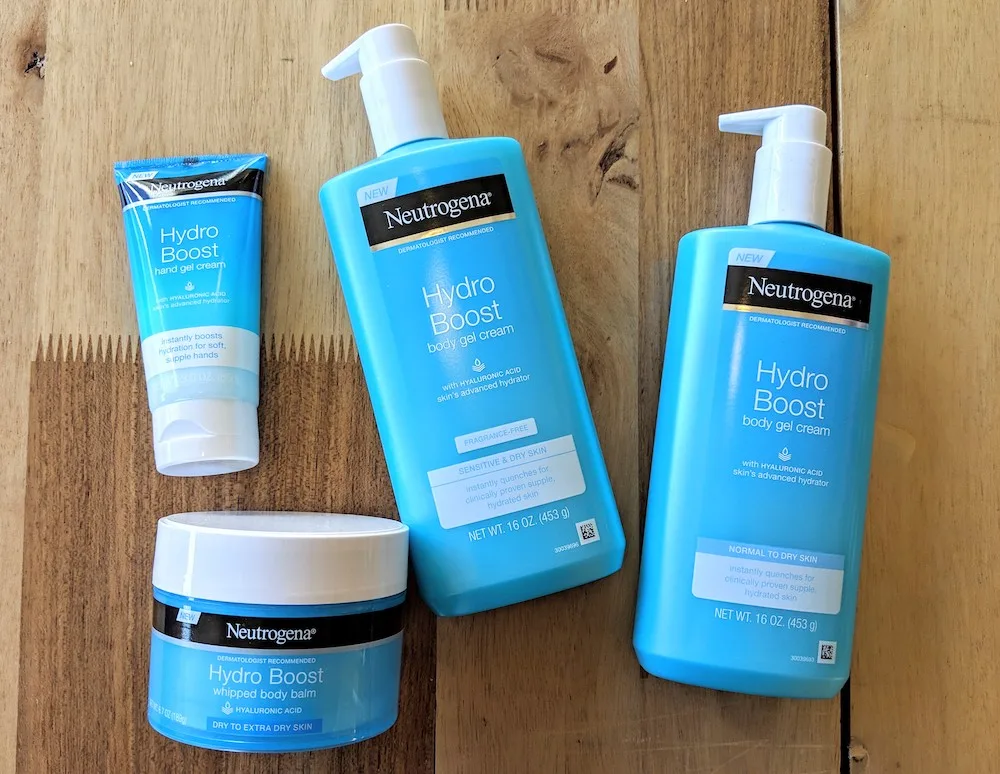 When I saw the words Hydro-Boost I was like, "Hell yes! My skin needs this." I received Neutrogena products for keeping my body moisturized. The gel formula is super silky and absorbs quickly. The hand gel cream left a film on my hands. All the products have Hyaluronic Acid so that the moisture stays locked on my skin.
I didn't see a major difference between the Normal to Dry Skin and Sensitive & Dry Skin body gel cream variants. Of all the products, I would definitely buy the whipped body balm and gel creams again. They were silky and smelled very fresh. I tried some of the Hydro-Boost whipped body balm on my face too. It definitely works as a face cream. I would pass on the hand gel due to the filmy sensation I experienced.
Buy the Neutrogena Hydro Boost line on Amazon and at Target.
The lotion worked best after using my organic African black soap bars.
#4 Lavelier $3,500 Skincare Line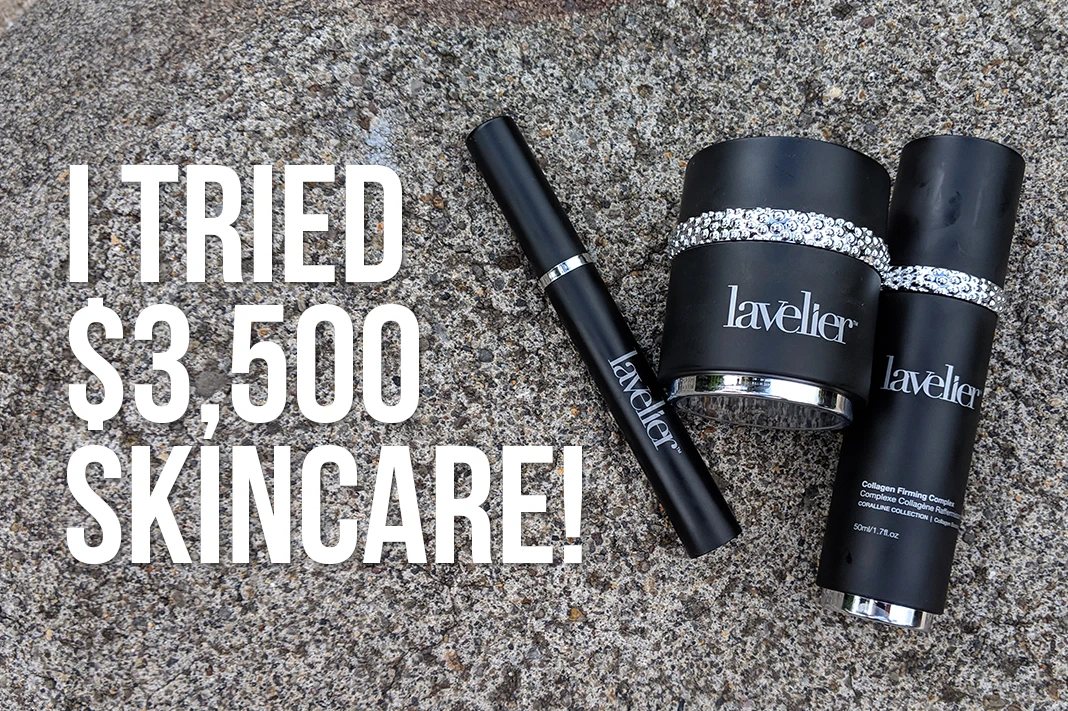 This was too rich for me, literally. But seriously though, I could not afford to buy this on a regular basis. I received the eye serum, face lotion, and mask. I could see an immediate difference when using the products. My skin aging was literally reversing. I loved the eye cream because I could see it tightening around my eyes almost immediately. I can see why it cost that much. Read my full review of Lavelier here.
#5 Loreal Revitalift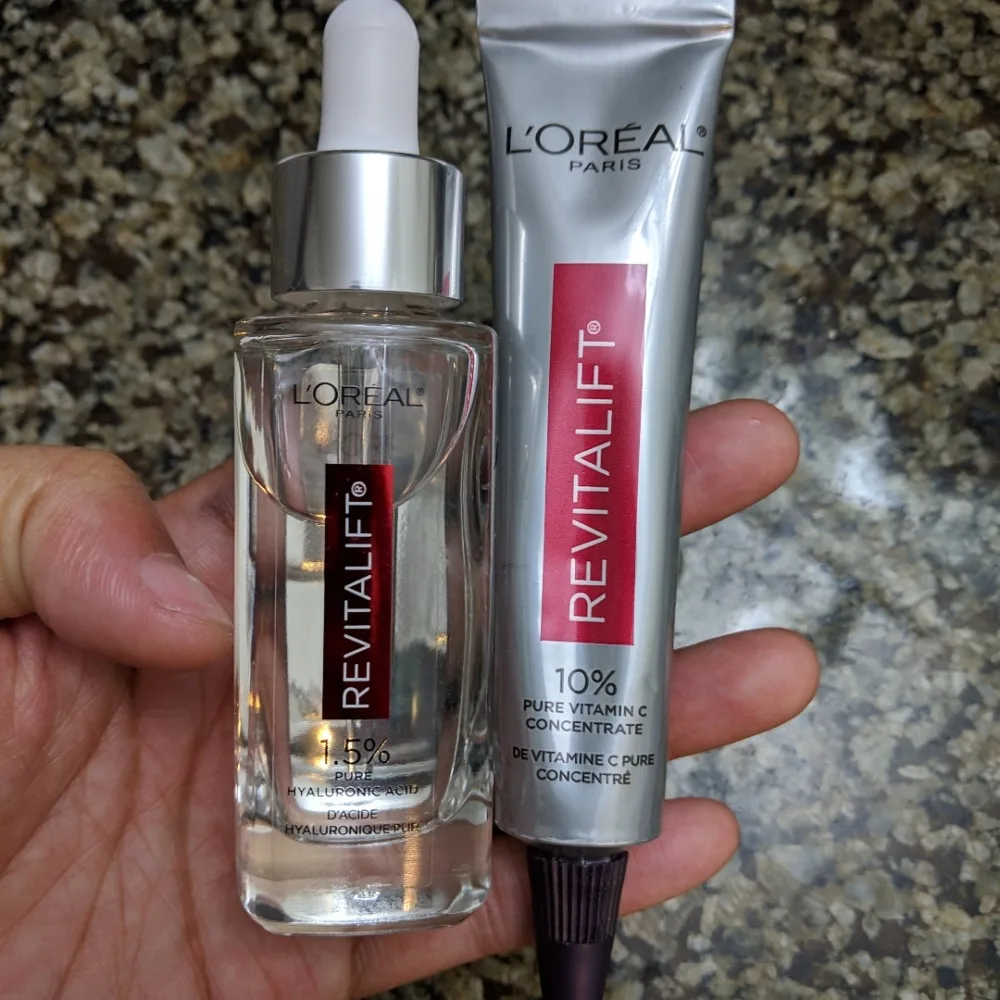 These are my favorite products in the line-up. I received the Vitamin-C Serum and Hyaluronic Acid. The products were made for rejuvenating aging skin. The Hyaluronic Acid helps your skin in retaining moisture, so I apply it after I shower or wash my face. They are perfect for travel (both weighing 3 oz and under) and my skin felt replenished the entire day.
I could immediately feel how soft my skin got after one application. It's easy to apply and perfect for both night and day use. I tend to use these products the most, mostly because of the way it makes my skin feel so smooth and the simple packaging.
Buy Revitalift on Amazon, Target, and Ulta.
#6 D'OR 24K
I received D'OR 24K's 24K Essential Facial Cleanser ($69.95). D'or is a brand that I would not have ever tried if they did not reach out to me for this review. The Regenerating Facial Cleanser speeds up skin regeneration using 24k gold and vitamin E.
I dispensed a dime-sized droplet into my hand and lathered it up on my face in the shower. The lather was silky and it rinsed off quickly. I love the no-frills packaging. I can keep the tube in my shower and access it daily. My skin felt smooth and clean afterward. Best of all, I love that this cleanser is made in the USA and without parabens.
Buy D'OR 24K on Amazon and directly from their website.
---
Reviewing products is always fun because you never know how things will react to your skin. Everyone is different, so how things react to me may be different for you. If you're not up for dropping some major dough just to try beauty products at home, I recommend going into a beauty retailer (ie. ULTA or Sephora) or department store to do swatch tests on your skin and see if it reacts negatively.
You also have an opportunity to get free samples when you purchase in-store. That's always a bonus of brick and mortar shopping!
What should I review next? I am hoping to try some Beauty Counter's healthy beauty products. Leave your skincare suggestions in the comments. Thank you for tuning in!
Thank you for visiting today! If you found this encouraging or informative, please connect with us on Instagram or TikTok.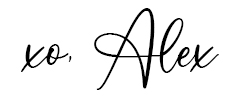 Sign up for our monthly newsletter for updates and more. We promise we won't spam you! Feel free to unsubscribe anytime.
If you're a brand and want to work with us, please visit this page to get in touch.