Reading Time:
7
minutes
Current Nordstrom Deals:
Celebrate Black Friday + Cyber Monday and enjoy up to 50% OFF everything + FREE SHIPPING. Save an additional 25% off ALL SALE items. No code needed. Shop now.>>

There, I said it!
Don't get me wrong, I love almost everything else about lululemon. I just think the Wunder Under Pants (WUP) and Luon fabric are overrated due to a number of reasons. Another close contender to the Live In legging is ALO Yoga's Airbrush leggings and Athleta's Chaturanga pants made with Lycra fabric.
I sit here in my Zella Live In leggings wondering, "Why haven't these gals pilled yet? And most importantly, why can't other brands, especially lululemon, prevent pilling as well?"
It's frustrating. I want to wear my attention grabbing lulus every day, but that inevitable moment wherein down dog, my attention hones onto my first pill in between the legs and totally ruins my zen. Namaste goes right out the window!
My most recent lulu pill disaster was in my NEW high waist tech mesh leggings. Just after one wear, I saw significant pilling in between the thighs. For $118, I was expecting the "perfect" leggings.
Today I am an advocate for a brand that is totally underrated. Zella is hands down amazing. But this success didn't happen overnight. I remember in 2009 when I slipped on my first pair of Zella live in leggings. They were thick and uncomfortable.
I hadn't joined the "leggings are the new pants" movement just yet. Fast forward to 2012, I decided to give Zella another try. I bought some purple Live In leggings and they fit perfectly. I did everything in my leggings. Went to the grocery store, worked out at the gym, and even did cartwheels down the middle of the road. I could tell that these babies we're going to last me a lifetime.
Fast forward 3 years later, my Live In leggings we're still like new! What I loved most was that I didn't spend a whole lot of money for a product I was not afraid to live in. The name of the product speaks for itself.
Zella has come a long way and I look forward to what they have to offer in the years to come.
Segue into my Zella Live In Leggings review…
About Zella
Zella is the activewear label for the Nordstrom Product Group (NPG). Nordstrom carries a variety of brands, but to maximize their profits, they also create in-house labels within the NPG. Zella produces product for both men and women. The women's collection offers leggings, bras, shorts, jackets, hair accessories, gym bags, and even underwear.
Zella offers their products in a variety of colors and patterns. I've tried about everything they've offered in stores. My least favorite product from the Zella was the printed Live In legging. I tried them back in 2012 and the fabric would stretch to white. I decided to pass on that particular product even though they had beautiful prints.
While I was working at Nordstrom, I decided to buy a pair of black Live In leggings. It automatically became my favorite work pant. I taught yoga in the corporate office. With Live In leggings, I could easily transition from a work to workout outfit within minutes. It was another moment where I would reconfirm that these pants are magic!
The Live In legging is strikingly similar to lululemon WUPs. After some digging, I found out that Libby Vance, a former lululemon Product Manager, took a Creative Director position at Nordstrom to help create the Zella brand.
Some of their earlier collections were parallel to lululemon. Later on, Libby went to design for Karma Wear, which was also sold in Nordstrom back in the days.
Zella Live In Leggings Review
I am reviewing the medium rise Live In leggings in a teal space dye color. I recently bought the high waist Live In leggings in Green Ponderosa. The color is exactly what I've been looking for. They are similar to lululemon's Fuel Green. I wanted a pair of Fuel Green Align Leggings so badly but I missed that boat. I could only find them on the resell boards for ridiculous prices. I am glad Zella came through with this particular color and silhouette.
#1 Size: Zella sizing runs true to size (TTS). I wear a size SMALL in Zella and am a size 6 in lululemon, for reference. The high waist Live In's do fit a bit tighter around the waist but it did not bother me. Buy your Live In leggings according to how compressive or comfortable you want your leggings to fit.
Their number sizing runs in between, so I recommend going with their lettered sizing for a better fit.
Zella Sizing Chart:
XXS=00-0
XS=0-2
S=2-4
M=6-8
L=10-12
XL=14-16
#2 Style: Zella leggings come in long, midi, crop and knicker length. Zella also offers tops, tanks, bras, jackets and accessories (bags, socks, underwear, and headbands). Zella offers clothing for men, women and young children (boys and girls).
#3 Inseam: Zella leggings come with a 29″ inseam. The leg opening bunches up just around my ankle. I can also wear them with the heel covered.
#4 Rise: Zella makes both medium (fits below navel) and high rise (at or above navel) leggings. A medium in Live In leggings has an 11″ front rise; 14 1/2″ back rise.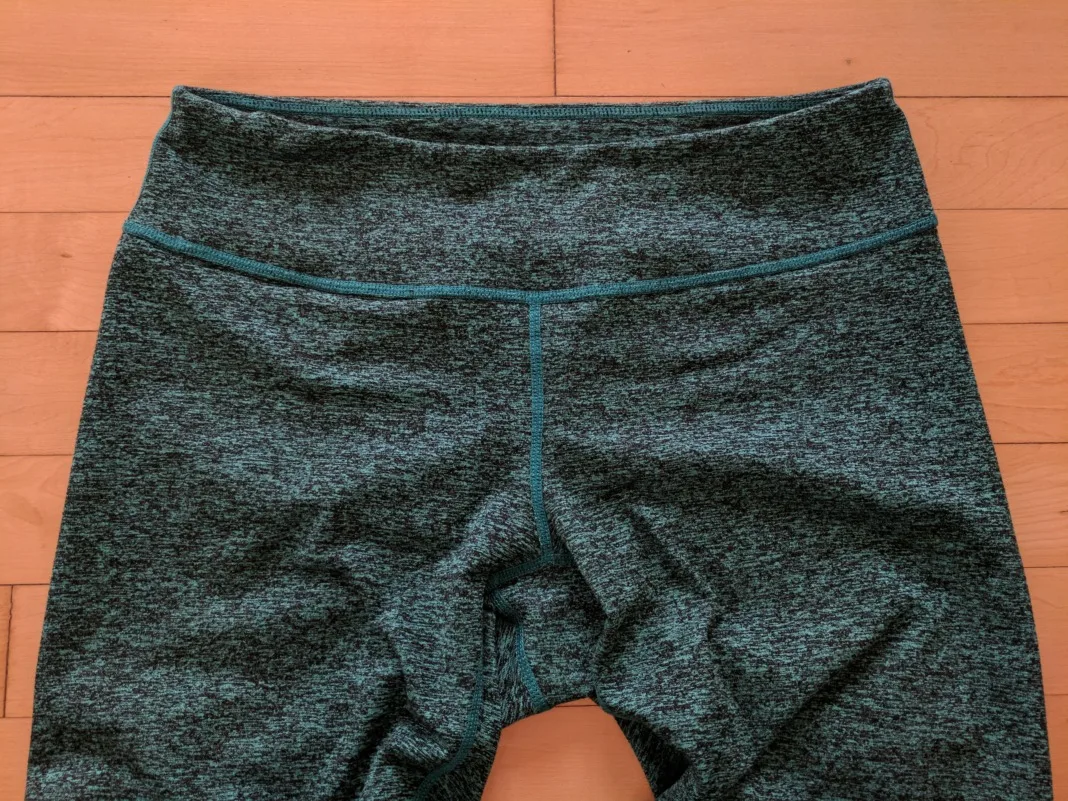 #5 Waistband: Zella leggings come in with tall and high waist waistbands. The tall waistbands measure 2.5″ and high waist leggings have a 4″ waistband. I love their TRUE no-slip elastic waistband (seam sewn into the waistband to prevent slippage). There's also a waistband pocket on the right hip to stow your keys or cards.
#6 Fabric:
Fabric content: 88% polyester, 12% spandex and made from imported fabric.
Fabric Feel: There's a slight brushed feeling to the fabric, but rest assured, none of my Live In leggings have pilled…ever!
Fabric Performance:

Moisture-wicking fabric dries quickly to keep you cool and comfortable.
Fabric has 4-way stretch, making it form fitting and slimming.
Fabric never pills.
Color never fades.

Opacity: Leggings are 100% opaque. Only printed leggings are white-backed. In my previous experience, the printed leggings have stretched to white.
Fabric Features:

Leggings have a hidden waistband pocket to stow your credit cards or keys.
Zella uses a similar silhouette for all their Live In legging variations and offers a wide range of designs and features. Some Live In leggings have mesh or laser cut panels for added breathability. I have also seen a pair with shiny fabric panels. I love all their iterations of the Live In silhouette. It keeps me coming back to see what's new!
Zella logo on the side back of the pant.
#7 When to Wear: Live In leggings are great for exercising (yoga and aerobics), high-intensity sports, and casual wear. They were designed with the intention for you to LIVE IN them!
#8 Cost: Live In leggings range from $56-$79. The leggings are very affordable. You are getting what you pay for (maybe even more IMHO).
#9 Gusset: Live In leggings have a triangle-shaped, single layer gusset.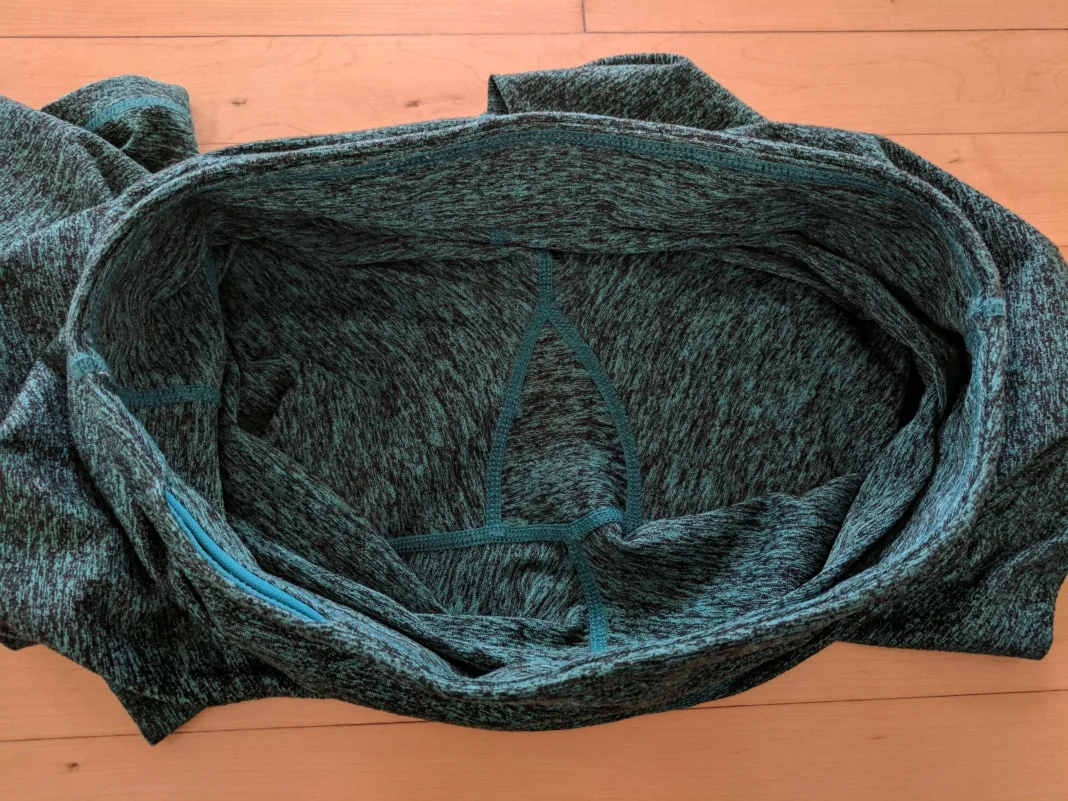 #10 Stitch Seam: Smooth flatlock seams are used on the inseam, waistband, gusset and front and back rise. The seams are guaranteed to not rub or irritate during wear.
#11 UPF Protection: There is UPF Protection but the level is not disclosed.
#12 Made in China. I have also seen Zella pieces made in Vietnam.
#13 Care Instructions: Machine wash cold, tumble dry low. Yes, you can tumble dry them and they will not pill. These leggings are essentially indestructible!
I alternate between rack drying and tumble drying my leggings to prolong their life. I hang to dry on a foldable drying rack such as this one.
Should I buy Zella's Live In Leggings?
Absolutely! They're affordable, very form flattering, durable and very comfortable! The price point is excellent. Live In leggings range from $56-$79.
You can also sometimes find Live In leggings on sale at Nordstrom and Nordstrom Rack, their discounted store. I will continue to invest in Zella Live In Leggings for as long as I am active.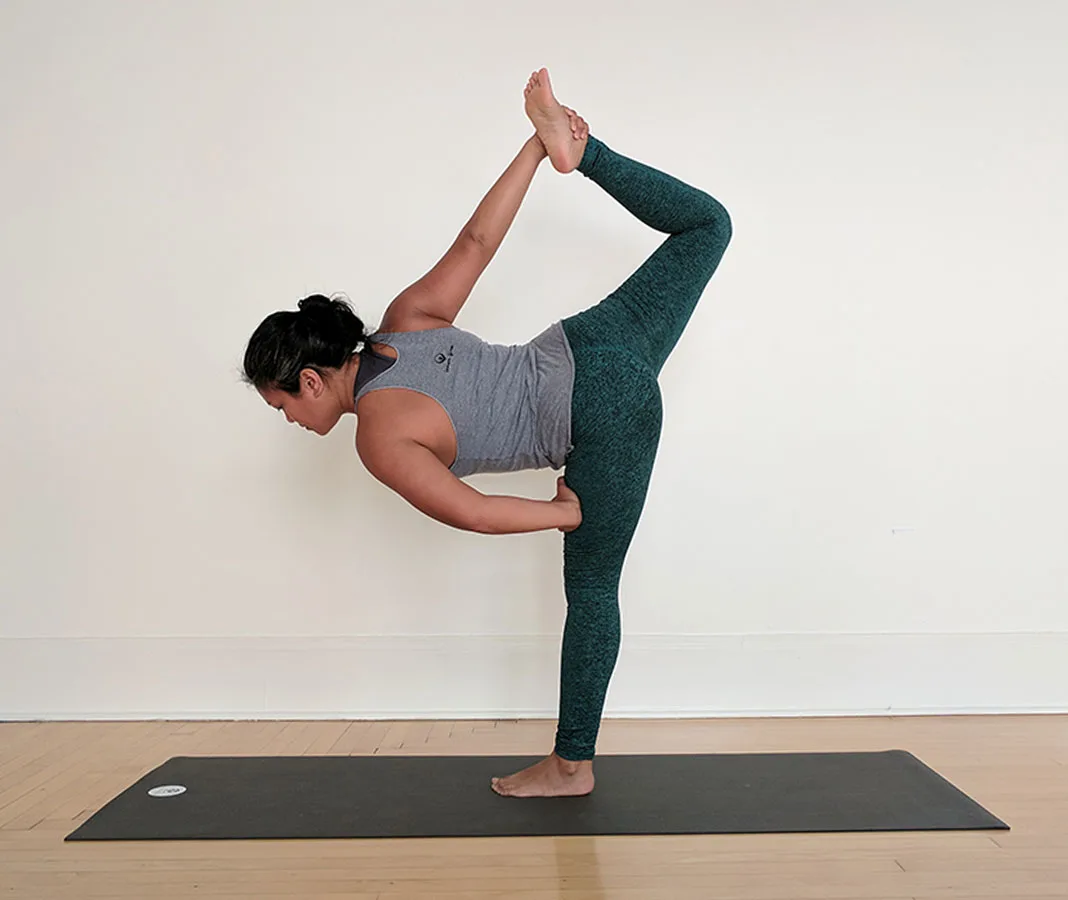 Where to Buy Zella Live In Leggings
If you liked this post, you might like these other articles too:
---
Thank you for visiting today! If you found this encouraging or informative, please connect with us on Instagram, Youtube, Pinterest, Facebook or Twitter. We'd love to meet you!
Sign-up for our monthly newsletter for updates and more. We promise we won't spam you! Feel free to unsubscribe anytime.
For more fitness fashion discounts and offers, please visit our Fitness Instructor Discounts + Brands Directory or favorite brands coupon codes list.
If you're a brand and want to submit a product for us to review, please use this form to get in touch.
This site uses affiliate links. Clicking on or purchasing via an affiliate link may result in commissions for us which help keep the content flowing and lights on at Schimiggy Reviews. You may read more about this in our privacy policy.