Reading Time:
9
minutes
Updated: 1/24/2021 | Leggings That Don't Pill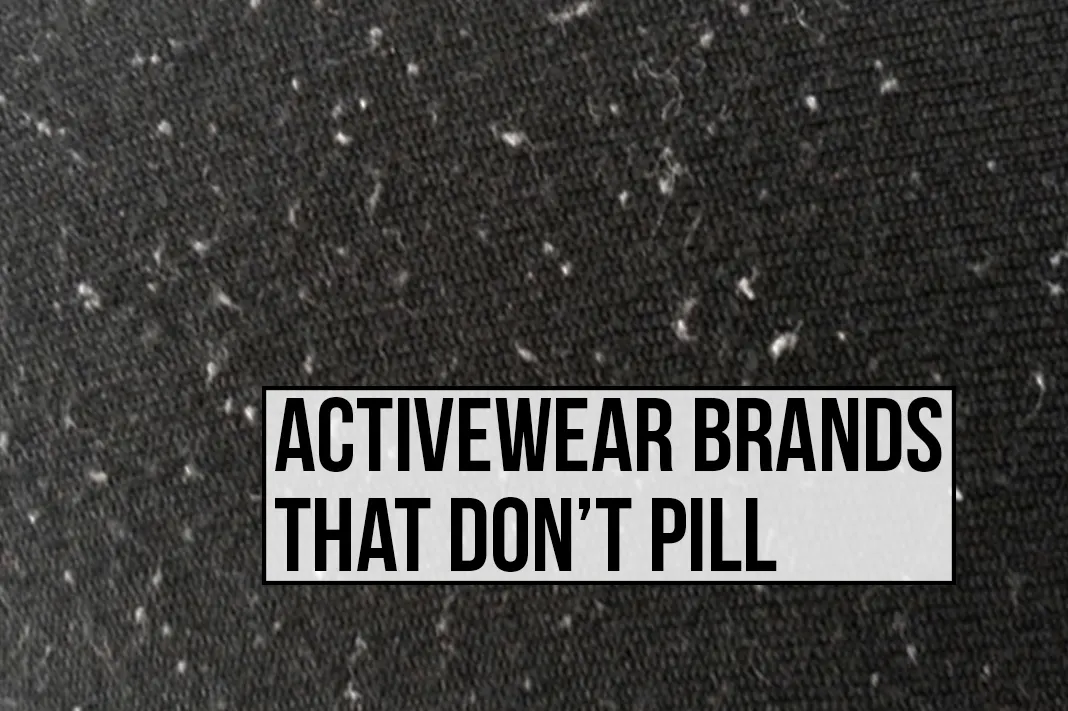 Does anyone suffer from pilling activewear? *raises hand* Pilling makes leggings look extremely used, cheap and is oftentimes uncomfortable to wear. The pilling causes itching in between the thighs and anywhere else where there is pilled fabric rubbing against the skin.
Pilling also really hurts the quality of an apparel brand.
What is Pilling?
Pilling is when little balls lint form on the surface of fabric when it is brushed against another surface. The lint balls usually dangle from the fabric until you pull it off by hand or using a tool.
This could be caused by normal to moderate wear and washing, or fabric being brushed against itself (ie. the Chub Rub in between the thighs). This wears out the fabric and might make the fabric thinner (cue see-through issues) and itchy.
This chart displaying the different grades of pilling. I've experienced grades 1-5 in my activewear as well as other articles of clothing, such as wool sweaters.
I am going to list a few activewear brands that I have pilling issues with the most. Then we'll explore brands with leggings that don't pill.
Activewear Brands That Pill
Unfortunately, some of the brands that pill the most are also some of the most beloved ones on the market right now.
We're baffled that companies are charging $100+ on a pair of leggings when it's prone to issues such as pilling, opacity, and compression.
It goes to show how effective marketing and that with the right influencers and clients–you can sell anything.
Below are activewear brands with which we've experienced pilling.
10+ Brands with Leggings That Don't Pill
I've worn these brands again and again and they've never pilled on me. I highly recommend them if you're anti-pill like me. I also included some additional tips below that may be helpful in choosing non-pill activewear.
Here are our top picks for leggings that don't pill.
We recommend Zella's Live In leggings in both medium and high-waist length. The fabric has a brushed feel and comes in different lengths and colors. Some printed fabrics may appear shiny and are typically white-backed (printed on white fabric).
Zella is part of the Nordstrom Product Group (NPG) and offers activewear for both men, women and kids.
Read our Zella Live-In leggings review here.
Niyama Sol is another one of my favorite brands. Their printed designs feel brushed, won't pill, and come with a high waistband.
Their prints run out quick, so as soon as you see something you like, buy them ASAP. They're a small batch activewear company based out of Las Vegas, Nevada. It's easy to see why they're a one of our favorite leggings that don't pill.
Read our Niyama Sol reviews here.
Use our link to save 20% off your first order at Niyama Sol.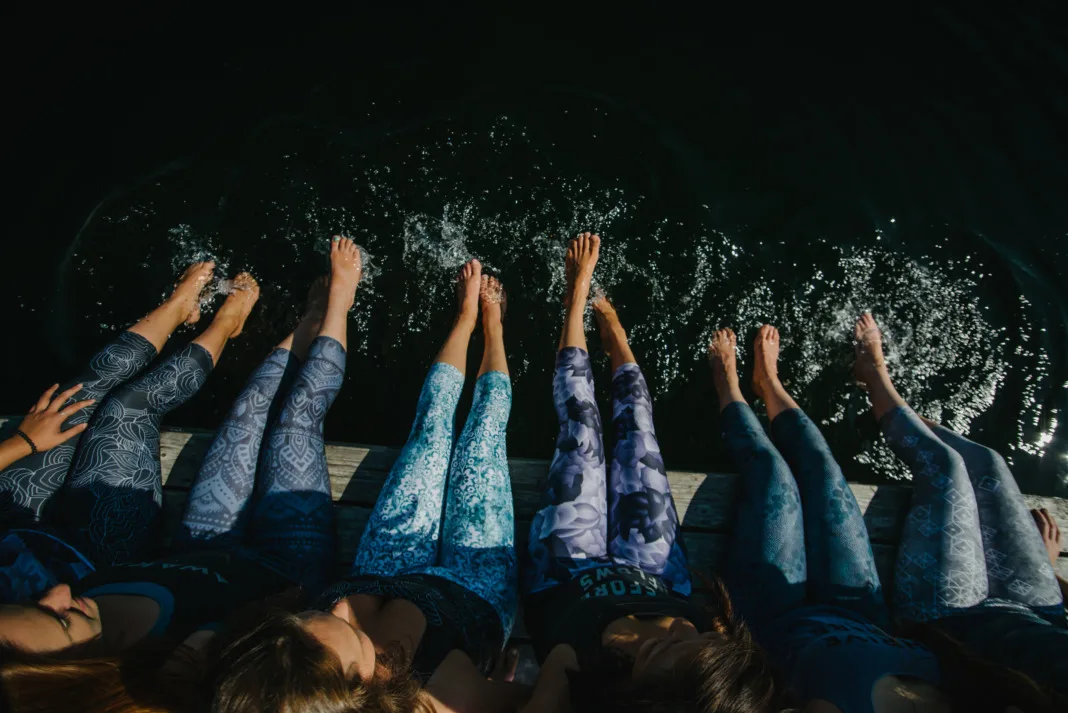 Inner Fire is a Canadian based brand created by my friend Leah Emmott!
The brand is very community and eco-friendly focus. Leggings are white backed and thick, making them very compressive. Their prints are great and unique to the Pacific Northwest vibe.
Read our Inner Fire reviews here.
Based out of LA, Carbon38 has been creating their own luxury line of activewear. None of the pants I own have pilling issues.
Read our Carbon38 reviews here.
Use code SHMGY25 to save 15% off your first two orders at Carbon38.
Girlfriend Collective makes eco-friendly and sustainable leggings that are both affordable and very high quality. Their leggings come in both compression (classic) and FLOAT fabrics (super lightweight). All are made with certified recycled plastics.
Read our Girlfriend Collective reviews here and check out their awesome range of leggings that won't pill.
Use our link to save $10 off your first order of $95+.>>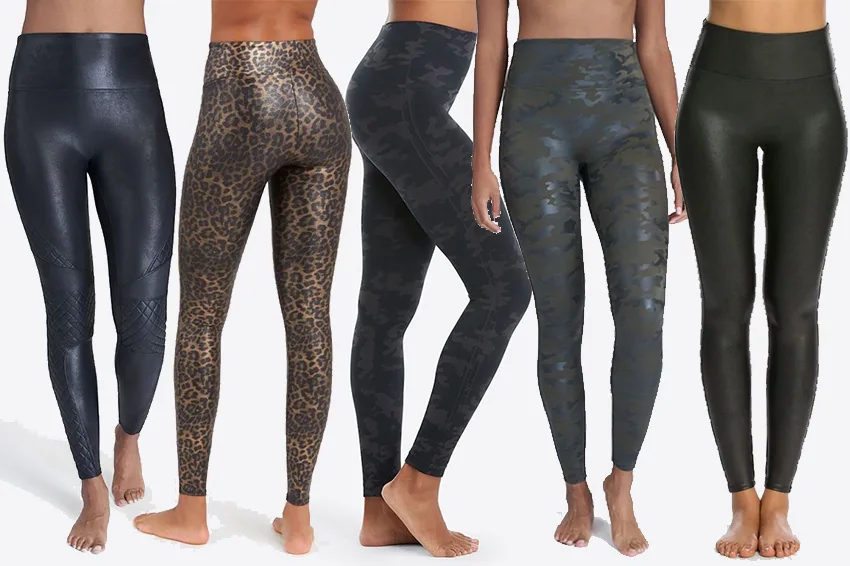 SPANX makes leggings for all walks of life. They also have a line made specifically for exercising and active living. We personally love them because they offer a lot of compression and are of great quality!
Read our SPANX reviews here.
Use our link to save 15% off your orders at SPANX.>>
Chill by Will is an LA-based brand made by two moms. Their fabrics are durable and their designs are sexy.
You can buy Chill By Will on Carbon38 and use code SHMGY25 for 15% off your first two orders.
Read our Chill by Will review here.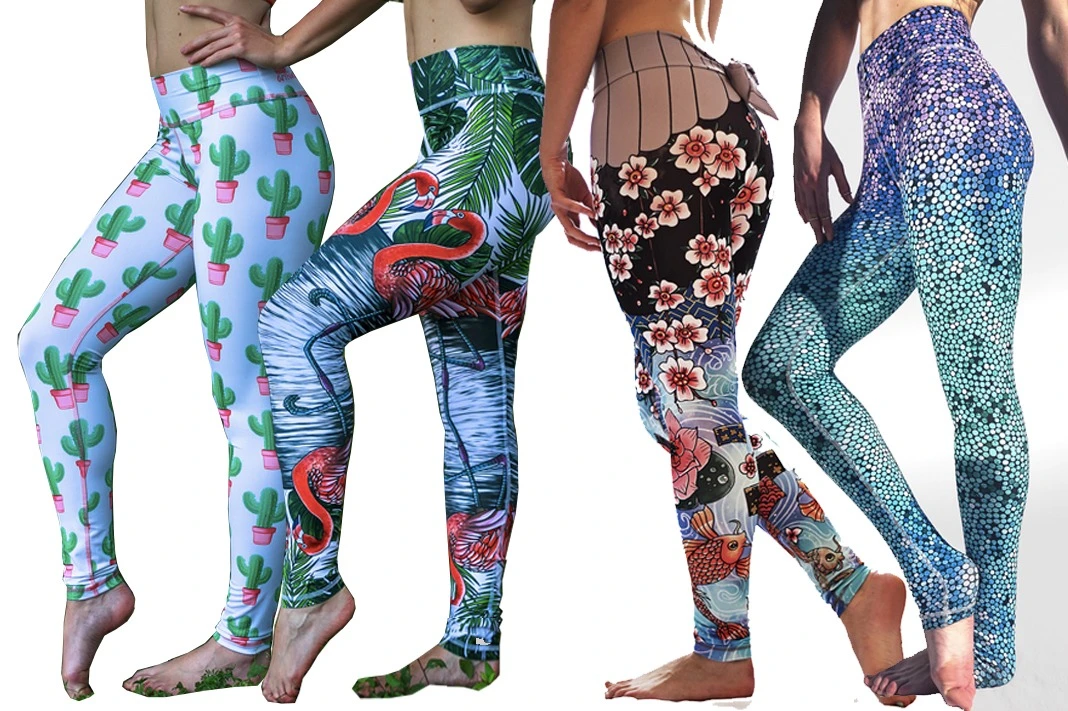 I love their fabric. Very similar to Yoga Democracy. Arthletic Wear was created by Serbian sisters who love art and yoga.
Use code YOGANEWS for 20% off your orders. Shipping will be from Serbia.
Read our Arthletic Wear reviews here.
Dharma Bums hails from Australia. Their fabrics are thick, stretchy, and super durable.
Read our Dharma Bums reviews here.
Evolution and Creation (EVCR) is a popular brand sold in TJ Maxx. The brand definitely falls into the fast fashion category. They also offer unique prints and the fabric and design are actually high quality.
Read our EVCR review here.
Get 10% off at EVCR when you use this link.
KiraGrace is a San Diego activewear brand that doesn't pill.
We recommend sizing down in their bottoms and sizing up in their tops. For example, I wear a size XS in KiraGrace and size 6 in lululemon for sizing reference.
Read our KiraGrace reviews here.
Liquido Active is a Brazilian activewear brand that makes fun prints in a super durable and pill-resistant fabric.
All their leggings come with a 7/8th or extra-long length. They also offer shorts, sports bras, and some cover-ups.
Read our Liquido reviews here.
#13 lululemon
We couldn't leave lululemon off this list. They do make fabrics that don't pill.
We recommend going for Luxtreme, Nulux or Everlux fabrics if you hate pilling. These fabrics are more durable, high-performance, sweat-wicking and are leggings that don't pill.
Read our lululemon reviews here and our lululemon fabric guide to learn more.
Wolven is very similar in fit and fabric to Niyama Sol. I love their geometric designs. They also make leggings with pockets and are super eco-friendly.
Use code SCHIMIGGY for 20% off at Wolven.
Read our Wolven reviews here.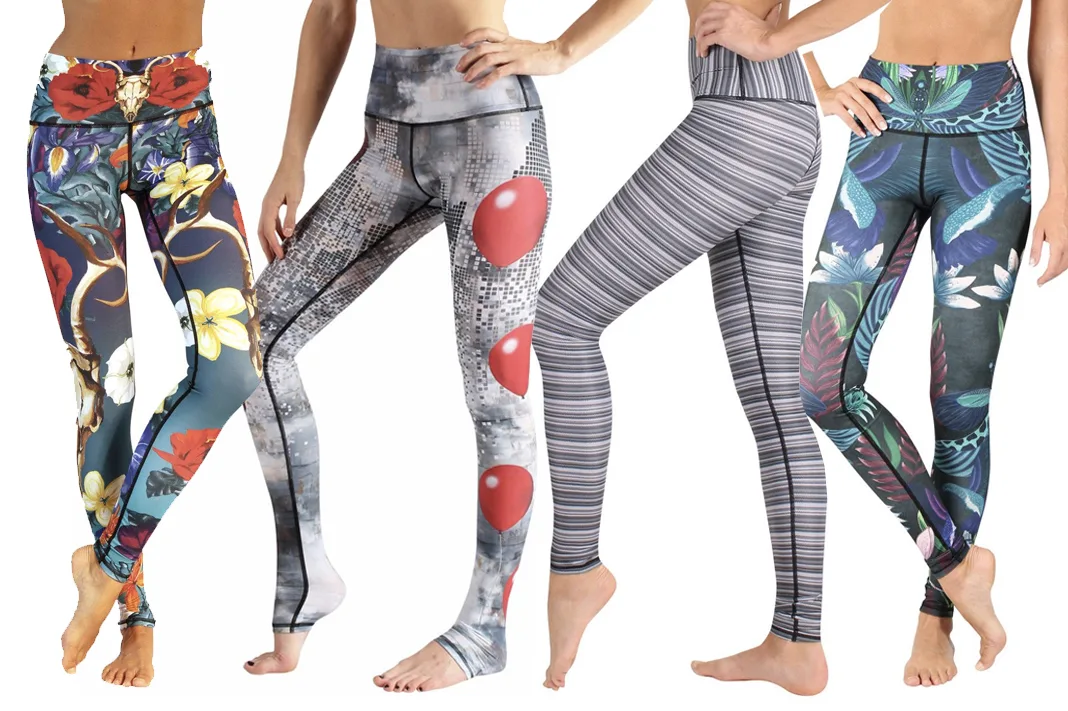 We absolutely love Yoga Democracy. Their prints and designs are so beautiful. Their fabric is soft, stretchy and eco-friendly.
Read our Yoga Democracy reviews here.
Use code SCHIMIGGY20 to save 20% off your orders at Yoga Democracy.
TEEKI is a California based activewear company that is all about eco-friendly practices and fair wages. Their stuff doesn't pill, but it does stretch out and fade over time.
Read our TEEKI review here. Teeki is now out of business but you can find used and new Teeki apparel on the secondary market.
WERKSHOP uses high-quality Italian fabric that is super durable and doesn't pill! Our friend Chriztina also designs all her prints by hand. They also have an Athleisure fabric that is great for low-impact sports like yoga, barre and pilates.
Read our WERKSHOP reviews here.
You can use code SCHIMIGGY to save $10 off your first order at WERKSHOP.
Many of these brands are also featured in the YogaClub activewear subscription box. You'll find these brands for more than 80% off through YogaClub's subscription service.
Read our YogaClub experience here. You can also use code SCHIMIGGY to receive $10 off your first box.
Things you should really take into account when purchasing activewear are fabric material and sizing. There are certain brands that I only shop for leggings and other brands where I shop only for bras.
Don't be afraid to mix and match your brands and pieces. You can create some really unique outfits that way.
How to Care for Pill Prone Fabric
If your favorite pair of leggings is caught in a pilling disaster and you would rather wear them out until they're dumpster worthy, I recommend buying an electric fabric shaver to remove pilling from your leggings.
Other methods that have been used to remove pilling include razors, lint rollers, tape, and cutting them tediously off with scissors. Save yourself the headache and just invest in the electric shaver. Here is my guide on how to remove pilling from your activewear.
Avoid tumble drying, even on the lowest setting. Drying causes static and friction against other fabrics (even against its own) and will cause pilling to worsen and spread. It may even cause some fabrics to shrink. I also recommend hang drying on drying rack like this one.
The best way to avoid pilling is to shop for pill-resistant pants. This will save you the most headache against future pilling issues. Think about what fabrics you like and try one of the aforementioned brands out. They might become your new favorite legging!
Check out my comprehensive list of 15+ medium to low-impact bras that will go great with the leggings listed above.
Did you find our list of leggings that don't pill helpful? Please share it on Pinterest! Thank you!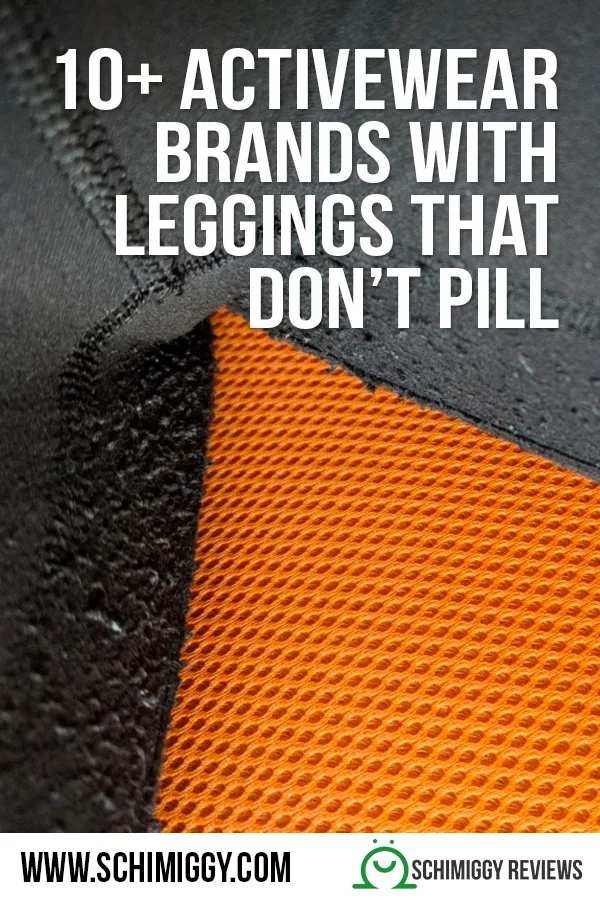 ---
Thank you for visiting today! If you found this encouraging or informative, please connect with us on Instagram, Youtube, Pinterest, Facebook or Twitter. We'd love to meet you!
Sign-up for our monthly newsletter for updates and more. We promise we won't spam you! Feel free to unsubscribe anytime.
For more fitness fashion discounts and offers, please visit our Fitness Instructor Discounts + Brands Directory or favorite brands coupon codes list.
If you're a brand and want to submit a product for us to review, please use this form to get in touch.
This site uses affiliate links. Clicking on or purchasing via an affiliate link may result in commissions for us which help keep the content flowing and lights on at Schimiggy Reviews. You may read more about this in our privacy policy.