Reading Time:
4
minutes
As a yoga teacher, I am always lugging around equipment and tools that help to create my yoga teaching experience for my students.
What's In My Bag?
I make sure what I bring is absolutely being used and doesn't just take up space. Here are the tools and products I bring with me to every class I teach.
#1 Yoga Mat
A yoga mat is a necessity for any yoga instructor. Our favorite yoga mat is the Everyday yoga mat by B Yoga. The yoga mat is made of natural rubber and offers a lot of grip. It also comes in fun bright colors.
Use code TRAN15 to save 15% off your B Yoga mat. You can also shop for B Yoga mats on Amazon.
Related: B Yoga B MAT™ REVIEW – The Best Yoga Mat!
#2 Yoga Mat Carrier
Our favorite mat carrier hands down is the Go Play 3.0 Mat Carrier by Manduka. It's minimalist design is perfect for even the heaviest of yoga mats.
It also comes with a pocket to stow your smaller belongings such as wallets, keys and cell phone.
#3 Essential Oils and Sprays
We always have essential oils in our bag. Use the oils in the palms of your hands and waft your arms around as your walk around the room. Scents help to further calm your students, especially during resting poses like Savasana.
Some scents that we recommend for yoga classes are lavender, eucalyptus, peppermint, rose and citrus.
You can also opt for sprays. Aveda has awesome Chakra Sprays that can help you set the intention in the room.
Fyve also makes a wonderful sweet citrus spray that we love! It's light and calming.
#4 Yoga Strap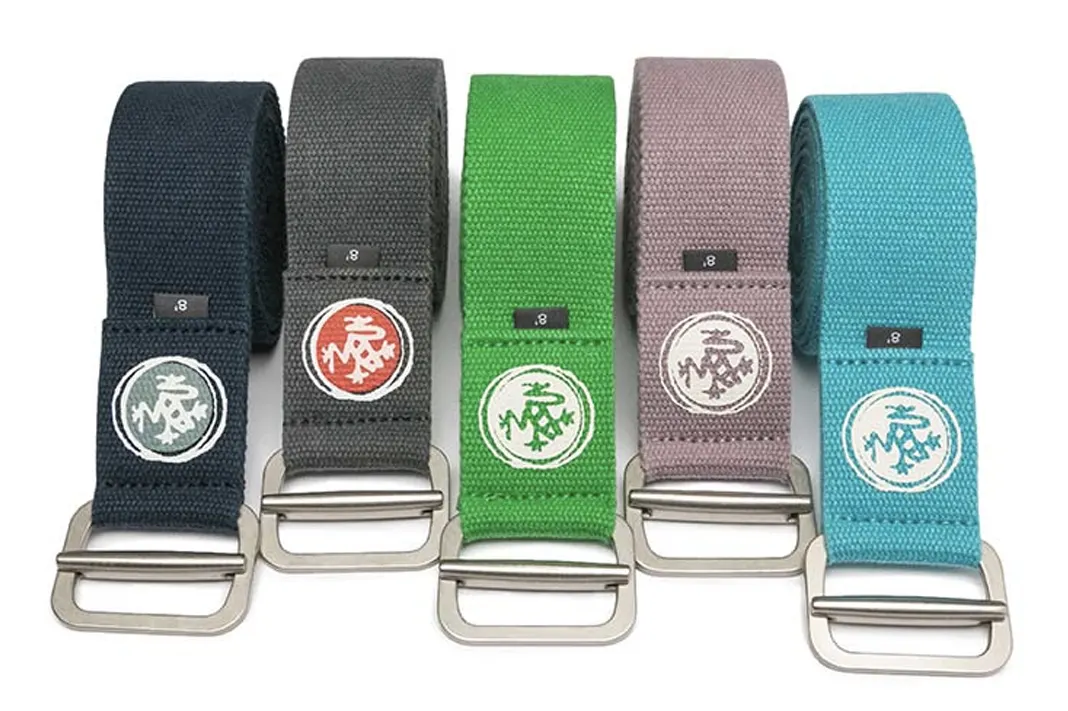 Manduka also makes the best yoga straps! Their straps are sturdy and come in regular and extra-long length.
Use the yoga straps to demonstrate more challenging poses to your students. Straps can also be used as extensions of your limbs in poses where the hands may touch the feet.
#5 Energy Chime
Energy chimes are great for adding some sound therapy to change the mood in an enclosed space. Use your chime to awaken students from Savasana, or to get students' attentions in class.
We recommend energy chimes by Tree Works.
Alternatively, you can use singing bowls or Tingsha cymbals however those are a little heavier to carry around.
#6 Portable Speakers
If you love teaching with music, a portable speaker is a must. Some studios have their own speaker system, but when all else fails, bring your portable speaker to play your jams as your students flow.
We love portable speakers that connect via Bluetooth and are rechargeable. Treblab makes wireless audio products that are perfect for everyday life.
#7 ANDI Signature Duffel Bag
And what bag do I use? I love carrying all my belongings in my ANDI Signature bag.
The ANDI bag is convertible and can be worn as a duffel, crossbody, tote OR backpack. It is one of the most versatile bags.
Buy the ANDI Signature bag on Carbon38 and use code SHMGY25 to save 15% off your first two orders.
Related: The ANDI Brand Review: The Signature ANDI Bag
If you enjoyed this post, you might enjoy these too:
---
Thank you for visiting today! If you found this encouraging or informative, please connect with us on Instagram, Youtube, Pinterest, Facebook or Twitter. We'd love to meet you!
Sign-up for our monthly newsletter for updates and more. We promise we won't spam you! Feel free to unsubscribe anytime.
For more fitness fashion discounts and offers, please visit our Fitness Instructor Discounts + Brands Directory or favorite brands coupon codes list.
If you're a brand and want to submit a product for us to review, please use this form to get in touch.
This site uses affiliate links. Clicking on or purchasing via an affiliate link may result in commissions for us which help keep the content flowing and lights on at Schimiggy Reviews. You may read more about this in our privacy policy.