Reading Time:
7
minutes
Updated 3/2/2021 | ANDI Signature Bag Review

About ANDI
The concept for ANDI was born in 2010 when Andrea Weinberg (aka Andi) was living in New York City. Amidst pursuing her degree, working full-time and keeping up with an hectic travel schedule, Andi wanted a bag that could support her 24/7.
Inspired by her studies of human-focused design processes, Andi spent five years working with a small factory in Brooklyn making over 60 iterations of her concept for a light-weight, durable, and convertible bag that is the ANDI that we know today.
The ANDI team is comprised of like-minded individuals across many disciplines who make a daily effort to deliver an outstanding product to their customers. Their tagline is "Be Good To Yourself." #BGTY
ANDI New York Review: The Signature ANDI Bag
I've been eyeing the ANDI for the past two years. I felt lululemon bags were already so expensive and wondered what made the ANDI superior to Lululemon to warrant the hefty price tag.
The Signature ANDI bag is $198 and is their most popular silhouette. An average Lululemon bag costs from $100-$130. When the Winter Camo and Quartz Pink color-way came through, I bit the bullet and went for it.
What intrigued me most about this bag was that it could transform from a crossbody into a backpack. The two bag styles that I LOVE are 1) a roomy AYCC (all you can carry) crossbody and 2) backpacks that allow me to be hands-free. Being able to transform my backpack into a crossbody and vice-versa was a novel idea I was willing to invest in.
https://www.instagram.com/p/BhNI8gMnDrK/
Signature ANDI Technical Details
The bag measures 20.5" x 12" x 5" and compacts to 8" x 3" x 2."
The double handles are coated with texturized rubber and is 1.5" wide with an 11.5" drop length.
The material is Nylon, waterproof coated oxford with heavyweight nylon webbing.
The bag opening is a 2-way zipper pull making it accessible from the right or left.
The hardware is made of zinc metal alloy with a gunmetal finish, offering an urban and sleek look and corrosion resistant barrier.
And finally…ANDI bags are 100% VEGAN! Not only is the ANDI super duper durable, it's also Earth-friendly.
Signature ANDI Bag Features:
Ergonomic: The ANDI bag fabric is weightless industrial-strength material designed to be worn three ways:

Tote over your shoulder,
Hands-free crossbody while easily accessing your belongings,
Out-of-your-way and on your back as a backpack.

Compact:

If you're traveling, the ANDI converts to roughly 5% of its size in a snap out wristlet. Stuff it into your luggage when not in use. Bring it out when you need a crossbody tote around town.

Yoga Ready: Convert your ANDI bag to attach your yoga mat.
Smart Pockets: The ANDI has 4 pockets (1 on the outside and 3 on the inside)
Weatherproof: Water-resistant and temperature adaptive.
What's In Schimiggy's ANDI Bag?
Whew! And that's not all this bag holds. Even with my bag filled with my daily necessities, I could still fit a pair of shoes and an extra outfit in there if I needed to.
ANDI Bag Pros
Unassumingly spacious! The material is so thin and the construction of the bag allows it to expand and fit everything you need for a short weekend or a busy day. Even with all the items, I packed into my bag, there was plenty of space for more.
Durable nylon fabric that offers a manufacturer warranty. If your bag experiences any manufacturing defects, send it back to ANDI for repair or for a new bag.
Amazing standout patterns with color accents. I love the winter camo quartz pink strap combination. I've already received tons of compliments from people who have no idea about the ANDI brand. The bags will definitely make you stand out.
My dog fits in the bag. My dog, Bebot, is a 6 pound Chihuahua who absolutely loves traveling via crossbody and backpack. Bebot 100% approves of ANDI!
The ANDI Bag is 100% VEGAN.
How to Wash Your ANDI Bag
All ANDI bags are machine-washable. Machine wash in cold water with like colors and then air dry. I air dry mine away from the sun to avoid any fading.
Where is the ANDI made?
The majority of ANDI bags are made in Taiwan (some are made in the New York area). Taiwan's strict environmental and labor standards make it a great fit for ANDI. ANDI's factory in Taiwan was carefully chosen for both quality and values. Their manufacturers in Taiwan are more than business partners, they're like family.
Other Details
How Do Andi Returns Work?
ANDI bags can be returned for a full refund within 15 days of the delivery date. ANDI will only accept returns for items that have not been used, altered or washed.
Upon receipt of returned goods, The Andi reserves the right to deny refund if the merchandise does not meet return policy requirements. You will be responsible for all shipping and handling charges for returned merchandise.
Warranty Promise
If anything happens to your ANDI, contact the ANDI warranty department to get your ANDI fixed or replaced. ANDI offers free shipping within one (1) year of your purchase and defects must fall under manufacturer warranty guidelines.
Make sure to register your ANDI bag when you receive it and keep all your receipts.
ANDI Bag Cons
Obviously, there are SO many pros about the Signature ANDI bag. There has to be some negatives to go along with the good. Here are some of my gripes about the ANDI bag.
The material is VERY lightweight and doesn't seem to be worth the $198 price tag. It is nonetheless very durable. If anything happens to it, I will inquire with their warranty team and report back on the process.
The backpack transformation requires some careful handling. I tend to grab one strap of a backpack to slip it on. That's the convenience of having a backpack. The backpack conversion of the ANDI bag required some getting used to. I had to carefully slip one side on while ensuring there is still enough slack to slip my opposite arm through. I can see this becoming an issue while wearing a large jacket that might prevent mobility. Eventually, I made it work, however, when I am in a hurry it will more of an annoyance than anything. It was still not a dealbreaker for me. I could easily carry this bag during Spring and Summer and carry my other backpacks during Fall and Winter. UPDATE: I found a solution to keep the straps in place when using the backpack transformation. I use a diaper safety pin to pin the strap in place. The pins are thick and strong.
No laptop compartment. I could hear my laptop banging against hard surfaces. I would place it in a laptop sleeve before slipping it into my ANDI.
The design is tricky when trying to match with all my colorful activewear. This was the least of my concerns. I ended up wearing a grey tank and black leggings with my ANDI bag.
Should I Buy ANDI?
YES, you should get an ANDI bag!
I had my doubts at first. I have been brainwashed to believe Lululemon to be superior to ANDI and most other brands. I am glad I gave ANDI a try. Not only does their product have superior functionality, but the mission and values behind ANDI also are very admirable and is something I love supporting.
I do think the ANDI bag is overpriced. The bag is made to be packable and non-bulky, yet it is very durable. It does not take much material to create. I would gladly pay around $125 for this bag based on how much product was actually used in the creation of this bag. The ANDI XL bag is $248.
Where to Buy ANDI
If you found our ANDI review helpful, please share it on Pinterest. Thanks for your support!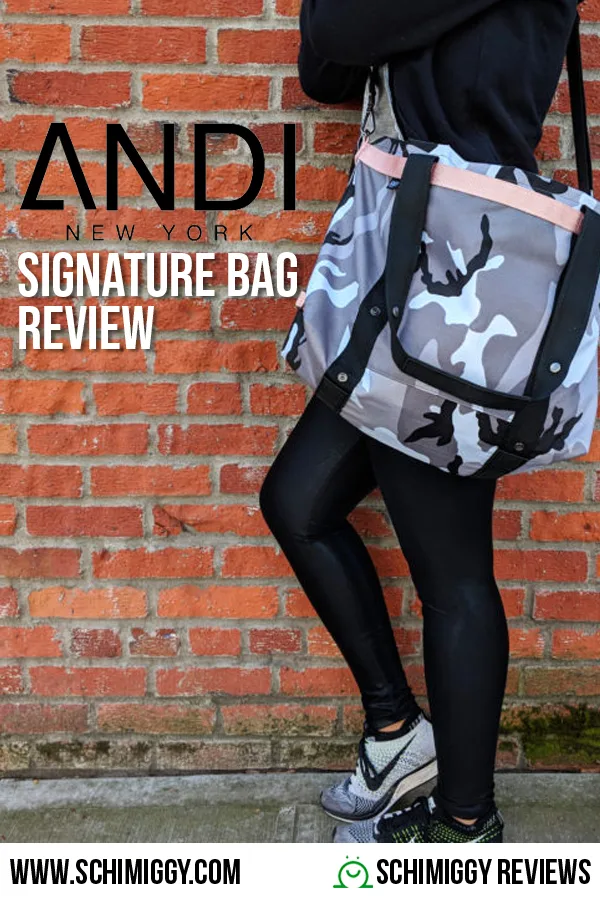 ---
Thank you for visiting today! If you found this encouraging or informative, please connect with us on Instagram, Youtube, Pinterest, Facebook or Twitter. We'd love to meet you!
Sign-up for our monthly newsletter for updates and more. We promise we won't spam you! Feel free to unsubscribe anytime.
For more fitness fashion discounts and offers, please visit our Fitness Instructor Discounts + Brands Directory or favorite brands coupon codes list.
If you're a brand and want to submit a product for us to review, please use this form to get in touch.
This site uses affiliate links. Clicking on or purchasing via an affiliate link may result in commissions for us which help keep the content flowing and lights on at Schimiggy Reviews. You may read more about this in our privacy policy.