Reading Time:
3
minutes
Updated: 8/16/2023 | What to Wear in Las Vegas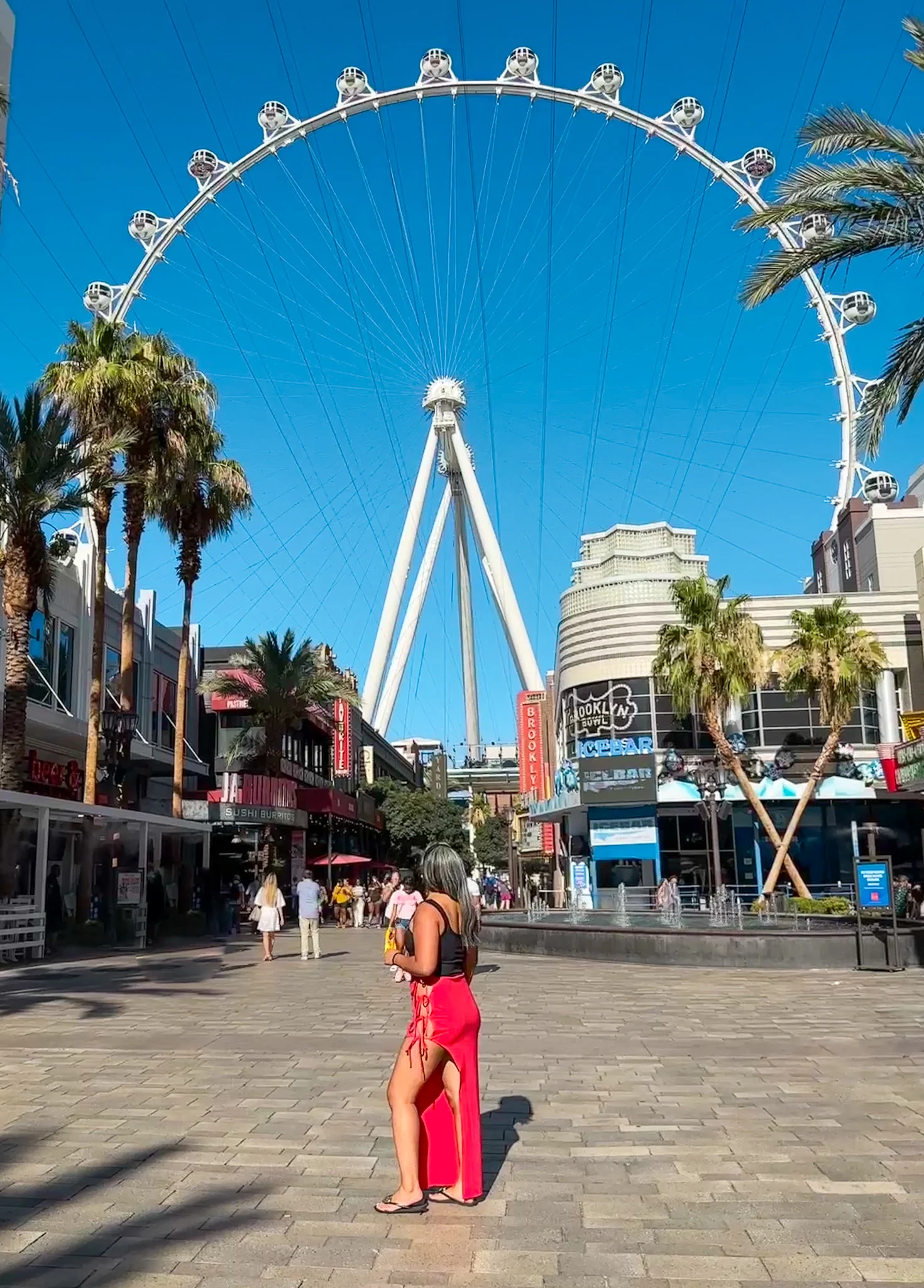 Las Vegas is a fun destination to visit. We love all the delicious food, amazing sights, and attractions to visit. And don't forget the nightlife. The nightlife is a big reason why millions of people flock to Vegas each year.
One of our favorite things about traveling is being able to dress up!
Here is our guide on what to wear on your next trip to Las Vegas!
Related: Las Vegas Travel Guide
Typical Temperatures in Las Vegas
| Month | High/Low | Rain |
| --- | --- | --- |
| January | 59° / 28° | 2 days |
| February | 66° / 33° | 2 days |
| March | 72° / 39° | 2 days |
| April | 81° / 45° | 1 days |
| May | 90° / 53° | 0 days |
| June | 102° / 61° | 1 days |
| July | 107° / 67° | 1 days |
| August | 104° / 66° | 1 days |
| September | 96° / 57° | 1 days |
| October | 83° / 46° | 1 days |
| November | 70° / 35° | 1 days |
| December | 60° / 27° | 1 days |
What to Wear in Las Vegas
Spring (March through May)
Spring is our favorite time to visit Vegas! The temperature is pleasant during the day but can get chilly at night.
Here is what we'd pack in our bags for a Spring Vegas trip.
Mini Dresses
Midi Dresses
Short Sleeve Dresses
Flowy Dresses
Shorts
Tank Tops
Skirts
T-Shirts
Swimwear
Kimono/Cover-Ups
Straw or Cotton Hats (for sun protection)
Sunglasses
Sandals
Light Jacket (for evenings)
Summer (June through September)
Summer is HOT in Las Vegas. It's still very busy with lots of activities to do and things to see. We recommend staying cool in breathable and lightweight clothing. Do not forget your sunscreen.
Mini Dresses
Strappy Dresses
Flowy Lightweight Dresses
Shorts
Mini Skirts
Tank Tops
Swimwear (Bikinis and one-piece suits)
Kimonos/Cover-Ups
Straw or Cotton Hats (for sun protection) – Opt for a wide brim.
Sunglasses
Sandals
Sunblock
Fall (October through November)
The weather is pleasant during the day and can get very cold as soon as the sun sets. We recommend an outfit change when you visit during this season. Here is what we'd bring on our Fall Vegas trip.
Short Sleeve Dresses
Long Sleeve Dresses
Short Sleeve Tops
Long Sleeve Tops
Jacket
Coat
Pants
Capris
Leggings
Skirts
Blouses
Sneakers
Close Toed Shoes
Winter (December through February)
Winter in Las Vegas can be pretty chilly. It's a good idea to stay bundled up and check in your outerwear when you get o the clubs. Here is our winter apparel checklist for Las Vegas.
Maxi Dresses
Long Sleeve Dresses
Long Sleeve Tops
Turtleneck Tops
Pants
Leggings
Sweaters
Jackets and Outerwear – We love a good fur coat!
Boots
Sneakers
Close Toed Shoes
Hosiery
Scarves
Gloves
Beanie
Felt Hats
Brands We Love to Shop
If you found our What to Wear Las Vegas guide helpful, please share it. Thanks for your support!
---
Thank you for visiting today! If you found this encouraging or informative, please connect with us on Instagram, Youtube, Pinterest, Facebook or Twitter. We'd love to meet you!
Sign-up for our monthly newsletter for updates and more. We promise we won't spam you! Feel free to unsubscribe anytime.
For more fitness fashion discounts and offers, please visit our Fitness Instructor Discounts + Brands Directory or favorite brands coupon codes list.
If you're a brand and want to submit a product for us to review, please use this form to get in touch.
This site uses affiliate links. Clicking on or purchasing via an affiliate link may result in commissions for us which help keep the content flowing and lights on at Schimiggy Reviews. You may read more about this in our privacy policy.