Reading Time:
12
minutes
Updated: 8/16/2023 | Las Vegas Travel Guide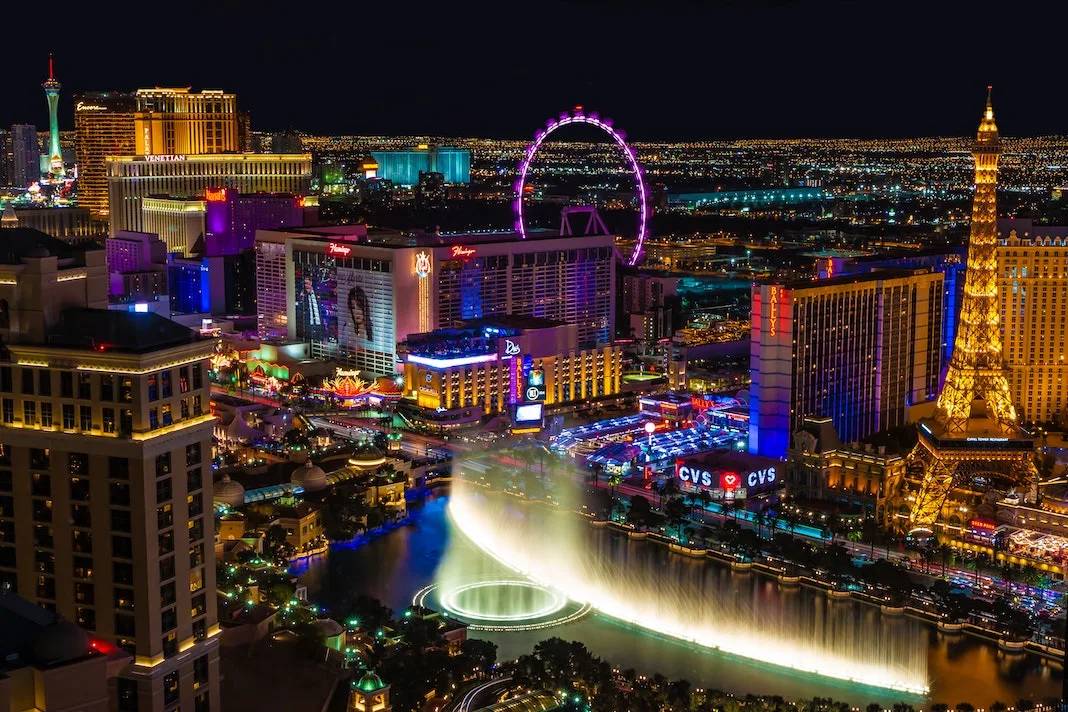 About Las Vegas
Las Vegas is the place to party in the United States of America (USA). It's located in the state of Nevada and is filled with things to do for all ages and interests.
Nicknames for Las Vegas include Sin City/Vice City, The Entertainment Capital of the World, the Gambling Capital of the World, the Marriage Capital of the World, the Neon Capital of the World, the City of Lights (along with Paris), the City that Never Sleeps (along with New York), the City of Second Chances, Lost Wages (credited to Milton Berle), and a new one, the Bone Yard (for all the unfinished construction along the Strip).
It's truly a city that never sleeps and there are so many chances for you to live out your wildest dreams anywhere you go.
We wrote up a travel guide to help you best experience the fun-filled and illuminated city of Las Vegas!
How Many Days Should I Spend in Las Vegas?
A good number of days to spend in Las Vegas is anywhere between 3-5 days. You'll find that there is so much to do and just being in a place that never sleeps can be a little overwhelming. We have revisited Las Vegas a dozen time because there are always new attractions popping up.
The best time to visit Las Vegas is in Spring (March through May) and Fall (September through November) when the weather is pleasant and you can easily hotel hop via foot.
If you decide to go when it's hot (June through July), make sure you stay hydrated and bring the appropriate clothing and accessories for your stay.
Related: Guide on What to Wear in Las Vegas
Where to Stay in Las Vegas
Before you book activities, we highly recommend booking your stay in Las Vegas.
Most people call the main road in Las Vegas, the Strip. Staying on the Strip will allow you to get the most out of your Vegas experience. From the Strip, you can pretty much walk to any hotel, club, restaurant, and attraction along the Strip.
Hotels that we highly recommend include:
There is also a free tram that will take you between the Aria, Vdara, and Bellagio. We recommend taking the tram or shuttle to get between hotels when it's hot outside.
When booking a hotel, we also highly recommend signing up for their player's clubs so that you can gamble and earn free hotel stays, food, tickets to attractions, and more. Most programs are free to join.
What to Do and See
Here are the best things to do and see when in Las Vegas.
#1 Visit Area15
Area15 is a cool place to hang out and get respite from the hot summer heat in Las Vegas. Inside you'll find restaurants and bars that are great for the entire family. There are some areas where underage visitors are not allowed, but in general, it's a great place to hang out with the entire family.
Surrounding Area15 are other establishments that offer unique experiences for every interest.
We recommend checking out the following exhibits while you're at Area15:
#2 Check Out Omega Mart
Omega Mart is a creative art and experience installation by Meow Wolf!
From the exterior, it looks like a grocery store, but once inside, there are so many fun experiences and interactive installations that you can partake in. It's like stepping into an alternate world that is filled with weird displays and oddities. Expect to spend 2-3 hours here. We promise you'll have so much fun!
Tickets are $50 and reservations are required. Omegamart is located within Area15.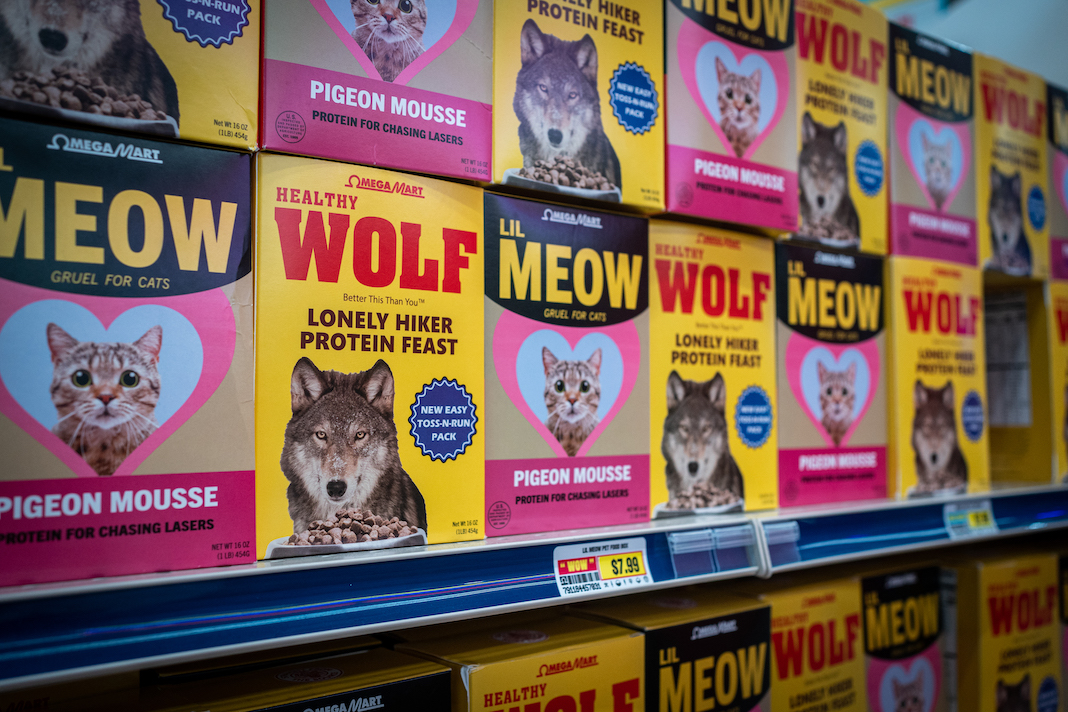 #3 Drive Out to the Seven Magic Mountains
The Seven Magic Mountains is a colorful art installation in the middle of the desert by Ugo Rondinone. It's also one of the most popular Las Vegas bucket list items.
It's only a 30-minute drive from the strip. We recommend going during the morning or in the afternoon during golden hour to get some awesome shots with the colorful rocks in the background. See our Instagram post for some inspo.
And while you're on the road, we highly recommend visiting the Welcome to Las Vegas sign on the way back to or from the strip. Both attractions are free to visit.
Address: S Las Vegas Blvd, Las Vegas, NV 89054
#4 Check Out Downtown Las Vegas
Downtown Las Vegas is a short drive from the strip and totally worth visiting. We love all the art installations that you will encounter when perusing Fremont Avenue. Here is a list of statues and attractions you should seek out:
Fremont Graffiti Mural
Flame throwing praying mantis
Golden Goose
Yellow Fire Hydrant
Graffiti Art Containers
School's Out School Bus
Mechanical Hand Statue
#5 Hike the Red Rocks
One year on my birthday, I booked a limo with friends and we hiked Red Rocks in Halloween costumes.
It's a short drive from the strip and is super fun to explore when the weather is not too hot yet sunny. We went in October during my birthday and the weather was perfect!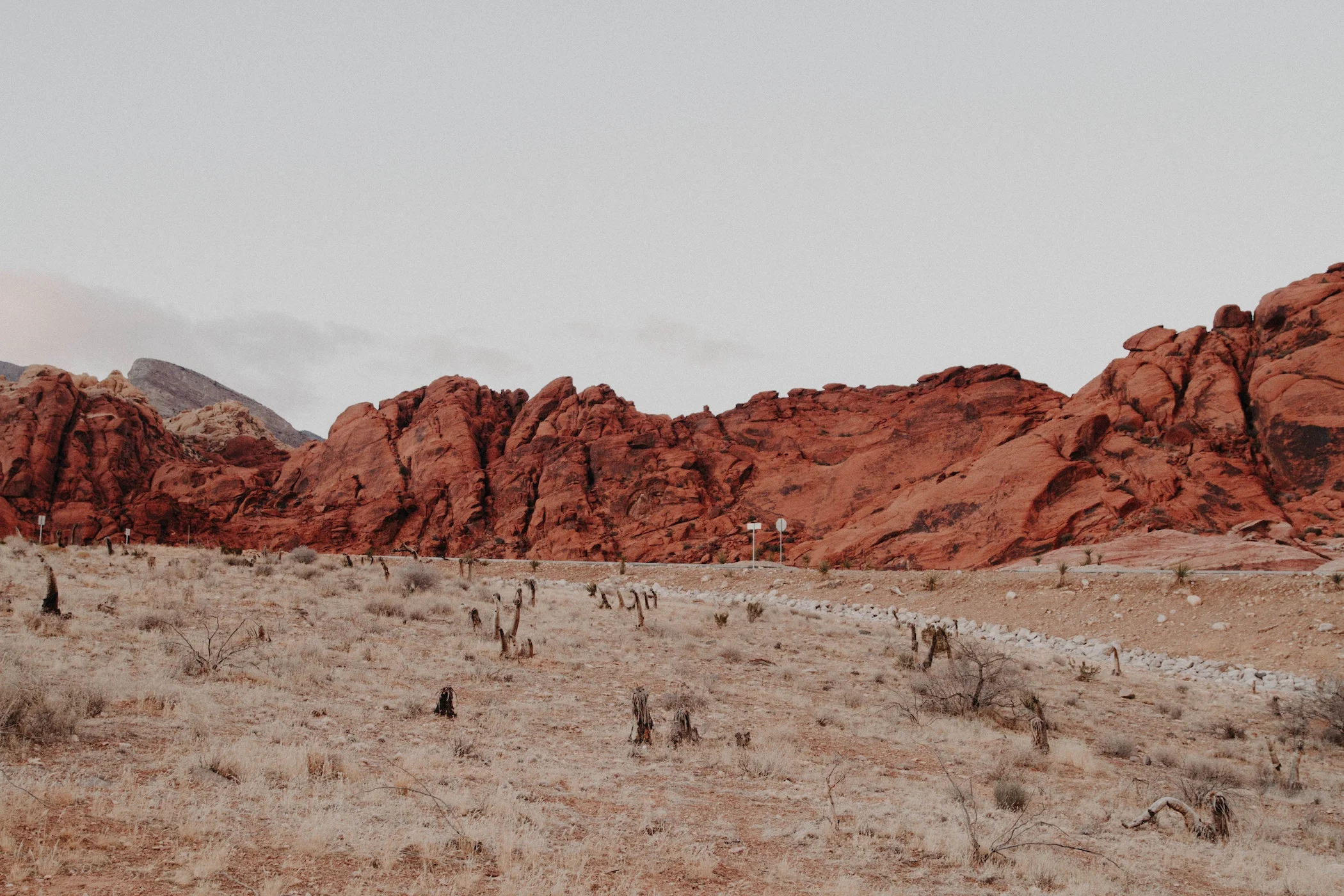 #6 Go Clubbing!
100% of people who come to Vegas come for the insane nightlife. The club scene here is huge and the clubs themselves are a production that is like no other. Many nightclubs book DJs to perform throughout the weekend. DJs such as Kaskade, Tiesto, Marshmallow, Steve Aoki, Seven Lions, and more come from all over over the world to perform at Las Vegas nightclubs.
We highly recommend getting on guest lists and coming early to get into the clubs for a discount and sometimes free for women. It's also common for larger parties to book table service at clubs which will run you anywhere between $1,500 to $7,000 an evening.
Read our nightclub dress code guide to prepare your sexy nightlife outfits.
#7 Watch a Show
There are so many shows in Las Vegas. We love watching shows by Cirque du Soleil and other smaller shows with tribute bands. There are also plenty of magic shows in the area.
#8 Visit a Strip Club
If this is your thing, you should visit a strip club! We have been to Crazy Horse, Sapphire, Spearmint Rhino, and Peppermint Hippo (formerly the Olympic Garden) and love them all!
Just a fair warning, strip clubs tend to be money-guzzling affairs, so make sure you clarify how much dances and private shows will cost you. We once went into a strip club and ended up spending $6,000 for 5 hours with the ladies.
For swingers (yes, we didn't forget about you) check out the Green Door swingers club.
#9 Go Shopping
Las Vegas is an amazing shopping destination. There are so many high-end and world-renown brands offered throughout their malls and shopping centers.
Our favorite shopping destinations include:
Grand Canal Shops – Located in the Venetian Hotel and has many high end shops and eateries.
The Shoppes at the Palazzo – Fancy part of the Grand Canal Shops with high-end brands like Chanel, Gucci, Fendi, and more.
#10 Visit the Las Vegas Welcome Sign
The Las Vegas welcome sign is worth visiting if you're looking for an Instagram photo opportunity. It's most accessible and worth a stop if you're driving into Las Vegas from California.
#11 Take a Food Tour
Many people come to Las Vegas because of the world-renowned cuisine.
Many celebrity chefs have restaurants along the Strip. There are also many amazing restaurants surrounding the area because Vegas is a great place for up-and-coming chefs to make their mark in the world. We return to Las Vegas to try new restaurants because they are that amazing.
We highly recommend the Taste Buzz Food Tours. They offer 3-hour long tours along the Strip, Arts District, and Downtown/Fremont. We love their tours because their guides are very knowledgeable, fun, and organized. Expect to end the tour very full!
Check out our video below to get a glimpse of their tasty Arts District food tour.
View this post on Instagram
#12 Ride the High Roller Ferris Wheel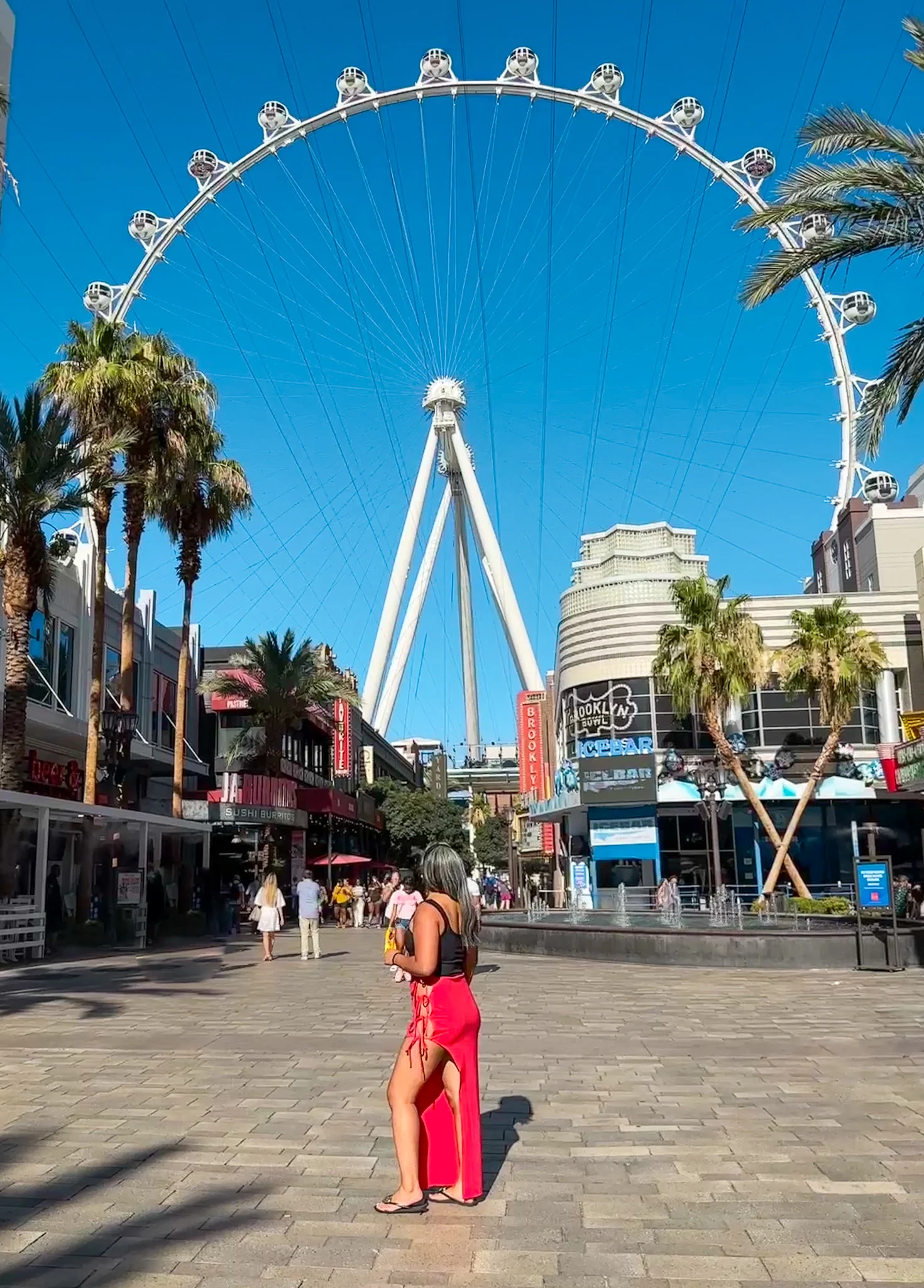 Las Vegas has the second tallest ferris wheel in the world!
The High Roller Ferris Wheel is 550 ft tall and 520 ft wide in diameter. The wheel is located on the Las Vegas strip and opened in March 2014 as the world's tallest ferris wheel until the Ain Dubai was erected in 2021.
Related: Ferris Wheels from Around the World
#13 Check Out the Electric Daisy Carnival (EDC)
I recently went to my first Electric Daisy Carnival (EDC) in 2021 and loved it. We spent three days camping in the desert and watched EDM artists from all over the world perform at one of the largest music festivals ever.
Not only do you get to enjoy music, but you'll also get to view artwork and shows from talented artists and performers from all over the world. It's definitely worth checking out at least once in your life.
Where to Eat
Here are our favorite restaurants in Las Vegas!
Arts District Kitchen – Located in Able Baker Brewing, this small kitchen serves up some mighty flavors. They have a Vietnamese pork belly taco that will blow your mind.
Bacchanal Buffet – This is the best buffet! It's located in the Caesar Hotel. We highly recommend making reservations and signing up for their awards program for the chance to get discounts on attractions and food within the hotel. Stay for the dinner shift where you can dine on warm crab legs with butter. It's so good!
Block 16 Urban Food Hall – It's worth a visit to the Block 16 Urban Food Hall in the Cosmopolitan Hotel. There you'll find popular and world-renowned restaurants such as Pok Pok, the Milk Bar, Hattie B's, Momofuku, and more!
In n Out Burgers – As a former SoCal resident, a visit to In n Out is a must! I love their freshly prepared burgers and fries. There are multiple locations but we often go to the one on Linq Promenade on the Strip. If you're on a diet, we highly recommend getting their burgers protein style (lettuce wrapped without bun). Of course, we also compromise our diet with some animal fries!
View this post on Instagram
Lotus of Siam – Amazing (and super spicy) Thai food. Reservations are highly recommended.
Mas Por Favor – Calling all Narcos fans! Mas Por Favor is a vibe. You'll enter through a tunnel into a spacious dining area. We went in during their Christmas in July event and were blown away by the atmosphere, food, and drinks. Their food and drinks are creative, tasty, and definitely memorable. We highly recommend their Birria, Not Birria (Cup of Noodles in a tangy chicken consommé with chicken taco) and a cup of Elotes topped with Flamin Hot Cheetos crumble. Their Christmas in July menu is also worth trying. We are OBSESSED with the Polar Express tacos (prime rib tacos with stuffing, cranberry sauce, and a side of gravy) and Peppermint Patty cocktail.
Polaris Street Cafe – This breakfast joint is located in a gas station. You won't know it's a restaurant until you step inside.
Raku – Located off the strip, this Japanese restaurant is super delicious and memorable. They make their own tofu that is simple yet super buttery and satisfying.
Rock N' Potato – Rock N' Potato is an unassuming food court joint that combines their love for baked potatoes and rock music. They also serve loaded potatoes, mac and cheese, and amazing birria (stewed goat or beef) tacos with an aromatic consommé that you'll want to eat all the time. We are obsessed with their birria baked potato.
View this post on Instagram
Secret Pizza – Find a hidden pizza joint down a narrow hall on the 3rd floor at the Cosmopolitan Hotel. Be prepared to wait in line if you decide to go late at night.
Superfrico – We are OBSESSED with Superfrico. The restaurant opened up in mid-September of 2020 and is a dinner-plus show experience that everyone needs to have. We highly recommend their creative Italian fare, especially the king crab bucatini pasta, broccoli, deep-dish pizza, and fried mozzarella. The cocktails are also some of the best we've had in Las Vegas. Don't forget to ask to go to the Ski Lodge, which is their hidden speakeasy bar within the restaurant.
Tacos el Gordo – This is the BEST place for tacos. There are three locations in Las Vegas but we highly recommend the one near the strip. Order the Al Pastor, Carne Asada, and Adobada meats which can be made into tacos, quesadillas, mulas/mulitas, and even dressed fries. You will need to stand in separate lines to order different proteins but trust me, it is so worth it!
The Steak House – This hidden gem is located in Circus Circus and not many people know about it.
Zeppola Cafe – If you're looking for delicious pastries and breakfast, we highly recommend Zeppola Cafe. They're located in the Venetian Hotel in the Grand Canal Shops and have an amazing breakfast menu and pastries that you should not skip out on. We loved everything and highly recommend their sourdough avocado toasts, omelets, round flaky pastries, and croissant sandwiches. They also have a location in NYC that we can't wait to try. Definitely add this to your places to dine in Vegas.
View this post on Instagram
Where to Drink
You can pretty much drink anywhere in Las Vegas. Almost all casinos will offer beverages to players. You only have to tip the cocktail waiter/waitress when they deliver your beverages. The standard tip amount is typically $1 per drink.
And if you want a good craft cocktail, we got you covered. Here are our favorite cocktail bars in Sin City!
Able Baker Brewing – An awesome craft brewery located in Brewery Row. We love their Cherry Berry LIME! LIME! which is a sour beer that will remind you of a warhead without the cloying tartness. Get a flight of beer and receive a surprise! The brewery also shares space with the Arts District Kitchen. While you are here, try their fusion tacos. We had a Vietnamese Pork Belly taco that blew our minds! Beer lovers, do not skip out on this spot!
Chandelier Bar – A Cool bar with a humongous chandelier draped over it.
Downtown Cocktail Room
Frankie's Tiki Room
The Golden Tiki – We are OBSESSED with the Golden Tiki. It's located off the strip but not too far. They serve some of the BEST Tiki Drinks I've ever tasted. The space itself is a vibe with shrunken celebrity heads all over and dicey artwork in the restrooms. Reservations are highly recommended. Do not miss this!
Ghost Donkey – Hidden away in the Cosmopolitan food court, this Mexican speakeasy serves reimagined beverages such as a Mushroom Margarita.
Herb's and Rye
Juniper Cocktail Lounge
The Laundry Room – A cool speakeasy located Downtown. Reservations are required.
Mike Morey's SipnTips
Oak and Ivy
Park on Fremont – One of the best bars I've been to in Downtown Las Vegas. It has a hidden see-saw in the back and the bar is adorned with interesting artwork and funky taxidermy. If you love weird things, you'll love it here.
The Sand Dollar Lounge – An alternative style bar with craft beer and heavy metal music.
The Silver Stamp – A speakeasy bar with an amazing craft beer collection. Located in the Arts District.
Superfrico – Try to access their speakeasy bar, the Ski Lodge.
The Underground Speakeasy and Distillery – Located in the back of the Mob Museum, this speakeasy is worth visiting if you're ever in Downtown Las Vegas. They have a cocktail that arrives in a book.
Las Vegas Travel Guide Map
Use our Las Vegas travel guide map to help you plan your trip.
If you found our Las Vegas travel guide helpful, please share it on Pinterest. Thanks for your support!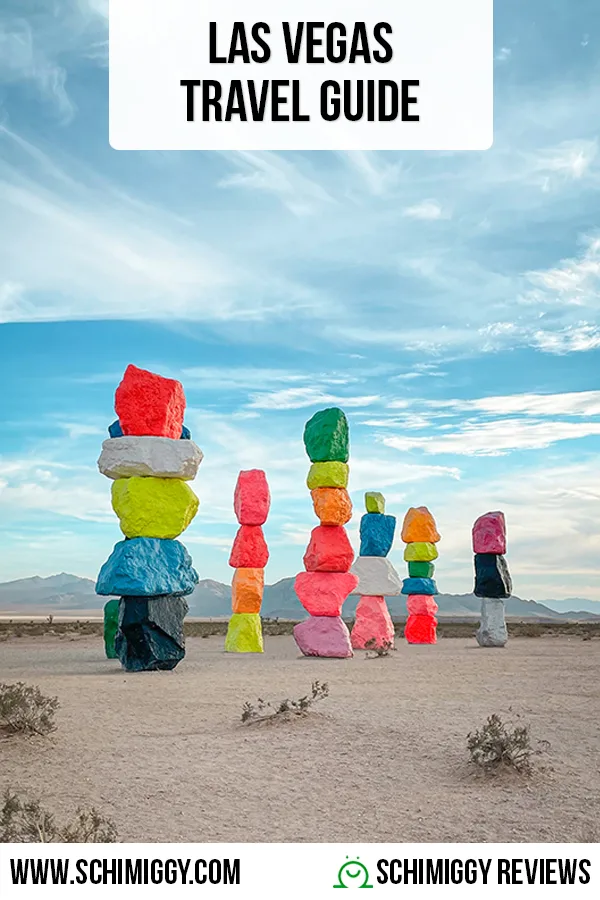 ---
Thank you for visiting today! If you found this encouraging or informative, please connect with us on Instagram, Youtube, Pinterest, Facebook or Twitter. We'd love to meet you!
Sign-up for our monthly newsletter for updates and more. We promise we won't spam you! Feel free to unsubscribe anytime.
For more fitness fashion discounts and offers, please visit our Fitness Instructor Discounts + Brands Directory or favorite brands coupon codes list.
If you're a brand and want to submit a product for us to review, please use this form to get in touch.
This site uses affiliate links. Clicking on or purchasing via an affiliate link may result in commissions for us which help keep the content flowing and lights on at Schimiggy Reviews. You may read more about this in our privacy policy.