Reading Time:
2
minutes
Wondering what to take with you to the gym? We've got you covered.
I remember when I first started working out and did not know what to bring with me. I brought everything in a backpack and always ended up forgetting something important once I was there. Forgetting necessities can often leave you feeling frustrated or unable to continue your workout.
If you're new to working out or just need a reminder of what to bring, here is a checklist that you can use the next time you head to the gym.
Once you get the hang of things, you'll know exactly what to bring with you each time you go workout. Packing your gym bag will become second nature and your mental checklist will come without effort.
And if you'd like to see our favorites, just click on the links below to see what products we recommend.
Gym Bag Checklist
I. Clothing – What to Wear to the Gym?
II. Accessories
III. Beauty and Self Care Products
Make-Up
IV. Equipment
V. Personal Items
Keys
Gym Membership Card
Final Thoughts
We hope this checklist was helpful! Feel free to omit some things that you don't need at the moment or add things that you do. What you bring with you to the gym is intended to make life at the gym easier and convenient.
What are your favorite things to bring to the gym? Tell us in the comments.
Related: Sharklet Antibacterial Yoga Mat Review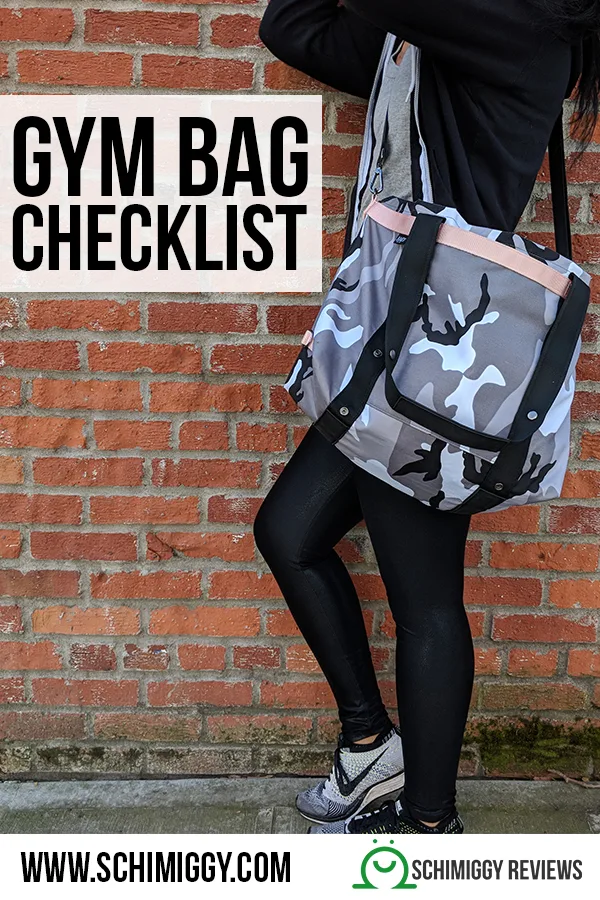 ---
Thank you for visiting today! If you found this encouraging or informative, please connect with us on Instagram, Youtube, Pinterest, Facebook or Twitter. We'd love to meet you!
Sign-up for our monthly newsletter for updates and more. We promise we won't spam you! Feel free to unsubscribe anytime.
For more fitness fashion discounts and offers, please visit our Fitness Instructor Discounts + Brands Directory or favorite brands coupon codes list.
If you're a brand and want to submit a product for us to review, please use this form to get in touch.
This site uses affiliate links. Clicking on or purchasing via an affiliate link may result in commissions for us which help keep the content flowing and lights on at Schimiggy Reviews. You may read more about this in our privacy policy.