Reading Time:
3
minutes
It's no secret that meditation and yoga can be combined to relieve stress. However, can these practices really help improve the lives of caregivers and their senior loved ones? That depends on how you get started and how much you practice. With these simple tips, however, you can maximize the benefits that yoga and meditation have for your overall health and well-being.
#1 Consider Signing Up for a Beginner's Yoga Class
The best part of starting a yoga and meditation practice is experiencing the major benefits to your mental and physical well-being. These relaxing activities have an unparalleled ability to transform caregiver and senior stress into more positive, uplifting energy. If chronic pain is an issue for you or your loved one, practicing yoga can also help alleviate inflammation.
One of the best ways to get started is to begin practicing with a group. The social connection and strength you receive from participating in this peaceful practice with others can have additional perks for your emotional and physical longevity, so think about signing up for a local class or search for live classes online. Plus, you can get more help learning new poses.
If you or your senior family member has a Medicare Advantage plan, you may even be able to get the costs of classes covered. While basic Medicare coverage will not pay for yoga, some Medicare Advantage options may. Check online Medicare Advantage resources for more info. Once you've determined your options, use this guide to prepare for your first yoga class.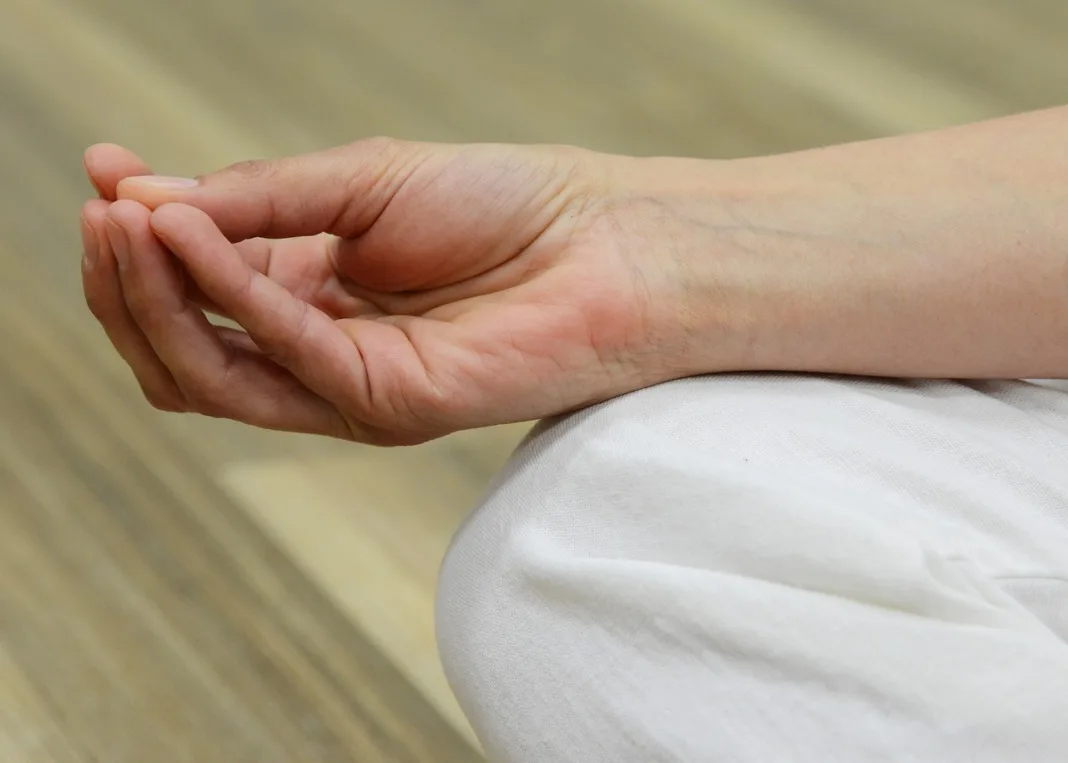 #2 Download Apps and Tutorials to Get Started With Meditation
While meditation does not involve the physical demands of a yoga practice, you may need a little help getting started with your practice. Learning to completely focus your mind is one of the most challenging parts of meditation, and the extra stress of being a caregiver can add to this difficulty. Using a personal mantra can be a useful trick for preventing those worrying thoughts from clouding your meditation efforts. This should be a simple mantra you repeat to yourself to keep your mind focused, but sometimes a mantra is still not enough.
When you need a little extra push to keep your mind centered, you may need to look for meditation help online. You can find free apps and tutorials using your phone or laptop, and these guided practices can give you an extra level of support when it comes to succeeding with mindful meditation. Many also use calming music or sounds to help keep your mind from wandering with too much quiet. If you begin practicing on your own, you can incorporate your own relaxing background noise if it helps to keep your brain focused on your session.
#3 Engage in Your Yoga and Meditation Practice Every Single Day
What makes caregiver stress so challenging is that it is something you have to deal with every day. Chronic levels of stress for caregivers can be even more dangerous than usual and has been linked to depression, cognitive dysfunction, and even physical illnesses. If you want to improve your emotional health with yoga and meditation, you have to be committed to practicing every day. Use the time you spend working through your practices as a break for your mental health.
If it helps, maybe think about setting up a meditation/yoga sanctuary somewhere peaceful and quiet inside your home. Curtains or a screen can help establish a physical and emotional barrier for stress around this sacred space, so look for ways to clear out space to maximize calm and comfort. Soothing lighting can add needed ambiance, and you can easily light your sessions with candles and lamps. Use scented candles or oils to invite more relaxation into your room.
Practicing yoga and meditation can be a healing habit for caregivers to start with their senior loved ones. These peaceful routines can go far in reducing stress and relieving feelings of depression, but only if you use them on a regular basis. So, start complementing your daily self-care practices with yoga and meditation to provide a major boost to your mental health.
Guest Post was written by Harry Cline, Chief Educator of NewCaregiver.org.
---
Thank you for visiting today! If you found this encouraging or informative, please connect with us on Instagram, Youtube, Pinterest, Facebook or Twitter. We'd love to meet you!
Sign-up for our monthly newsletter for updates and more. We promise we won't spam you! Feel free to unsubscribe anytime.
For more fitness fashion discounts and offers, please visit our Fitness Instructor Discounts + Brands Directory or favorite brands coupon codes list.
If you're a brand and want to submit a product for us to review, please use this form to get in touch.
This site uses affiliate links. Clicking on or purchasing via an affiliate link may result in commissions for us which help keep the content flowing and lights on at Schimiggy Reviews. You may read more about this in our privacy policy.