Reading Time:
3
minutes
Updated: 4/20/2022 | VIVAIA Harper Messenger Bag Review

Disclaimer: I received the VIVAIA Harper Messenger Bag to review in this post. As always, all thoughts and opinions are mine and 100% honest.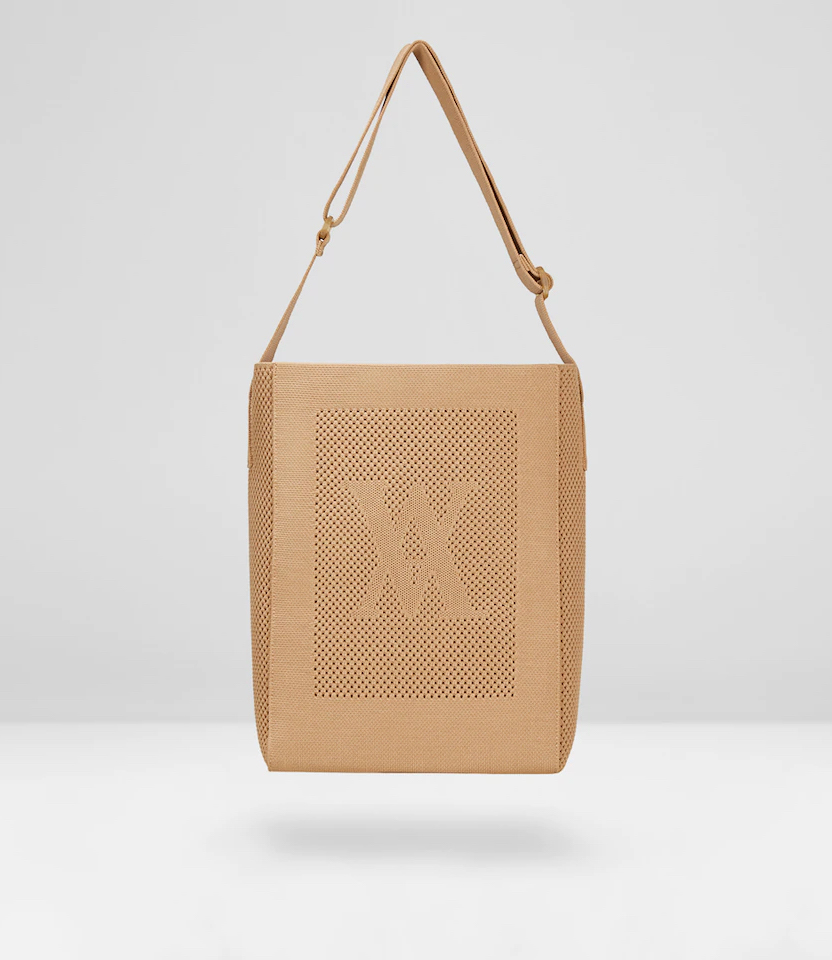 About VIVAIA
VIVAIA is a men and women's fashion brand. They started with sustainable shoes that were very similar to Rothy's styles but at a more affordable price point.
VIVAIA Harper Messenger Bag Review
We received the Harper Messenger Bag ($140) to review in this post. It's a crossbody style bag that comes in three colorways (black, olive green, and camel).
We chose camel because it's a neutral color that will go with pretty much our entire wardrobe.
We also LOVE crossbody bags because they allow you to go hands-free and are great for traveling.
Below we'll share the pros and cons of the Harper crossbody bag.
VIVAIA Crossbody Bag Pros
Sustainably Made – Their bags and shoes are made from used water bottles.
Adjustable Straps – The thick straps are comfortable and adjustable.
Lightweight – The bag is super lightweight due to the material. It weighs only 14 oz.
Large Capacity – The bag fits large tech items such as laptops and DSLR cameras. The dimensions of the messenger bag are 10.4″ L x 4.7″ W x 14.3″ H (or 26.5cm x 12cm x 36.5cm).
Large Inner Pocket – I am so glad this style comes with a large inner pocket. I keep my keys, wallet, phone and face mask in here for easy access. Often in larger purses such as this one, my belongings get lost.
Comes in different colors. The Harper Messenger Bag current comes in three colors (black, camel, and olive green).
Machine washable – Simply throw it in the washer and air dry in a shaded area and your bag will look new forever.
Cheaper than Rothy's – VIVAIA is considered a Rothys dupe brand but their prices are definitely cheaper than Rothy's.
Related: VIVAIA Versus Rothy's – Which is Better?
VIVAIA Crossbody Bag Cons
Lacks Shape – I was hoping the material would be a little stiffer like VIVAIA's Zahara bag material, but the Harper is super soft and doesn't hold its rectangular shape even when filled. It will take the shape of what's inside the bag. Nonetheless, I still love carrying the bag. I just wish it held its shape.
No Locking Mechanism – The bag does not have a locking mechanism. The bag is open on top and can be attractive to pick-pockets.
Not Reversible – VIVAIA offers a few styles that are reversible. This one is unfortunately not one of the features of this bag.
Made in China. While "Made in China" doesn't necessarily mean a bad thing, it does create sustainable supply chain issues. Shipping takes more resources to arrive at its final destination.
Plastic Packaging – While VIVAIA packages their products in sustainable and recyclable packaging, their final packing partners wrap the products in plastic for the final leg of shipping.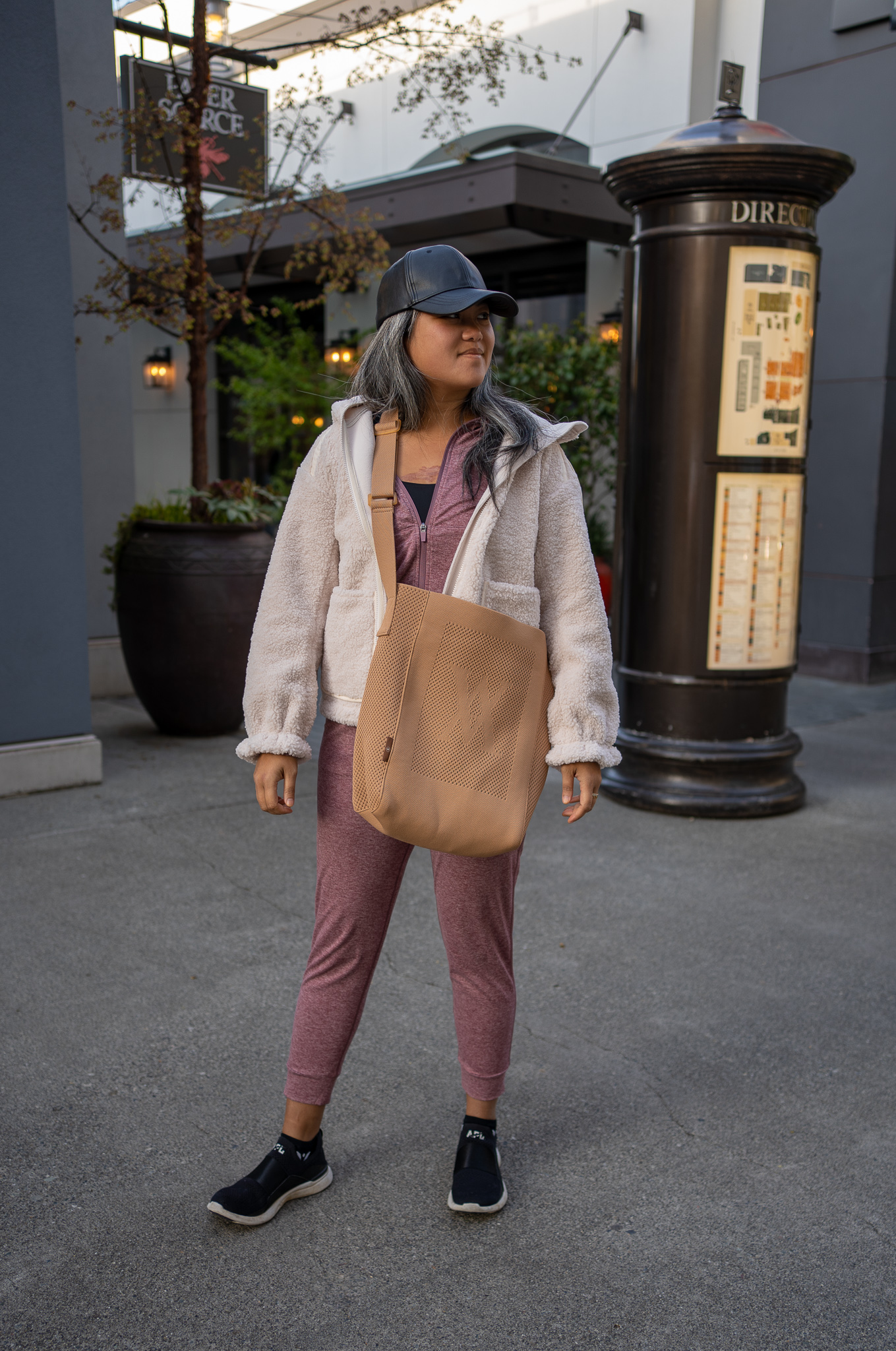 Should I Buy VIVAIA Bags?
We can't recommend VIVAIA bags enough!
They're machine washable, made from used water bottles, and look super stylish.
You'll also save some money shopping with VIVAIA. They're a much cheaper alternative to Rothy's shoes.
You should read our VIVAIA shoes review to see why we love their footwear so much.
Where to Buy VIVAIA?
You can buy VIVAIA directly from their website.
Use code SCHIMIGGY to save 20% off all your orders. Happy shopping!
If you found our VIVAIA crossbody bag review helpful, please share it on Pinterest. Thanks for your support!
---
Thank you for visiting today! If you found this encouraging or informative, please connect with us on Instagram, Youtube, Pinterest, Facebook or Twitter. We'd love to meet you!
Sign-up for our monthly newsletter for updates and more. We promise we won't spam you! Feel free to unsubscribe anytime.
For more fitness fashion discounts and offers, please visit our Fitness Instructor Discounts + Brands Directory or favorite brands coupon codes list.
If you're a brand and want to submit a product for us to review, please use this form to get in touch.
This site uses affiliate links. Clicking on or purchasing via an affiliate link may result in commissions for us which help keep the content flowing and lights on at Schimiggy Reviews. You may read more about this in our privacy policy.