Reading Time:
3
minutes
TikTok leggings are all the craze right now. They have a scrunch butt design that apparently accentuates your derriere and makes your butt look amazeballs.
I was approached by YGOODM Yoga and CRZ Yoga to review their TikTok leggings. I'm not one to give into hypes but I figured it will be worth it to put the TikTok leggings to the test. If anything, I can inform my readers if the leggings are actually worth buying.
So, did they make my bum look out of this world? Let's see!
TikTok Leggings Review
Brand #1: YGOODM Yoga Tik Tok Leggings
I received the following YGOODM Yoga products to review:
I received the items in 3 weeks, which is a pretty long time for shipping. They were shipped from China.
I put them on and noticed how buttery soft the fabric was. The waistband has an elastic band built in to keep the leggings from sliding down.
I went with a size medium and wear a size 6 in lululemon. The medium fit PERFECTLY.
Related: How to Keep Your Leggings from Sliding Down
But honestly, I ended up loving the khaki-colored solid vertical stripe set way more. Like 100,000 times more. The seamless fabric is super soft and stretchy.
Plus there is no crotch seam, so no camel toe!
Related: How to Prevent and Hide Camel Toe in Yoga Pants
The honeycomb TikTok leggings just do not do it for me. It is mostly the contrast waistband that makes it hard to match with any of my other activewear pieces.
It does go really well with the yellow bra I received, but I know I won't reach for the leggings often. I would have opted for a solid color like black or grey in the TikTok leggings. The two-tone colorways are just not for me.
Brand #2: CRZ Yoga TikTok Leggings Review
I LOVE CRZ Yoga's Naked Feeling Soft leggings. So I also decided to give their CRZ Yoga's TikTok leggings ($28) a try.
The butt area is not scrunched at all. The legging however is high-quality. It does have great compression and looks great on.
I recommend sizing up in CRZ Yoga's TikTok legging style because it does not have as much stretch.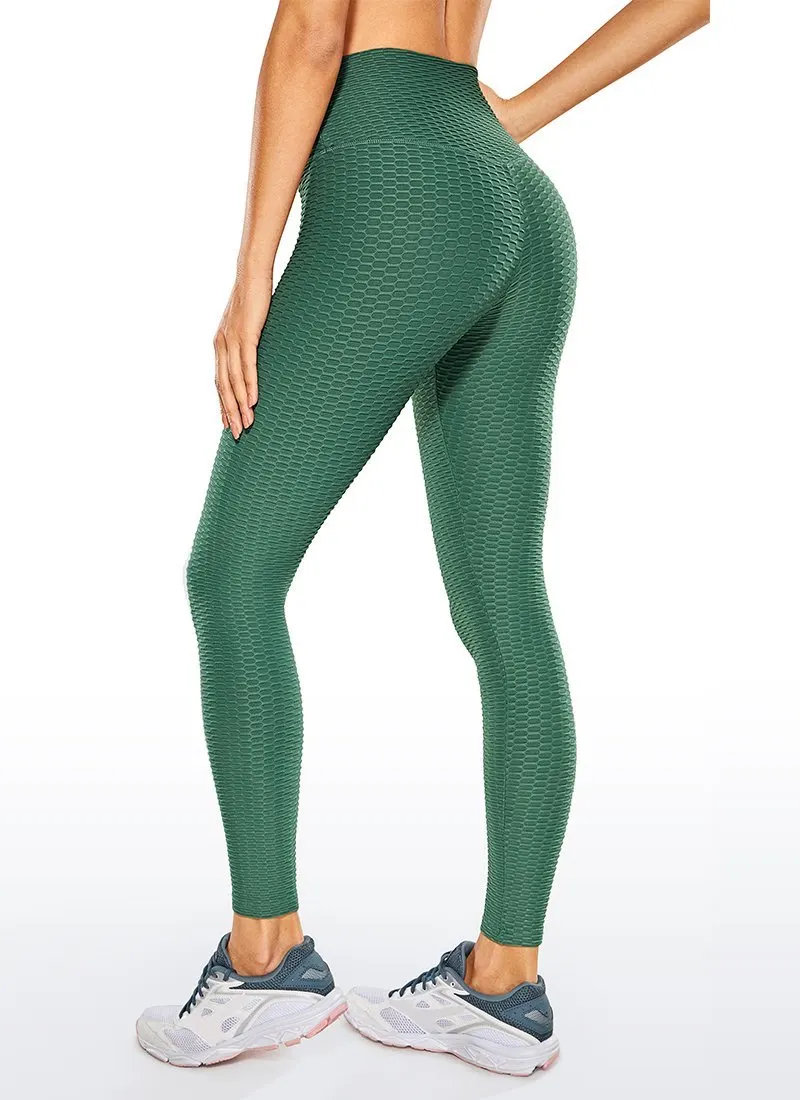 Related: CRZ Yoga Leggings and Sports Bra Review
Should I Buy TikTok Leggings?
I think you should give them a try! Try to find a solid color pair so that they can easily match with the rest of your wardrobe. Most colors I see on TikTok and Instagram vids are of gray leggings.
I do not think they are bad, but the green colorway just did not do it for me. And I LOVE green. It's my favorite color.
If you decide to give them a try, let me know what you think! I'd love to hear your thoughts. Thanks for reading!
Where to Buy TikTok Leggings
You can buy TikTok leggings on Amazon or directly from the YGOODM Yoga website.
Buy CRZ Yoga TikTok leggings here.
If you found our TikTok leggings review helpful, please share it on Pinterest. Thanks for your support!
---
Thank you for visiting today! If you found this encouraging or informative, please connect with us on Instagram, Youtube, Pinterest, Facebook or Twitter. We'd love to meet you!
Sign-up for our monthly newsletter for updates and more. We promise we won't spam you! Feel free to unsubscribe anytime.
For more fitness fashion discounts and offers, please visit our Fitness Instructor Discounts + Brands Directory or favorite brands coupon codes list.
If you're a brand and want to submit a product for us to review, please use this form to get in touch.
This site uses affiliate links. Clicking on or purchasing via an affiliate link may result in commissions for us which help keep the content flowing and lights on at Schimiggy Reviews. You may read more about this in our privacy policy.