Reading Time:
4
minutes
Updated: 8/4/2022 | SANDQVIST Review
Disclaimer: This post was sponsored by AKTIV but all opinions and thoughts are my own and always 100% honest.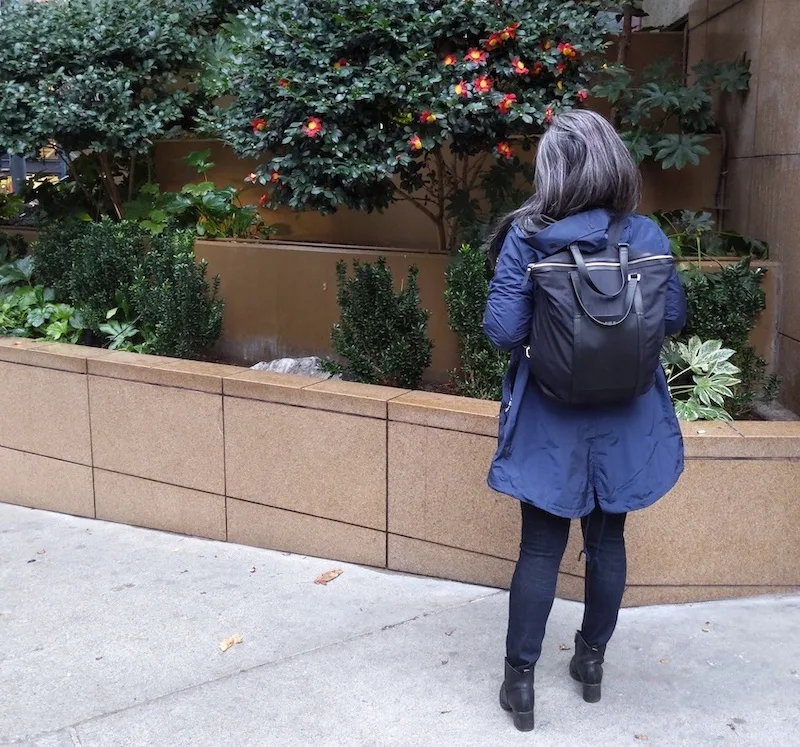 About Sandqvist
Anton Sandqvist and his friends Daniel and Sebastian founded the company in 2004. Based in Stockholm, Sweden, Sandqvist (pronounced Sandkvist) brings urban city style to live through their styles.
Sandqvist focuses on five tenets: minimalism, durability, environment, function, and Swedish culture. Everything they make is crafted to easily transition from urban to living responsibly with nature.
Sandqvist Review: Marta Backpack
I received the Marta backpack ($185 USD) to review from AKTIV, a US-based retailer that specializes in Scandanavian clothing brands. The store offers various Scandanavian brands that are sustainable, small-batch and functional.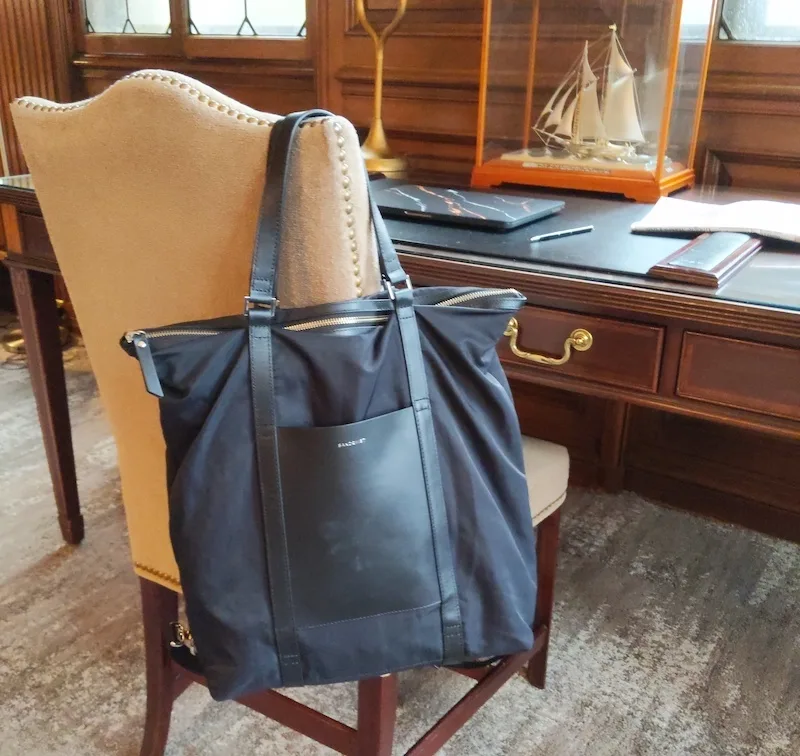 Marta Bag Details
The Marta bag has a padded laptop compartment, 3 inner pockets, and two outer pockets (one in the front and one in the back). I love the long back pocket that can discreetly and safely stow my wallet, phone, and keys.
I'm a huge fan of minimalist design. And for a bag with such a low profile, it offers a decent amount of compartmentalization inside and out.
The straps are adjustable and can be detached and converted into a tote bag or crossbody. This comes in really handy when there are venues that don't allow backpack bags such as stadiums.
What I especially love is the gap behind the front leather pocket that can be used as a place to hold your yoga mat or jacket when it's not being worn. It's genius!
Material
Sandqvist bags are made out of recycled nylon twill and sustainably sourced leather. The leather is audited and medal rated by the Leather Working Group, which ensures that all their leather is sustainable and humanely procured.
How to Clean and Care For Your Bag
The backpack can be easily cleaned with a damp rag. Just wipe down any dirt or stains and your bag will look like new.
We recommend conditioning the leather every three months with a leather balm. Rub the balm over the leather and wipe away any excess product. Let it dry for 24 hours before taking it back out. A balm will keep the leather from cracking and looking worn.
To prolong the life of your bag, we recommend using a Clipa purse hook to keep your bag from touching the ground and getting dirty or damaged.
Pros
Low-profile design. The slim design makes the bag look deceivingly small. It actually has a lot of room for all your gadgets, a change of clothing, padded laptop sleeve and more.
Convertible style. The bag can be worn as a backpack or tote. When wearing the bag as a tote, unhook the backpack straps and slide them into the back pocket. The tiny back pocket is deep and very narrow. You can use it as a pocket, however, it is a bit hard to get items out from there. I recommend storing documents that you don't have to retrieve often in the back pocket. It's also great for sunglasses.
Very durable. I've taken my bag in the rain, placed it on the floor, scraped it against rough surfaces and it still looks great.
Easy to clean. Use leather polisher to buff the leather and clean the recycled nylon surface with a damp cloth. No soap needed!
Urban look. I love how minimalist this bag looks. Because it's all black, it pretty much goes with everything.
Leather is sustainably sourced. The leather is audited and medal rated by the Leather Working Group,
Made from recycled nylon twill.
Employees are paid fair wages. They have manufacturing partners in India, Vietnam, and Taiwan. This is very important because people need to have fair paying jobs.
Sustainable closed loop system. You can choose to have your old and used Sandqvist bag repaired for a new life, or hand it in to our stores for recycling in exchange for a voucher granting you 20% off your next bag. The Repair Shops are located in our flagship stores at Swedenborgsgatan 3 Stockholm, Weinmeisterstrasse 9B Berlin, and 79 Berwickstreet London. However, you can hand in your bag for repair in any of our stores. Bags beyond repair will be taken apart and used for spare parts.
Cons
Top zipper is tricky to use. The zipper often gets stuck in the little corner where the bottom zipper stop hides. You have to pull the bottom stop and guide the zipper slider body out in order to zip it up properly.
Where to Buy SANDQVIST
AKTIV sells various Scandinavian brands and has an impressively curated collection of men and women's apparel and gear. Use code SCHIMIGGY10 to save $10 off your orders.
You can also shop directly from Sandqvist on their online store.
Did you like our Sandqvist review? Please consider sharing it on Pinterest to support Schimiggy Reviews. Thank you!
---
Thank you for visiting today! If you found this encouraging or informative, please connect with us on Instagram, Youtube, Pinterest, Facebook or Twitter. We'd love to meet you!
Sign-up for our monthly newsletter for updates and more. We promise we won't spam you! Feel free to unsubscribe anytime.
For more fitness fashion discounts and offers, please visit our Fitness Instructor Discounts + Brands Directory or favorite brands coupon codes list.
If you're a brand and want to submit a product for us to review, please use this form to get in touch.
This site uses affiliate links. Clicking on or purchasing via an affiliate link may result in commissions for us which help keep the content flowing and lights on at Schimiggy Reviews. You may read more about this in our privacy policy.