Reading Time:
6
minutes
Updated: 6/26/2023 | Rothy's Review

You may have seen these shoes all over Facebook ads and even mentioned by your Tiek's loving friends. Rothy's is a new shoe brand that is combining comfort and eco-conscious into one package.
Their marketing campaigns promote their eco-friendly and comfort superpowers. I've been wanting a pair since I saw them on social media.
Also, flats make my feet happy because they're super comfortable.
About Rothy's
Rothy's is an environmentally friendly shoe brand based out of San Francisco, California. Their co-founders are Roth Martin and Stephen Hawthornthwaite, or "Hawthy" as he prefers to be called. Together they created a portmanteau of their names to create the Rothy's brand and name.
Rothy's is known for its woven flats that are can be easily washed in a washing machine and can be worn while doing just about everything and anything.
They come in a variety of colors and profiles that can be worn both casually and sometimes even formally.
I also have to mention that they're Meghan Markle approved!
The Duchess definitely has a style and personality that we admire here at Schimiggy Reviews!
Rothy's Review: Flats
I purchased a pair of Rothy's Model 001 Ballet Flats in black. They arrived at my doorstep within 3 days in a neatly packaged box. I bought my true size. I'm glad to report that they are actually my true to size.
It's important to mention that sizing is not the same for all styles. Here is a quick guide and tips on how to pick your perfect size:
I want to mention that my feet are very narrow with high arches. If you get your pair and they don't fit, you can take advantage of Rothy's free returns program to find the best size for your feet.
I wear my Rothy's flats with just about everything. They're very comfortable and easy to care for. I was stoked at how practical they are for daily wear. They're easy to slip on and you won't have to worry about them getting destroyed.
Related: How to Find the Perfect Rothy's Fit & Size Guide
Fabric + Materials
Fabric: The upper is made with PET recycled knit water bottles. Water bottles are turned into a durable yard and then spun into the shape of the shoe.
Insole: The insoles are made of recycled plastic from water bottles and recyclable foam.
Sole: The soles are made of environmentally-friendly recycled carbon-free rubber.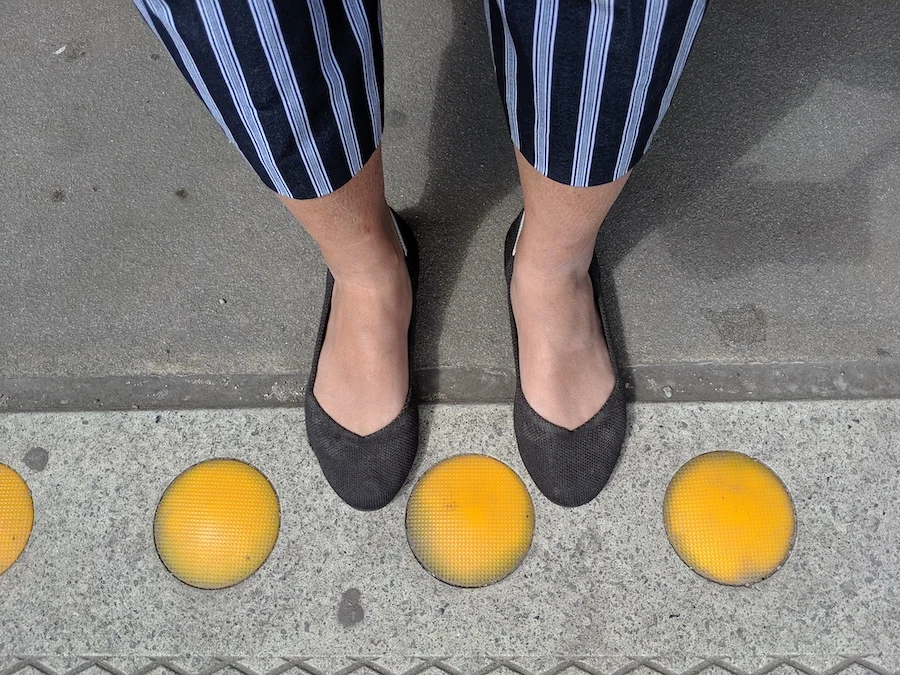 Rothy's Review | Pros and Cons
Pros
Eco-friendly and made with recycled water bottles.
Comes in a variety of colors and silhouettes. Check out their offerings by clicking on the links below.
Lightweight: They're so lightweight and easy to pack in my luggage.
Easy to Care: Can easily be washed in a washing machine.
Very durable. I've worn my Rothys to over 7 countries and they still look brand new! They also retain their shape pretty well.
Vegan! No animals were harmed in the making of Rothy's shoes.
Latex-free
Blister-free fabric allows you to spend days, weeks, and more in this shoe without any discomfort.
They make kid sizes! Check out the Rothy's kids selection here.
Cons
Expensive: The high price tag. Your Rothy's will range from $125 to $165 a pair. Get $20 off your first pair with this link.
The insoles that the shoes come with offer VERY little support. I've heard some people doubling up on soles (if there's enough room in the shoe) or replacing the soles with a more supportive insole.

For sneakers, I currently use CURREX molded insoles. Use your Rothy's insole to trace and cut the insole to fit your sneakers. I typically size up a whole size. The Currex arch support is built in, so there is no additional arch support required with these insoles. These will also last a VERY long time.
For flats, points, and loafers, buy Pedag cotton insoles. These terry cotton insoles cannot be trimmed. I recommend buying the same size insoles for your flats and loafers and sizing down 1/2 a size for your points.

If you need arch support in your flats, points and loafers, I highly recommend getting Dr. Foot's gel arch support pads. They stick to your actual shoe bottom and should last 6 months to a year. You'll have to replace them each time you wash your shoes. Place the insole over your arch support pad.

Not water and weather resistant. Your feet will get cold if you live in colder climates. They also are not great shoes for rain due to their knit fabric.
Will eventually start to fray and pill. After three years, my Rothy's have started to pill and fray. The shoes are still intact, but the fuzziness does make them look unattractive. I still wear them plenty.
View this post on Instagram
How to Care for My Rothy's
Rothy's are both hand and machine-washable. Use our guide to learn how to wash your Rothy's here.
Remove the insoles prior to washing and throw the shoes into the washing machine. Wash on a delicate with cold water. Wash with detergent if you need to remove any odors. Leave them to air dry and away from the sun.
NEVER WASH IN WARM OR HOT WATER. Washing them in hot or warm water will shrink and destroy your Rothy's.
And lastly, Rothy's CANNOT go into the dryer, or else they will shrink and lose their shape. Remember to only air dry them away from direct sunlight.
View this post on Instagram
Should I Buy Rothy's?
YES! I love my Rothy's. They're the perfect travel accessory. They're lightweight and easy to care for. I am able to wear these into the ground because of the durable synthetic material.
I've been wearing my Rothy's for about 2 years now and the sole still looks brand new. These are shoes that I don't have to worry about destroying.
I highly recommend Rothy's if you're looking for something durable and practical.
The only reason I wouldn't buy Rothy's is the high price point. I would totally buy more if they were not so expensive.
Where to Buy Rothy's
Did you enjoy our Rothy's review?
You can buy these awesome shoes direct from Rothy's!
Use this link and enjoy $20 off your first order.
Rothy's also offers free shipping, exchanges AND returns on all orders over $30.
Rothy's Facebook Groups
If you're part of any Facebook groups, you may have found some helpful anecdotal information or even snagged deals on your favorite brands. Here are a few Rothy's Facebook groups that I recommend joining if you want to chat with other women about the brand.
If you found our Rothy's review helpful, please share it. Thank you for your support!
I also reviewed the Rothy's PRIDE Rainbow sneakers on my Youtube channel. Check it out!
---
Thank you for visiting today! If you found this encouraging or informative, please connect with us on Instagram, Youtube, Pinterest, Facebook or Twitter. We'd love to meet you!
Sign-up for our monthly newsletter for updates and more. We promise we won't spam you! Feel free to unsubscribe anytime.
For more fitness fashion discounts and offers, please visit our Fitness Instructor Discounts + Brands Directory or favorite brands coupon codes list.
If you're a brand and want to submit a product for us to review, please use this form to get in touch.
This site uses affiliate links. Clicking on or purchasing via an affiliate link may result in commissions for us which help keep the content flowing and lights on at Schimiggy Reviews. You may read more about this in our privacy policy.