Reading Time:
6
minutes
Updated: 1/10/2022 | How to Find the Perfect Hat Size
Finding the perfect hat size can be really difficult if you do not know your hat size. Finding out your hat size will make hat shopping easier and much more enjoyable as you can quickly sift through products that you know will not fit.
Many brands will offer a one size fits all (OSFA) option and we know that is not always the case.
What typically happens is when you purchase the hat, it turns out that the hat only fits medium to smaller-sized heads (57 cm and under). So a OSFA is not really a one-size-fits-all for everyone.
People with bigger heads often avoid wearing hats because they think there are hats not made for them. Luckily, there are hat brands that make hats for people with larger heads.
Related: Best Hat Brands for People with Big Heads
The best solution is to know your hat size and measurements prior to shopping for a hat. Below, we'll show you how to find the perfect size hat for your head.
How to Find the Perfect Hat Size
What you Need
OR
Hat size is based on the circumference of your head. We'll show you how to measure your head so that you can find the perfect hat size.
Prior to measuring, we recommend letting your hair down and allowing it to fall naturally as it would when you are wearing a hat. You'll find that your hat size also depends on how thick your hair is.
For a while, my partner was a size XXL (63 cm) in hats because he had long dreads. When he cut his hair, his size was reduced to XL (60 cm).
How to Measure Your Head for Your Hat Size
Using a soft measuring tape, measure your head about one-half inch above your eyebrows and earlobes where your hatband (inner portion of the crown) and the brim will rest.
Ensure that the measuring tape lays flat around the head and is not twisted. Ask someone to help you measure the circumference of your head if needed.
Another great solution is to use a string to measure the circumference of your head and then hold it against the measuring tape or ruler to determine your measurement.
Once you determine your hat size, use the hat size chart below to determine your size.
If you find that you are in-between sizes, we always recommend sizing up. Many hats come with an adjustment band on the inner part of the crown (the part of the hat that fits over your head) and you can adjust the inner band to get the perfect fit.
I used a measuring tape and found my hat size to be 58 centimeters (cm). According to the hat size chart below, I am a size large in modern or generic hat sizes.
Hat Size Chart
| Metric Size in Centimeter (cm) | Inches (in) | US Hat Size | Modern/Generic Hat Size |
| --- | --- | --- | --- |
| 54 | 21 1/8 | 6 3/4 | XS |
| 55 | 21 1/2 | 6 7/8 | S |
| 56 | 21 7/8 | 7 | S-M |
| 57 | 22 1/4 | 7 1/8 | M |
| 58 | 22 5/8 | 7 1/4 | L |
| 59 | 23 | 7 3/8 | L |
| 60 | 23 1/2 | 7 1/2 | XL |
| 61 | 23 7/8 | 7 5/8 | XL |
| 62 | 24 1/4 | 7 3/4 | XXL |
| 63 | 24 5/8 | 7 7/8 | XXL |
| 64 | 25 | 8 | XXXL |
| 65 | 24 1/2 | 8 1/8 | XXXL |

Other Hat Shopping Tips
Shopping for hats online can be very tricky. Many companies won't have accurate measurements. Some may not even include measurements in their product descriptions at all.
When a hat does not have any size options, you're most likely dealing with a OSFA situation, or hats made for size 57 cm or smaller.
Here are some tips to help you with online hat shopping.
Shop from brands that share and advertise their measurements in their product descriptions. I find companies that share hat sizing to be more transparent and thoughtful of their shoppers. This helps shoppers understand how products will fit and not waste their time purchasing something that may need to be returned.
Avoid shopping at stores that offer One Size Fits All (OSFA) options. They typically cater to small to medium-sized heads, so if you have a bigger head, these stores will not offer products that fit you best.
Contact customer service for product information. If you don't see any product information, you can reach out to the brand via their "contact us" forms on their website or through social media. I've had tons of luck reaching out to brands on Instagram about how their products fit and their measurement information.
Try before you buy! You want your hat to fit comfortably, so one of the best things you can do is try it before you buy it. A hat that is too fitted can become a literal headache. A hat that is too big may fly right off your head or obstruct your vision. Our rule when trying on hats is that if you can fit your pointer finger between your head and the brim, then you've got the right hat size!
Shop with brands that allow free returns. Brands like Nordstrom or Saks Fifth Avenue are great to shop at because they allow online returns. This also gives shoppers the opportunity to test different brands and return or exchange products that don't fit and find something that will.
Hat fit is a matter of personal preference. You need to determine how you want your hat to look when worn and how you want it to feel around the crown and top of your head. A looser fit is preferred if you're looking for something more comfortable to wear for extended periods of time. A tighter fit may be appropriate for sports or any activity where you do not want your hat to fly away. It's really up to you and the reason why you are wearing a certain hat.
The shape and style of a hat can vary the sizing and fit. We always recommend reading the size & fit guide on the product page of your desired hat to ensure you have selected the right size.
Use a hat filler foam to create the perfect fit. If you find yourself between hat sizes, you can use a filler foam to tailor the size and fit of your hat. A filler may also make a hat fit more comfortably.
Brands that Offer Different Hat SizES
Related: San Diego Hat Company Review
Final Thoughts
We hope our article helped you determine your hat size and how to approach hat shopping strategically.
If you have any questions, feel free to reach out to us via Instagram. We're always happy to help and answer any questions you may have!
If you found our hat size chart post helpful, please share it on Pinterest. Thanks for your support!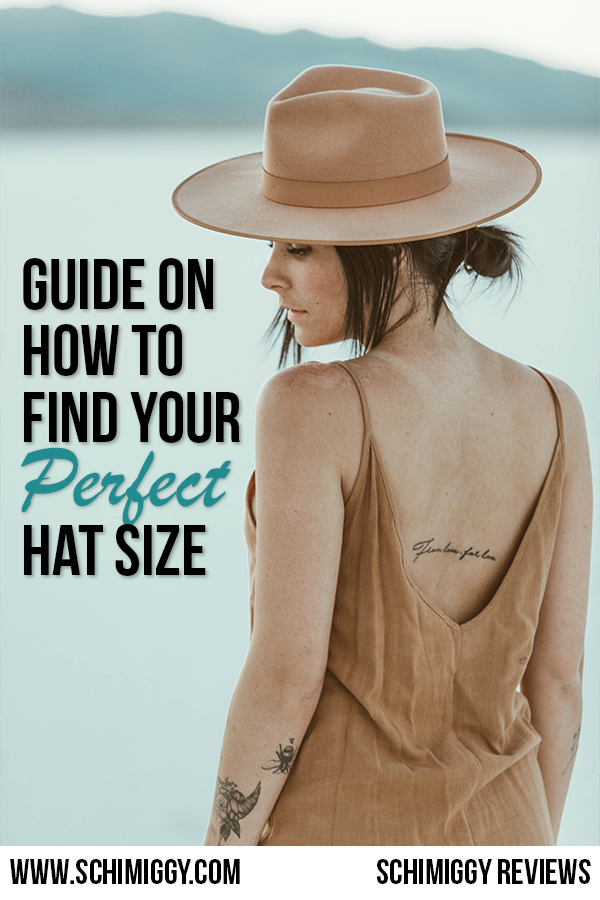 ---
Thank you for visiting today! If you found this encouraging or informative, please connect with us on Instagram, Youtube, Pinterest, Facebook or Twitter. We'd love to meet you!
Sign-up for our monthly newsletter for updates and more. We promise we won't spam you! Feel free to unsubscribe anytime.
For more fitness fashion discounts and offers, please visit our Fitness Instructor Discounts + Brands Directory or favorite brands coupon codes list.
If you're a brand and want to submit a product for us to review, please use this form to get in touch.
This site uses affiliate links. Clicking on or purchasing via an affiliate link may result in commissions for us which help keep the content flowing and lights on at Schimiggy Reviews. You may read more about this in our privacy policy.