Reading Time:
2
minutes
Updated: 1/11/2022 | Copycat Del Taco Chicken Soft Taco Recipe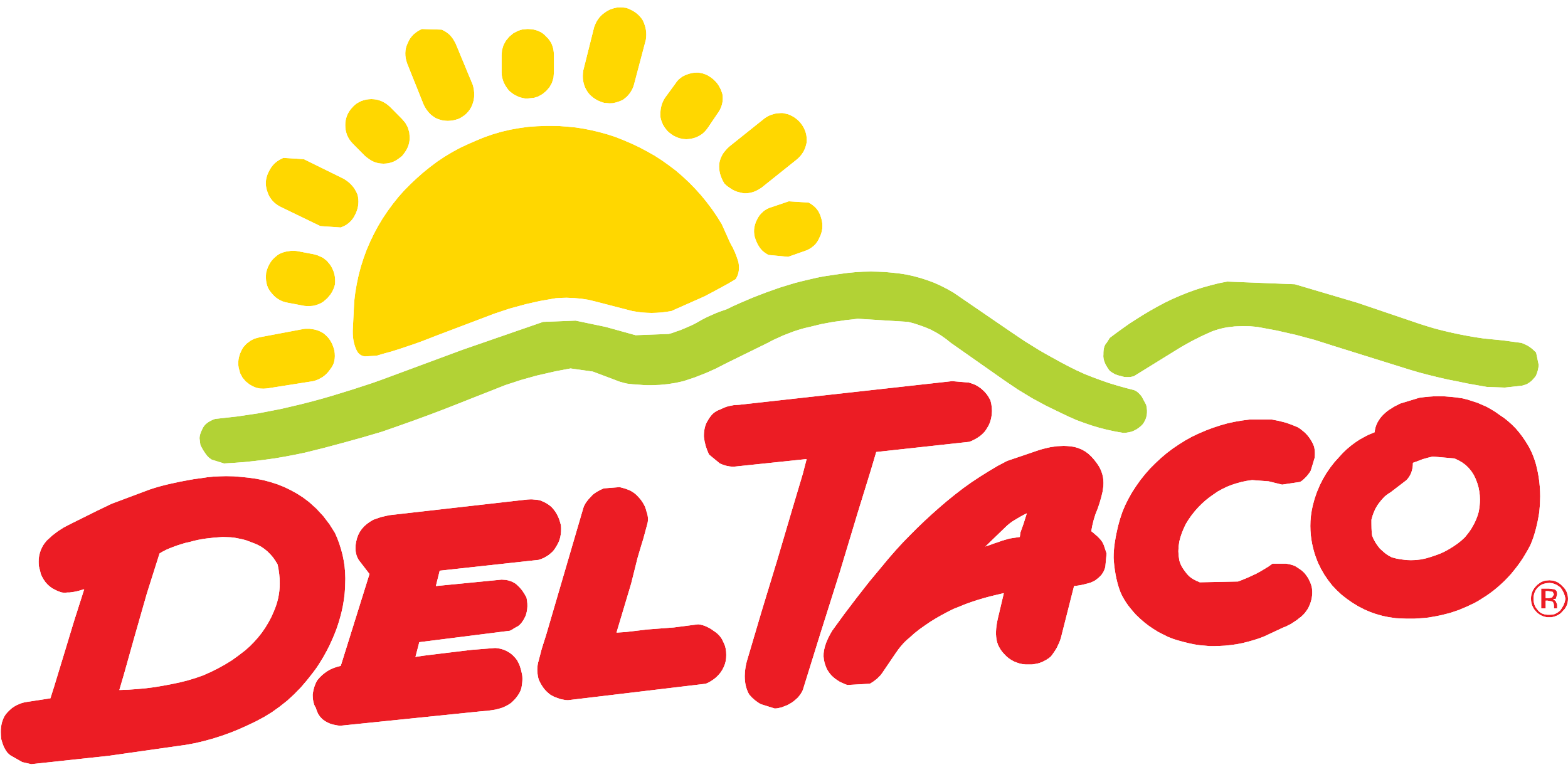 What is Del Taco?
Del Taco is a Mexican fast-food chain that mainly has locations throughout California. They also have restaurants in 16 states and Guam. You can view all their locations here.
They sell affordable and fresh Mexican fast food and are known for their tacos and crinkle cut fries. Yum!
I survived years of college by eating at Del Taco, El Pollo Loco (another Mexican fast-food chain in California), Panda Express, Subway, and In-n-Out Burger (a very popular burger joint in California).
You could get one of Del Taco's soft chicken tacos for $1 (sometimes less if you buy their taco packs) and a few of these could sustain you an entire day. Add some Macho fries (the large size of their crinkle-cut fries) and you've got yourself a feast!
And now I live in a city where none of these fast food delicacies (except Subway) exists. Thanks, Seattle.
Since moving to Washington state in 2013, we've only been able to get Del Taco one or two times a year when we fly home to visit our families in SoCal for the holidays. We've been deprived of their affordable yet amazing delicious tacos.
One day, I was contemplating what to do with this entire rotisserie chicken from Costco. You get SO MUCH meat from a single chicken and it's hard to use it up before it goes bad.
I was required to quarantine after contracting COVID-19 (thanks Omicron!) and whipped up some tacos from what I found in my kitchen. This included said rotisserie chicken.
And lo and behold, I serendipitously created a taco that tastes pretty darn close to Del Taco's chicken soft taco! It won't look a bit like the OG chicken soft taco, but the taste will be very similar.
Copycat Del Taco Chicken Soft Taco Recipe
Below I'll share my super simple copycat recipe for Del Taco's chicken soft tacos. It requires very little cooking that even your children can make without supervision.
Are you ready? Let's go for it!
Yield: 10
COPYCAT Del Taco Chicken Soft Tacos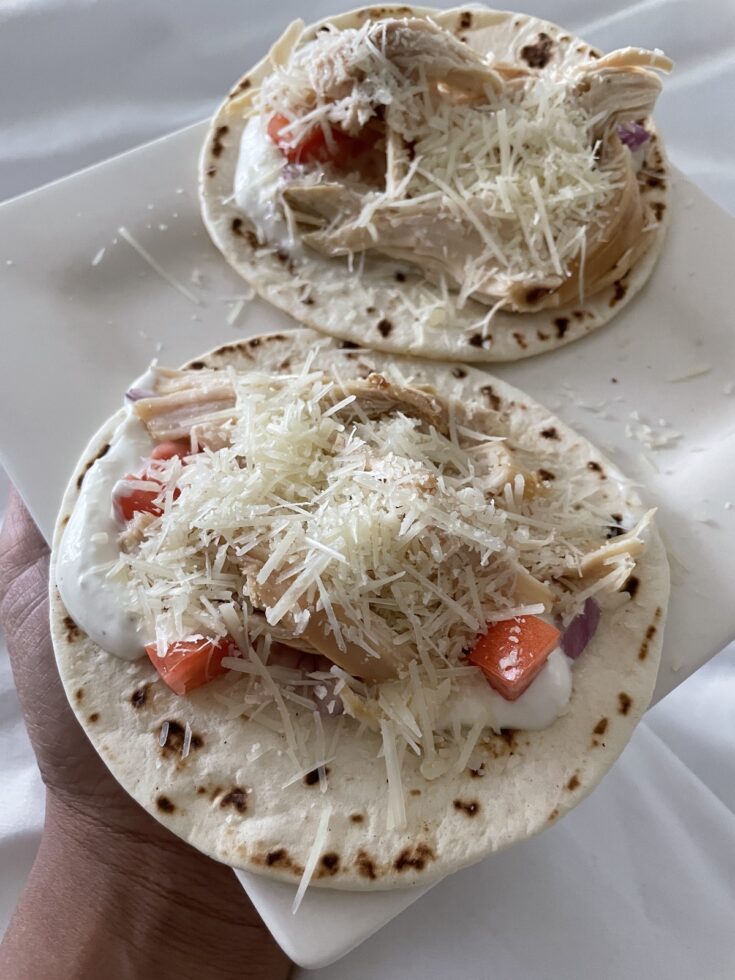 Here is our copycat Del Taco chicken soft tacos recipe that we serendipitously created while quarantining (thanks Omicron!).
Ingredients
10 Soft Flour Corn Tortillas
3 cups of hand shredded Costco Rotisserie Chicken
1/3 Diced Tomatoes
1/3 cup Diced Red Onion
1 cup Sliced Iceberg Lettuce
1 cup Freshly Grated Parmesan Cheese
Lime Crema Sauce
1 Minced Garlic Clove
1/4 cup sour cream
1/5 cup Mayonnaise
1 wedge of Lime Juice
Salt and Pepper to taste
Instructions
Mix the Lime Crema ingredients in a small mixing bowl. Let it sit aside so that the fresh garlic flavor infuses the mayo and sour cream.
Dice the tomatoes and red onions. Mix together in a bowl and set aside.
Slice the iceberg lettuce and set aside in a bowl.
Hand shred approximately 3 cups of Costco Rotisserie Chicken. Heat in microwave for 30 seconds to 1 minute. Leave in a bowl to the side.
Heat up the flour tortillas in an air fryer or oven. Remove the tortillas before they puff up in the air fryer or oven. In an air fryer, that should 2 minutes at 390 degrees.
Place the tortillas on a plate and spread the lime crema on first. Then add lettuce, chicken, tomatoes, and red onions. Finish the tacos by topping them with parmesan cheese and your choice of hot sauce.
Notes
The tacos won't look like Del Taco chicken soft tacos, but they'll taste pretty darn close.
We only had parmesan cheese in the fridge when we created this recipe and now the only cheese we want on our tacos is parmesan cheese.
This is a great way to use up all your rotisserie chicken so that it does not go to waste. If you're not into tacos, omit the taco shell and try the ingredients over rice and beans.
Nutrition Information:
Serving Size:
1
Amount Per Serving:
Calories:

676
Total Fat:

14g
Saturated Fat:

4g
Trans Fat:

0g
Unsaturated Fat:

8g
Cholesterol:

79mg
Sodium:

488mg
Carbohydrates:

100g
Fiber:

4g
Sugar:

1g
Protein:

35g
One day I'll recreate this recipe with chicken that I marinate and cook myself. But for now, why ruin a good thing?
If you enjoyed our Copycat Del Taco chicken soft taco recipe, please share it on Pinterest.
---
Thank you for visiting today! If you found this encouraging or informative, please connect with us on Instagram, Youtube, Pinterest, Facebook or Twitter. We'd love to meet you!
Sign-up for our monthly newsletter for updates and more. We promise we won't spam you! Feel free to unsubscribe anytime.
For more fitness fashion discounts and offers, please visit our Fitness Instructor Discounts + Brands Directory or favorite brands coupon codes list.
If you're a brand and want to submit a product for us to review, please use this form to get in touch.
This site uses affiliate links. Clicking on or purchasing via an affiliate link may result in commissions for us which help keep the content flowing and lights on at Schimiggy Reviews. You may read more about this in our privacy policy.