Reading Time:
5
minutes
Updated: 1/27/2022 | lululemon In Movement Tights Review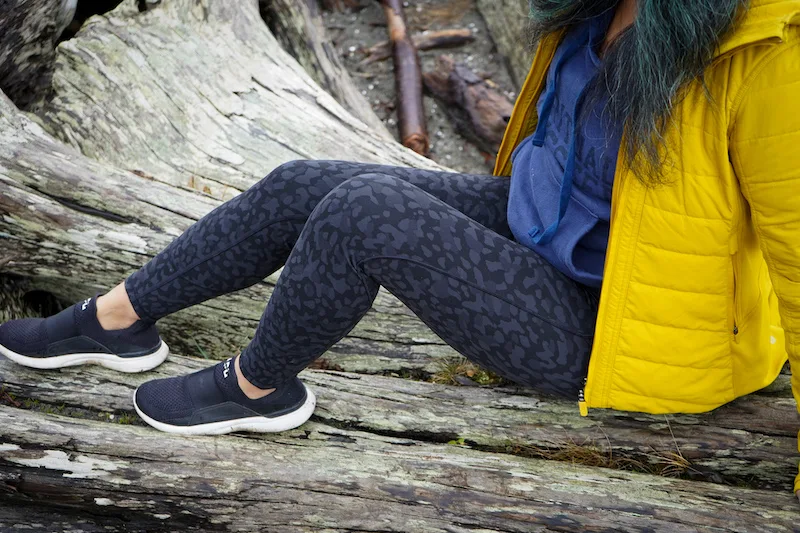 Disclosure: I received the In Movement leggings and Another Mile jacket as gifts from lululemon. All thoughts are opinions are my own and 100% honest!
About lululemon
lululemon is a popular men and women's activewear brand that was created in 1998 by Chip Wilson. For over two decades, lululemon has been outfitting people in attractive, comfortable and high-performance activewear.
The company is based out of Vancouver, Canada and currently has a worldwide presence with over 400 stores.
lululemon has become a household name and has somewhat developed their own cult following. The brand has been associated with expensive pants, technical fabrics and leading in activewear trends.
This post will explore one of their popular leggings, the In Movement Tights. Let's see if it's worth the $98 price tag!
lululemon In Movement Tights Review
I received a gift card from lululemon and purchased the In Movement Tights in Formation Camo Deep Coal Multi. I also bought the Another Mile Jacket, which I am OBSESSED with.
How do In Movement tights fit?
Sizing runs odd in In Movement tights.
I had to size up in solid colors and size down in the Formation Camo print. In general, I recommend sizing up in In Movement tights.
The fit was great and the double layered and top seamed waistband made the pants fit perfectly. Many reviews will say to size up or go with your true size in bottoms made with Everlux fabric.
Personally, I love being comfortable in my leggings while practicing yoga and lifting weights. The size 8 is my preferred size in the In Movement style. I wear size 6 in all other lululemon pant styles.
For more information about sizing, please visit our lululemon sizing and fabric guide.
What are In Movement tights designed for?
The In Movement Tights are made for high-impact sports as the fit is compressive and sweat wicking.
The In Movement tights currently come in different inseams:
2.5″ shorts

19″ and 23″ crops

25″ and 28″ tights
How long is the inseam on In Movement tights?
I opted for the 25″ inseam because I like to give my ankles some breathing room. The hem of the leggings are closed. I am 5'5″ for length reference.
In Movement bottoms currently come in shorts, crops (21″) and 25″ inseams.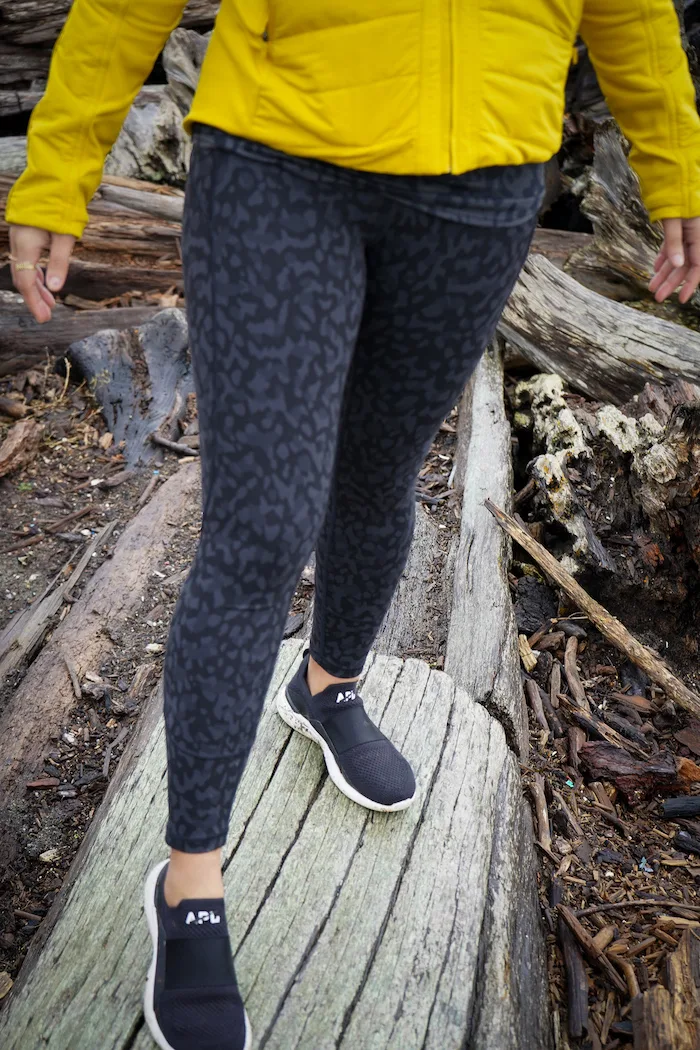 How high is the rise on In Movement tights?
The In Movement tights come with a high rise fit. The waistband sits 1″ above my navel.
How tall is the waistband on In Movement tights?
The waistband is wide and measures 4." The waistband is lined with multiple pockets so that you can store your belongings. The pockets are on the outside of the waistband.
lululemon In Movement Fabric Details and Features
Fabric Content: Lululemon's proprietary Everlux™ fabric. Everlux™ is designed to dry fast by drawing sweat to the fabric surface to dry quickly.
Fabric Feel: Everlux™ feels VERY compressive and durable. I would compare the fabric feel to a tightly knit neoprene. It is also thicker than Luxtreme and Nulux, which adds to the more compressive fit. Everlux was made to be a more durable Nulu fabric.
Fabric Performance:

Quick Drying – The double-layered knit fabric draws sweat from the surface of your skin to the top of the fabric where it dries quickly.
Dry Wicking
4-Way Stretch
Compressive
Very durable and will not pill.

Opacity: The leggings are 100% opaque. The fabric is very thick and provides a lot of coverage. Feel free to go commando in these babies!
Additional Pant Features:

Reflective logo on the back of the waistband.
Waistband pocket, no side pockets.
The leg opening has a finished hem.
Subtle camo print that resembles a leopard print.
Outer seams that curve and cross the sides of the legs and hips.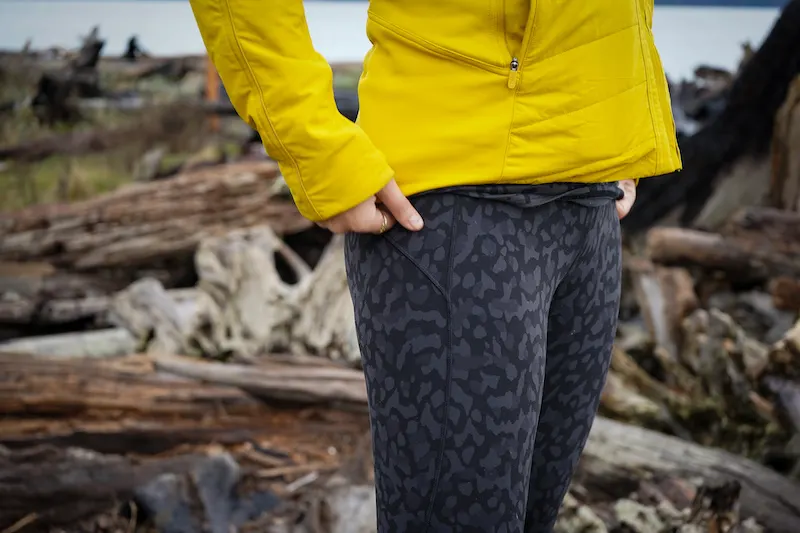 When should you wear In Movement pants?
The In Movement tights are designed for running and high-impact activities. It could also be worn casually and during any level of workout. I love that there are no zippers, so this makes them great for yoga and casual wear.
How much do In Movement tights cost?
The In Movement tights cost $98. The price is on par with their other popular leggings like the Align or Wunder Under Pants.
Do In Movement tights have a gusset?
The In Movement tights come with a triangle-shaped, double layer gusset.
What types of seams are used on In Movement tights?
Flat fell seams are used throughout the pant for a flattering, chafe-free fit.
Do In Movement tights have UPF protection?
Not disclosed but I am pretty sure there is some UPF protection.
Where are In Movement tights made?
Made in Vietnam. Designed in Vancouver.
What are the care instructions for In Movement pants?
We recommend machine washing with cold water on gentle and then hanging to dry on a foldable drying rack, such as this one.
Some brands may offer additional care instructions to keep your clothing long-lasting and vibrant. Please refer to the product tag for washing and care instructions for In Movement tights.
Should I Buy In Movement Tights?
I highly recommend the In Movement tights. The Everlux fabric is very durable and the camo print is flattering without being too flashy or too boring.
Sizing does run a little odd so we recommend buying multiple sizes and seeing which size fits best.
My only gripe about the pants is the lack of pockets. Side pockets would make these leggings the perfect companion for working out and lounging in.
Related: lululemon Review: Fast & Free 7/8 Tights
Where to Buy lululemon
The best way to buy lululemon is online or in one of their physical stores. Search for the store nearest you using lululemon's store locator.
Buying directly from lululemon will ensure that your items are 100% authentic.
Do you like to save money? Here are some ways you can save money on lululemon products:
You can also buy lululemon for less through third-party reselling websites and marketplaces such as:
If you found our In Movement Tights review helpful, please share it on Pinterest. Thank you for your support!
Want to know more about lululemon?
We have an entire resource page dedicated to everything lululemon related. Please check it out!
If there are any other topics you'd like us to shed some light on, please let us know!
---
Thank you for visiting today! If you found this encouraging or informative, please connect with us on Instagram, Youtube, Pinterest, Facebook or Twitter. We'd love to meet you!
Sign-up for our monthly newsletter for updates and more. We promise we won't spam you! Feel free to unsubscribe anytime.
For more fitness fashion discounts and offers, please visit our Fitness Instructor Discounts + Brands Directory or favorite brands coupon codes list.
If you're a brand and want to submit a product for us to review, please use this form to get in touch.
This site uses affiliate links. Clicking on or purchasing via an affiliate link may result in commissions for us which help keep the content flowing and lights on at Schimiggy Reviews. You may read more about this in our privacy policy.