Reading Time:
5
minutes
Everyone should breathe some air of relaxation and fun. What's better than heading over to a night club? No one has ever said no to a party night with friends. After all the hectic week, loaded with work and routine meeting calls out for a weekend party.
A rocking party at a nightclub is incomplete without an eye-catching dress. Ladies always like to dress as per the demands of the occasion love to express. So, look for something that suits you and the nightclub dress code.
If you carry yourself with grace and glamour, you can rock any outfit. It's true, and you can wear anything and everything to a night club – heels, flats, pumps. But before you hit the dance floor, make sure to look at this nightclub dress code for ladies.
What to Wear at the Nightclub for Ladies
#1 Mini Dress with Loads of Shimmer
Clubbing and mini dresses always go together. If you notice, most of the ladies are seen flaunting their dresses while dancing their hearts out. You have got a million choices when it comes to choosing a dress. Believe it or not, but adding some shimmer to your mini dress makes it look chic and classy.
Statement colored mini dresses look equally amazing because they come in so many styles and types. Moreover, a fancy pencil dress looks formally elegant and appropriate for the occasion. You can look up for club dresses online to find the best-looking outfit for the night.
Remember, you can't shy away because mini dresses are supposed to be bold. Along with a dress, you need a lot of confidence to carry it with style and glamour. If you think you won't be comfortable while flaunting your body, then explore other options around you.
#2 Leather Jacket or Skirt
You know the hype is real when you see celebrities wearing it. Leather skirts have taken the fashion industry by storm. Every brands' party wear range includes leather skirts because they are the 'party outfit.' These are typically mini-skirts designed for party occasions.
You can pair up your skirt with anything, a fitted crop-top, a baggy top, or a simple top. It looks equally good with everything. But, refrain from wearing pumps because they look elite with high boots or delicate heels.
Moreover, for winters, you need a cardigan to save yourself from freezing but something which doesn't damage your party look. Leather jackets can be your way out, and they look extra classy with any outfit, yet saves you from the cold. So, don't let go of your mini dress just because it's cold outside; instead, get your hands on a leather jacket to pomp up the look.
#3 Good Pair of Jeans
Something casual is never dull for any occasion. A pair of good jeans, that too high-waisted ones can be a savior at a nightclub. You can style these jeans with any fancy top, and you are night club-ready.
A fancy shimmery top looks amazing or opts for an off-shoulder top to turn up the temperature. However, a simple crop top looks equally stunning. Don't forget to miss out on the right accessories because they contribute towards the whole look.
If you like to follow the trends, then grab a pair of boot pants because people are drooling over the fashion trends from the late 80s. These pants are a perfect fit for every occasion if you pair them up with the right top. Oh yes, don't make the mistake of wearing a t-shirt to a nightclub because it's against the fashion rules and of course, the dress code.
#4 High Boots
Boots go along with every outfit. No matter if it's a mini dress or skirt, they add glamour and style to your whole look. So, don't step back from investing in a good pair of boots because they'll come to your rescue when you don't have anything to wear. There are so many designs and styles of boots available out there.
Another reason why people choose boots over heels is that beginners usually face difficulty in rocking the dance floor while wearing heels. High Boots give you a choice, with heels or without heels. You can easily groove on every beat of the music with high boots without the fear of falling.
#5 Trendy Jumpsuits
Jumpsuits are everyone's go-to outfit, and guess what? You can wear them to a nightclub too. Here we are not referring to simple jumpsuits, but the ones that shine in the dark. Due to the increasing trend for jumpsuits, they're available in various styles and designs.
You need to select the one which suits you for the night. Look for something fancy and flashy that puts all eyes on you. There are so many variations to it if you like showing off your skin then opt for the subtle cut out style or single shoulder one. On the same hand, if you want to stay comfortable, grab something with a hint of glitz.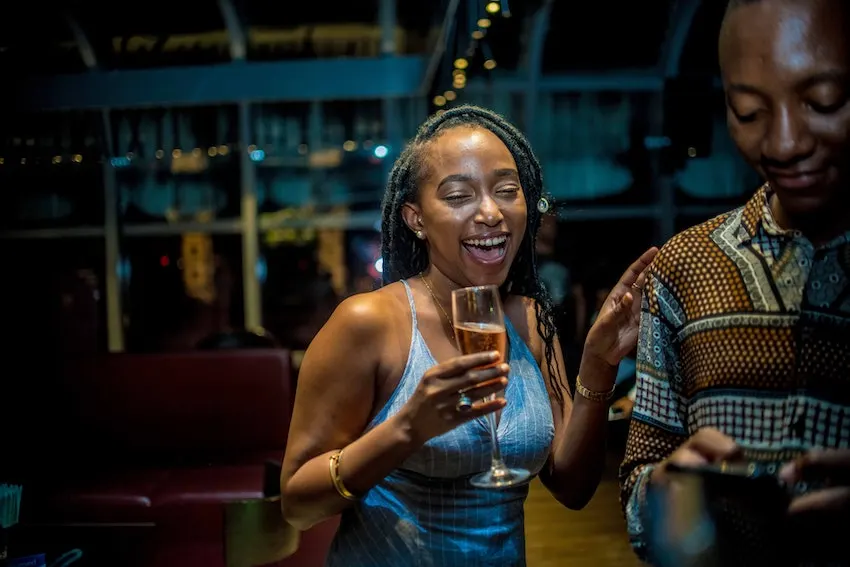 #6 Get Classy with Shorts or Pants
If you got those sexy legs then, don't step back when it comes to flaunting them. Grab a fancy pair of shorts, or if not, a casual one would also do the job. These days every celebrity is wearing shorts because they look extra classy, irrespective of the occasion. If you want to look extra cool, then get yourself shimmery shorts with a plain silk shirt – the perfect combination.
Shorts with a fancy strapless top has to be the best combination for a party. Moreover, you can look for other elegant tops; for instance – high neck crop tops look mesmerizing. You must pair up your shorts with deluxe tops. If you decide to wear a simple tee with shorts, you'll end up making fun of yourself.
And if you like to stay covered, consider cute pants with a cropped top. Right now, paper bag bags are all the rage. They come with a cinched waist to accentuate your hourglass figure.
#7 Body Con Dresses
Body con dresses are a great way to display all the flattering curves on your body. They are tight-fitting dresses that fit like a second skin. They come in various lengths and materials so that the options are endless.
Wear them with high heels, boots and your favorite accessory and you're set for the evening. We love the Angelica dress by Femme Luxe that can be worn off or over the shoulders. Your pick!
Final Thoughts
Partying is fun when done right. Many people are skeptical when it comes to choosing a dress to wear at night club. Wear something which looks good on you rather than running after the trends.
https://www.instagram.com/p/B4K_EqnBRnF/
Did you like our nightclub dress code article? Please share it on Pinterest!
---
Thank you for visiting today! If you found this encouraging or informative, please connect with us on Instagram, Youtube, Pinterest, Facebook or Twitter. We'd love to meet you!
Sign-up for our monthly newsletter for updates and more. We promise we won't spam you! Feel free to unsubscribe anytime.
For more fitness fashion discounts and offers, please visit our Fitness Instructor Discounts + Brands Directory or favorite brands coupon codes list.
If you're a brand and want to submit a product for us to review, please use this form to get in touch.
This site uses affiliate links. Clicking on or purchasing via an affiliate link may result in commissions for us which help keep the content flowing and lights on at Schimiggy Reviews. You may read more about this in our privacy policy.