Reading Time:
4
minutes
Updated: 1/20/2021 | LARQ Review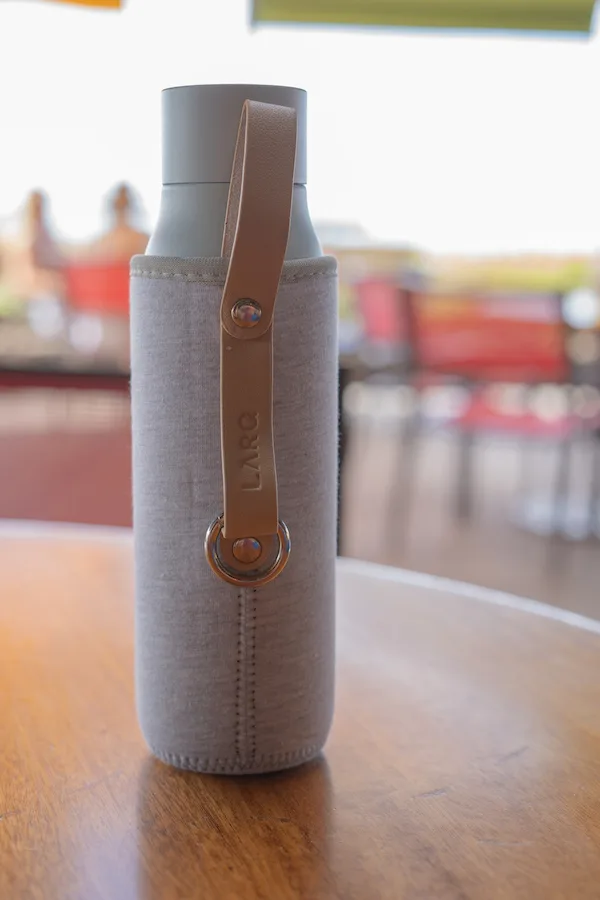 About LARQ
LARQ is a sustainable and clean way to purify your water while on the go. LARQ was co-founded by Justin Wang in 2018 and has been making an impact on how we sanitize and consume water.
LARQ uses proprietary UV-C LED technology to give people access to clean drinking water while helping end our dependence on plastic water bottles.
LARQ's proprietary and patented UV-C LED technology eradicates up to 99.9999% of germs, bacteria and protozoa. It is the world's first portable water disinfection system that emits UV-C light at the optimal wavelength of light to eradicate harmful sources, triggering a photochemical reaction that destroys their DNA.
LARQ is bringing safe drinking water to billions of people around the globe through its partnership with 1% for the Planet.
LARQ Review
LARQ sent us an insulated UV water bottle and limited edition carrying sleeve to test out. We LOVE traveling and have had our fair share of getting sick while abroad. We were stoked to finally have a product that would give us access to potable water while traveling abroad.
LARQ currently offers two types of bottles, their original insulated bottle, and the lightweight Movement bottle.
While international travel is on hiatus right now, we're definitely going to be using our LARQ water bottle to have clean water consistently.
How to Use the LARQ Water Bottle
To use the LARQ water bottle, simply add clear water to your bottle and press the button to sanitize your bottle and its contents. Within 60 seconds, your water is ready to be consumed.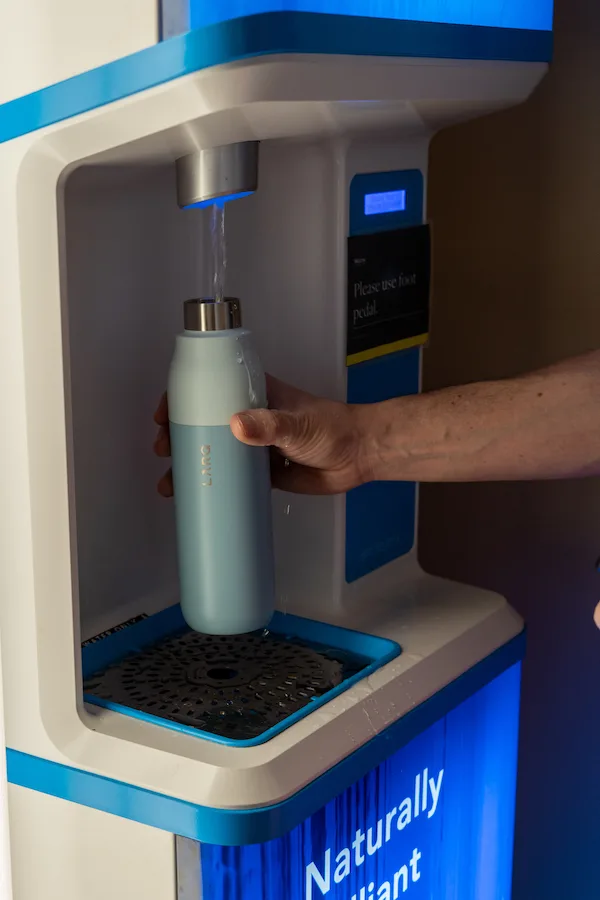 Pros of LARQ
Purify water in 60 seconds! Their UV-C LED chip located in the cap neutralizes up to 99.9999%* of harmful bacteria, germs, protozoa, and viruses, making questionable faucet water totally drinkable. The UV-C LED technology inside LARQ has been tested by independent third-party labs and the LARQ Bottle is effective against various germs, including E. coli, Salmonella, Staph, and MRSA.
Self-clean the bottle with the push of a button. The bottle also Intelligently activates every 2 hours (for 10 seconds) to keep your water and bottle stink-free.
Clean sleek design that is sure to attract attention and stand out from other water bottles.
The UV-C LED chip is rechargeable via a micro-USB charging cord. When plugged in, a green ring of light will appear at the top of the bottle cap. If you need a replacement cap, you can buy one from their store and continue using it with your LARQ bottle.
The original insulated design keeps water cold for 24 hours and hot beverages hot for 12 hours.
The Movement bottle design is lightweight and not insulated. It's meant for quick beverage consumption and portability.
Arrives in a box that is sleek, attractive, and organized.
Member of 1% for the Planet, a pledge to give back a portion of proceeds to preserve the environment.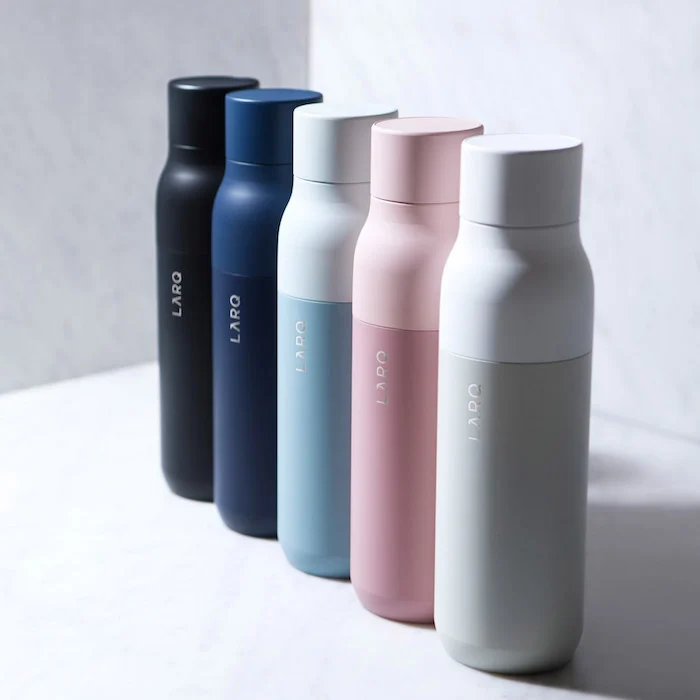 Cons of LARQ
There are a few ways LARQ can improve their carbon footprint and become a more sustainable company.
The UV-LED technology does not remove heavy metals and fluoride.
Supply chain and manufacturing spans across two countries. The UV-C LEDs are made in the USA, while the bottle designed in California and manufactured in China.
The bottle arrives in packaging that's not entirely recyclable. We could only recycle 20% of the packaging received.
Expensive. The LARQ bottle is an investment. It's definitely not affordable but is an amazing option for those who want to curtail their single plastic use while abroad.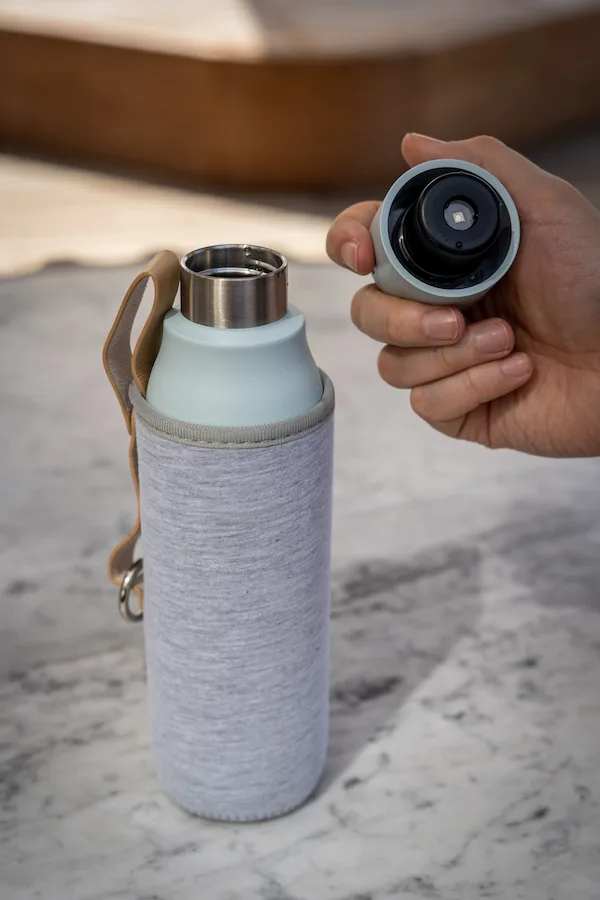 Where to Buy LARQ
Buy LARQ directly from their website. Receive your bottle within days and have fresh drinking water for years!
Sign-up for their e-mail list to receive notifications about sales and new product releases.
You can also buy LARQ from the following retailers:
Carbon38 – Use code SHMGY25 to save 15% off your first two orders.
If you enjoyed our LARQ review, please share it on Pinterest. Thank you!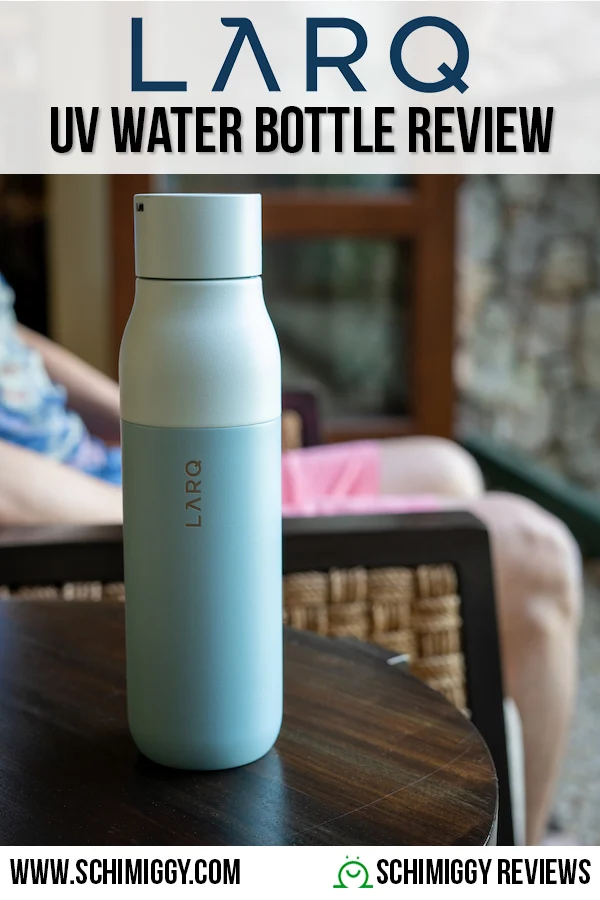 Thank you for visiting today! If you found this encouraging or informative, please connect with us on Instagram or TikTok.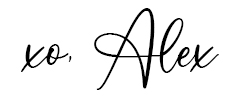 Sign up for our monthly newsletter for updates and more. We promise we won't spam you! Feel free to unsubscribe anytime.
If you're a brand and want to work with us, please visit this page to get in touch.