Reading Time:
20
minutes
Updated: 9/20/2023 | Bogotá Travel Guide
About Bogotá
This city will take your breath away. Not only because Bogotá has so many stunning sights and attractions, but because it's a high-altitude capital situated at almost 9,000 feet elevation, and will definitely take your breath away in more than one way.
We recommend staying in Bogota between 3-5 days to get the full experience the city has to offer.
Bogotá Weather
Bogota is 8,661 feet (2,640 meters) above sea level making it much cooler than most other major Colombian cities.
Average temperatures range from 44F to 66F (7–19C) and it can often be overcast or very rainy at times. You'll find that most Bogotanos always carry an umbrella or rain jacket in case of a sudden rainstorm.
Related: What to Wear in 60 Degree Weather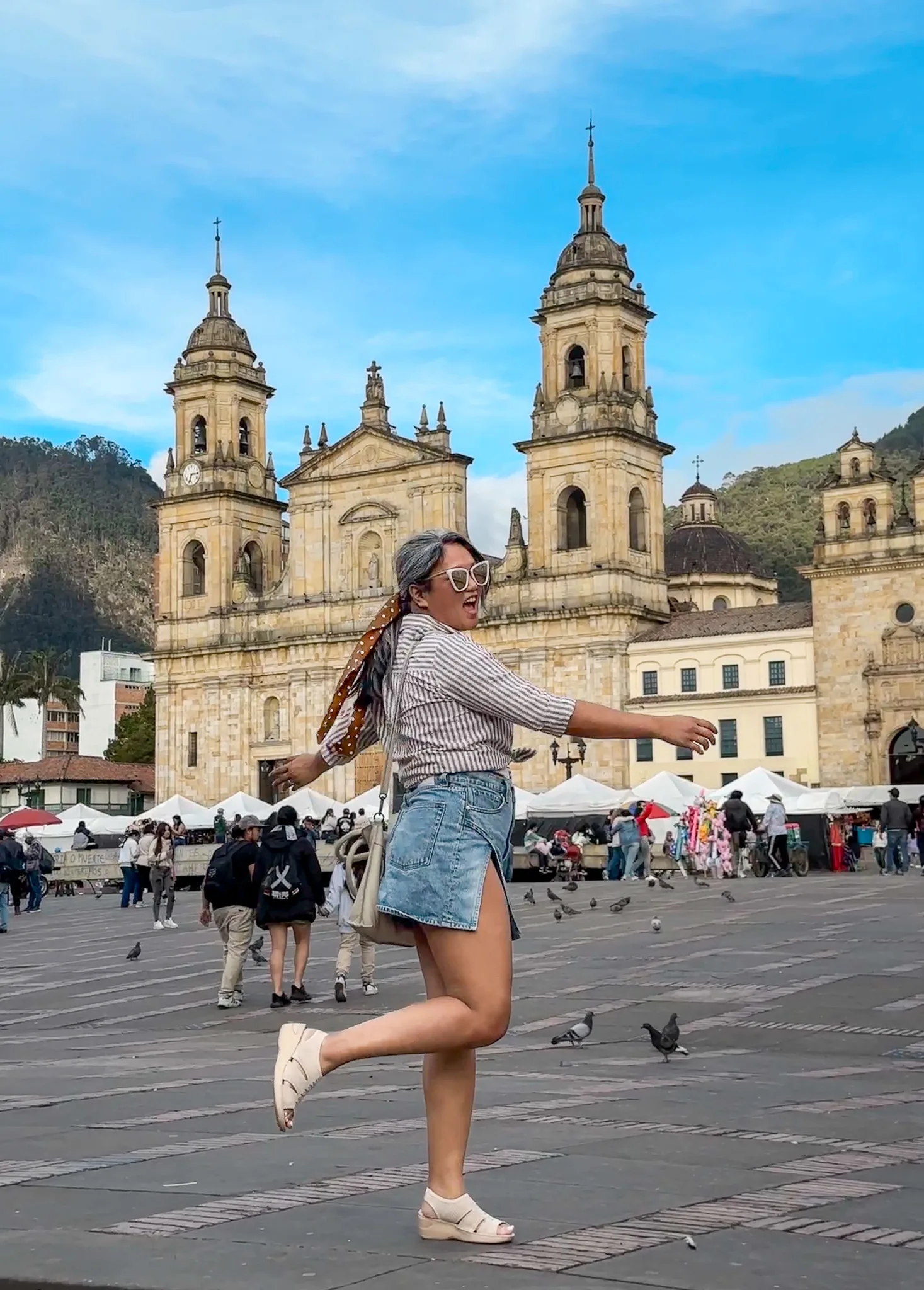 Safety
Colombia is a great place for solo travel. I didn't experience any issues when I visited Bogota. And in the last few years, crime rates have decreased thanks to the efforts of the police forces. However, it's still recommended to use caution when you walk around, especially at night. When in doubt, take a taxi or Uber.
How to Get to Bogota
The best airport to arrive into Bogota is via the El Dorado International Airport (BOG). It's the the largest airport in Colombia and it serves many major cities around the world. You can easily find direct flights from New York to Bogota for as cheap as $80 each way!
If you're already in South America, there are cheap flights from cities like Lima to Bogota for just $70 each way. From Europe, the cheapest flights are from Madrid to Bogota, with prices from $300 each way.
The airport is approximately 15 kilometers from the city center and it can take anything between 30 minutes to an hour to get to the center.
The Transmilenio bus will take you to La Candelaria (a ticket costs only 2,000 COP or $0.60), but it takes much longer than a taxi or Uber will.
The best way is to take an Uber — drivers always stop at carpark C outside "Arrivals." You may need to ride in the front seat because drivers can get fined for being in certain areas of the airport where they are not allowed. We typically stay in Parque 93 and it costs us $12 USD to get to our hotel in the area.
When booking your transportation to and from Bogota, use Bookaway to find the best routes and prices.
How to Get Around Bogota
Bogota is a huge, sprawling city and most attractions are not typically within walking distance. In order to get from neighborhood to neighborhood, you'll need to traverse freeways and cover large distances.
Luckily being a highly-developed urban environment Bogota has numerous cheap ways to get around. Taxis are readily available and via rideshare apps such as Uber.
And if you really want the local experience, ride the TransMilenio, a form of public bus transit services up to 2 million people per day. It's also the largest bus transit system in the world.
Another common method of transportation in Bogota is via bicycle. Bike tours and bike rentals can be found at most hostels and many hotels. Make sure you have a helmet and are comfortable riding in an urban environment.
Where to Stay in Bogota
Click Clack Hotel – This is a super cool modern hotel that has a bar up top with a great view of the city from above. There is also a location in Medellin that we stayed at and LOVED.
Four Points by Sheraton in Bogota – This hotel has artwork displayed throughout the lobby. They also have an amazing breakfast and daily happy hour. We love this hotel because it's next to Parque 93 and is located in a relatively safe area.
Selina La Candelaria Bogotá – This hip hostel/hotel has an amazing bar with great happy hour and is centrally located in La Candelaria. It's super affordable too!
What to Do in Bogota
#1 Visit La Candelaria
La Candelaria is the historic center of the city. It's where you'll find a lot of the attractions and buildings on this list. Spend at least 1-2 days here if you can.
#2 Climb Cerro Monserrate
Walk the steep steps up the hill (or take the funicular) to this incredible viewpoint of Bogotá.
There's a little white church at the top, but the act of climbing Cerro Monserrate and seeing the city from above is what makes this attraction so popular. There are a couple of fancy restaurants up top and a snack bar that has coca tea to help you acclimate to the altitude.
Be careful who you ascend the mountain with as there is a Colombian superstition that says that couples who visit Monserrate together will never get married.
Here are ways you can ascend Cerro Monserrate or Monserrate Hill:
The Teleferico (or cable car) – This gives you the best views of the city and tickets are 12,000 COP ($3.50) each way.
The Funicular – We took the funicular up and down the price was about the same as the Teleferico.
Hiking – If you're looking for some exercise and to check out Bogota's nature, you can walk up to the top. It's a popular activity for locals on Sundays. Keep in mind there are more than 1500 steps and the altitude can make it challenging. Robberies have occurred here, be on the alert and only hike during the daytime.
#3 Plaza de Bolivar
Head to the center of this capital city to see where government business gets done.
This sprawling, pigeon-filled plaza is home to Colombia's Palace of Justice, the Capitol Building, the Cathedral of Bogotá, and the city mayor's office.
Learn a little about Colombia's history, from its fight for independence to the days of Pablo Escobar's siege of the Palace of Justice, to really get the most out of your visit here.
View this post on Instagram
#4 See Chubby Statues at the Botero Museum
Colombia's most famous artist, Fernando Botero, was from Medellín and he painted portraits, of famous people, animals, and fruits. His signature aesthetic was making them all chubby.
Located in a lovely, renovated colonial house with an internal courtyard, admission to this collection of art is free. It was agreed upon with Botero that in order to display his works, they needed to be accessible to everyone.
The museum is also home to several pieces of art by other famous painters like Picasso, Monet, and Renoir, which were all pieces donated from Botero's personal collection.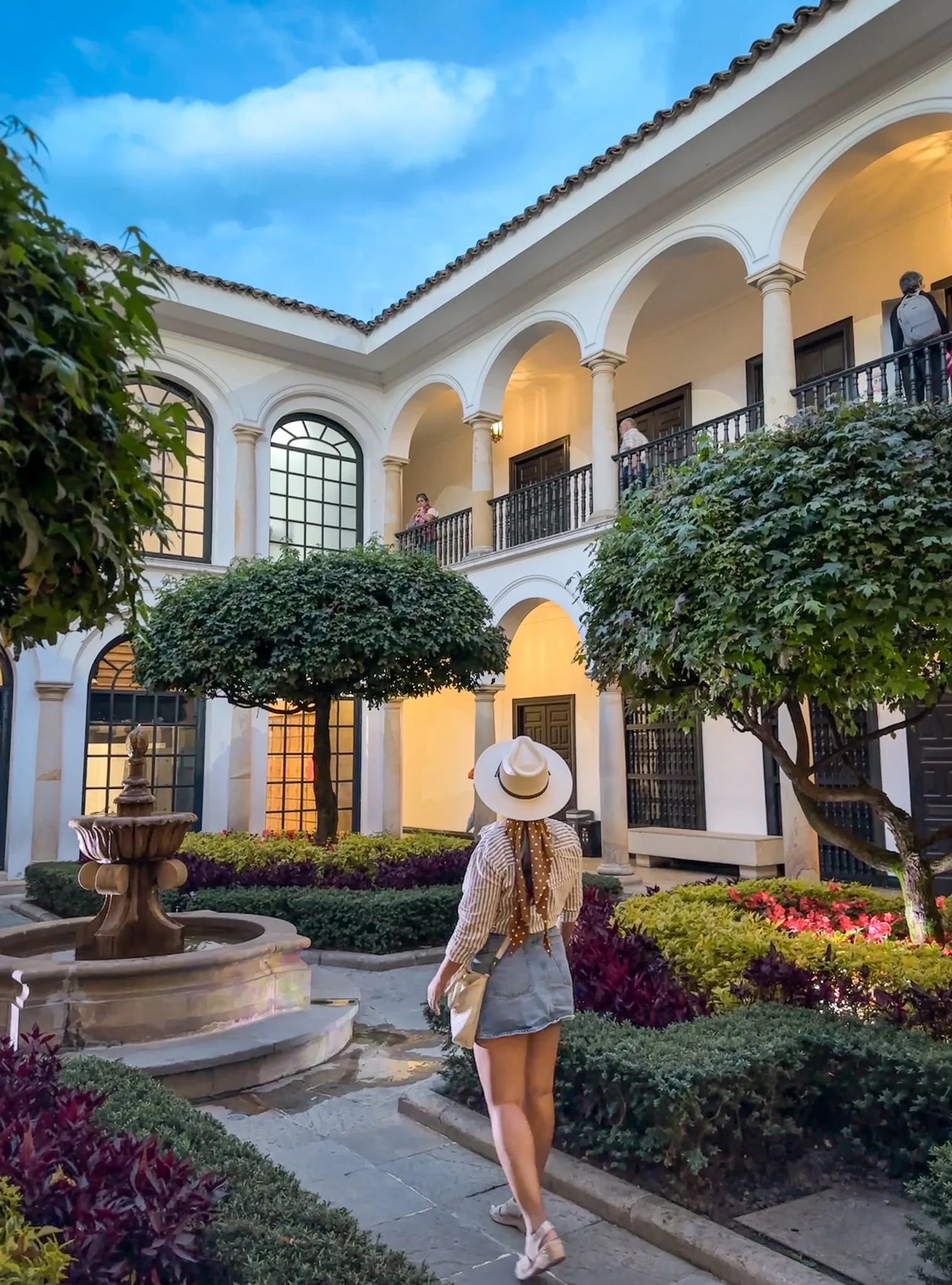 #5 Mercado de las Pulgas de Usaquén
This street market takes place on Sundays in Usaquén, a neighborhood in the north of Bogotá.
Vendors set up stalls and tents in the park and down the streets to sell handicrafts, trinkets, and lots of stuff that's different from the typical souvenirs you'll find in Colombia.
You can buy high-quality, handmade goods like bags, shoes, and jewelry here.
This area is filled with upscale restaurants and cafes, but during market days you'll find tons of cheap food options on the street such as sausages, sandwiches, fresh juices, and arepas.
#6 Zona Rosa
This Bogotá neighborhood is upscale, trendy, and known for its nightlife.
It's also a good place to base yourself if you're not too fussed about being located next to all the touristy stuff in town.
It's home to tons of restaurants, boutiques, malls, bars, and the very nice Parque 93 which is surrounded by shops and even more places to eat.
You'll find whatever evening activities your heart desires here, from laid-back pubs serving craft beer to raging nightclubs and the party restaurant Andres D.C. "Zona T" is a great pedestrian area with outdoor seating and plenty of places for dancing when nighttime rolls around.
El Chapinero is a gay-friendly area within Zona Rosa with lots of gay and lesbian bars.
#7 Parque Central Simón Bolívar
For a big capital city, Bogotá is full of green open spaces where people congregate, exercise, eat, and spend time with their families.
Simón Bolívar is the Central Park of the city, and it's an enormous free park that gets super busy on the weekends.
There's a lake with ducks where you can rent small boats and lots of trails where you can walk, jog, or ride bikes.
In the summer, bands and performers take the stage, and a popular event called Rock in the Park attracts famous performers and tons of fans.
Pack a picnic or grab a bite at the cheap cafeterías nearby for lunch on a bench, in the grass, or on the sand by the lake.
#8 Visit Museo Quinta de Bolivar
Quinta de Bolivar is a museum that used to be the home of Simon Bolivar. It's a 5 minute walk from the Monserrate funicular and we highly recommend it because it's an affordable way to learn about Simon Bolivar and how he lead the independence wars of South America and liberated colonies from the Spanish Empire.
He led Venezuela, Colombia, Panama, Ecuador, and Peru to their independence and even briefly united them as a single nation called Gran Colombia. You will see a small plaza on the property with these flags.
It's only $2 USD to visit and has an impressive garden.
#9 Play Tejo
The national sport of Colombia is tejo, a game that involves gunpowder, targets, and loud explosions.
It's usually accompanied by a few beers, so you should definitely play a couple of rounds while you're in Bogotá.
Players throw heavy metal disks across the room (about 20 meters) at small gunpowder-filled targets stuck into clay.
Hitting one results in a loud bang, cheers, and points for your team if you're actually keeping score.
Try Club de Tejo La 76 if you want to play, and maybe head upstairs for "mini tejo" where it'll be easier for beginners to hit the targets.
Some bicycle tours of Bogotá might also take you to a tejo joint.
#10 Plaza de Mercado de Paloquemao
Visit an authentic market while you're in Bogotá to browse the fresh selection of foods and see how the locals shop for groceries.
Plaza Paloquemao is home to a brilliant selection of vendors who sell fruits, vegetables, flowers, spices, eggs, seafood, and recently butchered meats.
There are also stalls selling cooked foods like ajiaco, tamales, fried fish, and soups along the outside of the market.
Go early, don't expect any English, and be prepared for an amazing sensory overload.
You can have breakfast at the market before roaming around to take photos and try a few exotic fruits.
Colombia has 30+ varieties of exotic fruits.
Nesquila, Lulo, Zapote, Mangosteen – the list goes on and on.
So get lost in the maze that is Paloquemao Market and sample every fruit you have never heard of.
#11 Teatro Colón
Teatro Colón was built in the late 1800s and designed by an Italian architect and was named after Christopher Columbus and it's the national theater of Colombia.
This majestic building was constructed in the neoclassical style and it has beautiful interiors decorated with frescoes.
The seats are set in a horseshoe shape modeled around the Palais Garnier in Paris, though it's only half the size but still impressive.
Check online to see what shows are on and head to the theater to purchase tickets or take a guided tour to have a look around. There are operas, concerts, and modern plays to choose from, and the whole experience has a magical, romantic vibe to it.
#12 Zona G
Just a little south of Zona Rosa is another high-end neighborhood that's filled with hip restaurants, bars, cafes, fancy hotels, and idyllic tree-lined streets. It somewhat feels like we were transported to a neighborhood in London, UK.
Zona G (the "G" stands for "gourmet") and offers a range of different cuisines. The food isn't cheap, but it's a great place to hang with friends and party!
Aside from drinks and fancy dinners, you can wander your way over to the Plaza de Lourdes for its impressive church and cheap eats like churros and fried arepas.
#13 Museo Nacional de Colombia
Built in 1823, the biggest and oldest museum in Colombia was originally a prison constructed in the style of a fortress.
It's truly massive and contains over 20,000 pieces of Colombian history that are on display in over 17 permanent galleries which used to be cells.
There are pre-Colombian artifacts as well as exhibits about colonial times under Spanish rule.
Browse the artwork, furniture, and Afro-Caribbean collections, and be sure to check which traveling exhibits are there when you visit.
The museum hosts lots of special exhibits, seminars, and musical performances which are quite popular.
Admission is $1 USD for Colombia residents or $10 for foreigners. It's also free on Sundays.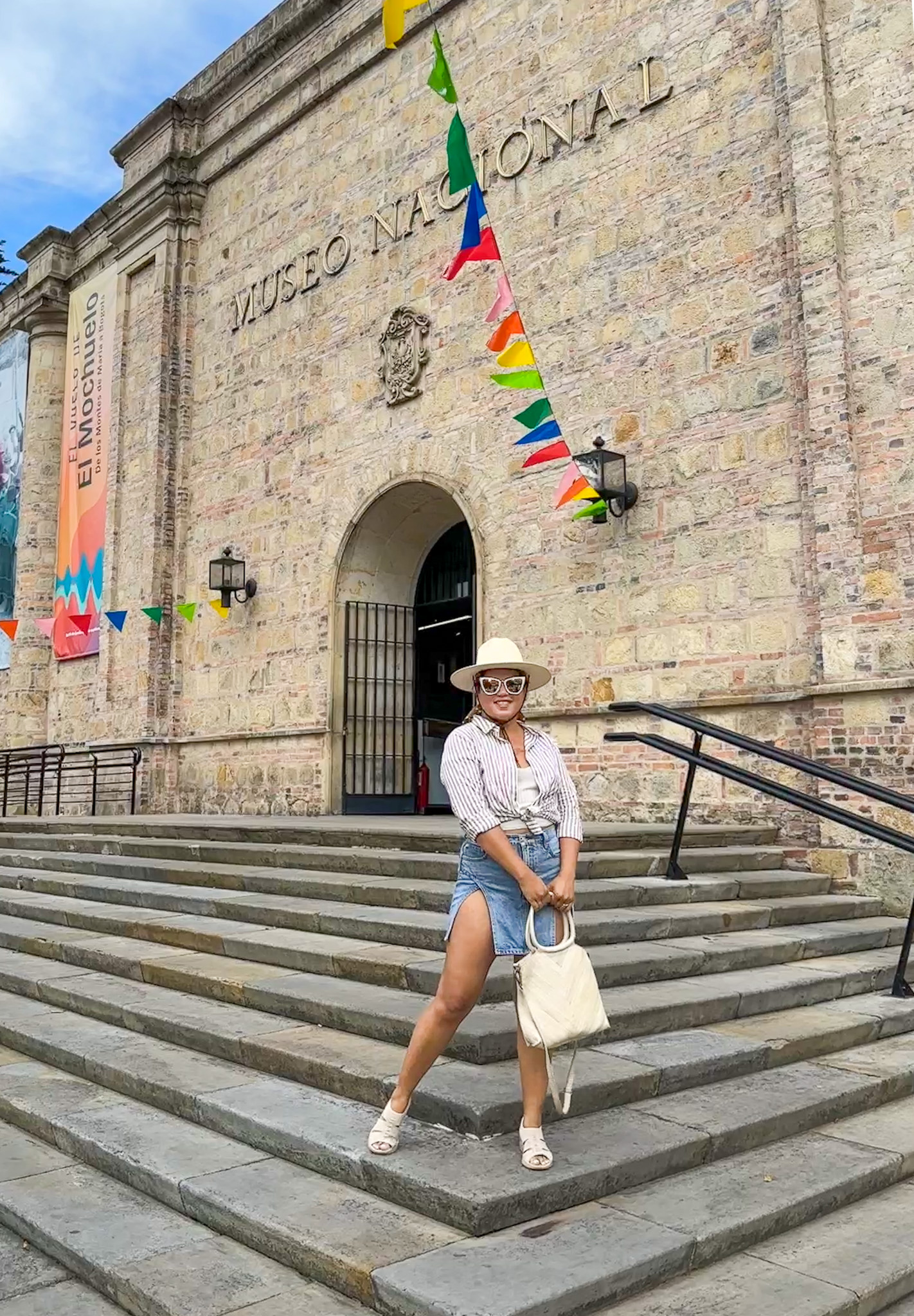 #14 Biblioteca Público Virgilio Barco
Book nerds and fans of architecture will love this enormous library in Bogotá.
Located just next to Parque Simón Bolívar with plenty of gardens and spaces for reading, it was designed by one of the most important architects in Colombia, Rogelio Salmona.
The round building is encircled by mirror-like waters to create a serene environment.
They have free wifi and art exhibits on display frequently – you know, in addition to all the books.
There's a cafe offering snacks and drinks, as well as an open-air theater on the roof where views of the city are great when it's sunny.
#15 Jardín Botánico de Bogotá
This peaceful place is never too crowded and it's always super peaceful and lush.
Entry to the botanical gardens is cheap (less than 1 USD), and you'll have free reign over the 19.5 hectares of gardens for a perfect day of being surrounded by nature.
There's plenty of room to do some walking, or you can head out in search of lizards, turtles, ducks, peacocks, and other animals.
Because Colombia gets nearly 12 hours of sunlight a day, the range of flora here is superb, and you'll find exotic flowers as well as a rose garden.
Have a snack from one of the food stalls nearby or take a guided tour to learn more about the plants here.
#16 Visit the Museo del Oro (The Gold Museum)
This is the most interesting museum in the entire country and sees over half a million tourists every year.
Opened in 1939, the Gold Museum documents the importance and use of gold in pre-Hispanic civilizations in Colombia and is home to over 55,000 gold items.
There's a lot of information to take in, so be sure to get the audio guide (8,000 COP) or join one of their free daily tours. You can also peruse the museum at your own leisure for only 4,000 COP (or less than $2 USD). It took us one hour to get through all the floors.
#17 Santuario Nuestra Señora del Carmen
The National Shrine of Our Lady of Carmen is a Gothic church located in La Candelaria neighborhood.
The church has a red and white striped pattern on both the outside and inside, making it look like a giant candy cane. It was constructed between 1926 to 1938, the church stands almost 60 meters tall has some incredible Byzantine and Moorish art.
It is very similar to the mosque in Cordoba, Spain.
#18 Explore Parque 93
This is the area of town with some of the best restaurants, nightclubs, and bars in the entire city.
The park itself is home to an ongoing rotation of temporary art exhibitions. Located in one of the nicer areas of town, you'll find a lot of good restaurants and cafés around the perimeter of the park.
#19 Visit the Iglesia de San Francisco (San Francisco Church)
This church was built in the 16th century and is the oldest surviving church in Bogotá.
The interior is impressively ornate, with a beautiful altar that dates back to the 17th century. It's still in use, and you'll likely see some locals praying during your visit, so make sure to dress appropriately (wear outfits with sleeves and cover your legs) and be respectful.
It's located just across from the Gold Museum.
#20 Visit Barrio Los Puentes
This colorful neighborhood located in the south end of Bogota is a sight to see!
You'll want to book a tour and go with a guide because the area can be unsafe if you decide to go on your own.
It's very similar to the neighborhood that you need to get through to get to Cerro San Cristobal. Painting a town in pretty bright colors and murals does not erase how poor and dangerous it still is.
#21 Torre Colpatria
You can get a good 360-degree view of Bogota from its tallest skyscraper, Torre Colpatria, where you can access the mirador (viewpoint) on the 48th floor of this 50-story building.
The cost to ascend is 12,000 COP or about $3 USD and it's only open Friday through Sunday for the public. It's a corporate office for the rest of the week.
Make sure to go as it is one of the best ways to view Bogota from above.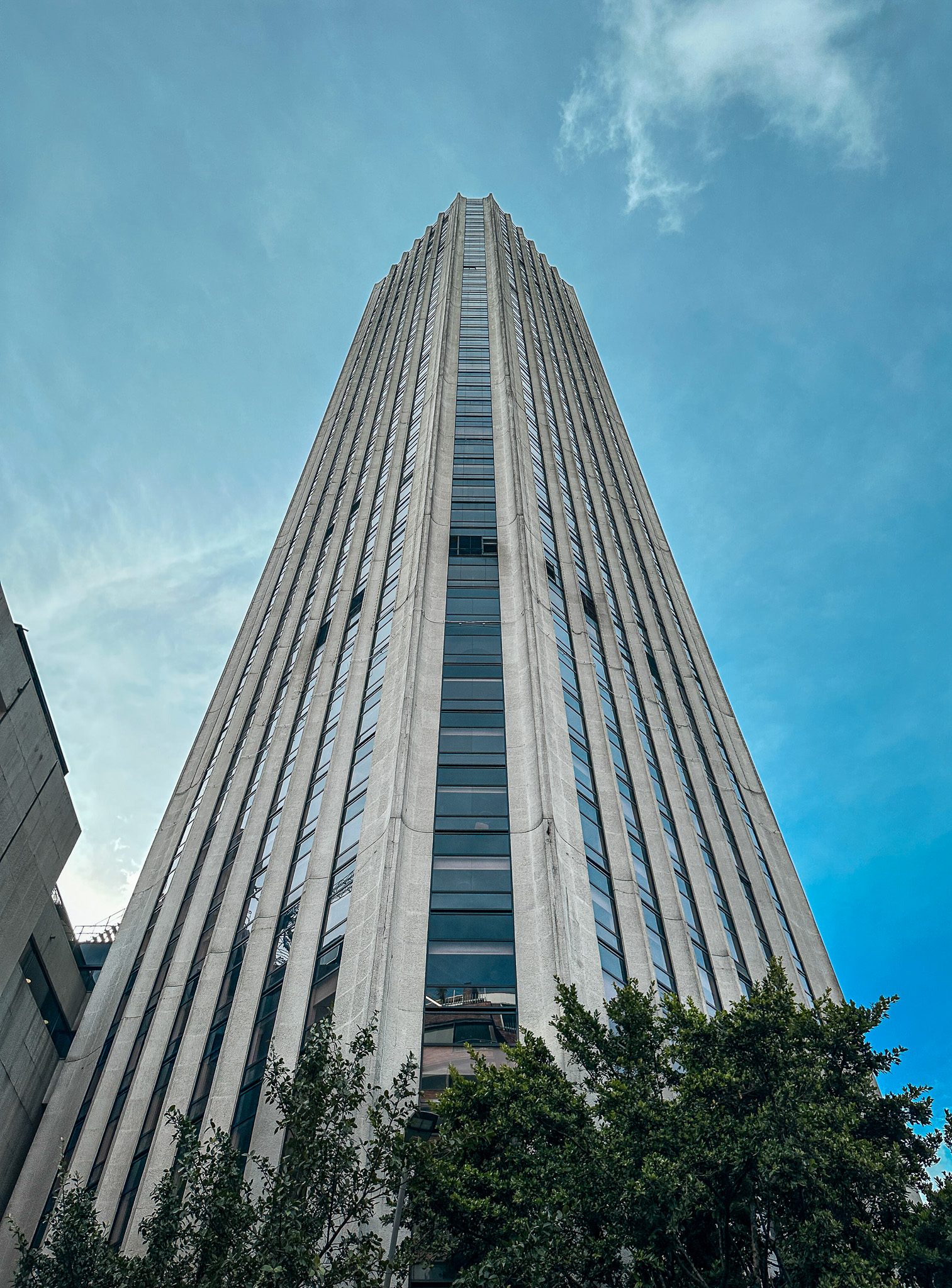 #22 Museo Santa Clara
This 17th-century church was deconsecrated in the 1960s and became a museum dedicated to baroque art – there are many incredible paintings on display.
#23 See Street Art at Calle de Escudo
Most of the city's best street art is found along the narrow Calle de Escudo. The alley is flanked by cafes, hippie shops, and art galleries. Bogotá is one of the most street-art-friendly cities on Earth, with walls on major streets being used as canvases.
But it wasn't always like this. Police used to crack down on graffiti artists extremely hard. In 2011, they pursued and killed 16-year-old artist Diego Felipe Becerra. There were protests throughout the city and two officers were eventually arrested. Today the police protect the rights of artists and the city frequently supports street art culture through incentives and city-sponsored projects.
#24 Watch the Street Performance on Carrera Septima
The best place to observe Colombian culture is Carrera Septima.
The boulevard is a no-go zone for cars, and because of that, it's full of street performers such as dancers, actors, singers, or magicians. The performers will do their best to attract people passing through, get the appreciation for their artistry, and earn money!
Carrera Septima is one of Bogota's most crowded places, so watch your belongings. It gets super busy on the weekends.
#25 Iglesia de la Tercera Orden
The intricate carvings on the mahogany altar at the 1761 Church of the Third Order are the most beautiful in Bogotá. A local myth claims that the completion of the altar so exhausted sculptor Pablo Caballero that he died a madman.
#26 Plazoleta Chorro de Quevedo
This historic plaza is known for its huge pink window structure, a water fountain, and historic buildings surrounding the area.
The area is surrounded by vendors selling chicha (a fermented fruit drink), hip restaurants, cafes, and murals. Throughout the day you'll see performances and musicians. It's also a great place for teens to hang out.
Day Trips from Bogotá
#1 The Salt Cathedral (Catedral de Sal) of Zipaquirá
One of the most popular day trips from Bogotá, the Salt Cathedral is located in the town of Zipaquirá about an hour outside the city.
This whole cathedral was carved deep underground in a salt mine, and it contains alcoves for worshipping and beautifully lit crosses.
The town itself is set 590 feet (180 meters) beneath the earth with many places to eat and buy souvenirs.
Get here early to beat the crowds and take some time to explore the colonial town nearby once you're done. All tickets come with a guided tour.
On weekends, families and tourists alike take the Turistren from the Usaquén train station (Cra. 9 No. 110-08, tel. 1/316-1300) at 8:15 am or the Estación de la Sabana (Cl. 13 No. 18-24, tel. 1/375-0557) near La Candelaria at 9:15am.
Bands play Colombian papayera music as you slowly chug through the savanna of Bogotá on the three-hour trip. The train returns to Bogotá in the late afternoon, giving you more than enough time to visit the salt mines. Only round-trip train tickets (COP $52,000) are sold.
The company Alianza runs buses (1 hour, COP $4,800) to Zipaquirá's Terminal de Transportes (Cras. 6C-7 and Clls. 10-12) from Bogotá's Portal del Norte TransMilenio station every 20 minutes or so, all day long. Upon arriving at Portal del Norte, take a left from where you get off the TransMilenio bus and you will see signs pointing the way for "Zipa" buses; the attendants can also direct you. You'll pay the Zipa bus driver directly. The trip takes about an hour and costs COP $6,000.
You can either walk 20 minutes or take a short taxi ride to the Parque del Sal from Zipaquirá's train or bus station.
#2 Villa de Leyva
Get out of the city and experience one of the most lovely little colonial towns in Colombia.
Villa de Leyva is a gorgeous small colonial town about a 3-hour drive from Bogota. It's a lovely place to explore for a day, though if you have more time, we actually recommend spending at least a weekend here.
It's where people from Bogota go for a getaway from the city. There you can enjoy old whitewashed colonial architecture, an impressive central plaza, cobblestone streets, and Spanish architecture, and learn about Colombia's history.
We highly recommend visiting Casa Terracotta, an entire house made out of clay! It's considered the largest piece of pottery in the world.
The weekends are the most crowded here. We highly recommend going during the weekdays if you can. It's a popular destination for Bogotans.
#3 Laguna de Guatavita
Take a break from the bustling city and explore Bogota's nature for the day.
North of Bogotá and surrounded by green rolling hills, you'll find Lake Guatavita, the place where the story of El Dorado originated and a spiritually significant area for local indigenous groups.
Trek through the biodiverse, jungle-like Paramo to get to the rim of this crater lake for views of the water below.
Arrange for a guide if you'd like transportation and to learn more about the Muisca people, the myth of the Golden Kingdom, and the flora and fauna of the area.
#4 Hike to La Chorrera and El Chiflón Waterfalls
These two waterfalls are located outside of Bogotá, and they're about a 3-hour round-trip trek through lush and bright green vegetation.
The drive there will take you through the edge of the Andes with beautiful views of picturesque colonial villages, cliffs, and forests along the way.
Take the bus there yourself and pay the entrance fee, or opt for an organized trip with a hostel or tour company so that you'll have transport, guides, and meals all arranged. You can also take an Uber to get to and from there.
The routes can be a bit strenuous and muddy, but the trails are well-marked and the pounding waterfalls are incredible. You may want to take a dip when you get to the waterfalls!
#5 Tequendama Falls
A visit to the Tequendama Falls (or Salto Tequendama) is typically tagged onto a Hacienda Coffee tour.
The tour can be booked here.
What to Eat in Bogota
Andrés Carne de Res – It's not just a restaurant, it's an experience! The original Andrés Carne de Res is located in Chia, a little town outside of Bogotá. But our favorite location is in Zona Rosa. Come here for a wild night out with friends or come during the day with your kids and dine in their family room. This is a restaurant turned nightclub turned Carnaval where you can get your fill of Colombian food and all the merengue and salsa dancing you can handle. They also have live music in the evenings! With different themed rooms, the atmosphere is like a circus with tons of vibrant decor, cocktails, confetti, and even performances by hired performers. Come here for your birthday to get a sash and song.
Bandido Bistro – A bistro serving French food in a lively setting.
Black Bear – Italian restaurant with fresh-made pasta and great for a romantic date or special event.
Cacio e Pepe – Italian restaurant serving handmade pasta in a romantic setting.
CASA– This restaurant's name is an homage to the building it occupies, a 1950s home by the famous Colombian architect Guillermo Bermúdez. The menu is slightly Mediterranean. We highly recommend the fried rice with oxtail, the mussels, and the tuna tartare dishes.
Chia Cevicheria – They serve delicious ceviche here!
Doña Elvira – For a deep dive into traditional Colombian cuisine, hit up lunch at Doña Elvira. Founded in 1934, the restaurant has a humble façade and a simple cafeteria-style interior. The menu is the best of everyday Colombian eating. Try the stuffed chicken necks, chopped pork ribs, or the braised flank steak.
El Chato – Restaurant with a very creative European menu.
El Cielo – Bogota's own Michelin-starred restaurant with a tasting menu. Reservations are required and can only be made online.
El Mejor Ajiaco del Mundo – We loved the tamales and ajiaco here. They also have fresh fruit juices.
Harry Sasson – Sasson is known as Bogota's most famous chef. Come here for traditional and modern Colombian cuisine.
La Esquina de Mary – Located in La Perseverancia food court/market (40 Carrera 5 ##30 A, Bogotá) is this amazing restaurant known for their Rompe Colchon (Mattress Breaker) fish soup. It's rumored to be an aphrodisiac and is served with a side of rice, patacones, and sliver of Colombian avocado. We love adding their super spicy hot sauce and lime to the soup for added flavor. Their hours are from 12p-4p, so make sure to set aside time to visit this bustling marketplace for the amazing food options. Most vendors accept cash only.
La Puerta Falsa – Come here for the Ajiaco (chicken soup) and Chocolate Completo. This restaurant is located near Plaza de Bolivar.
Llorente – An old three-story house has been turned into this restaurant with classic European decor, live bands playing classic rock, and dim lighting, making it a good spot for date night. Located in the Quinta Camacho neighborhood, Llorente was named Best New Restaurant La Barra 2019, a Colombian food-and-drink award. Consider the mercado pesca: the catch of the day with sweetcorn sauce, grilled asparagus, and Asian mixed greens. They also have creative cocktails and tiki drinks.
MASA – This high-end artisan bakery sells undoubtedly the city's best chocolate cake. If you are looking for a real meal, try the almond croissants for breakfast or any of a number of healthy options: Masa has salads, sandwiches, freshly squeezed juices, and homemade soups.
Mercado La Concordia (District Market Square La Concordia) – A marketplace with tons of award winning restaurants with traditional Colombian dishes. Tia Jackie won the best ajiaco soup and can split their dishes if requested.
Osaka (OSK) – High-end sushi restaurant that serves creative sushi plates.
Pajares Salinas – Spanish restaurant with tapas dishes, paella, seafood plates, and more.
Pasteleria Florida – Located in the city center, this classic pastry shop has been serving traditional Colombian breakfast since 1936. The favorites include agua de panela (a hot drink made from unrefined sugar cane) or hot chocolate with yucca bread, cassava rolls, and almojábanas, made of cassava and corn. Here you can also find quality tamales, a popular Sunday breakfast, with chicken and vegetables wrapped in banana leaves and boiled.
Prudencia – A great place to get the menu del dia (menu of the day).
Puerto Arepa de la Primera – This place is hard to find but worth it! Get their daily made arepas. It's located on Carrera 1 No. 21 – 22, 111711.
Salpicón at Siete de Agosto Market – The best place to eat typical Colombian foods and soak up local culture is the markets — Paloquemao is the biggest and most famous, but I recommend the more intimate Siete de Agosto. Be sure to try the salpicón, a salad of chopped tropical fruits mixed with orange juice, papaya juice, and whipped cream. It's a perfect combination of a smoothie and fruit salad. Frutería Dary's is the most popular stall in the market and I can see why!
Sazerak – A swanky New Orleans themed restaurant with amazing craft cocktails and creole dishes. The decor is very Parisian and romantic! We highly recommend the chicharrones, Caesar salad and pasta dishes.
Must Try Colombia Dishes
The classic Arepas are a must! We highly recommend trying the Arepas de Huevos (eggs) from Andres Carne de Res. Their arepas are typically corn-based and served with soups and every meal.
Tamales steamed in banana leaves are an amazing dish or snack. We love the tamales from any of the restaurants near the Plaza de Bolivar.
Ajiaco – A corn, potato, and chicken soup made with a special herb called guaca.
Bandeja Paisa – This is technically a regional dish of Medellin, but it's also served in Bogota. The dish is large enough to share with piles of chicharrones, chorizo, ground beef, rice, beans, avocado, plantains, and a fried egg. We highly recommend trying it at La Puerta Falsa.
Buñeulos – These are little fried balls of doughy deliciousness. We found THE BEST ones in Guatape (near Medellin) but they are commonly sold in Bogota as well.
Hormigas Culonas – Literally translates to big-ass ants. Do it if you dare.
Chocolate Completo – Hot chocolate beverage served with white cheese and biscuit.
Jugos – Fresh juices made with agua (water) or leche (milk). It's refreshing and you can choose from a wide variety of native Amazonian fruits.
Choripan (or Chorizipan) – Delicious meaty sausage served on a bun. It's a common Southern American dish and very country has their own rendition.
Oblea with Arequipe – A thin wafer filled with arequipe (caramel). Typically served as a common street food snack.
What to Drink in Bogota
Apache – You don't need to be a guest of the Click Clack Hotel to enjoy its 10th-floor bar. Apache has one of the best views of Bogota and is perfect for sunsets with a refreshing cocktail in hand. They play mostly rock music and also have a live band there on busy nights.
Bogota Beer Company – Come enjoy a craft beer! There are multiple locations around Bogota.
Cerveceria Gigante – A small nano-brewery with tasty pub food.
Dos Carerras – Great for sampling their beer and the best of some of the others around town.
El Mono Bandido – This cute bar offers its own craft beer brews along with creative cocktails in a bright and quirky setting. The 93 location has a beach-themed sitting area inside!
Huerta Cocteleria Artesenal – Located in Zona Rosa, this was our FAVORITE place for craft cocktails. I highly recommend going here because their drinks are so creative, they have a DJ and the decoration is Alice in Wonderland themed.
Odem – Another great craft cocktail bar.
Papaya Gourmet – They offer great craft brewery tours.
Sazerak – A swanky New Orleans themed restaurant with amazing craft cocktails and creole dishes. The decor is very Parisian and romantic! We loved the Vieux Carre and their other house cocktails which rotate regularly.
Video Club – Cocktail bar with dancing studio!
Bogota Travel Guide Map – Save this!
If you found our Bogota travel guide helpful, please share it on Pinterest. Thanks for your support!
---
Thank you for visiting today! If you found this encouraging or informative, please connect with us on Instagram, Youtube, Pinterest, Facebook or Twitter. We'd love to meet you!
Sign-up for our monthly newsletter for updates and more. We promise we won't spam you! Feel free to unsubscribe anytime.
For more fitness fashion discounts and offers, please visit our Fitness Instructor Discounts + Brands Directory or favorite brands coupon codes list.
If you're a brand and want to submit a product for us to review, please use this form to get in touch.
This site uses affiliate links. Clicking on or purchasing via an affiliate link may result in commissions for us which help keep the content flowing and lights on at Schimiggy Reviews. You may read more about this in our privacy policy.