Reading Time:
3
minutes
Electric wires and routers can make a home look very messy and distracting. We created a few hacks to help you keep your electronics out of view and look tidy in the home.
Here are our tips for hiding wires and routers.
How to HIde Your Router and Wire Solutions
#1 Use a basket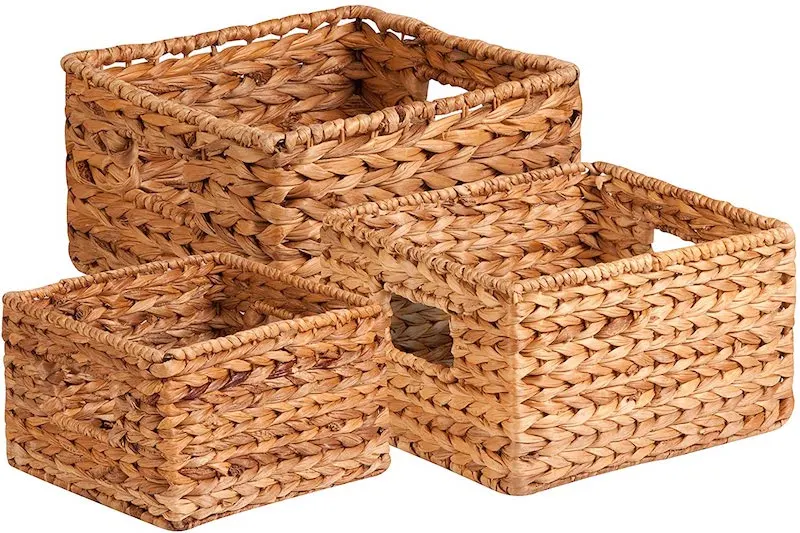 Use a woven basket to keep your internet router and wires hidden from view. We love these banana leaf nesting baskets. They come in different sizes and heights and look attractive on shelves.
Some baskets even come with matching lids. We typically put the basket under furniture and out of view. It also keeps the router and wires from getting too dusty.
#2 Buy An attractive ROuter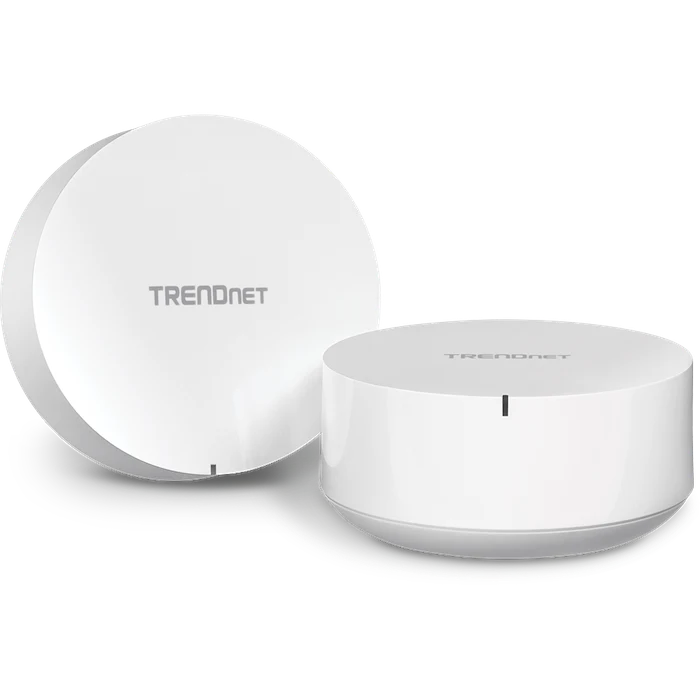 Yes, pleasant looking routers exist! Instead of choosing one with antennas, try to find disc-shaped routers that look sleek and obscure.
We have mesh routers that help to extend internet access throughout the home. Trendnet makes mesh routers that are round, white and have a low profile. You won't even notice them on your countertops.
#3 Install theOUTLet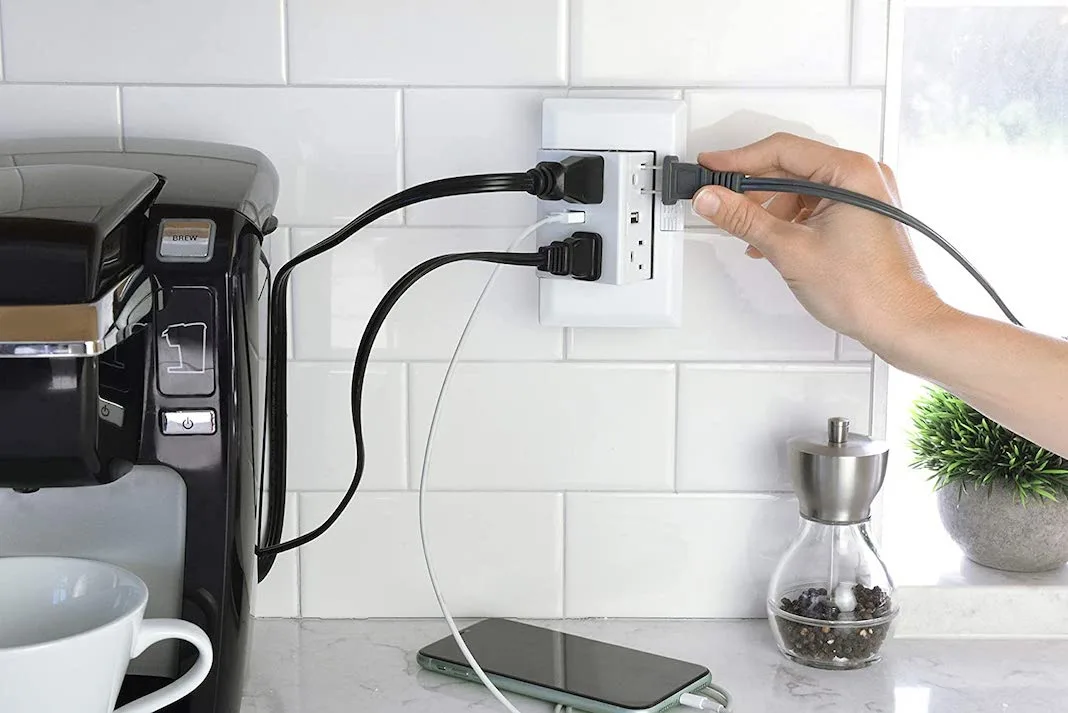 TheOUTLet allows you to expand the number of outlets in your home. If you have a busy corner in the home, the outlet can be a lifesaver for many of your electronics. It also eliminates the need for bulky surge protectors.
It takes minutes to install and makes charging easier than ever. Buy TheOUTLet with or without USB ports.
#4 Cable Raceway Cover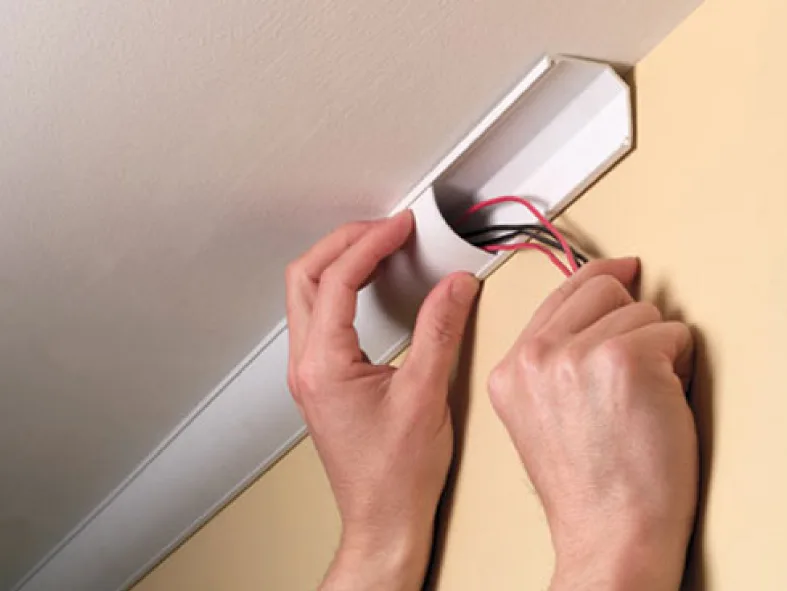 Cable raceways are a great way to conceal thick or multiple wires.
You can buy flat cable raceways that sit flush against your wall. There are also rubber raceways that roll up when not in use. These lie very flat and can be left anywhere in the room and not present themselves as a tripping hazard.
You can also buy corner raceway covers that can be installed on any corner of your walls. We like installing them on the bottom behind furniture to keep wires fully concealed from view.
#5 Cable Management Box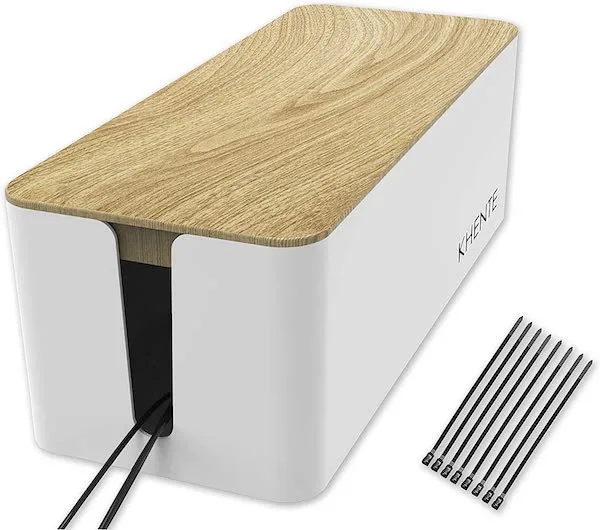 Cable management boxes are a great solution because they come in different sizes and colors. They have a slit that allows the cords to be tucked away in the box without looking obvious.
If you enjoyed our article on Keep Electronic Wires and Routers Looking Tidy in the home, please share it on Pinterest. Thanks for your support!
---
Thank you for visiting today! If you found this encouraging or informative, please connect with us on Instagram, Youtube, Pinterest, Facebook or Twitter. We'd love to meet you!
Sign-up for our monthly newsletter for updates and more. We promise we won't spam you! Feel free to unsubscribe anytime.
For more fitness fashion discounts and offers, please visit our Fitness Instructor Discounts + Brands Directory or favorite brands coupon codes list.
If you're a brand and want to submit a product for us to review, please use this form to get in touch.
This site uses affiliate links. Clicking on or purchasing via an affiliate link may result in commissions for us which help keep the content flowing and lights on at Schimiggy Reviews. You may read more about this in our privacy policy.