Reading Time:
4
minutes


About Kotn
Kotn (pronounced like "cotton") is a Canadian-based sustainable clothing brand for men and women.
Their apparel is made from Egyptian cotton sourced directly from Egypt. Egyptian cotton is a high-quality, long staple fiber that creates stronger and softer garments compared to other types of cotton.
Kotn is also very big on their humanitarian efforts. They reinvest in and support the farming communities where they source their cotton materials. These efforts include building schools to support the education of women and girls and advocating for organic growing practices on farms.
Now that you know a bit about the company, let's move onto the Kotn review!
Kotn Review
We received the following items to review in this post:
I absolutely love this ensemble. I recently lost 25 pounds and a majority of my clothing stop fitting me. The cropped trousers replaced my lululemon Departure pants which had been my go-to black crops for the past 4 years!
I never really wear white because it's a lot of work to maintain. I used this collaboration as an opportunity to be brave and add something I would normally not wear to my closet.
Below are some ways I styled my Kotn outfit.
The Half Tuck
Now that I have a white button-up shirt, I can give this style a try! I love the half tuck detail. I would wear this outfit to work or out to dinner with friends.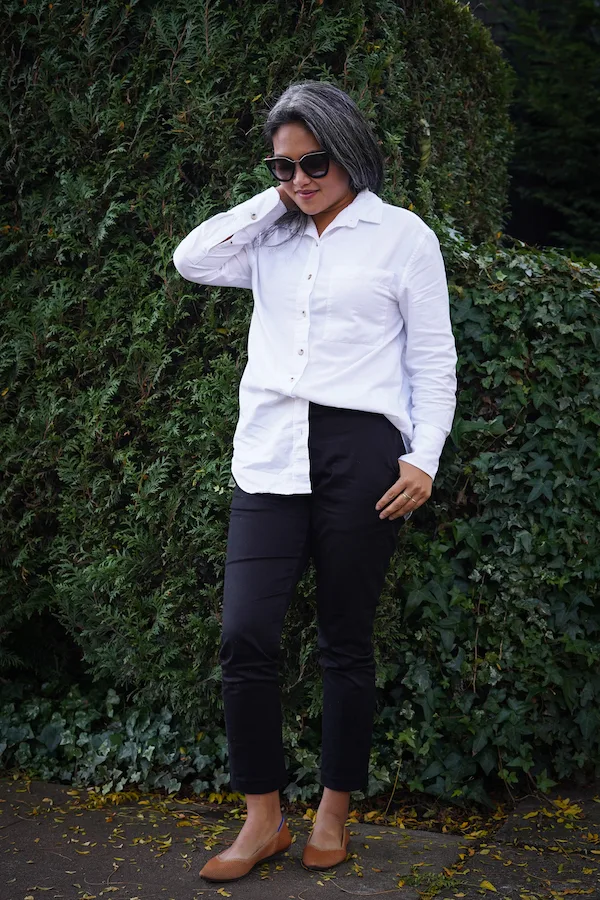 Untucked + 3/4 Sleeves
For a simple look, I left the shirt almost fully buttoned, untucked and rolled the sleeves up 1/4 of the way. I prefer this look because I do not need to adjust my shirt throughout the day.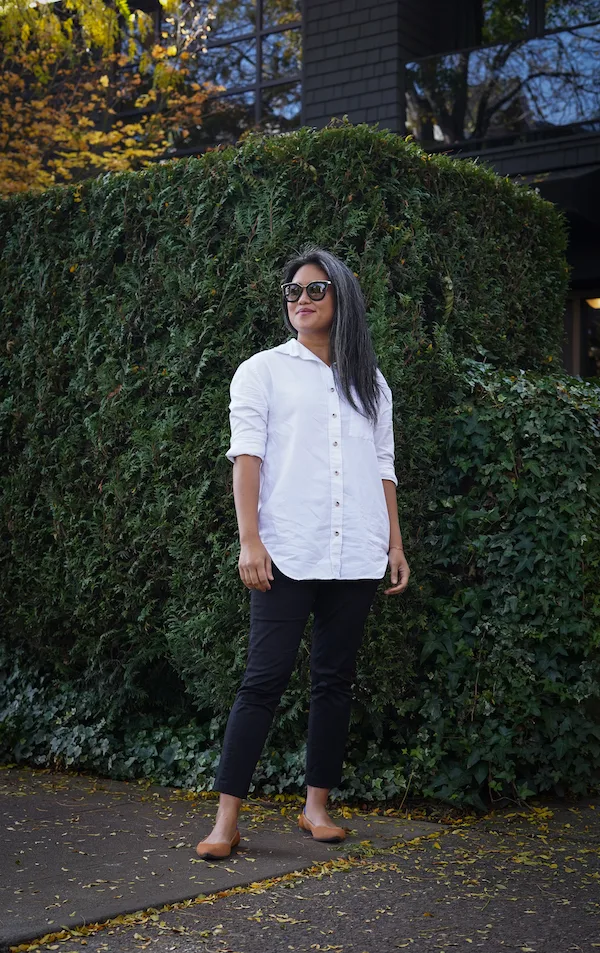 Under a Sweater
I went with this cropped asymmetrical J.O.A. sweater that I thrifted back in 2015. The asymmetrical line makes the outfit look stylish and urban. ???? So…#amiabloggeryet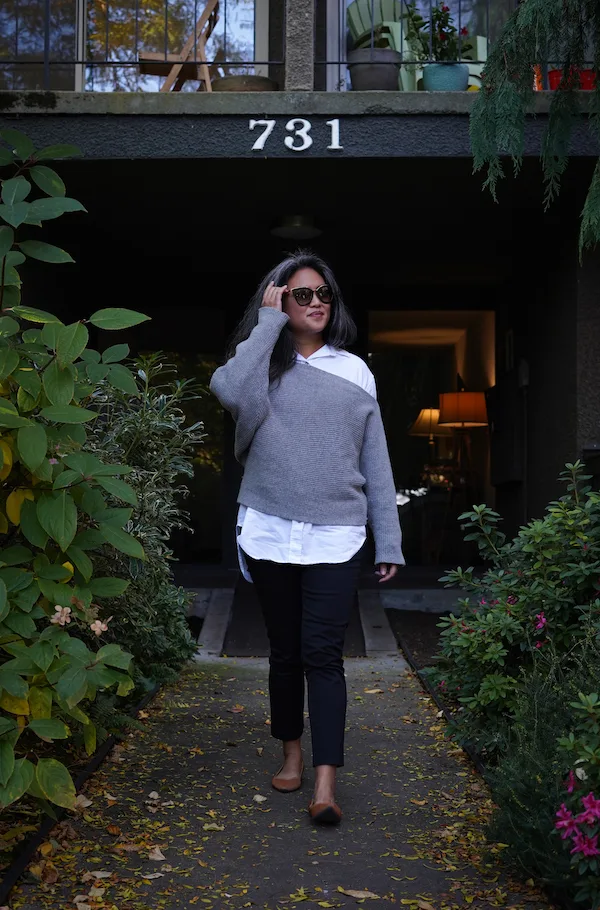 What I wore in this post: KOTN Oversized Oxford Shirt ($65), KOTN Slim Cropped Trouser ($75), J.O.A. Asymmetrical Sweater (thrifted) | Rothy's Points in Fawn ($145) | CLAVA crossbody bag ($250)
Related: Rothy's Review: Ballet Flats – Is it Worth it?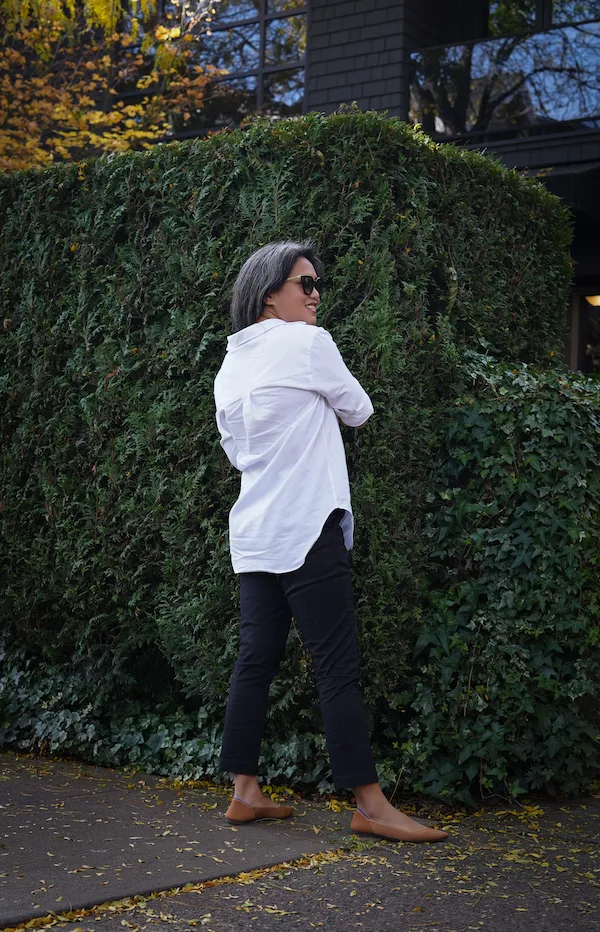 How does Kotn sizing run?
Kotn apparel runs true to size (TTS). I sized up in their top because I like my shirts looser fitting. I kept my true size in their bottoms and they fit perfectly!
I am also 5'5″ for reference if you're wondering where the leg opening will hit.
If you still have any questions about sizing, you can reach out to their team for assistance.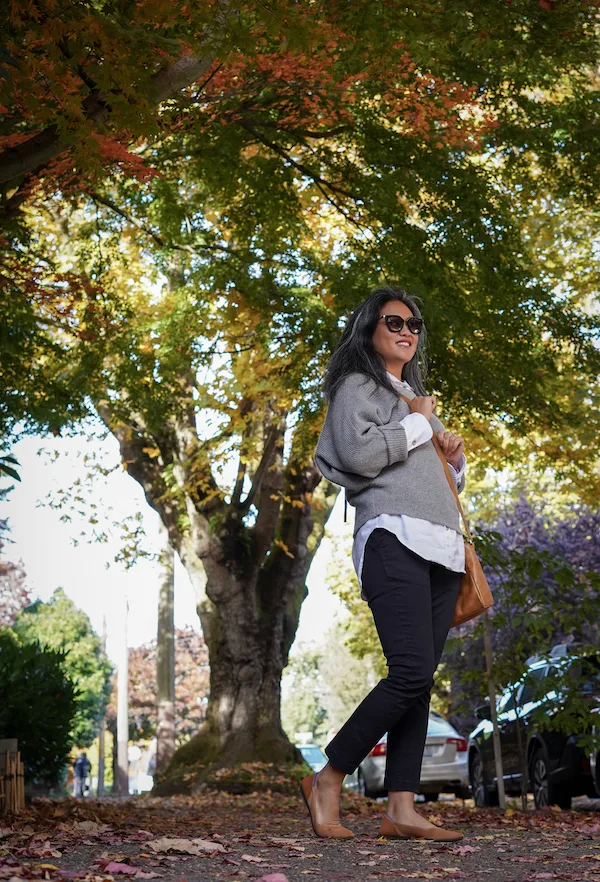 Is Kotn affordable?
As far as ethical fashion goes, Kotn is pretty affordable.
Pricing and quality are both on par with Everlane and Tradlands.
Should I buy Kotn?
We definitely recommend Kotn. The fabric is very durable and soft. We'll definitely be keeping our Oversized Oxford Shirt around for years to come.
As for quality, it's on par with other sustainable brands like Everlane and Tradlands.
One gripe I have is that the shirt gets REALLY wrinkly after machine washing and drying. We used this handheld steamer to fix that and it's one of the best wardrobe tools we've ever invested in.
And lastly, Kotn apparel sells out quickly. If you don't buy something right away, it may be out of stock the next day.
Where to Buy Kotn
Kotn sells direct to consumer to reduce their environmental impact and pass along any savings directly to you.
Use this link to save $10 off your first order at Kotn.
If you found our Kotn review helpful, please share it on Pinterest! Thank you!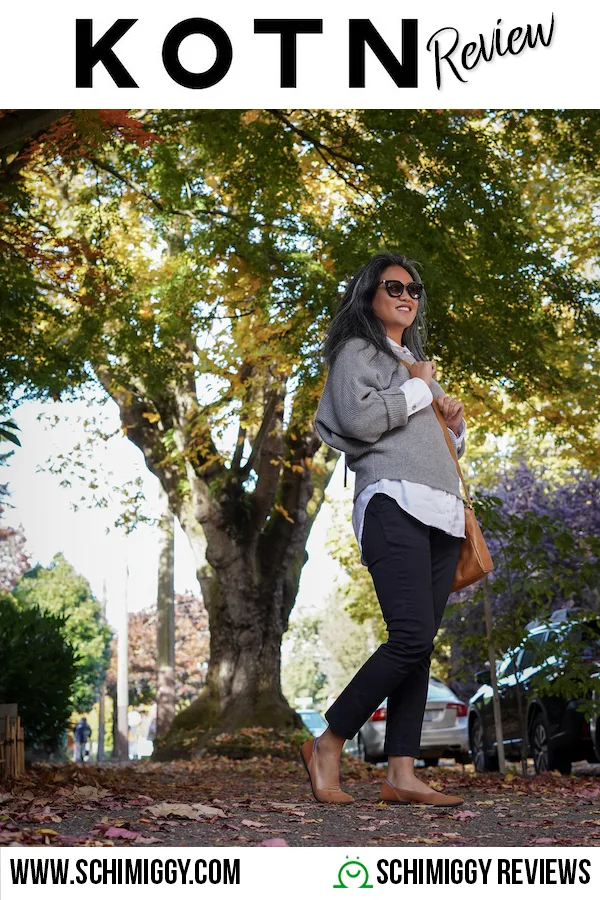 Thank you for visiting today! If you found this encouraging or informative, please connect with us on Instagram or TikTok.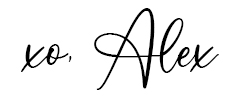 Sign up for our monthly newsletter for updates and more. We promise we won't spam you! Feel free to unsubscribe anytime.
If you're a brand and want to work with us, please visit this page to get in touch.