Reading Time:
4
minutes
Updated: 6/30/2022 | Isabel Marant Review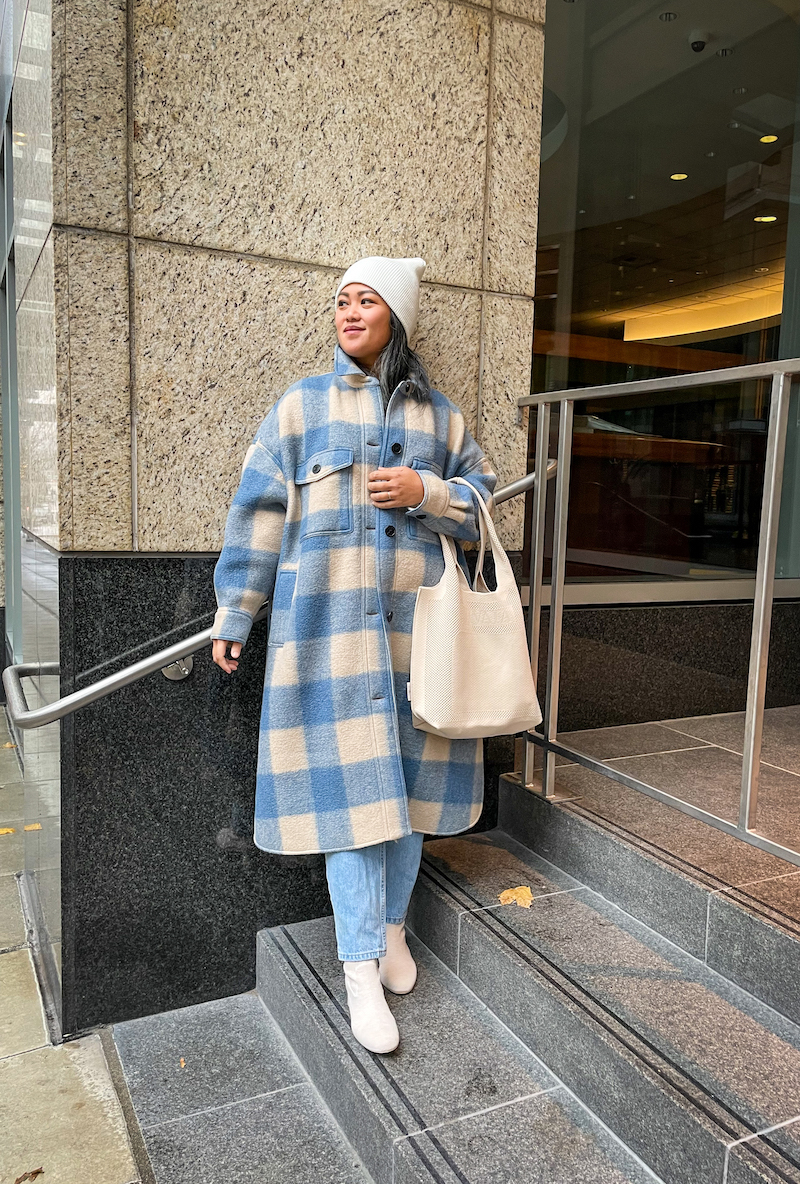 About Isabel Marant
Isabel Marant is a Parisian fashion designer who has been creating street-chic wear since 1994. Marant is known for her oversized shackets that are perfect for layering and make you look effortlessly cool.
In 1999, Marant created their hipper and more youthful line called Isabel Marant Etoile. Etoile means star in French and they wanted to create a line that was more urban and known for making a bigger statement with their loud prints and oversized silhouettes.
Shacket is a portmanteau (combination of two or more words) of the words "shirt" and "jacket." Isabel Marant's style is also known to be timeless and tomboy-ish.
Isabel Marant also offers apparel for men as well as handbags, headwear, and footwear.
Isabel Marant Review
I am reviewing the Fontizi coat ($790) and Faxonli shacket ($560) in this post. I received these items from Carbon38.
I have been eyeing Isabel Marant's oversized jackets for a while. I love the effortlessly chic look that the jacket provides. I also love layering the jacket with sweaters and jeans underneath.
I shopped shackets from other brands such as H&M and Zara but the quality is not the same. They are affordable but you'll see how flimsy they are made. They also do not last as long as higher quality brands.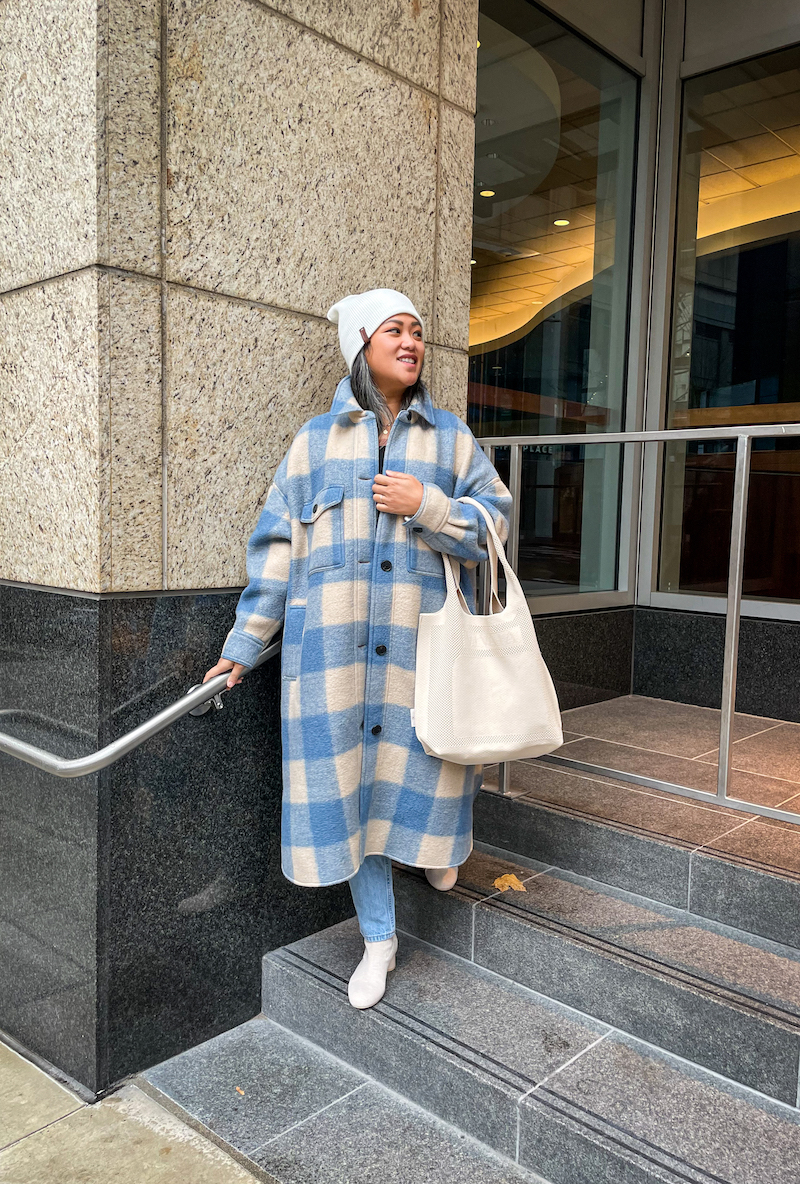 What I'm Wearing:
Isabel Marant Fontizi Coat ($790)
Everlane 90's Cheeky Jeans ($98) – I am obsessed with these high-waist mom-style jeans!
VIVAIA Zoe Boots ($139) – Made from used water bottles! Use code SCHIMIGGY for 15% off
VIVAIA Zahara Tote ($79) – Also made from used water bottles! Use code SCHIMIGGY for 15% off
Boody Long Sleeve Bodysuit ($29.95) – LOVE this bodysuit. It's super cute and versatile. Use code SCHIMIGGY for 20% off your orders.
Trendhim White Tanka Beanie ($25)
Isabel Marant Pros
Made with high-quality materials. The materials used in their apparel is very durable.
Styles are made to be timeless and long-lasting.
Sustainably made – Isabel Marant works with manufacturers who source sustainably.
Sustainable practices – Isabel Marant's resale platform, Isabel Marant Vintage, which allows the reselling and buying of used Isabel Marant pieces. All proceeds to Isabel Marant will be donated to the Isabel Marant Endowment Fund, which aims to support women's education and crafts in indigenous communities. Owners of no longer wanted Isabel Marant pieces can send the items to the boutique, where they will be repaired and sold on the site. Sellers are given a sale voucher that they can use to purchase vintage or new Isabel Marant pieces, while all other proceeds are donated to the Isabel Marant Endowment Fund, which supports women's education and art in indigenous communities.
Isabel Marant Cons
Runs Large – I am a size 6 in women's US sizing and ordered a size 1 in Isabel Marant. I could also fit a size 0 in their jacket styles.
Expensive – The brand has high-price points and is not accessible for everyone. You can buy used pieces through their vintage site.
The material of the shacket is itchy. We highly recommend layering under Marant's jackets because the wool material can be itchy. I love wearing sweaters and long sleeves underneath my shackets. My Boody long sleeve bodysuit was perfect to wear with my Fontizi coat.
Stock is very low. Their jacket stocks are often low because of demand. Once you own an Isabel Marant coat, it's hard to let go of because they are so versatile.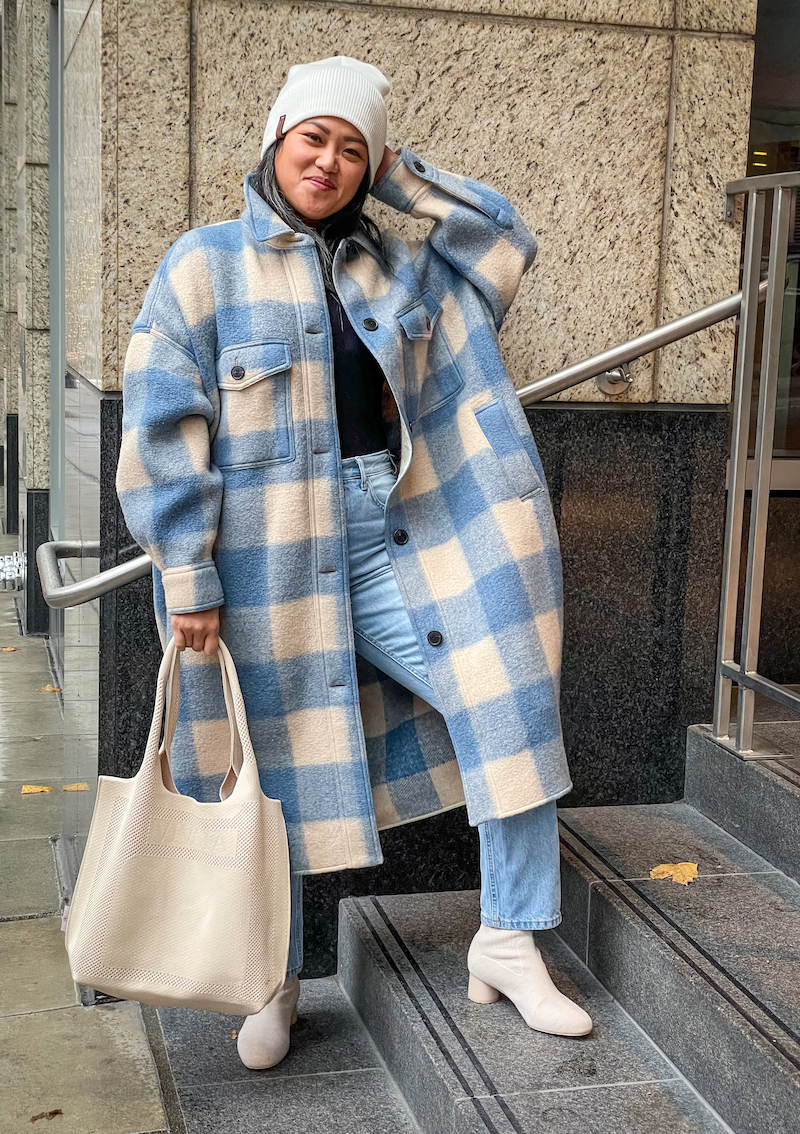 Should I Buy Isabel Marant?
We love our Isabel Marant shackets!
If you love oversized and effortlessly chic apparel, you'll love Isabel Marant. The brand is expensive, but it's totally worth it to have a few high-quality and long-lasting Marant pieces in any fashionista's closet.
What I'm Wearing:
Isabel Marant Faxonli Coat ($560)
J.ING Bodycon Sweater Dress ($27.99) – Use code SCHIMIGGY for
ATP Atelier Catania Boots ($595)
Quay Sunglasses ($40)
Lele Sadoughi Headband ($49)
Where to Buy Isabel Marant
You can buy Isabel Marant directly on their website.
We also love shopping for great deals on Isabel Marant at the following online retailers.
If you found our Isabel Marant review helpful, please share it on Pinterest. Thanks for your support!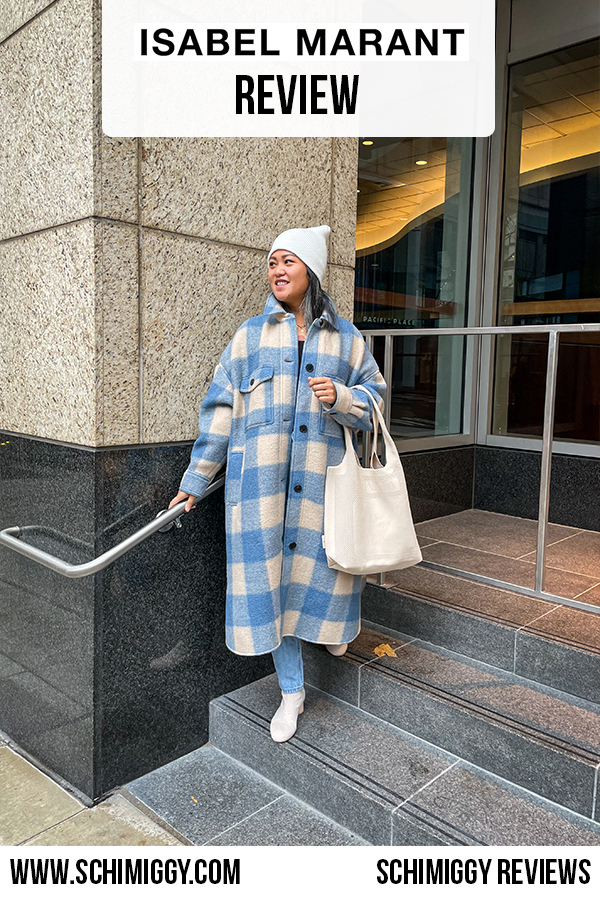 Thank you for visiting today! If you found this encouraging or informative, please connect with us on Instagram or TikTok.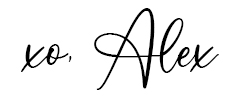 Sign up for our monthly newsletter for updates and more. We promise we won't spam you! Feel free to unsubscribe anytime.
If you're a brand and want to work with us, please visit this page to get in touch.