Reading Time:
5
minutes
Updated: 1/24/2021 | How to Style a Shacket
This year's most on-trend piece is the shacket! It's a portmanteau (a combination of two words) of shirt and jacket. You may even see it referred to as an overshirt or shirt coat.
It's the ultimate Fall transition piece that will keep you warm and stylish before the puffy coats start to make their appearance.
And if you're looking for ways to style your shacket, you've come to the right place!
How to Style a Shacket
Here are some ways you can style your shackets.
#1 Lumber Jane
You'll need a plaid shacket for this ensemble. Complete the outfit with a beanie, vest (optional), and fashion boots. Here is the quintessential Pacific Northwest (PNW) girl's uniform.
What I'm Wearing: Isabel Marant Etoile Faxonli Flannel Shirt Jacket ($560) | Kitty Gains Riley Crop Top ($30) | Outerknown Strand High Rise Skinny Jeans ($128) | ATP ATELIER Catania Boots ($650) | Trendhim Yellow Beanie ($38)
#2 Sporty Shacket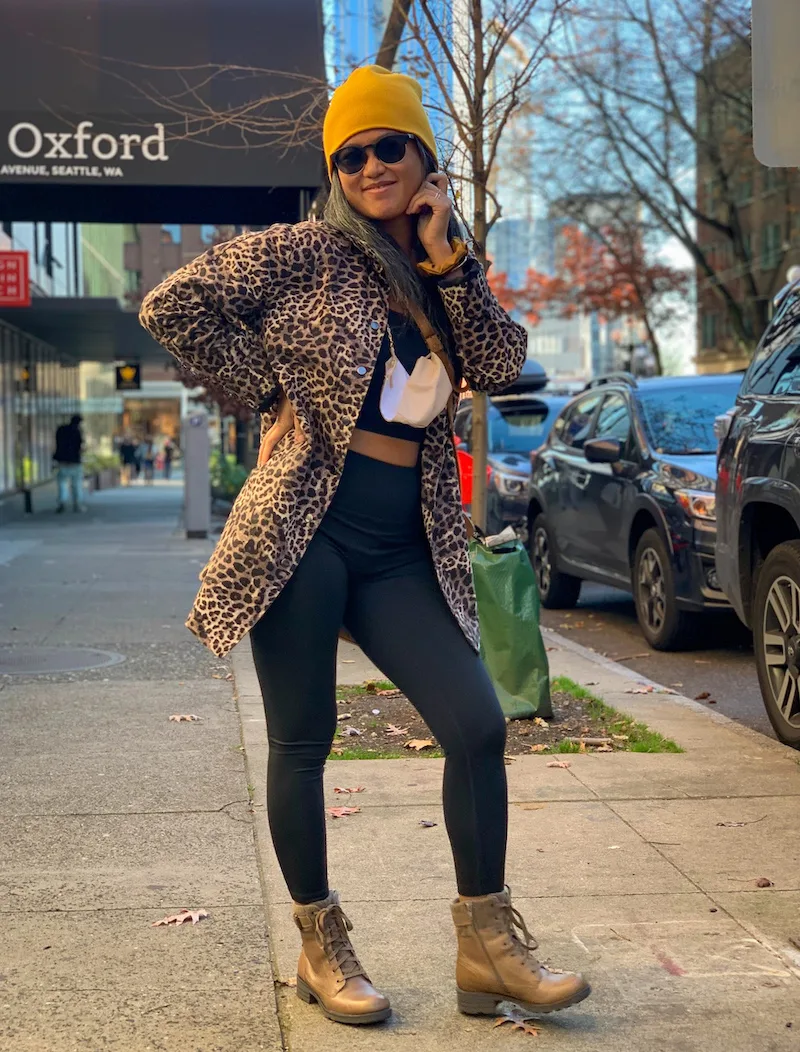 A shacket makes it easy to go from the gym to getting groceries! Wear a shacket over your favorite sports bra and leggings. I wore hiking boots but sneakers will work too. We love APL Bliss Sneakers ($200)!
What I'm Wearing: Spiritual Gangster Dope Soul Coach Jacket ($198) | Girlfriend Tommy Bra ($42) | Girlfriend FLOAT Leggings ($88) | Renee Boots by Earth Shoes ($110) | Trendhim Yellow Beanie ($38)
Related: Girlfriend Collective Float Leggings Review
#3 Dress it Up!
Wear a shacket over a mini dress with boots or tennis shoes of your choice. For this shot, I chose a grey sherpa jacket by Outerknown to keep me SUPER warm while my legs were exposed.
What I'm Wearing: Year of Ours Marilyn Ribbed Dress ($118) | Outerknown Woodland Sherpa Jacket ($198) | ATP ATELIER Catania Boots ($650) | QUAY Reina sunglasses ($55) | Moschino Mini Crossbody Bag ($800)
#3 That's a Haute Shacket
Elevate your shacket with fancy heels and a sexy blouse. A shacket doesn't always have to be worn casually.
What I'm Wearing: Tibi Spencer Plaid Workman Jacket ($995) | Ministry of Supply Aero Zero Boyfriend Shirt ($125) | SPANX Faux Leather Leggings ($98) | ALOHAS Strappy Chain Sandals ($175)
#4 Somewhere Over the Hoodie
What I'm Wearing: THRIFTED Military Surplus Camo Jacket ($5) | Carbon38 Saffron Yellow Hooded Sweatshirt ($120) | Upcycled DIY Criss Cross Jeans (Priceless!) | TrendHim Yellow Beanie ($38) | ATP ATELIER Catania Boots ($650)
Related: DIY AGOLDE Criss Cross Jeans Tutorial
#5 Shacket a la Dress
Wear your shacket as a dress! Style it with high knee boots and cinch it around the waist with a belt.
What I'm Wearing: Isabel Marant Etoile Faxonli Flannel Shirt Jacket ($560) | Gucci Belt ($450) | ALOHAS Strappy Chain Sandals ($175)
#6 Grunge in Seattle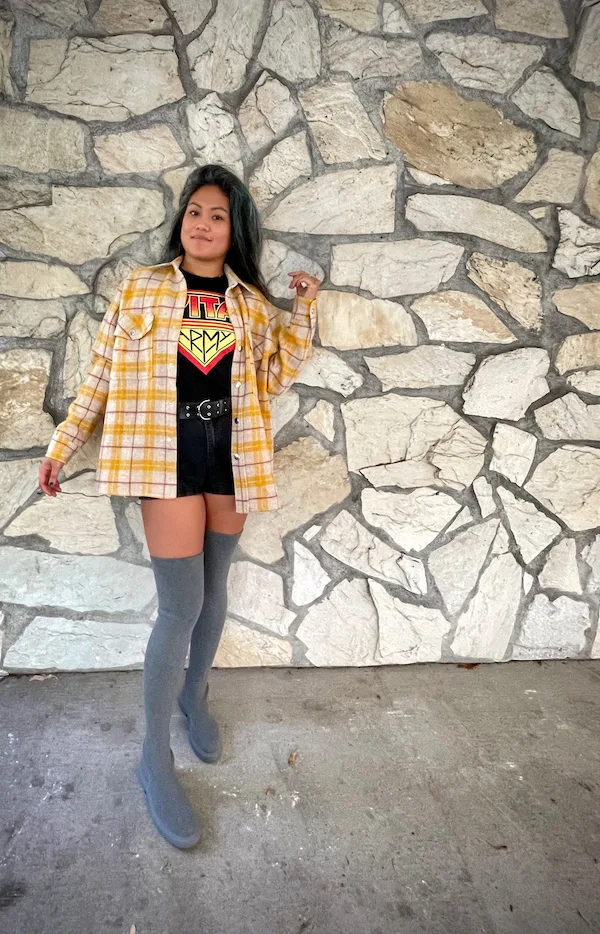 Pair your shacket with cute denim shorts and a t-shirt. I added a grommeted belt to look like a rockstar and OTK boots to stay warm.
What I'm Wearing: Caffe Vita T-Shirt (Support local businesses!) Isabel Marant Etoile Faxonli Flannel Shirt Jacket ($560) | Frame Grommet Belt ($100) | VIVAIA Charley Over the Knee Boots ($199)
Related: VIVAIA Review: Two Tone Valencia Flats + 20% off coupon code!
---
Best Shacket Shirt Jackets
Looking for the perfect shacket? We've found some brands below that we think you'll be head over heels for!
#1 Isabel Marant Gabrion Coat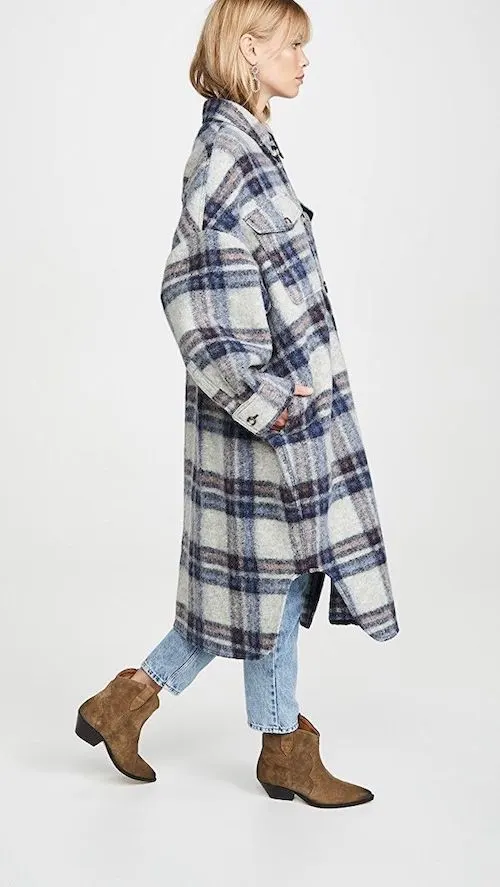 The Gabrion Coat by Isabel Marant Etoile will cost you a hefty $600+.
It's a blogger favorite and has inspired other brands to create similar styles as part of Isabel Marant's Etoile 2020 Winter collection.
Keep scrolling down for cheaper alternatives!
You can buy Isabel Marant Etoile at Carbon38, Intermix, Nordstrom, SSENSE or direct from Isabel Marant.
Use code SHMGY25 to save 15% off your first two orders at Carbon38.
#2 Storia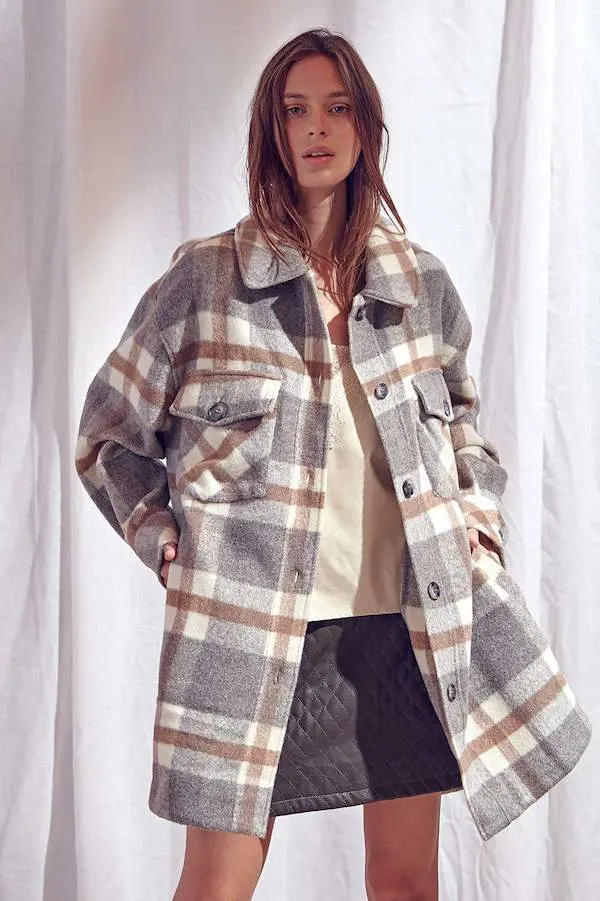 The Storia Don't Call Me Karen plaid shacket comes with a dolphin hem and pretty plaid pattern.
Use code SCHIMIGGY to save 20% off your orders at Dreamist.
#3 H&M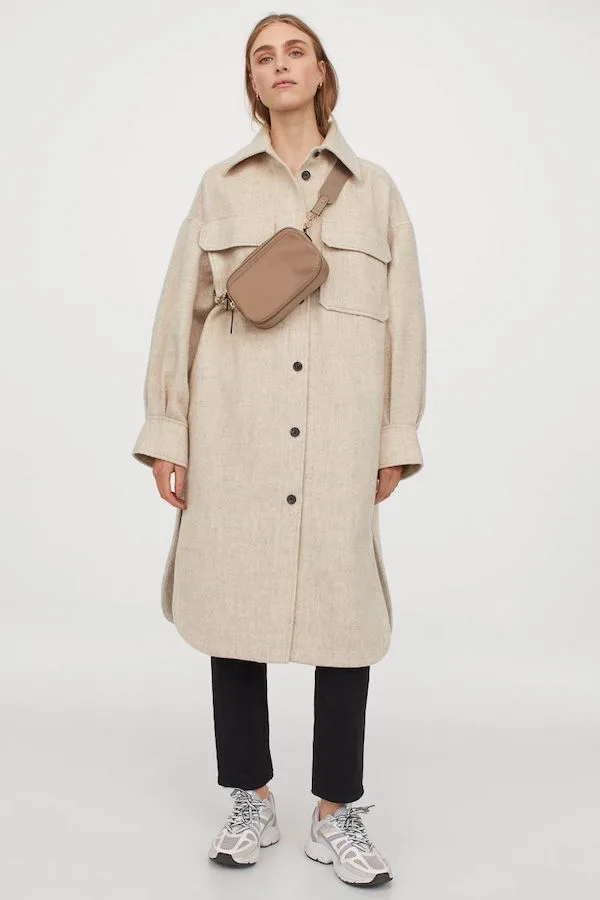 H&M has a huge collection of shackets to choose from! Their shackets come in plenty of fabric textures, colors, patterns and silhouettes.
They had an Isabel Marant dupe that sold out quickly! If you see something you want, buy it before it's gone!
#4 Aritzia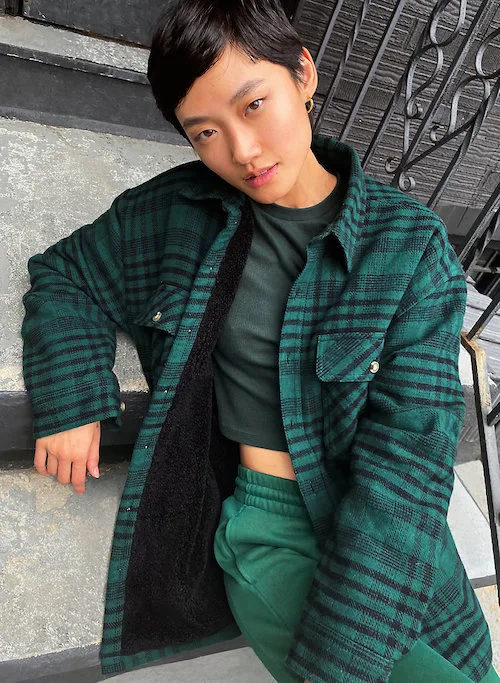 Aritzia has the Ganna and Prospect Shirt Jackets ($168). We love this beautiful emerald plaid worn on this model!
#5 Ministry of Supply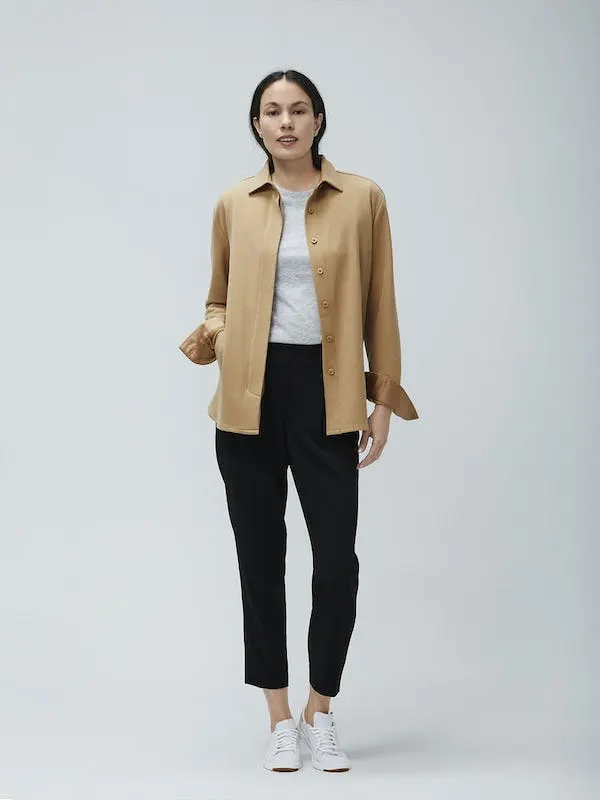 We are in love with Ministry of Supply's Fusion Overshirt ($155). It comes in gray and camel (nude).
You'll fall in love with their four-way stretch fabrics and no-wrinkle technology.
#6 Anine Bing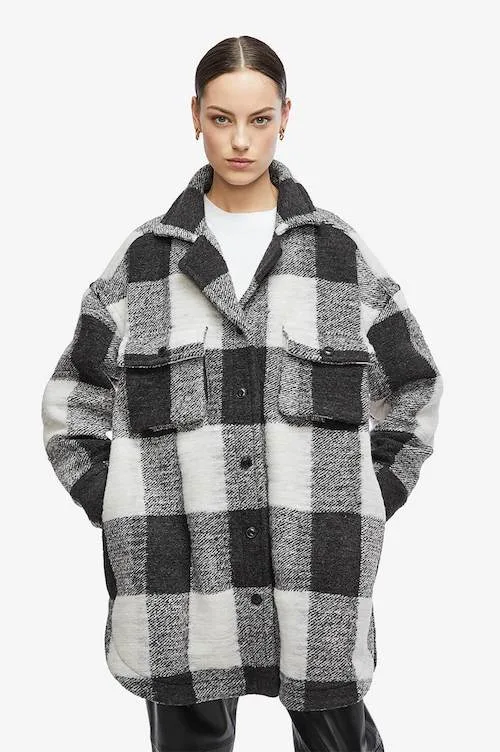 Check out Anine Bing's Maeve jacket ($399) and denim Rory Jacket ($299) for some awesome shacket options.
#7 Tibi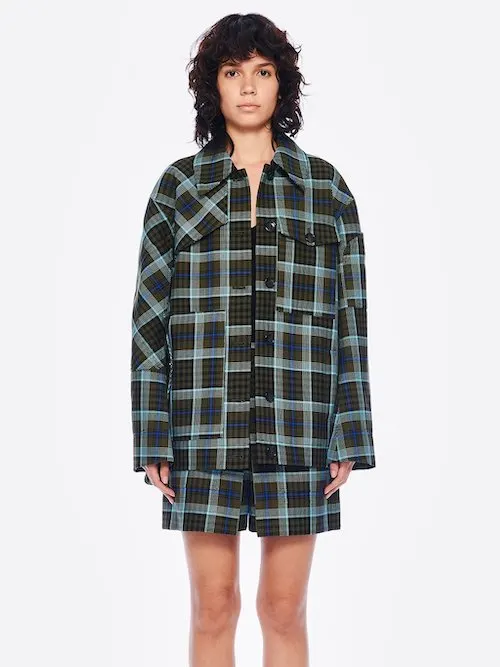 I recently purchased this Tibi Spencer shacket ($995) for only $198! Score! TBH, you can definitely tell the difference between a high quality and fast fashion shacket. Mainly with the material, construction, and price.
#8 Etsy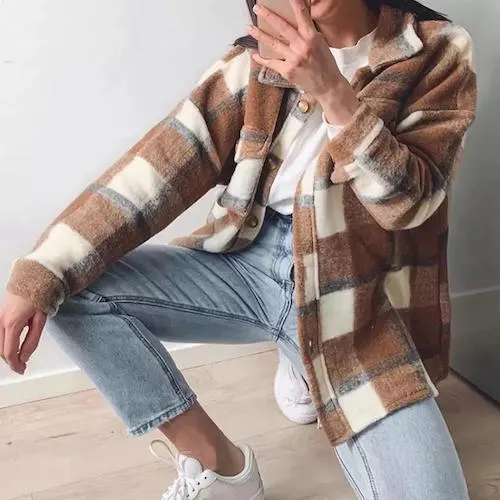 And if you want to support small businesses, Etsy is a GREAT place to find used fashion and new handmade shackets.
#9 Shein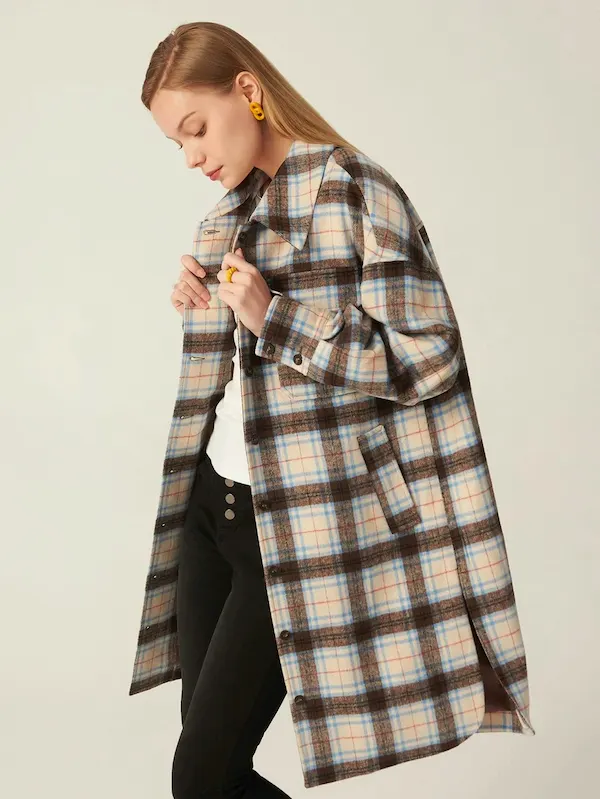 SHEIN is very affordable and has TONS of shacket styles to choose from. They are a fast fashion brand though.
#10 Zara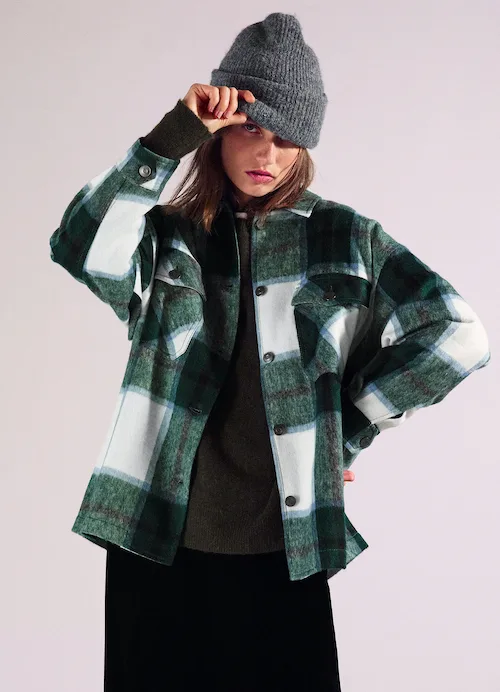 Zara also has a great selection of plaid shackets. They are also a fast fashion brand.
#11 ASOS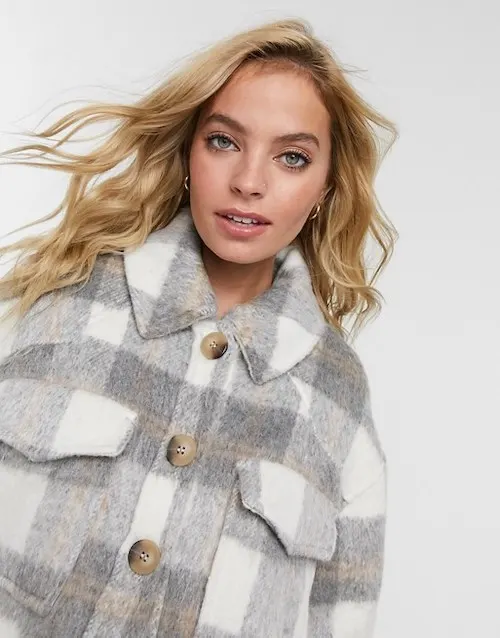 Shop for tons of men and women's shackets at ASOS. They're also a fast fashion brand.
If you enjoyed our article on How to Style a Shacket, please share it on Pinterest! Thank you!
---
Thank you for visiting today! If you found this encouraging or informative, please connect with us on Instagram, Youtube, Pinterest, Facebook or Twitter. We'd love to meet you!
Sign-up for our monthly newsletter for updates and more. We promise we won't spam you! Feel free to unsubscribe anytime.
For more fitness fashion discounts and offers, please visit our Fitness Instructor Discounts + Brands Directory or favorite brands coupon codes list.
If you're a brand and want to submit a product for us to review, please use this form to get in touch.
This site uses affiliate links. Clicking on or purchasing via an affiliate link may result in commissions for us which help keep the content flowing and lights on at Schimiggy Reviews. You may read more about this in our privacy policy.