Reading Time:
7
minutes
I've spent countless nights staring at my AGOLDE shopping cart and contemplating if I should purchase their Instagram famous crisscross jeans. I mean, look at how stylish they are!
They're totally my style and it's no surprise they are constantly out of stock.
Where to Buy AGOLDE Criss Cross Jeans: Bloomingdales | Free People | Lulus | Nordstrom | REVOLVE | Selfridges | Shopbop | Verishop
Then one night, I decided to do something with an oversized pair of Frame denim jeans. They've always been too baggy on me but I loved the style so much that I justified keeping it by wearing it with a belt.
Who else is guilty of keeping something ill-fitting because you love the design so much?
Below are the FRAME denim jeans I decided to transform.
Where to Buy Frame Denim: Nordstrom | Nordstrom Rack
Instead of buying a new pair of $200+ jeans (that I'd probably be wearing from the kitchen to the living room for the rest of Quarantine 2020), I decided to upcycle my baggy Frame jeans. And best of all, the jeans only cost me $36 instead of $200+!
If you're on a budget but want those sexy, stylish crisscross jeans, follow the instructions below to make your very own pair!
How to Transform Your Baggy Denim Into Agolde Criss Cross Jeans
What Jeans Should I Use?
If you have baggy jeans laying around, you're already ahead of the game. If not, ask your brothers, boyfriends, or father if they have any jeans to spare.
You can also buy a baggy pair of jeans online. I love buying secondhand from Mercari (use code SYVFUT for $5 off your first order) and Poshmark (use code SCHIMIGGY for $10 off your first order).
I've lost 12 pounds (and still counting) since the beginning of quarantine. I have plenty of baggy jeans now but my Frame pair became super baggy which made it perfect for this DIY project! I also love the charcoal color and distressed look it already had.
For reference, my Frame jeans are tagged as size 28 but are unusually baggy. They fit more like a size 32. I could literally pull them off without undoing the button. I typically wear a size 28 in jeans and 6 in women's bottoms.
We recommend buying jeans 2 to 3 sizes too big for this project. If you're a size 6, use pant sizes 10 or 12 for this project.
What Tools Do I Need?
You won't need a lot of supplies. Here is a list of things you'll definitely want on hand:
Instructions for DIY Criss Cross Jeans
With the right tools, this project should take no more than 1 hour. It's so quick and easy!
Step 1: Make Your Mark
Mark your button placement. Put on the jeans and using a full body mirror and sharpie, bring the hole/loop side of the jeans down to your desired placement at the front of the pant.
The baggy jeans will become high rise denim after you're done. If you prefer a lower rise, choose a less baggy pair of jeans for this DIY project.
I prefer to keep the original denim button exposed for a more dramatic and intentional look. You can also change the button placement angle to hide the original button and create more of a V-shape. It's really up to you and how you want to style your criss cross pants.
Make sure the new button placement is comfortable. Once you've found the perfect spot, use the Sharpie marker to mark where your new button will be.
Step 2: Apply the Button
Sew on OR snap the new button onto the spot where you made a sharpie mark. Test the button out to ensure it slides on and off easily. Try it when worn too.
Note: I opted to sew on a button in case I want to revert my pants back to its original design. If you decide to use a snap on jeans button replacement, you'll have to create a hole in the pant that will be harder to cover up if you decide to revert your jeans back to its original style.
I used a button from another pair of pants for my black crisscross jeans. I used 15mm flat metal shank buttons for my blue denim jeans (pictured below). You can use 17mm buttons as well.
You'll notice that the zipper fly looks billowy and funky now. The following steps will fix that.
Step 3: Undo the Front Rise Seam
Using a small pair of scissors or fabric seam ripper, start to cut at the zipper and continue down the front rise of the jeans.
I unstitched the rise seam until there was only 1″ left before the gusset (crotch area).
Step 4:
Bring out the sewing machines!
If you don't have a sewing machine, you can sew the rise back up by hand. A sewing machine just makes it quicker.
Fold the bottom of the front rise over itself (see image below) and as close to the crotch seam as possible. The closer it is to the crotch area, the less visible it will be when worn.
Line the rise up to where you want it to be (should be diagonal across the front and connect to the new button). Use the sewing pins to keep the fabric in place while you sew it back up.
Sew the front rise about 4″ up the fly. Leave the remainder so that you can still easily take the jeans on and off.
I recommend hand-sewing the ends of the seam to reinforce it so that it doesn't unravel over time.
If the fly is still too billowy, you can sew on snap buttons or trouser hooks to make the fly sit flush when worn.
I skipped adding snap buttons and hooks to the fly of the pant. I decided that I'll be wearing underwear so that I won't accidentally flash anyone.
I did sew a trouser hook just below the original button of the pant behind the waistband to keep the crossover part of the pant from shifting around during wear. It also adds some reinforcement so that your jeans do not easily stretch out.
Step 5
Your jeans are ready to be worn! Try them on in the mirror and pat yourself on the back.
You friggin' upcycled your wardrobe and saved $200 dollars. Good job!
I am SO HAPPY with how these turned out! They look stylish, professional and doing it myself saved me a good chunk of $$$.
They're also repurposed from my favorite Frame jeans. Frame denim is by far the best jeans I've ever worn. The fabric is soft and has good retention. You can also find great deals at Nordstrom Rack.
I'm so glad a little customization made me love these jeans even more.
View this post on Instagram
Have other pants and skirts that need a makeover? Bring them out and repeat the process. A girl can never have too many crisscross bottoms.
Get ready to step out of quarantine looking like the fashionista you are!
Thank you for stopping by. Please tag me on Instagram if you decide to recreate this look. I'd love to see your final product!
---
Let Us Make Criss Cross Jeans FOR YOU!
I've gotten tons of requests from readers to modify jeans for them. If you want me to customize crisscross jeans for you, you can purchase this service through my store.
The service will cost $40 + $5 shipping to and from me.
For people living in Seattle, Wash., you can also drop them off at my home to save on shipping costs.
If you enjoyed our DIY AGOLDE criss cross jeans tutorial, please share it! Thanks for your support.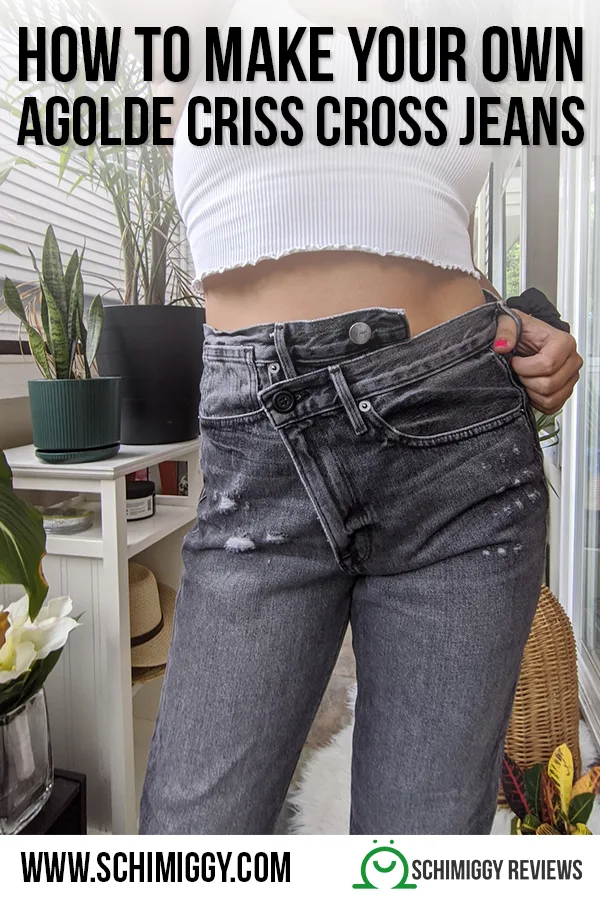 Thank you for visiting today! If you found this encouraging or informative, please connect with us on Instagram or TikTok.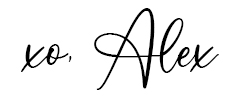 Sign up for our monthly newsletter for updates and more. We promise we won't spam you! Feel free to unsubscribe anytime.
If you're a brand and want to work with us, please visit this page to get in touch.