Reading Time:
4
minutes
Updated: 7/20/2023 | How to Sleep With a Partner Who Sweats Too Much
Sleeping hot can interfere with your ability to fall asleep and may even leave you feeling worn down or irritable the next day.
Night sweats contribute to sleep disturbances that can be harmful to our physical and mental well-being. Sleeping hot on a regular basis can disrupt your circadian rhythm, which is the natural process that regulates our sleep-wake cycle.
While incredibly rare, it's possible you may suffer from hyperhidrosis, a condition in which your body produces excessive sweat for unknown reasons.
Below we'll go over some tips to help you sleep cooler and better at night.
How to Sleep With a Partner Who Sweats Too Much
#1 Avoid Going Commando
Sleeping naked sounds like a good idea, but if you're sharing the bed, it can be a problem with someone who sweats easily.
Tight-fitted clothing traps heat. It is best to wear lightweight, loose-fitting clothes made with materials that are breathable and airy such as cotton, bamboo, or materials with moisture-wicking properties.
Lightweight fabrics also ensure that any sweat is soaked up, rather than left on your body.
We love brands such as Somewhere Sunny and PACT.
Related: PACT Review | Sustainable Apparel
#2 Reduce the Temperature of Your Bedroom
Prior to bed, try to cool the temperature of your bedroom with a fan or by turning the air conditioner on.
Keeping the thermostat at a lower temperature can keep heat from building up around your body during the night.
If fans don't bother you, consider sleeping with the fan blowing toward the sweat-prone partner.
#3 Keep Drinking Water By Your Side
Having a small amount of cool water before going to bed may help you maintain a more pleasant temperature.
It's also a good idea to keep a glass of water by your bedside. Staying hydrated throughout the day will also contribute to a cooler body temperature.
#4 Don't Eat or Drink Booze Before Bed
Avoid caffeine, alcohol, and spicy foods before bed.
All of these things can cause spikes in body temperature and induce sweating. Avoiding them, especially in the evening, may cut down on night sweats.
#5 Bedding Matters
If you have the wrong bedding like polyester, you're most likely exacerbating night sweats. Instead, use lightweight, breathable materials like cotton percale, fresh linen, and bamboo.
Avoid fleece, flannel, down, and synthetic fibers. Keep these materials for when it's cold outside and you need some extra layers for warmth.
Bedding brands that we love and highly recommend include Cozy Earth, Bedsure, and Ettitude.
Use code SCHIMIGGY to save 25% when shopping at Bedsure.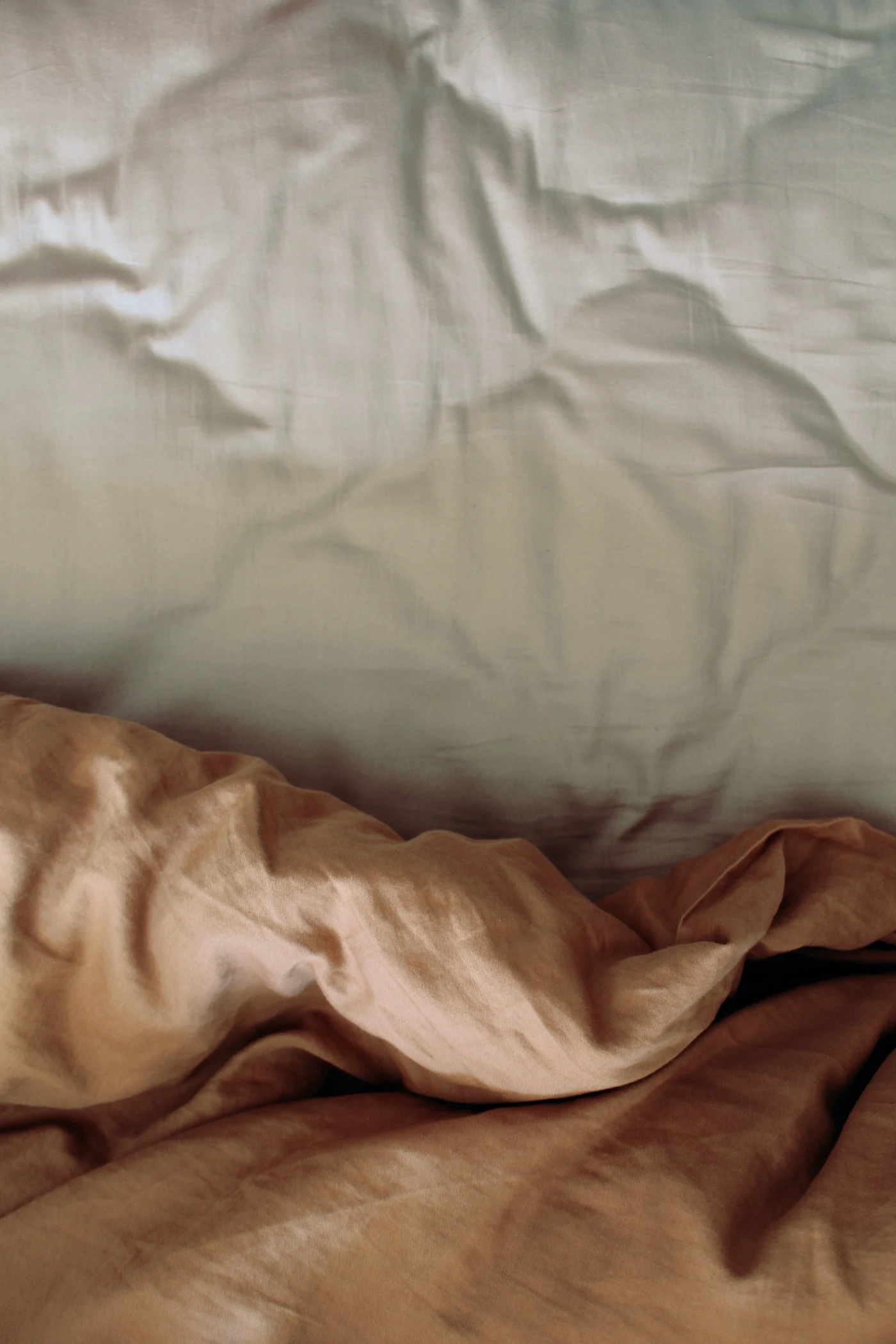 #6 Use Less Bedding
Try switching out a heavy comforter for a lightweight blanket or cool cotton sheets.
This will allow body heat to dissipate and move more freely, instead of getting trapped in the mattress and in the blankets.
We recommend giving Bedsure's cooling blanket a try. Their blankets are made to wick away sweat and dissipate heat.
#7 Sleep in the Shade
Keep blinds and curtains closed during the day as a preventative measure to stop your room from overheating. Try to sleep in the shadiest area of your home.
#8 Maintain a Healthy Weight
#9 Choose a Cooling Mattress and Pillow
Sometimes the mattress we are sleeping on collects heat throughout the night. Try investing in a cooling mattress, such as the Nectar Copper Mattress which has triple cooling properties. These are designed to help you sleep much cooler at night.
The Casper Essential Cool Pillow is lightweight and dissipates heat quickly.
You can also use a cooling topper if you don't want to change your current bed setup.
Use this link to get $100 off your first purchase at Nectar.
#10 Use a Sleeping Mask
A calming, lightweight sleep mask can help cool you down as you drift off to sleep.
Like cooling pillows, there are different options to choose from, such as the Manta Cool Mask designed with soft, moisture-wicking materials to cool your eyes and sinuses. The mask features ice-cold eye cups filled with cooling beads that are gentler than gel and provide an instant refreshing experience.
If you want a lightweight mask, we recommend the Bucky ultralight eye mask which does not put pressure on your eyes but does block out light for better sleep.
#11 Sleep On the First Level of Your Home
In multi-level homes, hot air rises. That means the top story of your house is going to be warmer than the bottom story. Beat the heat a little by sleeping on the bottom story of your home when the weather is warmer.
#12 Hold Hands or Touch Feet
If you're a cuddler but your partner sweats, try touching in different ways. Instead of spooning your sweat-prone partner, try holding your partner's hand or touching your feet while you sleep. This allows you to stay intimate yet cool at the same time.
We typically cuddle right before bed or in the AM when our bodies have cooled off significantly.
References:
https://www.houstonmethodist.org/blog/articles/2020/feb/night-sweats-7-reasons-you-may-be-sweating-at-night/
---
Thank you for visiting today! If you found this encouraging or informative, please connect with us on Instagram, Youtube, Pinterest, Facebook or Twitter. We'd love to meet you!
Sign-up for our monthly newsletter for updates and more. We promise we won't spam you! Feel free to unsubscribe anytime.
For more fitness fashion discounts and offers, please visit our Fitness Instructor Discounts + Brands Directory or favorite brands coupon codes list.
If you're a brand and want to submit a product for us to review, please use this form to get in touch.
This site uses affiliate links. Clicking on or purchasing via an affiliate link may result in commissions for us which help keep the content flowing and lights on at Schimiggy Reviews. You may read more about this in our privacy policy.