Reading Time:
11
minutes
Updated: 4/4/2020 | How to Give a Blow Job
Oral sex is one of the most intimate things you can do for your partner. It's also a great form of foreplay that can make intercourse more exciting, sensual and intimate.
As one of our contributors explains it, "giving head is the appetizer to the main course."
Blow jobs (AKA BJs) are also referred to as giving head, fellatio, going down on someone, sucking dick and many other colorful phrases.
It is when you use your mouth to stimulate sensations in the genital region of your partner's penis. This often includes placing the penis in your mouth and using your tongue to stimulate the penis even further.
Cue the gluck gluck 9000.
As part of our Art of Sex series, we decide to consult with real humans about how to give the perfect blow job. We got plenty of tips and answers that might be helpful to people looking to pleasure their penised partners.
The Art of Sex series is part of our initiative to destigmatize sex as something sinful or bad. Sex is healthy, natural and should be encouraged in all relationships.
How to Give a Blow Job
Giving an amazing blow job will take practice and communication.
Below are tips to help you give your partner the best blow job ever!
#1 Lay Down the Ground Rules
Before you dive into a blow job, it's important to lay down some ground rules. Ground rules will set the expectations and mood, but also allow you to fully be immersed in the act once it has begun.
Ground rules that we feel are important to discuss with your partner:
Get consent. Does your partner even want you to go down on them? The best way to find out is to ask them. Consent is sexy!

Don't forget to ask yourself if YOU like giving blow jobs. Chances are if blow jobs aren't your thing, you might not enjoy giving them.

Do you swallow or spit?

"Changing your blow job game in the middle of the act can ruin the mood or destroy my hard-on." says Chuck B.
If you spit, find an appropriate place to do it. In the restroom, into a towel or in a cup on your dresser.
If you decide to swallow but don't like the smell or taste, we recommend holding your breath and taking it all in one gulp. Get it done and over with.
Some partners will find swallowing a huge turn on. BUT you do not have to do it if it's not your thing. Just tell your partner and find alternative solutions such as ejaculating on your breasts, neck or face (avoid the eyes, because it stings!).
Talk about whether there will be any kissing after swallowing. Some guys are into it and some guys will never kiss you after a blow job is complete. Some receivers prefer that givers do all their kissing prior to swallowing.

Did you wash down there? This is so important. Hygiene can make or break a blow job for your partner. Don't be afraid to ask your partner to wash down there if it's impinging on your desire to give a blow job.
You can get STIs from oral sex. It's VERY important to discuss with your partner prior to doing anything sexual with them. Disclose everything that could potentially endanger you or your partner.
It's very important to get consent and see what your partner is comfortable with.
In the LGBTQI community, non-binary and trans women may not be into receiving blow jobs at all.
Discuss this all beforehand so that you can go uninterrupted during a blow job. ????
#2 Determine if Your Partner is Circumcised (cut) or Uncircumcised (uncut)
A circumcised penis may look neater and less intimidating than an uncircumcised one. A circumcised penis may feel less sensitive than an uncircumcised one due to scar tissue. However, there are no negative long term effects of circumcision. The majority of penises in the US are circumcised.
Uncircumcised partners may require some additional cleaning down there. But that's nothing a little communication can't fix.
If your partner is uncircumcised, make sure to pull the foreskin back before you go down on them. Otherwise, they may not feel much.
Some giving partners prefer one to the other, but our article will prepare you to give a great blow job regardless of whether your partner is circumcised or not.
#3 NEVER BITE
You can seriously injure your partner if you bite while giving head. Avoid clamping down on this manly parts with your teeth.
Many partners prefer that you NEVER use teeth at all. It's good to discuss that if teeth are preferred beforehand.
People have a question of how much teeth is too much teeth…any teeth is too much teeth. Toothy blowjobs are awful. – Chuck B.
On the same note, you can use teeth if you know how to do it right. Using teeth very very very gently can add another dimension to your blow job game. Make sure you ask your partner if the use of teeth feels good.
Communication is important!
#4 Show Your Partner That You Really Want to Give Them a Blow Job
One of our contributors states that to initiate a blow job, you should start off by rubbing the crotch area while making out. Feel your partner up and prepare them for third base. The same contributor explained that he loves when women "go after [his penis] like there's nothing else in the world that you want."
Enthusiasm is key! The more enthusiasm you display when giving oral, the better the experience will be. A partner does not want to feel like they are pressuring their partner into giving them a BJ.
Up the level of desire by pulling your partner's pants off vigorously. Unbuckle the belt and force the penis out of the underwear. This makes your partner feel desired and ready for third base!
Body language can be a good indicator of consent. It's always a good idea to confirm verbally as well.
#5 The Head Is the Most Sensitive
The head (or glans) is super sensitive. Next up is the frenulum (the area at the underside of the glans). Focus on sucking and applying pressure to those areas.
Make sure to keep the suction strong and swirl the tongue like a hurricane. – Frank H.
You can roll your tongue in a circular motion around the glans. Make sure to go in the opposite direction. Switch it up so that your man his no idea what you'll be doing next.
Lucas B. recommends doing "the Crazy 8's." While your mouth is around the glans, create a figure 8 motion with your tongue. This will send him into a whirlwind of sensation.
Suck hard and suck gently. You don't have to go far down the penis to pleasure your partner.
#6 Make It Slobbery
Your spit acts like a natural lubricant that can help deliver an amazing blow job. It reduces friction, which can be uncomfortable for some partners.
All of our contributors recommended that they like their partners make it wet, slobbery and sloppy. The wetter, the better.
#7 Make Noises When You Go Down
Being vocal will add another dimension to giving your partner a blow job. You can make sucking sounds, moaning, slurping, and more to make the experience more vocal. This is very helpful when your partner is enjoying a blow job with their eyes closed.
Adding auditory sensation can be mind-blowing (no pun intended)!
Talk dirty while going down on your partner. This also gives you a chance to breathe and rest your jaw.
#8 Use Your Hands AND Mouth
Don't just suck on the penis. Use your hands to up your blow job game.
You can use your hands to reach your partner's other erogenous areas.
Here are a few ways to use your hands. Try one or a combination of these:
At the beginning of the blow job, start tugging at and stroking at the penis. It may start to get harder in your hands. Transfer it into your mouth after giving it some attention with your hands.
While your mouth is on the glans (head of the penis), you can use your hands to stroke the shaft. Create a tube by wrapping your hands around the shaft, connecting fingers to the thumb. As your head moves up and down the glans, move your hand up and down the shaft in the same or different direction. Change up the speed (fast and slow) and direction (clockwise and counter-clockwise). Make sure you use a lot of spit to reduce friction which can be uncomfortable for some partners. Your spit is your natural blow job lubrication.
Use your hands to rub the testicles or anus. A bit of hands free time can make your partner wonder what you're up to next.
When the glans is really wet, cup the glans into the palm your hand and apply a twisting motion as if you're opening up a bottle cap. Make sure to be gentle. This gives you some time to breathe and then return to the blow job.
If your partner is in a standing position, use your hands to grab their hips or buttocks to pull the penis further into your mouth. This can be a huge turn-on for certain partners.
While giving head, grab your partners hands and place it behind your head. Let them take control and further shove their penis into your mouth.
#9 Be Mindful of Your Facial Expressions
I can tell by your facial expression if sucking a penis is something you enjoy or not. -Kyle H.
It's important to be genuinely excited about going down on your partner. Looking at a penis in disgust or confusion may ruin the mood. It is also an indicator to most penised partners that you would either not be good at it or not really enjoy giving blow jobs.
When a partner can tell if someone does not enjoy giving a blow job, they will most likely be turned off.
If you want to learn how to enjoy giving blow jobs, you'll need to communicate with your partner or even discuss the topic with friends. Learning more about the process may empower you to one day enjoy delivering a blow job.
Your facial expressions can also enhance a blow job. Smiling while you're giving a blow job or devouring it as if your life depended on it will show your partner that you enjoy pleasuring them down under. Combine this with eye contact if your mouth is occupied. There are many ways to express to your partner that you like sucking them off.
And if you don't have faith in your facial expressions at all, you can dim the lights. For some givers, this makes giving head less intimidating.
#10 Deep Throating Doesn't Really Matter
People that we interviewed were split between loving and not really caring for deep throating during blow jobs. It's really dependent on the person.
Deep throating does not have to be the standard. Don't focus so much on that. Put the majority of your focus on the rest of the foreplay.
For some people, they believe deep throating is an ego-stroke rather than effectively providing pleasure. Some partners love visualizing their entire penis disappear into your mouth.
A few deep throats throughout the foreplay experience can be a fun and surprising, but do not feel pressured to do it constantly or even at all. Training a partner to not expect it is key. Use it sparingly. We are not here to hurt ourselves for your pleasure.
You will know your partner best and whether they enjoy or do not enjoy a deep throat. Many people think deep throats are important because it's what we see in pornos. It's not the end all be all in sex if it a deep throat does not happen.
#11 Ass Play Can Be Fun
Ass play really depends on the person. It's another topic to discuss beforehand.
While you are giving a blow job, you can rub the rim of the anus with your finger, stick your finger in it, rub the prostate in a "come hither" motion, or even lick the anus (also known as rimming).
There are thousands of nerves around the anus that can really turn your partner on.
Some partners will never let anyone near their anus and that is OK. There are plenty of things on this list to try that will no deter from the blow job experience.
#12 Play With the Perineum or Taint
Between the testicles and the anus is a magical area some call the "taint." There are nerves in there that go from the prostate (male clit) to the testicles.
How to Play With the Taint
Putting heavy pressure with your thumb on this area and vigorous rubbing from side to side can actually stimulate the prostate without having to penetrate your partner. You can move your finger in a circular, side to side or up and down motion. You can even tickle it.
Rub the taint as you notice your partner is going to cum soon (ask him to tell you if you cannot tell). This will kickstart ejaculation. Being able to show your partner that they can be pleased down there, can also open the conversation of actual prostate stimulation, which will be the best foreplay they've ever had.
For some partners, playing with the taint will make them cum even faster.
#13 Play With the Balls
Don't forget the balls! You can gently cup or squeeze the balls. Your partner will let you know if you squeeze too hard.
You can even lick or suck on the balls. Make sure to be gentle as the balls are VERY sensitive.
Some partners will even enjoy a gentle tugging of the balls.
And for certain partners, they prefer their balls to never be touched at all. As a matter of fact, the balls can be super ticklish and distract you and your partner from having a satisfying blow job.
Try various methods with your partner to see what works.
#14 Rub Other Body Parts Against His Penis
One contributor stated that they love when a woman rubs her breasts on his penis. This feels different and is pleasurable. It does not always have to be hand and mouth on penis to stimulate it.
Incorporate the brushing of different body parts to stimulate the penis when giving a blow job. Make it part of the act.
#15 Make Eye Contact
Kyle H. explains that EYE CONTACT drives him crazy. He advises that you stare up at your partner when their penis is in your mouth.
When asked why he stated that eye contact from below makes him feel dominant and that his partner is submissive and can be ruled over in that moment.
For others, eye contact can connect you with your partner more emotionally. Personally, I love staring into my partner's eyes as a form of non-verbal communication and to see how they are reacting to my blow job.
Lock eyes and have fun!
#16 Pornos Are Not Always Accurate
Sometimes they're just plain wrong.
One of our contributors stated that he hates when people spit on his genitals prior to a blow job. It's a common thing in pornos, but the behavior can seem uncouth and even disgusting in real life.
It's best to avoid copying pornos and just do what feels right and natural for you and your partner.
#17 Size Matters
Well, not in the way that you think.
People should have realistic expectations for blow jobs depending on the size of their partners' penis. What works with one size may not work with another.
Adjust your blow job technique based on your partner's size and their preference.
If someone has a considerably large penis, no matter how one tries, you're just not going to get it all in. Instead of gagging on a larger penis, use your tongue to provide suction and give a lot of stimulation to the head about 2″ or 3″ down. The rest of the penis can be used to grab on for stability. LOL! – Chuck B.
#18 Let Your Partner Reciprocate
Nothing is sexier than sharing your enjoyment in the opposite direction. Give your partner a chance to go down on you and make you feel just as wonderful.
This can be helpful during the refractory period. It will give you a break and a chance to please your partner.
Final Thoughts
It's important to remember that no two penises are alike.
Find out what your partner likes by reading their body language or by simply asking them. Communication is always key to effectively satisfying your partner.
The perfect blow job doesn't just happen overnight. It will take some effort, communication and practice. Try different techniques and combinations to pleasure your partner. Changing it up will also keep things exciting and your partner looking forward to the next session.
Always communicate when your partner is doing something you do not like. If you never tell them, they may assume you're into it and keep doing it even though it may annoy or hurt you. As the giver, you can speak up about what you like and don't like while giving BJs. It's about you too!
Once you're an expert at how to give a blow job, you can share best practices tips with your friends and be a champion for BJs!
And lastly, if blow jobs aren't your thing, that's OK. There are plenty of other ways to pleasure your partner. Just talk about it!
If you have tips that we did not mention here, please share it with us in the comments section. You can also send tips anonymously to our team here.
Contributors
Thank you to our participants and their input on how to give the perfect blow job!
Frank H., Tommi, Chuck B., Lucas B., Evelyn P., Kyle H., Shuja DePeace and a few others who prefer to not be mentioned.
If you enjoyed our post on how to give a blow job, please share it on Pinterest! Thank you!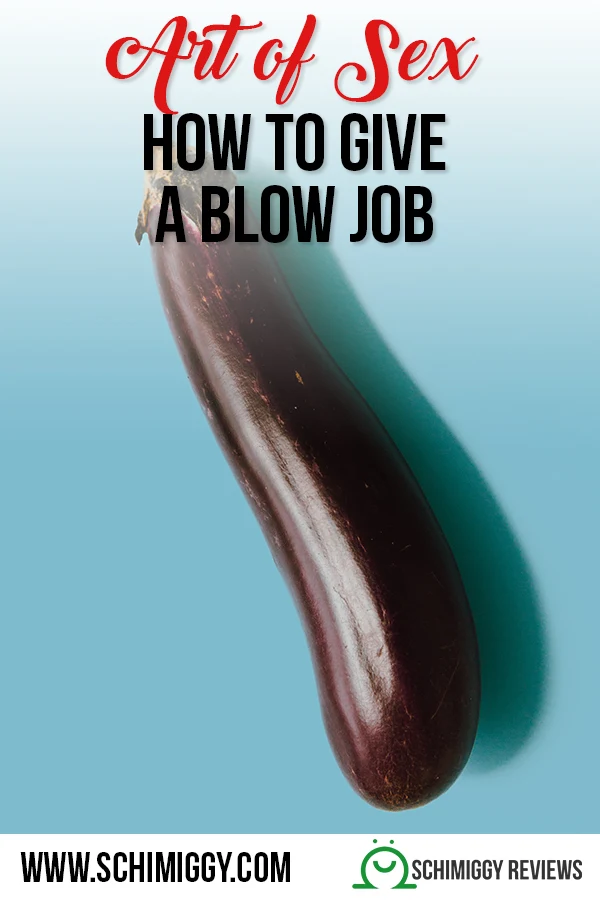 ---
Thank you for visiting today! If you found this encouraging or informative, please connect with us on Instagram, Youtube, Pinterest, Facebook or Twitter. We'd love to meet you!
Sign-up for our monthly newsletter for updates and more. We promise we won't spam you! Feel free to unsubscribe anytime.
For more fitness fashion discounts and offers, please visit our Fitness Instructor Discounts + Brands Directory or favorite brands coupon codes list.
If you're a brand and want to submit a product for us to review, please use this form to get in touch.
This site uses affiliate links. Clicking on or purchasing via an affiliate link may result in commissions for us which help keep the content flowing and lights on at Schimiggy Reviews. You may read more about this in our privacy policy.