Reading Time:
5
minutes
Updated: 7/24/2022 | How to Tame Frizzy and Dry Hair
I love leaving my hair down, but sometimes it can look messy or seem unmanageable.
I've been living with frizzy hair my whole life. I've tried COUNTLESS products and they always seem to leave my hair too greasy or only last a fraction of the day.
When I started to let my gray hair grow in, my hair became even frizzier. Gray hair comes with loss of sebum, which produces oils that coat and soften your hair. I more than ever needed products to help keep my hair looking maintained.
Related: How I Learned to Embrace My Gray Hair
If you find yourself always defaulting to a ponytail, it's time to try some of these products that will help tame frizzy and dry hair. With these products, you may find it possible to wear your hair down and make it look amazing!
Best Products to Tame Frizzy and Dry Hair
Below are products that we SWEAR by when it comes to taming frizzy hair. We have tried and tested each product and use it daily to tame our manes.
Use the recommended products in this order to achieve a tame and un-frizzy look:
Step 1: Wash your hair with moisturizing shampoo and conditioner. We use the Hot Tresses system to prevent heat damage and frizzy hair.
Step 2: While hair is wet, use a leave-in conditioner.
Step 3: Once hair is dry, use hair oil or serum to tame frizz.
Step 4: Use a hair straightener for a maximum straight hair look
#1 Daily Dose Leave-In Spray Conditioner
This leave-in conditioner by Daily Dose will tame your frizzy and dry mane in minutes. Just liberally spray damp or dry hair and run your fingers throughout your hair to work it into the strands. Use a comb if needed.
The formula is lightweight and doesn't leave a greasy feeling like most leave-in conditioners.
We also love that it also comes in a travel-sized bottle so that you literally can never leave home without it.
#2 Paul Mitchell Super Skinny Serum
If you straighten your hair often, make sure you use Paul Mitchell's Super Skinny Serum. Use 2-3 drops of this in your hair prior to straightening. It will help keep your hair straight all day long.
You can also use it alone to soften your hair and reduce frizz. We love that within 2 days, our hair looks naturally wavy but tame. Think salty beach waved hair.
#3 Redken Smooth Down Pomade (Discontinued)
So bummed this product has been discontinued. I use it all the time to tame my fly aways (which can happen if you have thick, wavy or damaged hair).
After straightening my hair, I use a bit of pomade in my hands to smooth my flyaways and keep them hidden while looking very natural.
Most pomades make my hair feel sticky, but the Smooth Down is my holy grail for pesky flyaways.
#4 Use Hair Oil to Soften and Moisturize Your Hair
Using oil in your hair is a great way to moisturize, soften and relax frizzy hair. Oils that we like to use include jojoba oil, argan oil, and coconut oil which are all nutrient-rich and will fortify and tame frizzy hair.
We highly recommend the following oils for hair:
#5 Nylah's Moisture Retention Leave-In Cream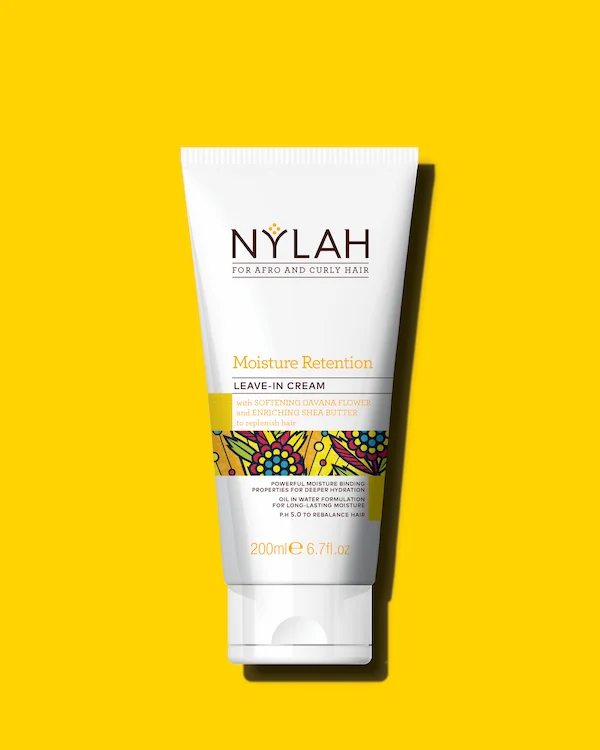 Nylah makes hair products for afro and curly hair types. Their Moisture Retention leave-in cream works wonders on frizzy hair!
Simply use a dime-sized amount throughout wet or dry hair and style it as usual. We find that our frizz and flyaways are controlled.
#6 Garnier Whole Blends Smoothing Oil with Coconut Oil & Cocoa Butter Extracts
I discovered this smoothing oil by Garnier during a demo session in Target. It instantly smoothed my hair and my bottle lasted me about 2 years of regular use. I apply 2-3 drops after towel drying my hair and it stays smooth and unfrizzy for the entire day.
It's also a very inexpensive option on this roundup.
#7 Theorem Method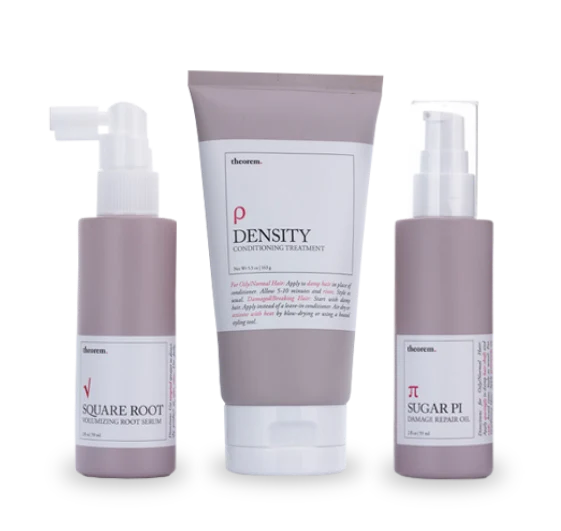 We love using the Theorem Method's Density conditioner and Sugar Pi to tame our frizzy hair. The conditioner is luxurious and leaves our hair feeling replenished and soft. We use the conditioner every 2-3 days.
The Sugar Pi repair oil smoothens our hair and lasts all day long. A little bit of the oil goes a long way.
#8 KareCo Detangler Brushes
KareCo makes salon-quality brushes that aim to detangle while eliminating damage.
We recommend their Tangle Buster brush to detangle very curly hair and their thermal dome brushes to style.
Their Tangle Buster has flexible fingers that are great for massaging leave-in moisturizer onto your hair and scalp and potentially preventing dandruff. Try it. You'll thank us later!
Related: How to Get Rid of Dandruff and Keep Your Scalp Moisturized
#9 Ceramic Hair Straighteners
If you need a tool to straighten and tame your mane, we recommend using one with ceramic plates. Check out the T3 Micro flat irons or Chi Hair Straightener. It's the best on the market!
The tourmaline blades help to protect hair. Make sure you use Paul Mitchell's Super Skinny Serum for the best results.
Did you enjoy our article on how to tame frizzy and dry hair? Please share it on Pinterest!
---
Thank you for visiting today! If you found this encouraging or informative, please connect with us on Instagram, Youtube, Pinterest, Facebook or Twitter. We'd love to meet you!
Sign-up for our monthly newsletter for updates and more. We promise we won't spam you! Feel free to unsubscribe anytime.
For more fitness fashion discounts and offers, please visit our Fitness Instructor Discounts + Brands Directory or favorite brands coupon codes list.
If you're a brand and want to submit a product for us to review, please use this form to get in touch.
This site uses affiliate links. Clicking on or purchasing via an affiliate link may result in commissions for us which help keep the content flowing and lights on at Schimiggy Reviews. You may read more about this in our privacy policy.