Reading Time:
5
minutes
Thigh high boots are super trendy! We love wearing them with shorts or a mini skirt as a transition piece from Fall, Winter to Spring.
One of the biggest issues we noticed with thigh high boots are they have the knack of slipping down, which can become annoying if you have to constantly adjust them throughout the day.
We are currently obsessed with our VIVAIA Charley thigh high boots ($199). They're eco-friendly and come in brown, black, and gray.
We definitely found that they slip a lot. They're made of soft wool knit that does not offer any structure.
This forced me to get creative so that I could continue wearing my boots without slippage.
Related: VIVAIA Review: Valencia Two Tone Flats
How to Get Thigh High Boots to Stay Up
Here are some hacks we found that will help you keep your thigh high boots up during wear.
#1 Wear a Boot Bra or Boot Straps
A boot bra or straps is used to create some friction at the top of your boot to keep it up. Some straps will come with adhesive to keep your boots up. The adhesive will need to be replaced after a few wears.
A good way to make this solution more permanent is to sew the velcro strips onto the inside of the boot. All you need is some needle, thread and time. We recommend this boot bra kit from Walmart if you wish to go with this solution.
#2 Wear with Compression Socks
These will give your boots some texture to grip onto. They'll also keep your legs warm during cold winter months.
If you don't want your socks to be noticeable, choose socks that are the same color and length as your boots. This will keep them hidden.
We recommend knee-high compression socks by Bucky. They come in black, white and pink.
#3 Fashion Glue or Tape
This is a little bit like double-sided tape that sticks to the inside of your boot then to your leg. You might find you need to use a few strips as a tough boot material will be harder to stick.
#4 Pair With Denim Skinny Jeans
Jeans are naturally textured and are great to wear with thigh-high boots. The texture from the denim will keep your boots up and in place.
We prefer to wear skinny jeans underneath our boots to prevent bulking and creasing, but it's really up to you what you style you prefer to wear under your boots.
#5 Use Boot Stirrups or Garters
I saw these boot stirrups that typically go under the arch of your feet to keep jeans from bunching up in boots. You can also use stirrups to keep your boots up.
Make sure you're wearing compressive shorts that won't slide down when you use the stirrups. If you don't want people to see your stirrups, wear them under an oversized sweater or jacket. You can also let them be visible if you want to wear them as a fashion statement.
#6 Wear with Leggings or Tights
If you are going to wear tights then choose a pair with a bit of texture. This will ensure that once your boots are on, they stay put and have something to grip onto.
We like wearing fleece tights, brushed cotton leggings, and textured leggings similar to the popular TikTok butt enhancing ones. We also recommend choosing high-waisted leggings to prevent the leggings from sliding down.
We recommend wearing 3/4 or 7/8 length leggings so that the leggings do not bunch around your ankle when you slip your boots on. We also tested some nude leggings and found our favorite picks. Check them out here.
Below I am wearing Electric and Rose Sunset leggings which are super cute and have enough texture to keep my thigh high boots from sliding down. And trust me when I say these leggings stay put all day, they do.
Feel free to use code SCHIMIGGY20 to save 20% off at Electric and Rose.
#7 Buy Stiff Leather Boots
Stiff leather can make all the difference. The leather is treated so that it does not flop over, slouch, or slip down easily. Essentially, stiff leather boots will retain their shape and stay above the knee during wear.
The best way to determine if a boot will be stiff is to try it on for yourself. Things will often not be as they seem when shopping online.
#8 Buy Boots that Zip All the Way Up
Same idea as stiff leather boots. A zipper is often pretty stiff and will help keep the boot up along the length of the zipper seams.
#9 Roll The Top of Your Boot DOwn
If you don't mind changing the look of your thigh high boot, you can roll down the top until it becomes more tight fitting around the thigh area.
We've seen this recommended on many forums, but don't think it'll work for us.
#10 Use Military Elastic Boot STraps
These straps are made to keep military pants tucked away into boots. There are the bungee cord style and boot blouser options.
Take the bungee cord and wrap them around the outside of the boot. Hook it around the thigh area to keep the boots in place. They make different colored cords (ie. gray, black, brown, green, etc.) to match the color of your shoes.
We recommend being mindful with the bungee cord style because the hooks can snag onto and ruin knit boots or scratch leather boots.
#11 Elastic Hair Tie Hack
If you're out and need a quick hack to keep your boot from sliding down, use an elastic hair tie around the outer top of your boot (preferably above the ankle) to keep your boot from slipping. I typically have brown, grey or black hair ties in case this happens.
This option might look weird, but it works in a pinch until you find a better solution.
We hope you were able to find something helpful. Thigh-high boots are so cute, but they can be a pain to wear. Luckily, there are ways we can keep them up so that we can continue to wear our favorite footwear style!
If you found our article on how to get thigh high boots to stay up helpful, please share it on Pinterest. Thanks for your support!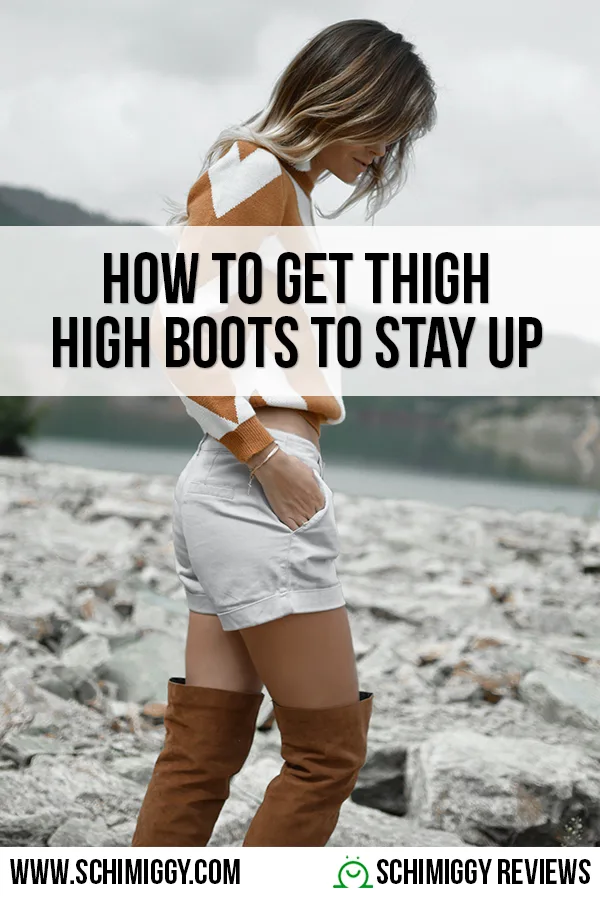 ---
Thank you for visiting today! If you found this encouraging or informative, please connect with us on Instagram, Youtube, Pinterest, Facebook or Twitter. We'd love to meet you!
Sign-up for our monthly newsletter for updates and more. We promise we won't spam you! Feel free to unsubscribe anytime.
For more fitness fashion discounts and offers, please visit our Fitness Instructor Discounts + Brands Directory or favorite brands coupon codes list.
If you're a brand and want to submit a product for us to review, please use this form to get in touch.
This site uses affiliate links. Clicking on or purchasing via an affiliate link may result in commissions for us which help keep the content flowing and lights on at Schimiggy Reviews. You may read more about this in our privacy policy.