Reading Time:
5
minutes
Updated: 10/18/2023 | Electric & Rose Review

Disclaimer: I received products from Electric & Rose to conduct this review. As always, all thoughts and opinions are my own and 100% honest.
About Electric & Rose
Electric & Rose is an LA-based brand created by husband and wife duo Erin Chimulon and Eric Balfour in 2014. They blended their love of yoga + surf to create a men's and women's clothing line for both land and water.
Electric & Rose was named after two iconic streets in the heart of Venice Beach as a reminder of the brand's roots and message. Erin and Eric's mutual love of yoga, surf, and travel culminated in a collection inspired by the culture and city they grew up in. Electric & Rose is a reflection of the music, art, surf culture, and bohemian lifestyle of Venice, where the company is based.
Generally, my preference leans towards the more synthetic and high-tech material. I gave Electric & Rose's cotton jersey leggings a try and I'm glad I did! I am hooked on their Sunset leggings!
While Electric & Rose does offer plenty of styles in technical fabrics, it's the cotton Sunset leggings that have been selling out and catching everyone's attention.
Electric & Rose Review: Sunset Tie-Dyed Jersey Leggings
#1 Size: I went for a small in their Sunset leggings. I found that the pants were form fitting and fit true to size (TTS).

#2 Style: Long leggings + Matching bras! Electric & Rose also has a mens line and women's technical fabric line.
They recently launched their line of coords in 2019. Think sweatsuits, joggers, hoodies and more! Everything you can WFH in.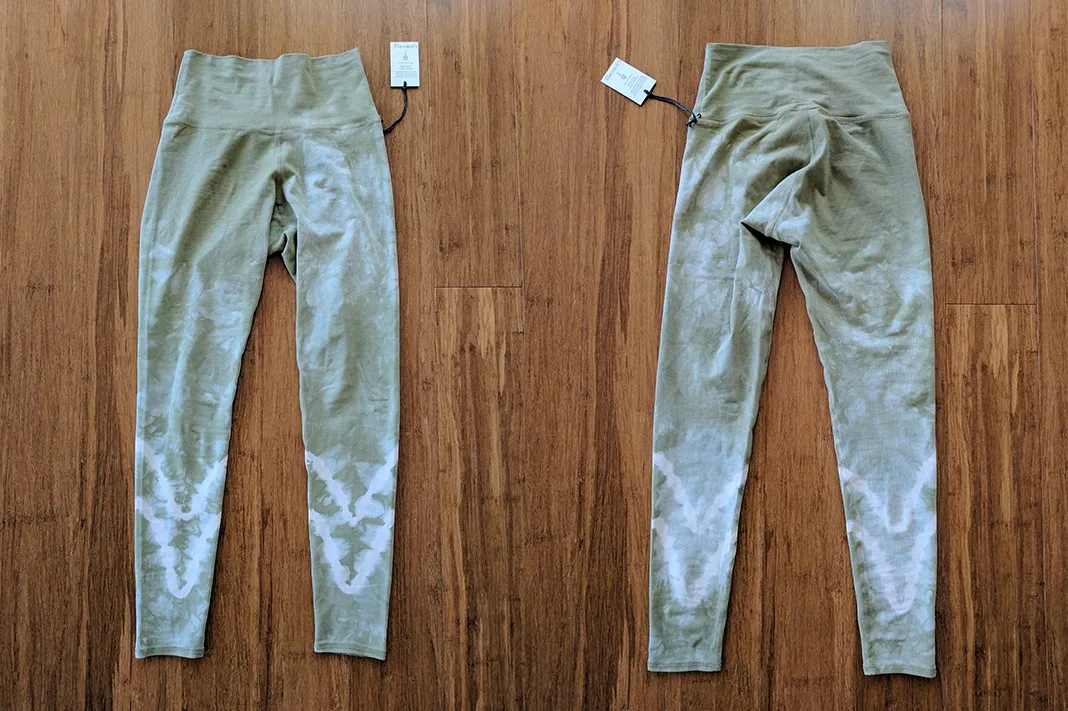 #3 Inseam: 28″ inseam in the size Small pants. The leg opening sits at the ankle and can be worn mid-arch. I am 5'5″ for reference. I found it very flattering bunched up at the ankle too.
#4 Rise: The rise on the Sunset leggings is high. The leggings can be worn high waist or folded over for a lower fit.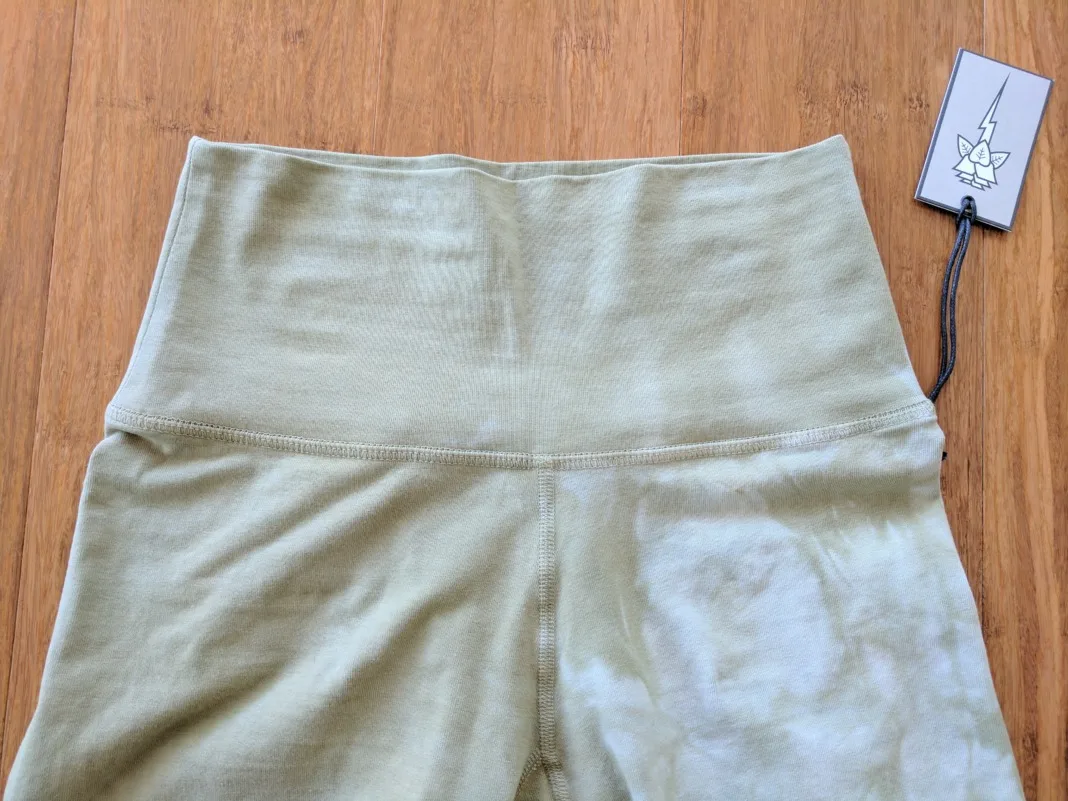 #5 Waistband: The Sunset leggings come with a tall waistband measuring 5″. The waistband does not contain elastic and fits comfortably over the waist. It can be worn tall or folded over for an ab-revealing look.
#6 Fabric
Fabric Content: Cotton Jersey: 90% cotton, 10% spandex.
Fabric Feel: Fabric feels brushed and very soft.
Fabric Performance: The fabric has 4-way stretch and contours to the body. The fabric is lightweight and quick drying. The cotton fabric is very breathable. Because the fabric is breathable and absorbent, your skin will not likely become irritated with prolonged wear.
Opacity: The fabric is 100% opaque!
Fabric Features: The Sunset is Electric & Rose's signature chevron print. The print is created in LA using Japanese shibori dyeing techniques. The logo is printed on the back right side of the leg.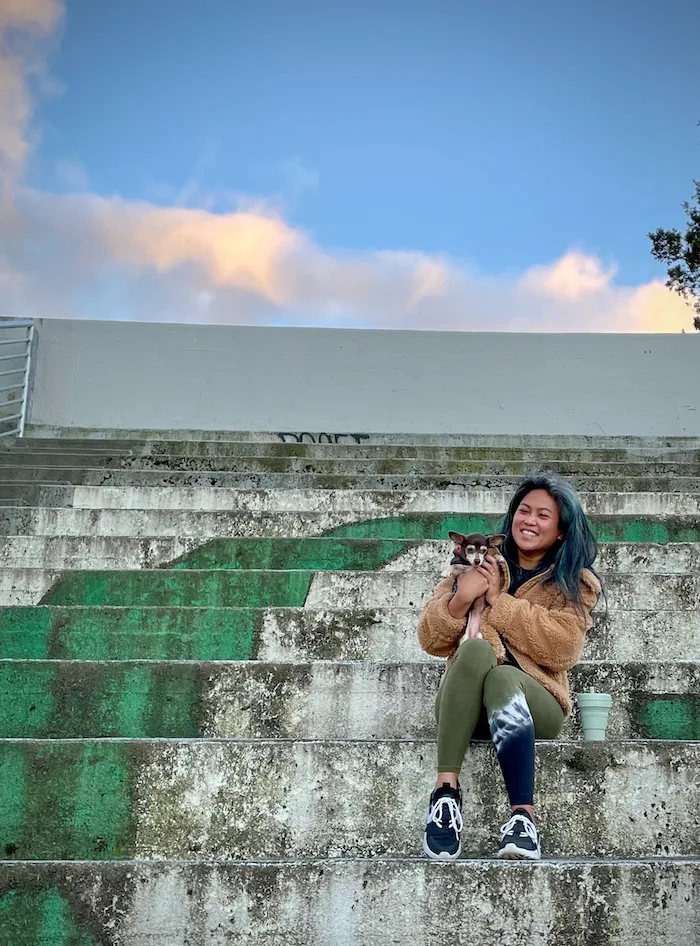 #7 When to Wear: The Sunset leggings are great for low-impact activities such as yoga, barre, hiking, and Pilates. The fabric absorbs moisture and sweat so would not be great for high-impact activities.
#8 Cost: Sunset leggings are $88 USD a pop. Their more technical fabrics run upwards of $114 USD per pant, making Electric & Rose a luxe brand.
#9 Gusset: The Sunset leggings have a diamond-shaped single-layered gusset.
#10 Stitch Seam: The leggings are created with flat seams for a non-chafe and comfortable fit.
#11 UPF Protection: Not disclosed.
#12 Made in Los Angeles, USA.
#13 Care Instructions: To prolong the life of the cotton jersey fabric, wash in cold water with gentle detergent and hang dry. I use a drying rack like this one.
I also avoid drying sunlight so that the elastic fibers do not get damaged by heat.

Should I Buy Electric & Rose
Yes, you should definitely shop here!
Their fabric is so comfortable and the fit is amazing! They are slimming and deliver a beach boho look that's perfect for beachside yogis. They're a great alternative to wearing technical spandex 24/7. I really appreciated that my legs could breathe their cotton fabric. I'll definitely be wearing it casually and to gentle and high-impact yoga classes.
If you're ready to try the brand out for yourself, scroll down for a list of vendors that carry Electric & Rose.

Where to Buy Electric & Rose
Buy Electric & Rose directly from their website and enjoy the following offers:
Use this link to save $50 toward on your first order of $250 or more.
Use code SCHIMIGGY15 to save 15% off all your orders.
Alternatively, you can also shop for Electric & Rose products from the following retailers:
If you found our Electric & Rose review helpful, please share it on Pinterest! Thanks for your support!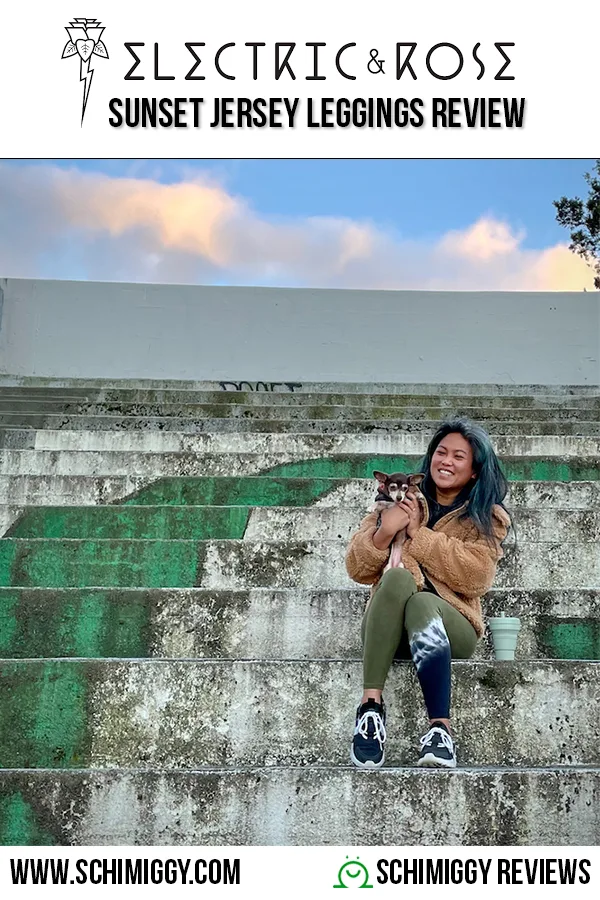 Thank you for visiting today! If you found this encouraging or informative, please connect with us on Instagram or TikTok.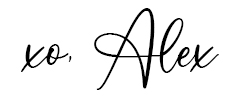 Sign up for our monthly newsletter for updates and more. We promise we won't spam you! Feel free to unsubscribe anytime.
If you're a brand and want to work with us, please visit this page to get in touch.