Reading Time:
4
minutes
Updated: 1/20/2022 | Our Place Review
About Our Place
Our Place took the internet by storm with their colorful advertising and multi-functional Always Pan.
Founded by Shiza Shahid, this women and POC-owned cookware brand aimed to provide a product that was both sustainably and thoughtfully made.
They promised that their pan would eliminate many cookware pieces that people currently have in their kitchens. Here are the eight pieces that the Always Pan was designed to replace:
Steamer & strainer (each Always Pan has a steamer basket included!)
Sautee pan
Saucepan
Saucier (which is just a rounded saucepan!)
Skillet
Frypan
Nonstick pan
Spoon Rest (The Always Pan is designed with a built-in spoon rest and comes with a custom spatula designed to fit perfectly)
Our Place Review
We purchased the Always Pan in sage green. I bought it in November 2020 and it FINALLY arrived in March 2021. It was packed in biodegradable shipping materials. It also came with an eco-friendly loofah sponge to gently and sustainably clean our pan.
We removed the pan and used it as soon as it arrived! The nonstick coating was probably my most favorite feature. I easily fried an egg to test it out and immediately donated all my other pans.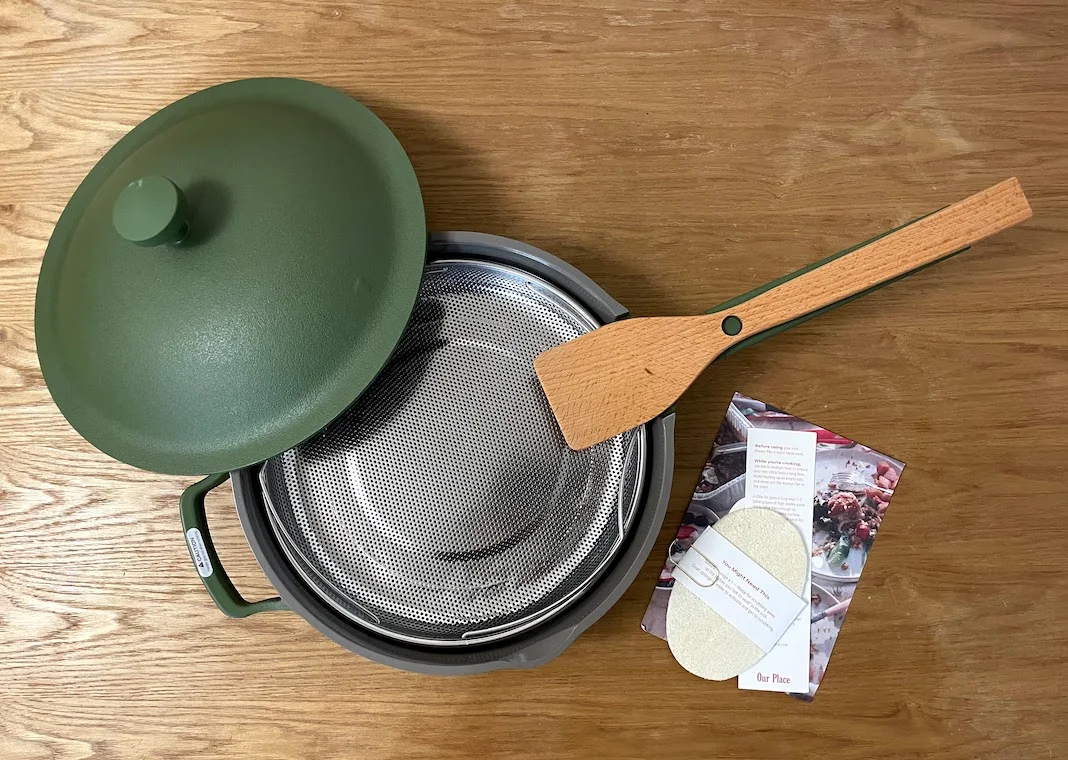 Below are the pros and cons of the Always Pan.
Pros of Our Place
Non stick coating (not Teflon) prevents food from ever sticking to the pan! This was probably my most favorite feature!
Dishwasher safe. We throw our pan into the dishwasher. We use it so much that we often wash our pan by hand so that it's always available when we need it.
Comes in soothing pastel colors. Not gonna lie. I wanted the pan initially because of the pretty sage green color.
Compatible with all cooktops. We have an induction cooktop and it works perfectly!
PFA (Teflon) and PTFE FREE. See the FDA test report here.
Comes with a removable nesting steamer/colander. We found this super convenient to use when steaming vegetables, seafood, dumplings, dim sum and so much more!
Spoon included! It comes with a spoon that sits in its convenient spoon rest.
Modular lid traps and releases steam.
Lightweight – The Always Pan weights 4 pounds!
Made sustainably! Their products are made from thoughtful and responsible materials.

The glasses are made from a portion of recycled glass and natural sand, and are also naturally dyed.
The Always Pan is made from a portion of recycled materials as well.
Packaging is 100% free of plastics, is fully recyclable and biodegradable.
Their products are made to streamline your kitchen and reduce the number of items you need to buy.
Cons of Our Place
Not oven safe. Ok, so we can't bake anything in our pan because the handle is made of plastic. Luckily we have our Abbio all-clad set which allows us to finish our meals in the oven. We still use our Always pan often.
Expensive – An Always Pan will cost you $145. Use this link to get a $20 off Our Place coupon code.
Does not heat up quickly. We have an induction oven and it heats up slower than our all-clad cookware from Abbio.
Heat does not distribute evenly. The edges of the pan did not get as hot. We tested this by boiling 1″ of water in the pan and noticed that the bubbles did not distribute evenly.
The non-stick coating is scratch prone. We highly recommend cooking with silicone or wooden utensils. Metal utensils can scratch the pan.
Related: Abbio Cookware Review
Should I Buy the Always Pan?
We highly recommend the Our Place pan if you want something pretty and multi-functional. We love how sleek it looks in the kitchen and it really has helped us save a lot of surface space in our two-bedroom condo.
While we are obsessed most with is how well the pan performs on our induction stove, we know it's not the best quality pan out there. If you're looking for something high-quality and more affordable, we recommend going with all-clad cookware instead. Our go-to all-clad cookware is Abbio.
We did appreciate how easy the Always Pan was to clean.
As of September 2021. Our Place has added the Perfect Pot to their offerings that we'll definitely be reviewing on the blog!
Where to Buy Our Place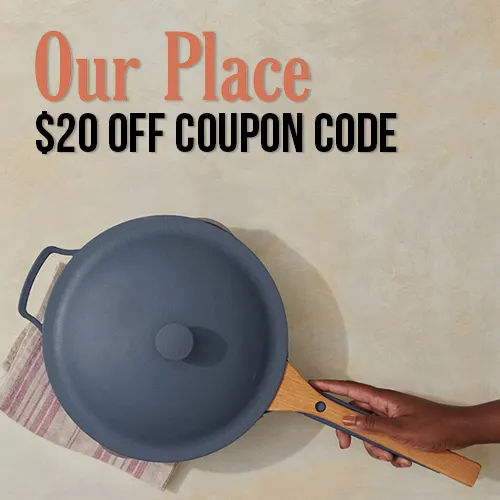 Did our Our Place review convince you to give it a try?
You can buy an Always Pan directly from their website.
Use this link to save $20 off your first Our Place pan order of $95 or more.
Alternatively, you can also use code SCHIMIGGY for 10% off all your orders at Our Place.
Unfortunately, you cannot buy Our Place products on Amazon or another retailer's website. If you find them for sale anywhere else, they may be counterfeit or used.
If you found our Our Place review helpful, please share it on Pinterest. Thank you for your support!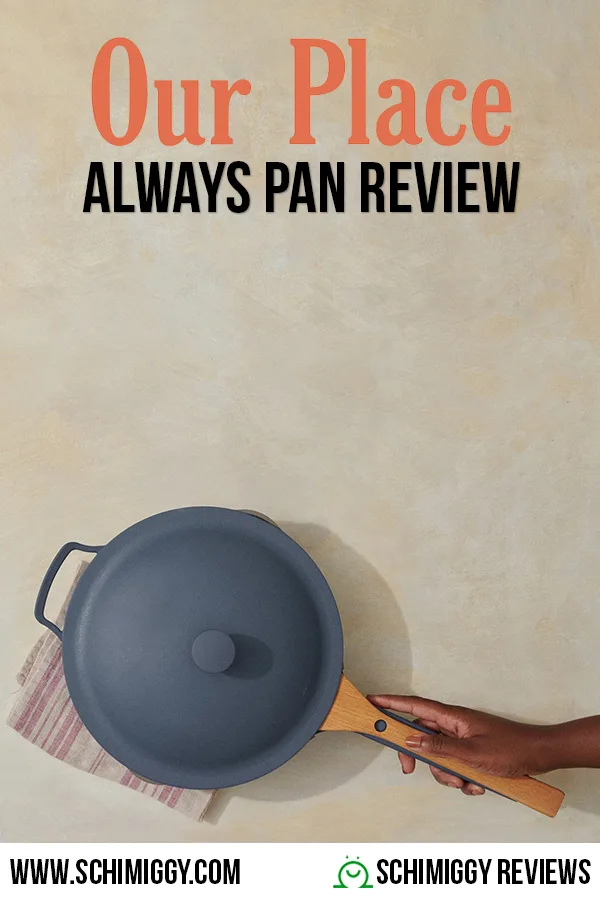 Thank you for visiting today! If you found this encouraging or informative, please connect with us on Instagram or TikTok.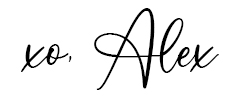 Sign up for our monthly newsletter for updates and more. We promise we won't spam you! Feel free to unsubscribe anytime.
If you're a brand and want to work with us, please visit this page to get in touch.