Reading Time:
9
minutes
Updated 4/11/2023 | Sustainable Dental Care Routine
Table of Contents
Plastic toothbrushes have been around since 1938. And plastic toothpaste tubes have been around since 1886.
For decades we've been using products containing plastic to keep our teeth clean. Plastic products take 500+ years to decompose. What that means is that these little tubes and toothbrush handles will be around with our grandchildren, and their grandchildren, and their grandchildren, etc. You get the idea.
So what are we to do? We need to do better. We need to choose sustainable and eco-friendly options regarding the things we do daily in our lives.
In this guide, we'll discuss options you can adopt for a more sustainable dental care routine.
Sustainable Toothpaste Options
When it comes to toothpaste, there are two sustainable dental care options you can choose from; toothpaste powder or toothpaste tablets.
Both require a bit of water and mouth swishing to create a foamy paste that you use with a toothbrush to clean your teeth. It's a great way to keep your teeth clean sans plastic tube!
We recommend the following toothpaste products to keep your teeth fresh and clean.
Toothpaste Tablets
Toothpaste tablets are solid pellets that are a great option for home and travel. Simply pop a tablet into your mouth and begin to chew it and swish it around to create a foamy paste. Once your paste has foamed up and the grainy bits have dissolved, use a toothbrush and clean your teeth as you would normally.
Pro Tip: If you're low on pellets, you can cut them in half to get double the use out of each pellet. When traveling, I typically cut the pellets in half beforehand and place them in a 4 container pillbox. If you have a used mint container, that works too!
Here are the toothpaste tablet brands we recommend:
#1 Mouthful
Mouthful makes a range of dental products from toothpaste tablets, bamboo and even charcoal toothbrushes. Everything is designed in Austin, Texas and made in the USA. Their toothpaste tablets are cruelty-Free, vegan, SLS and Fluoride-Free and TSA approved.
I received my tablets and brushes in a biodegradable box and wrapped in BIODEGRADABLE bubblewrap! Super stoked that they're sustainable in all aspects.
Mouthful also offers a subscription service so you're never left without the equipment you need to keep your oral hygiene maintained.
#2 Unpaste
Unpaste toothpaste tablets come in a paper bag that's 100% biodegradable. Yay!
To keep the tablets fresh, transfer them from the bag into a small mason jar for countertop storing.
Save 10% when you subscribe and save Unpaste toothpaste tablets at Well Earth Goods and at Fillgood.
Use coupon code SCHIMIGGY at Fillgood and save $10 off your first order or $30 or more.
#3 Georganics
Georganics makes tooth tablets without fluoride and with baking soda! Each jar comes with 120 tablets which last about 2 months. I tried their English Peppermint scent which leaves my mouth feeling fresh all day long.
The baking soda will make the tablets taste a little salty but you'll get used to it.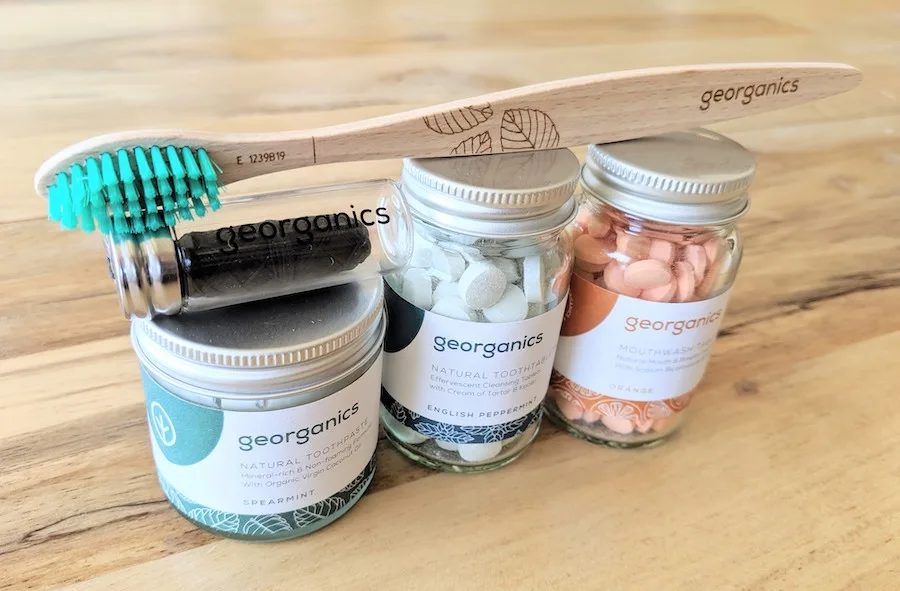 Toothpaste Powder
Toothpaste powder is easy to use. Just wet your toothbrush and dip it into the powder. Begin to brush your teeth as normal. The friction and water should turn the powder into a paste. If it is too dry, add a bit more water to your toothbrush or you can take a sip of water and swish the powder around until its completely dissolved
Pro Tip: If you have a container laying around the home, opt to buy refills which are usually packaged in envelopes and use your own containers to store the toothpaste powder. We love using small mason jars to store our toothpaste powders.
Here are the toothpaste powder brands we recommend:
#1 Tiger Tooth
Tiger Tooth by Hammond Herbs comes in biodegradable packaging. You remove the cap to access the powder. I found myself getting the powder everywhere, so I transferred it into a small mason glass jar which made it easier to use.
I love the cinnamon flavor and scent. It reminded me of Big Red gum. Yum!
#2 LuSa Organics
LuSa Organics sells all-natural and non-toxic body care products.
Their toothpaste powder comes in paper bags that you can refill a container that you already have at home. They also make a toothpaste soap bar. Both products are fluoride free.
Use code SCHIMIGGY to receive a free 2 oz. bar of scratch-and-dent soap with every order at LuSa Organics. Coupon expires on December 1, 2019.
#3 Primal Pit
Primal Pit makes toothpaste powder and offers charcoal options.
Toothpaste Soap Bars
Toothpaste soap bars aren't for everyone. If you're against chewable tablets and powders, this option might be for you.
To use a toothpaste bar, simply wet your toothbrush and rub it against the bar to get some of the solid dentifrices on your brush. Brush your teeth as normal.
One thing about this method is that the solid toothpaste will not foam and it may taste like soap. The taste and texture isn't for everyone.
LuSa Organics sells toothpaste soap bars!
Use code SCHIMIGGY to receive a free 2 oz. bar of scratch-and-dent soap with every order at LuSa. Coupon expires on December 1, 2019.
Here are the toothpaste bars we recommend:
#1 Lamazuna
Lamazuna is a French brand that offers zero waste body care products. Their solid toothpaste is attached to a stick and is equivalent to two tubes of toothpaste. Use a separate tray or cup to store your solid toothpaste.
Buy Lamazuna here and on Amazon.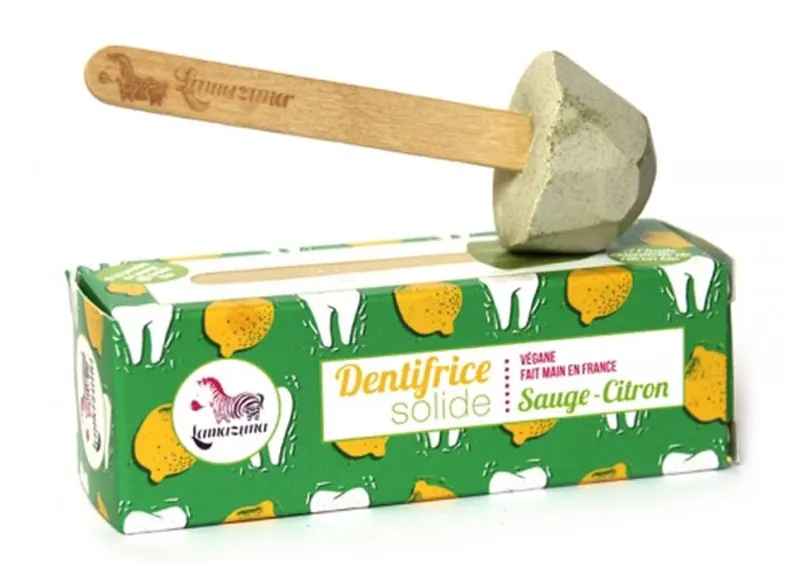 Sustainable Toothbrush Options
#1 Bamboo Toothbrush
Bamboo toothbrushes are mostly biodegradable. Some bristles are made with pig hair while others may be made with a castor oil and nylon blend. The bristles of bamboo toothbrushes are very soft and create a nice lather when used with toothpaste tablets.
I typically have a brush for home use and one for when I travel. Having a bamboo case is great for keeping your toothbrush sanitary while you're on the go.
It's important to make sure you replace your bamboo toothbrush every 4 months. I set a reminder on my calendar for when I need to replace my toothbrush.
When composting your toothbrush, if the bristles contain nylon, remove the bristles before throwing the bamboo handle into your compost bin. This is the only reason why we mention that bamboo brushes are mostly biodegradable.
#2 Electric Toothbrush
ISSA makes electric toothbrushes. Their brushes require only a one-hour charge every 6 months! Essentially, you can get 365 brushes out of a single charge. The entire toothbrush is made of silicone and the head only needs to be replaced once a year.
#3 Plastic Toothbrush Made From Recycled Materials.
TePe GOOD
TePe GOOD brushes are made from 96% bio-based plastic which is better for the environment than conventional plastics. Their bristles are gentle enough for all ages and come in various colors.
Preserve
Preserve toothbrushes are made from yogurt containers. Used brushes can be sent back to the company for repurposing and you receive a $1 voucher per brush sent to use toward your next brush. Unfortunately, the bristles are always made from new plastic.
Radius
Radius makes funky-looking toothbrushes from cellulose (plastic generated from wood) and vegetable-based nylon bristles, meaning that they're entirely free from petroleum.
Bogobrush
Bogobrush is a US company that makes its brushes from compostable bioplastic. They are made in Detroit, packaged in paper, and have a buy one-give one policy that donates toothbrushes to people in need.
#4 Plastic-Free Toothbrushes
Plastic-free toothbrushes are made from wood and pig hair. Once you're done with them, you can throw them into your compost or even burn them in the fire pit. Pig hair is hollow, so it's important to keep the bristles dry and clean so that it doesn't harbor bacteria.
Buy plastic-free toothbrushes at Fillgood and use code SCHIMIGGY for $10 off your first order of $30+.
#5 Beech Wood Toothbrushes
Georganics makes beechwood toothbrushes AND offer a Zero to Landfill (ZTF) program.
Their ZTF program allows patrons to send back toothbrush heads which are then recycled into new products. This allows Georganics to have a closed looped system, making them very sustainable! Just simply remove the toothbrush head by snapping it at the line near the head.
Shipping used products back to Georganics is also FREE.
Sustainable Flossing Options
#1 Kusker Waterpik
I am obsessed with my Kusker waterpik This is my preferred method of flossing. I use it after every meal and it offers a lot of pressure to ensure I dislodge everything that gets stuck between my teeth.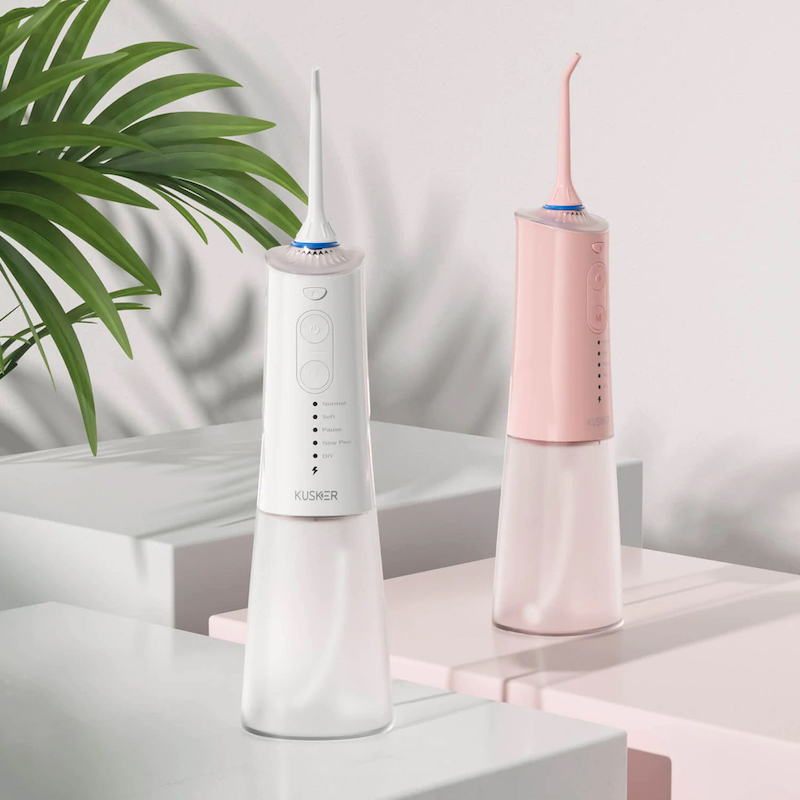 #2 Floss Refills
Georganics makes a compostable charcoal floss. It is vegan and comes in a little glass bottle, which only needs to be bought one time. Package free refills can be bought when you need more floss. I actually love the texture of their floss. It's a bit rough so that you get plaque completely off your teeth. I use my floss interchangeably with my waterpik.
Dental Lace also makes refillable dental floss. Their lace is made from mulberry silk and is 100% biodegradable. Dental Lace also comes in a little glass bottle with refills.
Buy Dental Lace at Life Without Plastic and at Amazon. If you're just looking for refillables, buy these from Well Earth Goods.
#3 Biodegradable Floss Picks
Goodfloss
Use Goodfloss by the Goodwell Co. at home or on-the-go. Goodfloss is the size and shape of a credit card, so it will fit into all your accessories and bags. Each pack comes with 40 flosser picks and the picks are completely biodegradable!
The Humble Co.
The Humble Co. makes biodegradable tooth flossers from corn starch. Their flossers also come in a biodegradable paper bag. You can choose between their standard floss pick or a charcoal-infused option. How's that for sustainable dental care?
Sustainable Mouthwash
Liquid mouthwash takes up a lot of space and needs to be contained in a bottle, which is typically made of plastic. I opt for mouthwash pellets because they're easy to store, transport and use.
Below are some mouthwash tablets we recommend:
#1 By Humankind
by Humankind makes eco-friendly and sustainable dental care and body care products. Their products are all-natural and come in packaging that can be refilled. Their mouthwash tablets dissolve in your mouth with a little bit of water. The mouthwash turns blue but quickly flushes out when you rinse. You can mix it in your mouth or in a glass.
When you're ready for refills, just simply order them in biodegradable packaging and refill your container at home.
#2 Georganics
Georganics is a UK based brand that offers zero waste options for many of their dental products. They have mouthwash tablets that come in a glass jar. Their mouthwash does not come with fluoride and offer various flavors. The tablets do contain baking soda. I tried the orange flavor and love it!
They currently do not have a refill program but you can use their sturdy jars for other purposes. I use mine to hold sauces and spices.
Other Eco-friendly Dental Products
#1 Tongue Scraper
For a deep clean, use a tongue scraper to get the white debris off your tongue. The debris is leftover from what we eat, drink and when we regularly clean our mouths. There are many styles but I love this shovel-shaped one that fits in my toothbrush holder with ease.
It also comes with a travel case for when you're on the road. I keep my toothbrush in the case as well.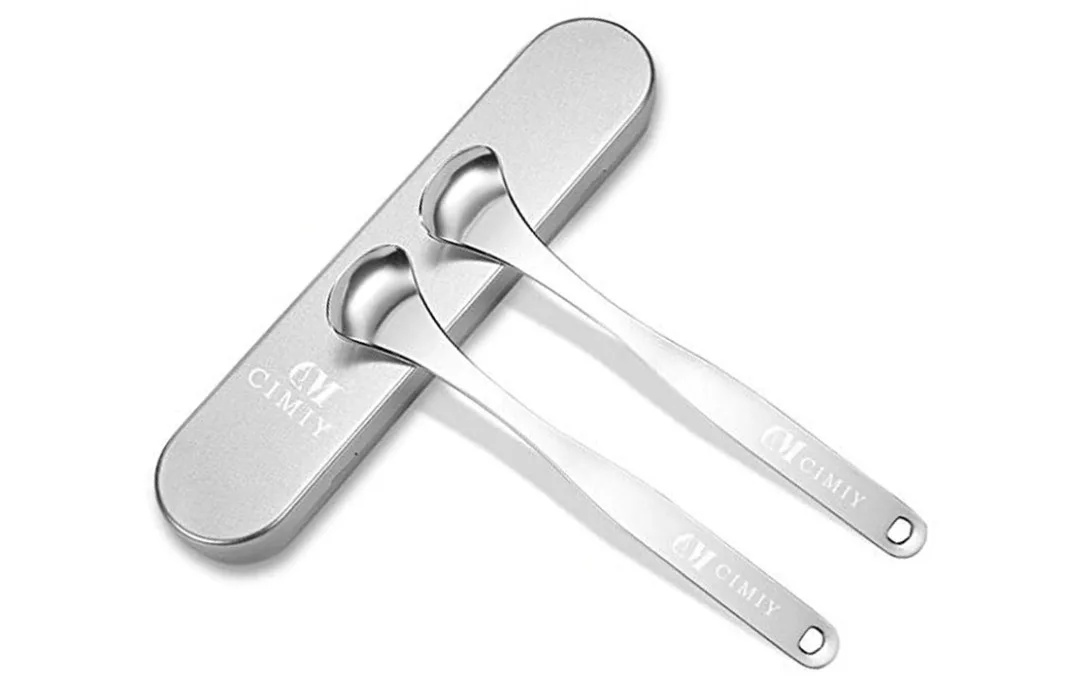 #2 Toothbrush Case
Use a bamboo toothbrush case to keep your toothbrush sanitary. It comes in a tube with a cap. When you wash your case, only use gentle soap and water and leave it out to air dry completely.
Best Stores to Buy Zero Waste Dental Supplies
Final Thoughts on Sustainable Dental Care
We can easily adopt a sustainable dental care routine once we learn how to. Dental care is something we do every day and there are products that can easily make our self-care more eco-friendly.
If you have plastics currently in your routine, go ahead and use them up and dispose of them properly. Replace them with biodegradable and zero waste alternatives, because you can and should.
If you liked this post, please share it on Pinterest! Thank you for your support!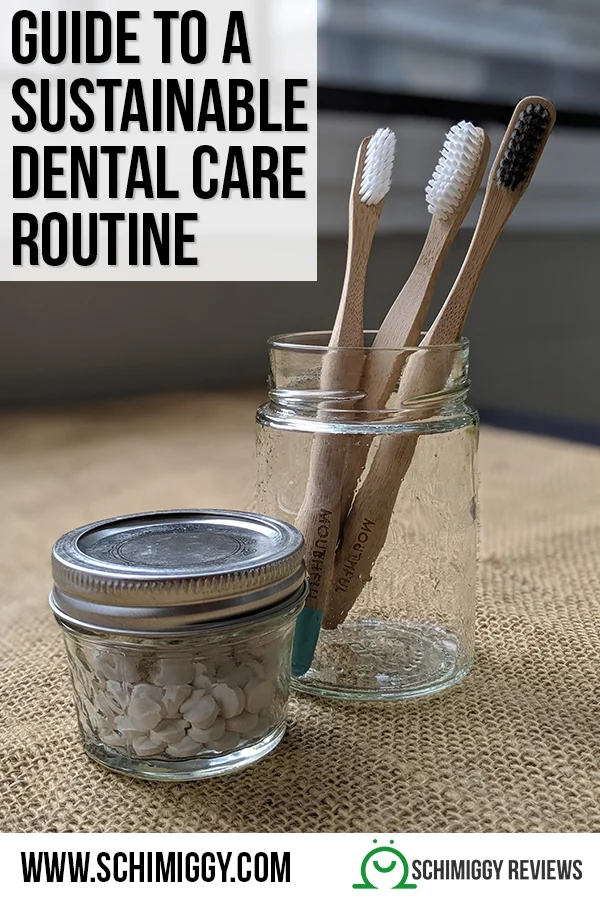 A big thank you to Well Earth Goods, Mouthful, Toilet Tree and Georganics for providing products to review in our guide! As always, all opinions are my own and 100% honest.
Thank you for visiting today! If you found this encouraging or informative, please connect with us on Instagram or TikTok.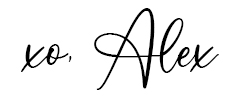 Sign up for our monthly newsletter for updates and more. We promise we won't spam you! Feel free to unsubscribe anytime.
If you're a brand and want to work with us, please visit this page to get in touch.