Reading Time:
3
minutes
Updated: 8/18/2021 | Creative and Unique Gifts for Your Mom
When you look back at your life, the one person who has been there through it all is your mom. She was there when you went through your first breakup, supported you when you changed your major 5 times in college, and helped you move into your very first apartment. Your mom has been there for you as a shoulder to cry on throughout all of life's struggles.
So what do you give someone who deserves the world? Whether it's for Mother's Day, her birthday, or just a surprise, gifting for your mom is a struggle. You don't want to get her something she already has or something she could just buy herself. You want to give her something that is going to be really special, and may even make her shed a tear. There is no perfect way to show your mom just how thankful you are for her, but these 8 creative and unique gifts for your mom might just be enough:
#1 Long Distance Touch Bracelet Set
If you live far away from your mom and want to get her something to keep you close to her, the Long Distance Touch Bracelet Set is the perfect gift. Both you and your mom will wear a bracelet and whenever either of you is feeling lonely, happy, or just wants to say hi, you tap your bracelet and send some love. The watch will light up and vibrate to tell you they send their love.
#2 Jade Roller + Skincare
A good gift to help improve your mom's skincare routine is a jade roller. A jade roller helps to sculpt and tone your skin, improves circulation, reduces puffiness, and minimizes fine lines. Add a CBD serum to reduce wrinkles, and you have got yourself a nice skincare gift to give your mom.
#3 Flowers
You really can never go wrong with a classic bouquet of flowers for your mom. If you want to surprise her with something nice for Mother's Day, delivery gifts for mom are the way to go. You can get a special bouquet of flowers delivered right to her doorstep.
#4 New Cookware
There is a good chance your mom probably has not updated her cookware in quite a few years. So, if you are looking for a practical but also thoughtful gift, a new cookware set is a great idea. You can even add a cookbook with it, just to really complete the gift.
#5 Robe and Slippers
Your mom deserves to treat herself every single day…and that starts with an ultra soft robe and slippers. You don't want your mom walking around the house with freezing cold feet, do you? Spoil your mom to a nice robe and fuzzy slippers.
#6 Essential Oil Set
If your mom is big on aromatherapy, or you just think she should relax more, get her an essential oil set. She can use the essential oils for a variety of purposes, like to help her sleep or to balance her mood. She can also use essential oils in her skincare routine, so it is a great gift for every mom.
#7 Personalized Cheese Board
If your mom is big on entertaining, a personalized cheese board is the perfect gift. You can never have too many cheese boards, and getting it customized makes it all the more meaningful. Your mom will think of you every time she has a party!
#8 Custom Family Portrait
What better way to show your mom just how much you love her than with a custom family portrait? If you are looking for a tear-jerker gift, this is it. It is a special way to keep the family together, even when you can't physically all be in the same place.
Getting your mom the perfect gift is a difficult task, but any of these 8 options are creative and unique ways to show your mom how thankful you are for her. At the end of the day, all your mom probably wants is for you to be there for her and spend time with her, but surprising her with a nice gift is the icing on top that she definitely deserves.
If you found our article on Unique Gifts for Your Mom helpful, please share it on Pinterest. Thanks for your support!
Thank you for visiting today! If you found this encouraging or informative, please connect with us on Instagram or TikTok.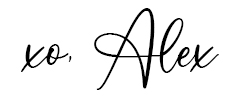 Sign up for our monthly newsletter for updates and more. We promise we won't spam you! Feel free to unsubscribe anytime.
If you're a brand and want to work with us, please visit this page to get in touch.