Reading Time:
14
minutes
Updated: 9/14/2023 | Cartagena Travel Guide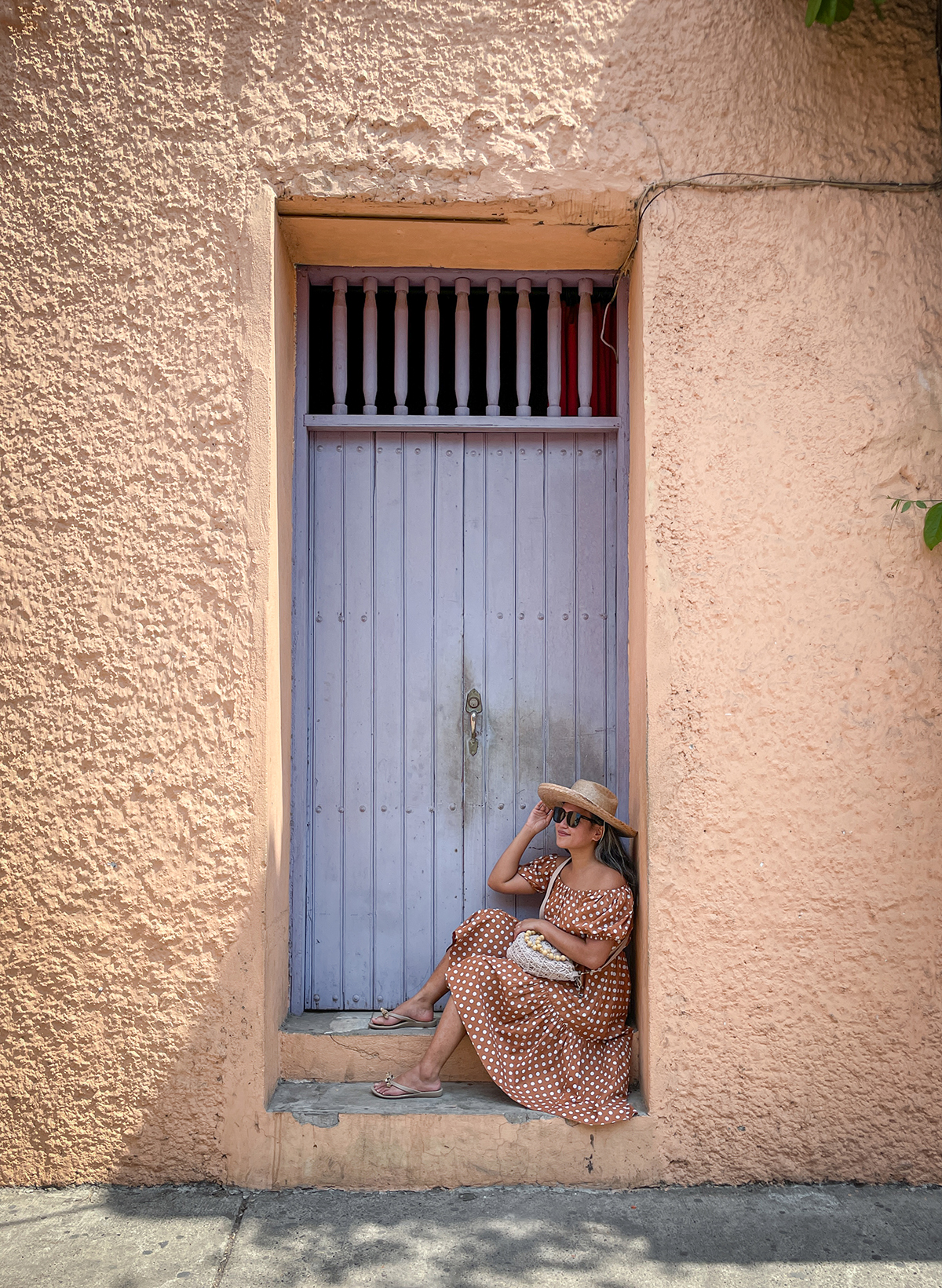 Headed to Cartagena and wondering how to plan your trip? Here is our travel guide to plan the perfect visit to this coastal Colombian destination.
About Cartagena
Cartagena is an amazing Colombia destination that is known for its tropical vibes, energetic nightlife, and rich deep history. You'll be amazed by the historic stone-walled old city, colorful colonial architecture, and Colombian Caribbean culture.
Whether your idea of a vacation is sipping the world's best coffee on a bougainvillea-laced balcony, heading to a lush tropical island just minutes off of the city, or salsa-dancing until 6 a.m. in one of Cartagena's famous nightclubs, Cartagena, Colombia has a lot to offer everyone.
We recommend staying in Cartegena for at least 3-7 days to experience everything the city has to offer. Cartagena also makes a good weekend getaway.
What to Know About Cartagena
Language: Spanish, although loads of the locals we interacted with spoke English. Nevertheless, I always encourage trying to use as much of the local language as you can while traveling (brush up on some basic phrases before you go using an app like Duolingo.
Currency: You will need cash for some restaurants and ALL street food carts. Credit cards are accepted at most places.
The local currency is the Colombian Peso (COP). Many businesses accept payment by card. There are several ATMs in the Old City where you can safely withdraw cash (BCP is the best bank to withdraw from as it generally does not charge fees, and Servibanco is the next best option as you can take out up to 780,000 COP per withdrawal for a fee of 15,000 COP. We highly recommend avoiding airport ATMs because they often have higher withdrawal fees and terrible conversion rates.
It's always best and safer to travel with a card that doesn't charge foreign transaction fees or fees for ATM withdrawals.
Safety: While Colombia's drug reputation has created some legitimate reasons for concern, this doesn't apply to the entire country. Cartagena is a perfectly safe destination and crime rates have dropped significantly in recent years. You're more likely to experience petty theft such as pickpockets versus violent crime.
Stay alert to your surroundings and keep a close eye on your belongings at all times.
Charging Adapters in Colombia: The two-prong power sockets in Cartagena and throughout Colombia are the same as in the US, but if you're coming from the UK or Europe you'll need an adapter. We recommend a worldwide adapter with both the US, UK, and Europe prongs along with multiple USB ports.
How to Get Around Cartagena
Walking – Walking around the Old City is our favorite way to explore the area. Just avoid certain areas of Getsemani at night, otherwise, it's pretty safe to walk everywhere.
You may want to avoid walking during the day because of the scorching Cartagenan heat. If you need to walk during the day, use an umbrella ("paraguas" in Spanish) or a wide brimmed hat to protect yourself from the sun and use sunblock.
Related: Best Sun Hats for Your Summer Vacation
Taxi/Uber – We took taxis and Uber around Cartagena. It was inexpensive and super convenient. Always use a rideshare app if you're traveling alone. Taxi drivers may scam you.
Bus – The bus runs regularly through Cartagena and is very cheap! There are designated waiting spots almost everywhere throughout Cartagena.
Best Time to Visit Cartegena
Cartagena is hot and also very humid (80-90%) year-round. We highly recommend finding shade or AC during the day and exploring when the sun is not overhead. We also highly recommend staying hydrated. Bring a water bottle everywhere with you. You can easily refill your water bottle in restaurants and cafes.
We went in February which is the best season in our opinion. But anytime between December and March is ideal Otherwise, you're more likely to experience rainstorms and high humidity, similar to Miami, Florida in the USA.
December to April is considered the dry season in Cartagena. This also coincides with the peak high tourism season for both Colombians and foreigners. If you're visiting outside these months, however, the city will still be a pleasure to experience (and cheaper) but you just may get an inconsistent rain shower.
Below are celebrations and holidays you may be want to plan into your trip to Cartagena.
January: The Hay Festival which features classical music is held in January.
February 2: Fiesta de Nuestra Senora de la Candelaria: this it the day of Cartagena's patron saint and is marked by a procession at the Convento de la Popa. Pilgrims flock to the Convent in the days leading up to the holiday. There is also a weeklong Frito Festival (festival of fried foods) that you may want to check out.
March: Cartagena has an international film festival the week before Easter.
November 11: Concurso Nacional de Belleza: This date marks Cartagena Independence Day and the national beauty pageant. Big parties are held in the days leading up to November 11, including street parades and dancing.
December: The Getsemaní Street Art Festival is held in the first week of December.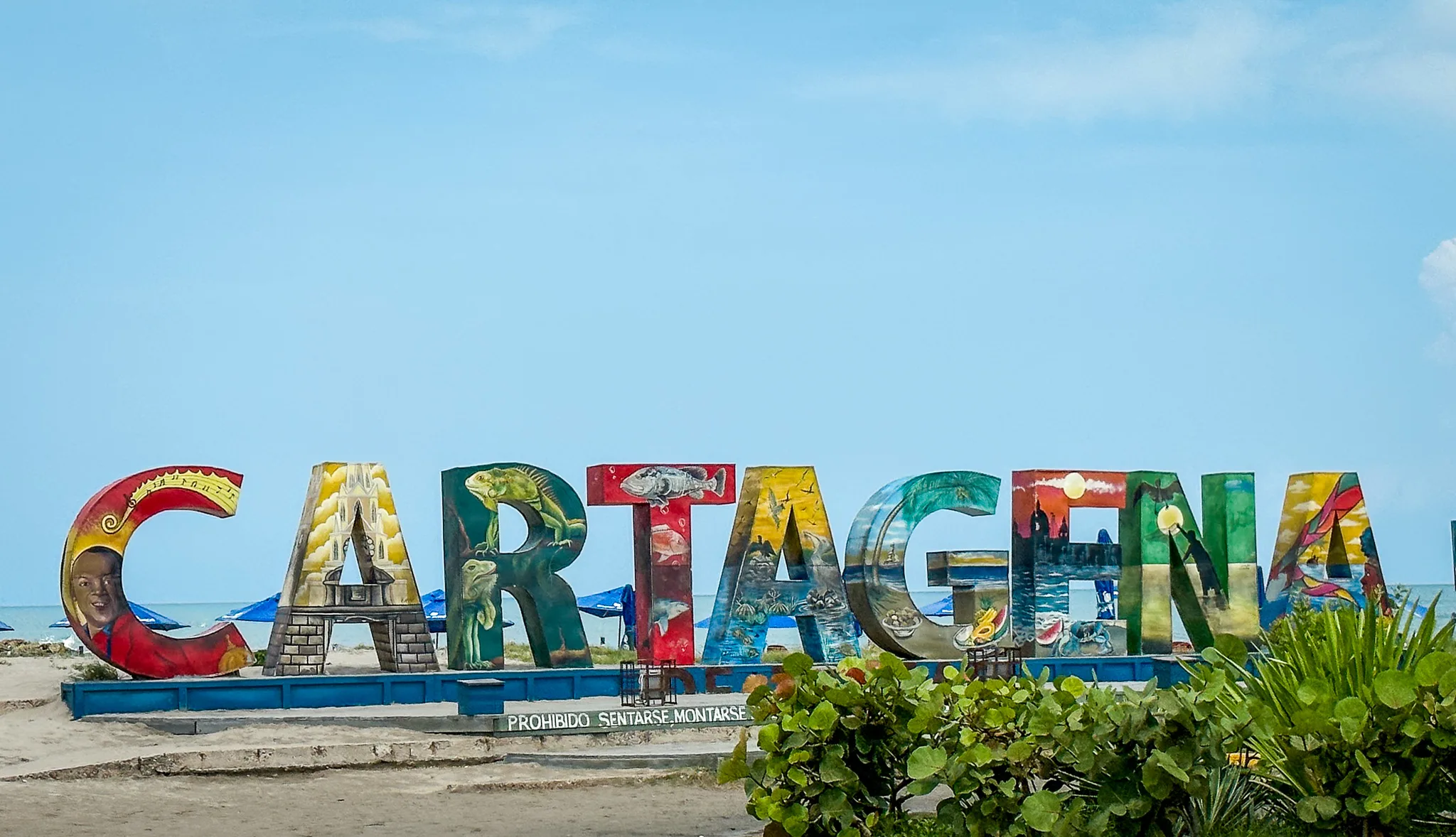 How to get to Cartegena
Plane
Flights are available from Colombia's capital city, Bogotá, making Cartegena very accessible. It takes approximately one hour and costs just a little over $90 USD round trip. Prior to booking a bus, always check flight prices as they may be comparable and save you a lot of time. We typically fly with Avianca or LATAM when we're in Colombia.
Rafael Núñez International Airport (CTG) serves Cartegena. It is well-served by airlines flying in from the eastern part of the United States, plus a few direct flights from Europe. The airport is just 6 km northwest of the Old City and is about a 15-20 minute drive to Old Town.
Once you get to CTG, Uber, and taxis are cheap to get to the City Center and cost approximately $5.75 USD or $23,000 COP.
You can also take an air-conditioned shuttle known as the Metrocar into Old Town.
For the best routes and rates, book your transportation through Bookaway.
Bus
Cartagena's main bus station is on the outskirts of the city and a trip here takes about 45 minutes from the Old City. Standard sleeper buses are available to most major cities and small destinations. If you are headed to Barranquilla or Santa Marta, we recommend taking an air-conditioned shuttle bus, which departs from the Berlinastur Terminal, just north of the city center.
Buses run daily from Medellin, the trip will take around 14 hours and will cost approximately $50 USD.
Buses from Santa Marta connect to Cartagena via Barranquilla. The trip takes about 9 hours and will cost around 50 dollars.
Requirements to Enter Cartagena
A valid passport is required for entry into Colombia. Visitors from the United States can stay for up to 90 days (3 months) without a visa.
The yellow fever vaccine is required for travelers entering Colombia from Brazil, Angola, the Democratic Republic of Congo, and Uganda.
Where to Stay in Cartagena
Before booking a place to stay, it's important to know the names of the different parts of the city as Cartagena Old Quarter and the new modern part of the city are very different in appearance and experience
Centro – Centro is filled with swanky hotels and budget hostels located in the center of Cartagena Old Quarter, known simply as "Centro." This is the most colorful and beautiful part of the city with narrow cobbled streets, bright yellow and blue colonial buildings, old plazas, and a vibrant Caribbean atmosphere. For budget travelers, we recommend staying in Centro or the backpacker hub of Getsemaní. We walked just about everywhere, which is easy to do when you're staying in the Old City.
San Diego – Located at the far end of the western city wall, you'll find the chilled-out neighborhood of San Diego, with a more subtle charm than the nearby Centro. Home to the Bellas Artes College, as well as the bustling Plaza de San Diego, a great place to grab a Tinto (coffee), by day, or a beer, by night, watch street performers or partake in a spot of people-watching. All in all, a great neighborhood to base yourself.
Getsemaní – The hip backpacker ghetto of Cartagena, once notoriously dangerous, has recently reinvented itself as the city's hipster hub, complete with cool graffiti and cafés with tasty beverages. It's a short walk from Centro and is surrounded by vibrant nightlife with lots of bars and trendy restaurants. While still slightly a little dangerous at night, it's definitely the most fun neighborhood for travelers to stay in – just be cautious when you are out at night.
Bocagrande – While we admit that we much prefer the atmospheric old quarter of the city, if you're looking for more modern hotels and apartments for long-term stays, you might want to venture out to the beachfront strip at Bocagrande, located in the new part of the city. Much more popular with rich Colombians than backpacking foreigners, the high-rise hotels and apartments that line Cartagena's main beach attract a glamorous crowd. If you want to see a distinct, and arguably more authentic side to modern-day Cartagena, stay in Bocagrande.
Manga – An alternative to both the old and new quarters of Cartagena, the relaxed neighborhood of Manga offers travelers something in-between. A residential area not far from Getsemaní, this area is home to some great seafood restaurants and a laid-back, local vibe that attracts well-heeled travelers. Surrounded by water on all sides, it's a great place to take a stroll by the sea, check out Cartagena's boating and fishing scene, and enjoy a completely different side to the city, away from the majority of the tourists.
There are two main areas to stay in Cartagena; the old city or the "new city." Each area has its pros and cons.
The new city is similar to Miami Beach and is known as Bocagrande. You'll see tons of skyscrapers and high-rise buildings are you enter the city by ground or air. You'll also have easy access to the beach.
Here are the Bocagrande hotels we recommend.
Old City also has accommodations with a lot of charm. You'll be central to everything and can easily walk around to all the attractions and wander off to Getsemani.
View this post on Instagram
Consider a Day Trip Just to Stay at These Island Hotels
Casa en el Agua: Just three hours away from Cartagena, could this be the hostel with the best location in the world? Encircled by the tropical warm waters of the Caribbean – this is a place that has to be seen to be believed.
Blue Apple Beach House
Best Things to Do in Cartegena
Visit the Old City
Strategically located on the Caribbean coast, Cartagena was historically one of Colonial Spain's most important ports.
Stone fortresses and gigantic walls up to 30 meters thick and 11 km long lined the city, which protected the city from many pirate attacks (by the most notably known Sir Francis Drake) in the 16th Century.
Visiting and wandering through the Old City will make it seem like you're stepping back in time and losing yourself in the romantic historic plazas and colorful cobblestone streets.
In 1984 the city's walled-in Old Quarter was named a UNESCO World Heritage Site.
Stroll Around Centenario Park
Traffic typically goes around Centenario Park. it's also worth visiting because there are statues, a Gazebo you can rest at, and small book stands and souvenir shops to browse.

Take Photos with the Fruit Ladies
Take a photo with the famous Palenqueras, or fruit ladies! The Palenqueras have become a symbol of Cartagena and wear colorful outfits and fruit baskets on their heads. You'll find them on every street corner.
They will request a tip if you want to take a souvenir photo. The tip is usually 4,000 COP.
La Popa Monastery
The Popa Monastery or Convent of Santa Cruz de la Popa is located on top of Mount Popa and dates back to 1607. The monastery is a historic landmark and a great place to get a bird's eye view of Cartagena.
Entry is only $7 USD and you can enjoy the lush vegetation that has been maintained on the property for over 400 years.
Visit Plaza de la Trinidad in Getsemaní
Watch locals go about their daily lives amid graffiti-strewn walls. Or head down to Bocagrande to see a more modern side of Cartagena.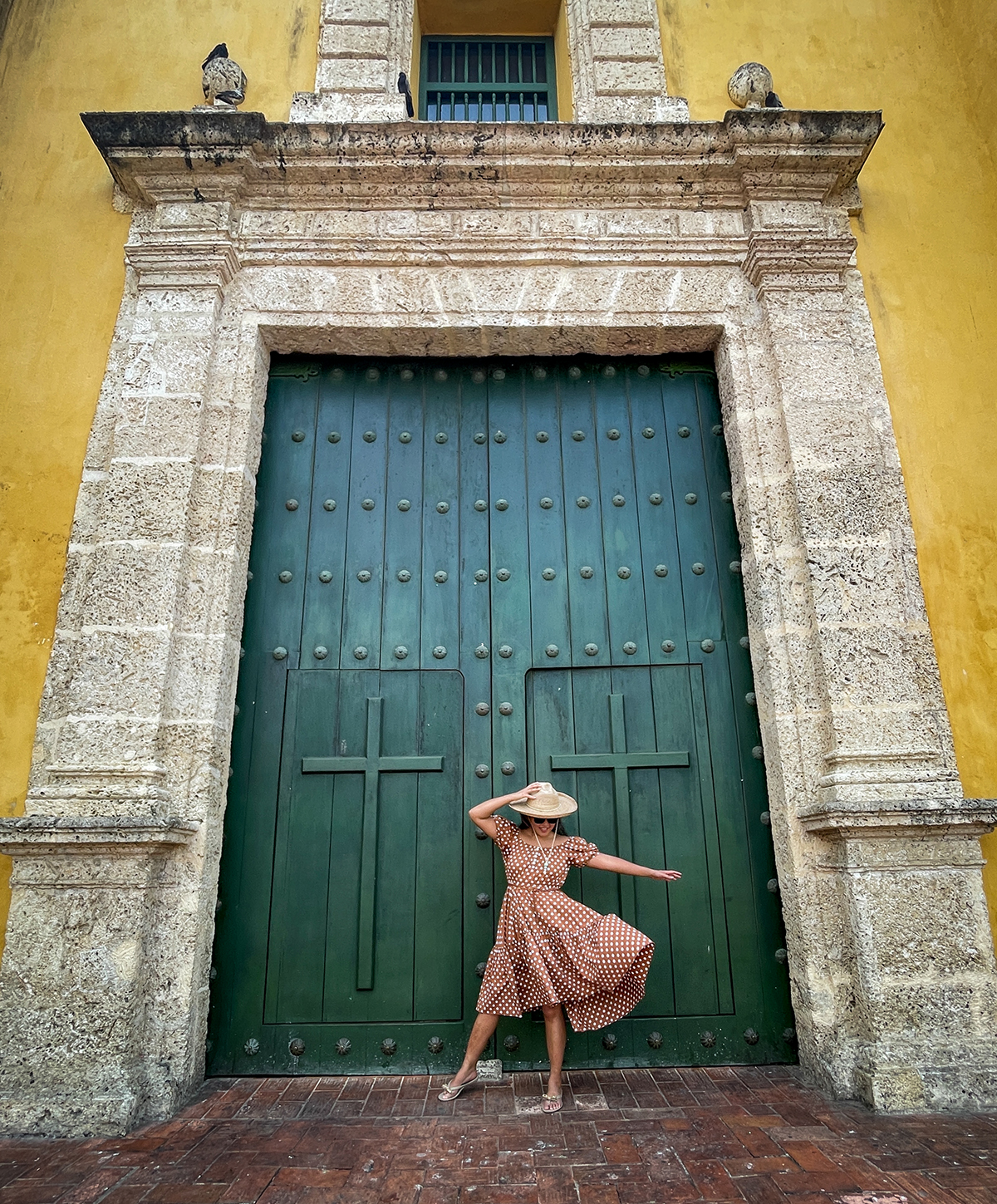 Roam the Flag and Art Streets of Getsemani
There is a ton of street art and flag streets in Getsemani. You'll also see a lot of graffiti and art studios with canvases lining the walls from top to bottom.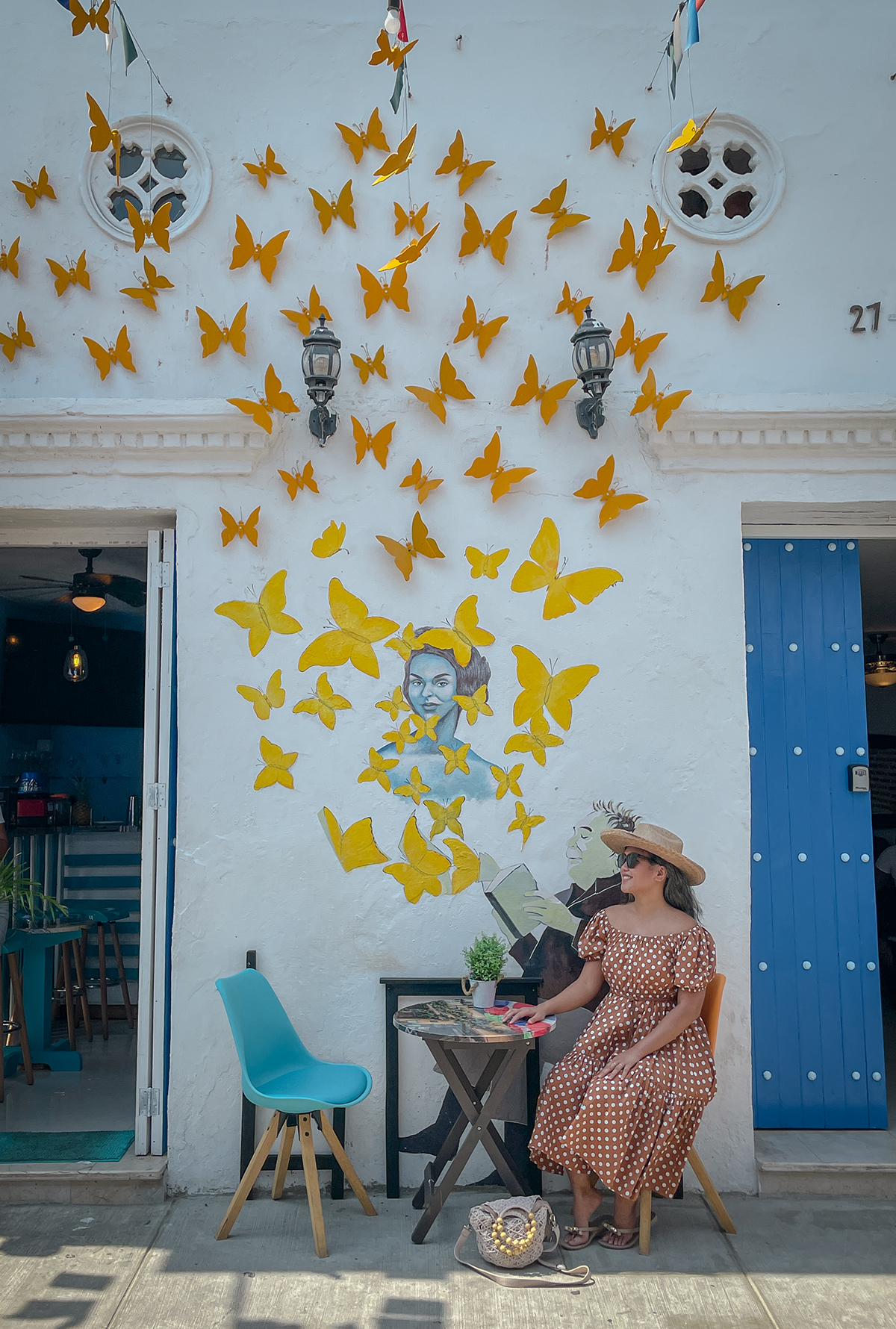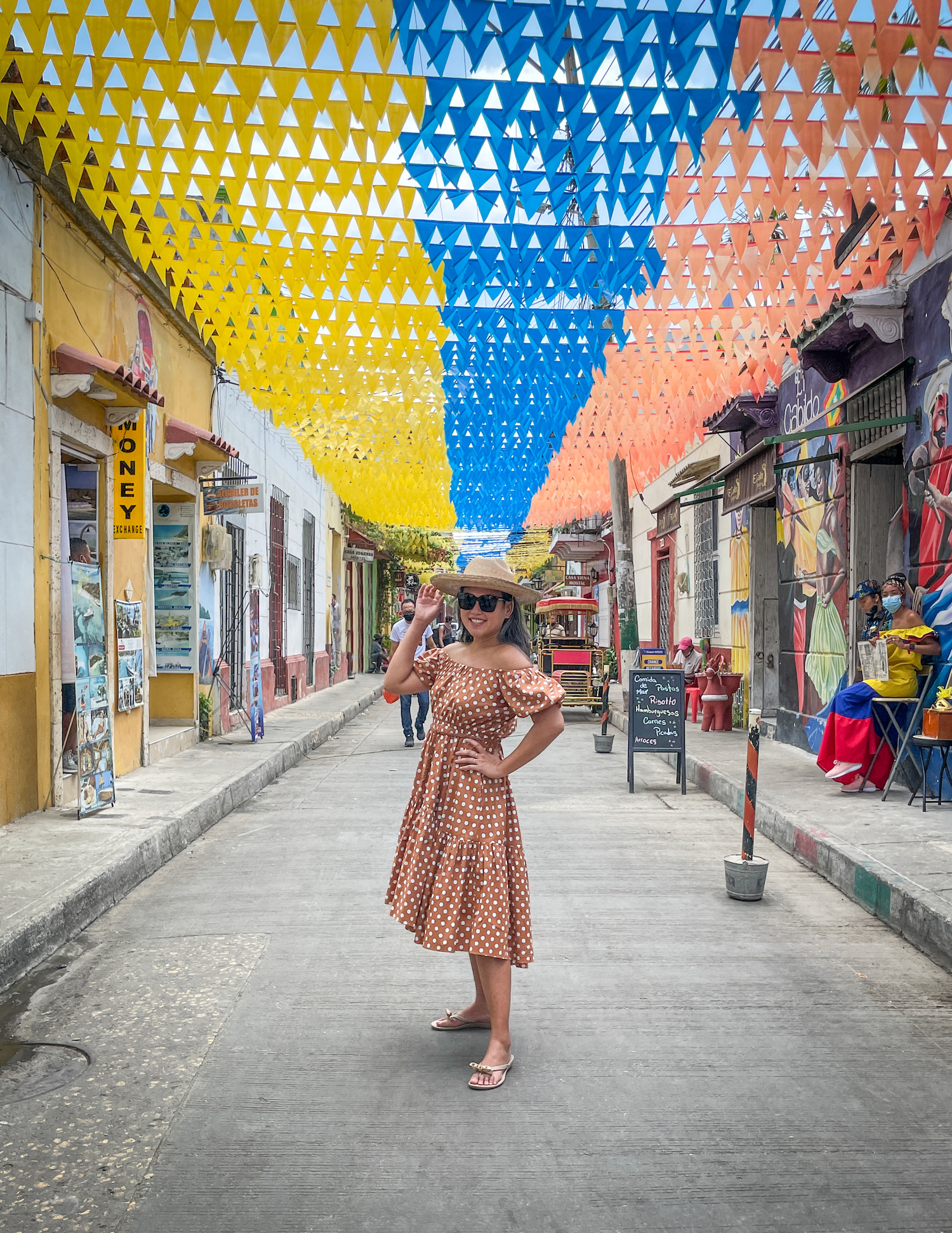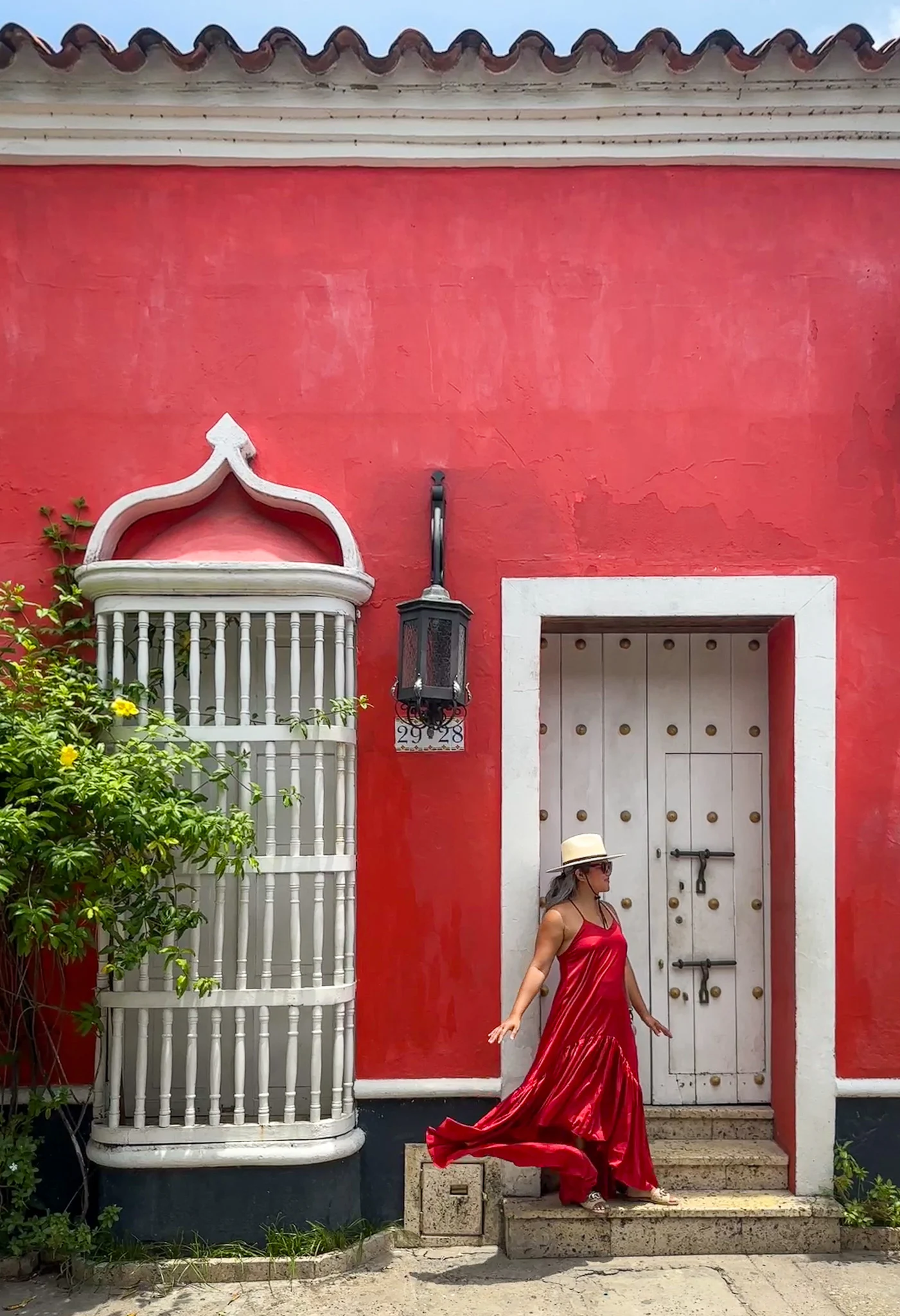 Castillo de San Felipe de Barajas
In a city where the notorious Sir Francis Drake stirred up trouble, taking in a bit of history is a worthwhile endeavor. No better place than the center of the action and also the largest fortress the Spaniards ever built in one of their colonies. The castle dates back to the year 1536 and as expanded greatly in 1657.
The fort is located on San Lázaro Hill with great panoramic views of the city, as you'd expect from a building that's primary function was looking out for enemies! History buffs will love the audio guide that explains the fascinating history of the fort and costs only 25,000 COP ($8 USD). Well worth it to really bring the ancient monument alive, otherwise the bricks can be a bit dull. The fort is located just 10 minutes from the neighborhood of Getsemaní. Take sun cream, water, and a hat as it's all open-air and can get very hot while you're exploring.
Puerta del Reloj (Clock Tower)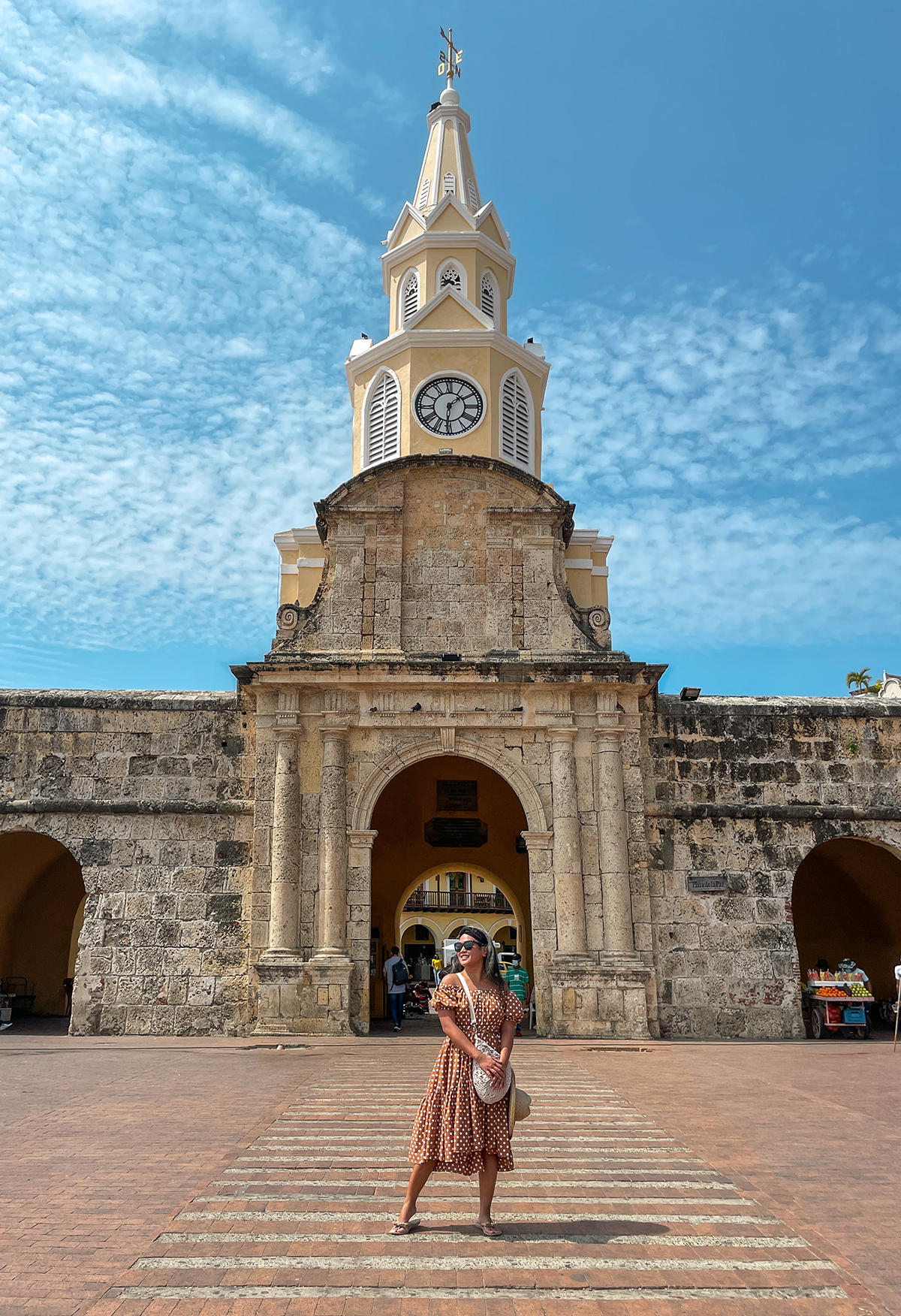 Take time to hang out around the old city's iconic main entrance and you're bound to walk away with a better understanding of Northern Colombian culture.
The entrance has vendors selling hats, sunglasses, and snacks. You should also keep an eye out for street performers in this area.
Look for Fernando Botero statues
Fernando Botero is a Colombian artist from Medellin who is known for making statues and paintings of "fat" people. It's fun to look for his statues throughout Colombia.
We found one statue in front of our hotel at the Intercontinental in Bocagrande and the "Gertrude" sculpture in Santo Domingo Square.
Visit the Bazurto Market
The Bazurto Market or Mercado Bazurto is a little ways away from the city but so worth visiting. It's a great place to get cheap food, souvenirs, and products.
Visit Santo Domingo Square
Santo Domingo Square is the place for nightlife in the walled city as there are many bars, shops, art galleries, and restaurants here.
The square is very popular not only with tourists, but also with local actors, musicians, dancers, and other artists, who perform next to the church of Santo Domingo.
Here you'll also find the Fernando Botero statue of "Gertrude."
Spend a Day at Playa Blanca
You can easily taxi or Uber here to spend time relaxing on the beach. It's much more secluded than the beaches in Bocagrande.
Take a Free Cartagena Tour
Who doesn't like free? Free Cartagena walking tours can be booked here and are available in Spanish and English.
The recommended tip for your tour guide is $8-9 USD per person. We like to keep in touch with our tour guides through Instagram as well and ask questions as we continue our trip!
Day Trips from Cartagena
Here are some day trips that you can easily take from Cartegena. They can be booked through your hotel, hostel or Airbnb.
Mud Bath at Volcan de Lodo El Totumo
Make this a relaxing day trip to Volcan de Lodo el Totumo. The mud bath claims to have healing properties and is the smallest yet still active volcano in Colombia.
Salinas de Galerazamba
While you're visiting the mud baths, add on a visit to the Pink Beach! It's very close by and is GREAT for Instagram photos!
Snorkel and Swim at Isla Baru
Baru Island is great for swimming and snorkeling. The beaches are also way better than what you'll find in Cartagena.
Snorkel and Swim at Isla Rosario
Take a day trip with Bona Vida Catamaranes to Isla Rosario to snorkel and swim.
This chain of islands is just 35 kilometers southwest of Cartagena and is a protected marine national park. Colorful coral reefs surround the 27 islands and offer the opportunity for some good snorkeling and diving. Be sure to bring coral reef-safe sunblock when exploring the area.
Bona Vida offers day tours and sunset tours complete with beverages and dinner. We took their day tour and swam in the coral reefs and saw tons of fish and marine life. It's a great adventure for the entire family!
View this post on Instagram
Tayrona National Park
Take a day tour or stay here overnight. There is a path that takes you to the gorgeous northern beaches.
Where to Eat in Cartagena
Colombian Dishes to Try
Arepas de Huevo – Fried corn disc stuffed with an egg. We found the best ones at Andres Carne de Res.
Empanadas – Fried or baked half-moon-shaped pastries stuffed with savory meat, veggies or cheese.
Buñuelos – Deep-fried maize and cheese balls. They are crunchy on the outside and soft and chewy on the inside.
Papas Rellenas – Round potato snack stuffed with meat, rice, and spices.
Almojabana
Cheese bread served with hot chocolate beverage.
Churros
Lechon
Pandebono
Patacones – Flattened banana "pizza" that is often topped with cheese, salsa, and other ingredients.
Picada Raspao Salchipapa
Tamales (Tamals) – A banana-wrapped savory snack filled with meat, veggies, corn, or flour and then steamed. The wrapping can be tossed or used as a plate.
Tinto – A small watered-down coffee that is often sold in carts. It's drunk throughout the day when a full cup of coffee may be too much.
Recommended Restaurants
Basilica for the best pizza in Cartegena
Cafe Stepping Stone
Carmen Cartagena – Carmen has a 7 course tasting menu for 209,000 COP ($64 USD) and 11 course (not always available) for 469,000 COP ($119 USD). Their cocktails and steaks are also incredible. It's a special occasion, a courtyard-style restaurant with live music.
El Kilo – Arguably this was our favorite meal. Their ceviche is incredible (try the El Kilo) and they had wonderful cocktails. This was one of those gems that we stumbled upon and would take this over some of the other popular ceviche spots.
El Barón – We originally came here for cocktails and respite from the Cartagenan heat. They also have tapas and aperitivo (happy hour). We highly recommend their Spanish tortilla, Veritas Serum cocktail, and Venice Spritz cocktail. On the weekends, the upper dining area is open for brunch and lunch.
La Cevicheria – A popular spot that Anthony Bourdain once dined at. They serve typical seafood dishes offered in the region. We loved their coco y limon ceviche.
La Vitrola
Restaurante Don Juan
Restaurante Paco's
Restaurant Palenqueras Getsemani – This space was really fun and good, with classic dishes like whole fish and plantains. It gets really lively at night as well with their second floor and patio.
Alma: This is an awesome venue for upscale Colombian food. *Reserve in advance.
Zaitún Cartagena – Another one of those meals that took us by surprise was Zaitún. Firstly the cocktails are incredible and then they had Lebanese food which blew my mind.
Where to Drink in Cartagena
Cartagena's nightlife is known for being wild! There are plenty of venues that offer dancing, cocktails, food and a great time. The music that is played at most bars and clubs is Reggaeton, Spanish music, Pop, and EDM.
Here are our favorite bars to grab a cocktail!
Alquimico – Amazing spot for drinks and dancing. They also have a rooftop area that is open Wednesday through Sunday.
Bazurto Social Club
Cafe del Mar – Great place to watch the sunset.
Cafe Havana – Located in Getsamani, this little hip place has great drinks, small bites and dancing.
Demente – Come here for lighter tapas-style dishes and great cocktails.
El Barón – We originally came here for cocktails and respite from the Cartagenan heat. They also have tapas and aperitivo (happy hour). We highly recommend their Spanish tortilla, Veritas Serum cocktail, and Venice Spritz cocktail.
Epoca Espresso Bar – Great coffee. Their breakfast and main dishes are also delicious. They make a smoked Carajillo (coffee cocktail) with locally produced Aguardiente Antioqueño. We highly recommend a carajillo and one of their pasta dishes. Our favorite was the penne with house-made burrata.
La Jugada
Mondo – A craft cocktail bar with amazing drinks.
La Movida
Mar y Zielo – Hip restaurant and bar located in the historic district. If you're Vesper heads like us, you'll love their crisp and clean cocktails.
Mirador Rooftop
Mister Babilla
Movich Hotel Rooftop Bar – Great place to take in views of Old City and the high-rise buildings of Bocagrande. Personally, I think the drinks and food are OK and a little overpriced. I would make a stop but consider visiting another rooftop bar afterward. There are SO MANY in Old City.
Townhouse Rooftop Bar
Tu Candela
Quiebracanto
Cartegena Travel Guide MAP
Use our Cartagena travel guide map to help you get around the area.
If you found our Cartagena travel guide helpful, please share it on Pinterest. Thanks for your support!
Thank you for visiting today! If you found this encouraging or informative, please connect with us on Instagram or TikTok.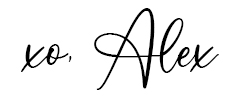 Sign up for our monthly newsletter for updates and more. We promise we won't spam you! Feel free to unsubscribe anytime.
If you're a brand and want to work with us, please visit this page to get in touch.