Reading Time:
6
minutes
Updated: 10/17/2023 | Best Travel Leggings for Women
For us, comfortable leggings are a must when traveling.
Thick jeans or pants can get uncomfortable or stuffy. Leggings will allow you to be more comfortable while you're cramped on a plane.
Qualities that we typically look for in travel leggings include:
Versatility – Can be worn on multiple occasions and with multiple outfits.
Lightweight – Won't weigh my bags down. The lighter the better.
Easy to Care For – Pop them in the washer and air dry them within a day. Easy peasy!
Anti-Stink – Anti-microbial properties prevent your leggings from stinking, despite the number of washes and wears.
Opaque – Not see-through because no one needs to see your goods.
Durable – Won't stretch out, snag, pill and will last forever (we hope!).
Eco-Friendy – Pachamama (mama earth) matters. Buy from brands that aren't destroying the world for a profit.
And most importantly, they gotta be Comfortable!
Travel leggings are typically not compressive, which makes them perfect for lounging around in and wearing on a cramped plane.
Pair them with an oversized top for a casual look or wear them underneath your dresses and tunics for some added warmth.
When we make our list of best leggings, we rate them on eco-friendliness, cost, design, performance and fair company ethics (fair pay, equal opportunity, etc.). We only want to share the best for us and our environment with our readers.
Related: Best Comfortable Travel Pants
Best Travel Leggings
Below are leggings that we recommend wearing while traveling. They possess all or at least most of the qualities we mentioned above.
#1 Athleta Elation Leggings ($89)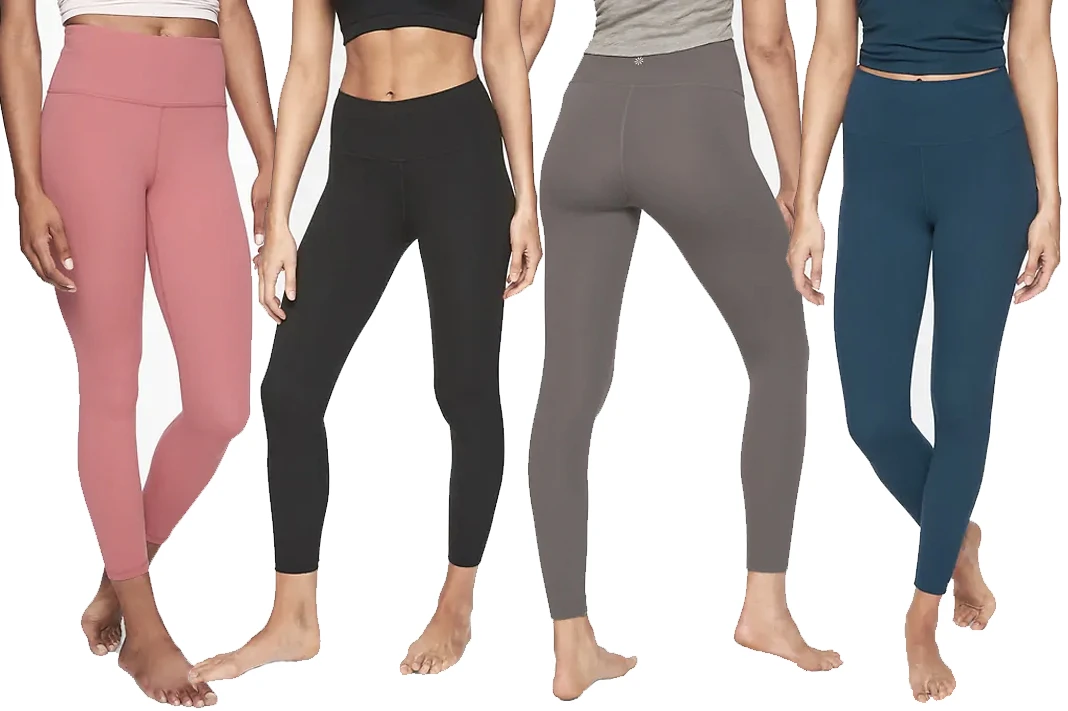 Athleta's Elation Tight is made with their Powervita fabric. It's a super soft yet durable fabric. They're also a BCorp brand, which means they're committed to sustainability.
Powervita is often compared to lululemon's Nulu fabric, but I personally think it's significantly better.
Use our link to get 20% off your first Athleta purchase.
#2 Athleta Salutation Leggings ($89)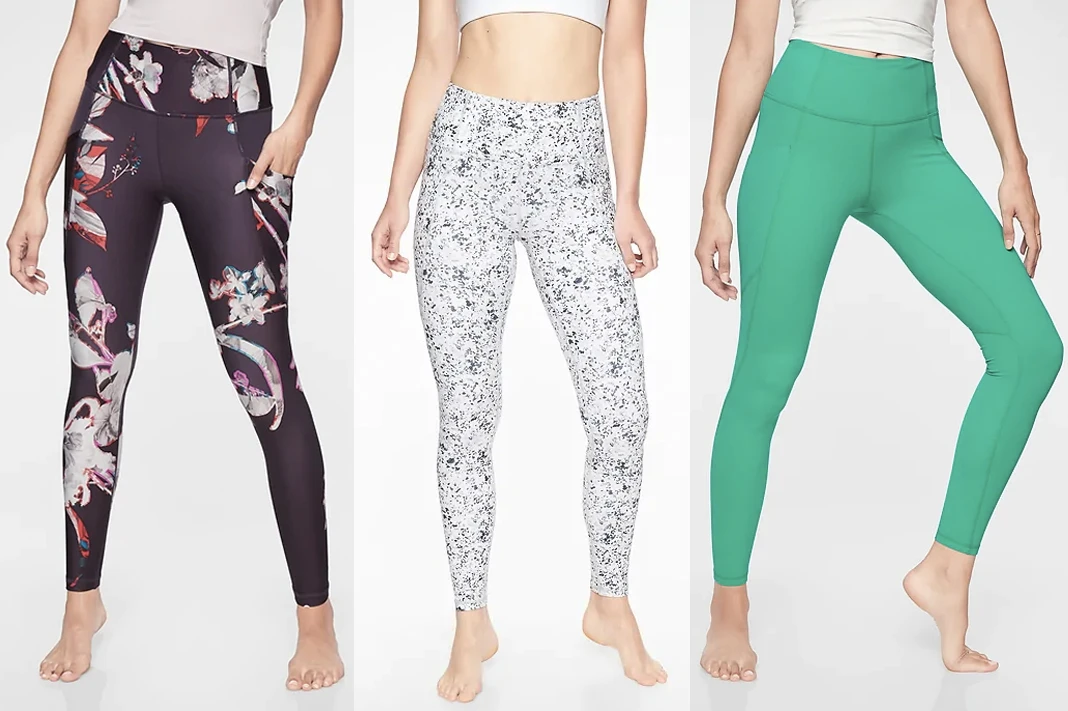 Athleta also makes the Salutation pocket tights out of their Powervita fabric. I personally LOVE pockets because I can stow my belongings on my person and travel hands-free.
Use our link to get 20% off your first Athleta purchase.
#3 lululemon Align Leggings ($98)
Onto the ever popular lululemon Align leggings. Yes, these bad gals are comfy, however, they do a have a tendency to pill over time.
We love the buttery soft Nulu fabric.,W but highly recommend refraining from strenuous activities while wearing Aligns.
Read my lululemon Align legging review here.
#4 SPANX Look At Me Now Leggings ($56)
SPANX leggings are seamless and super lightweight. They dry quickly, which makes them great for traveling.
The material is seamless so it won't pill easily and make you itch. And the best part about these leggings is that you're supporting entrepreneurial women and girls non-profit organizations when you buy SPANX.
If you want something a little dressier, check out the SPANX faux leather leggings.
Use this link to save 15% off your first order at SPANX.
#5 Beyond Yoga Space Dye Leggings
Beyond Yoga's space dye leggings is a staple for any gal's closet. I love the buttery soft fabric. The leggings are super lightweight and come in dozens of colors.
My favorite is their evergreen ombre pant!
Use this link to get 15% off Beyond Yoga leggings.
#6 Carbon38 Seamed Leggings
Carbon38's seamed leggings are the perfect basic leggings. The fabric is thick and durable. They are probably the most compressive of the leggings on our list.
#7 Zella Live In Leggings ($56)
Zella leggings are part of the Nordstrom Product Group (NPG). Live-In Leggings come in different lengths, colors and some styles even have pockets! These leggings also miraculously NEVER PILL. #magic
They're very affordable compared to most brands. Buy them during Nordstrom's Anniversary Sale and get them for as low as $36. Oh and they're also sustainably sourced but still made in and shipped from China.
#8 Girlfriend Collective Compression Leggings ($68)
Girlfriend Collective makes super eco-friendly and sustainable leggings. Each pair diverts 26 water bottles from landfills. I love their compression leggings in the cropped length so that my ankles can breathe.
How can you not feel good when you wear Girlfriend Collective!?
Use this link to get $10 off at Girlfriend Collective.
Related: Girlfriend Collective Compression Leggings Review
#9 lululemon Fast & Free Leggings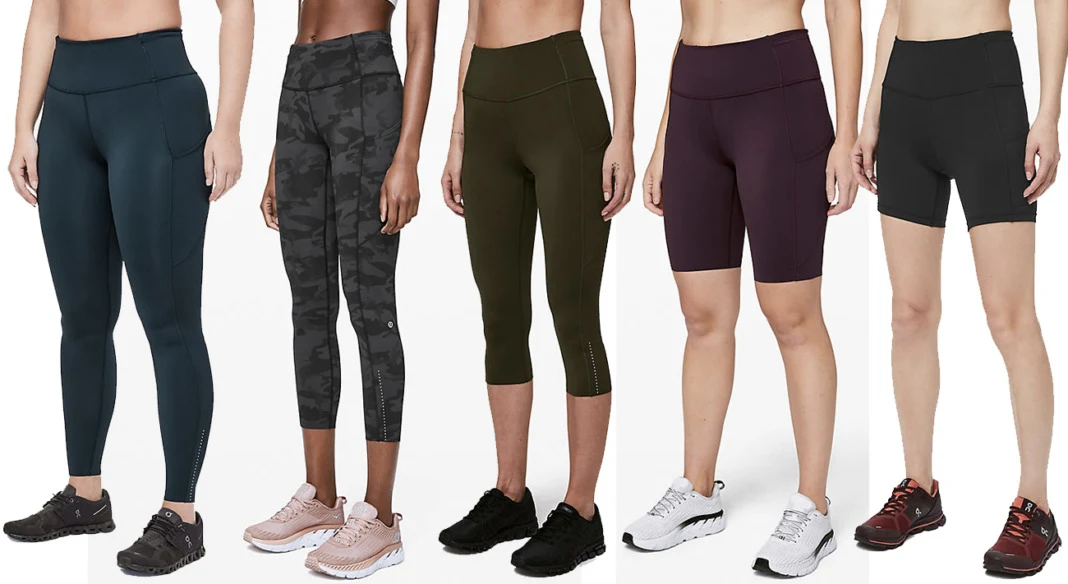 lululemon's Fast & Free leggings come in various prints and lengths. I love these because they're super soft and have pockets on both sides and at the waistband. It's made with Nulux fabric, a technical yet lightweight fabric that you'll want to wear all day.
Read our Fast & Free leggings review here.
#10 K-Deer Sneaker Length Leggings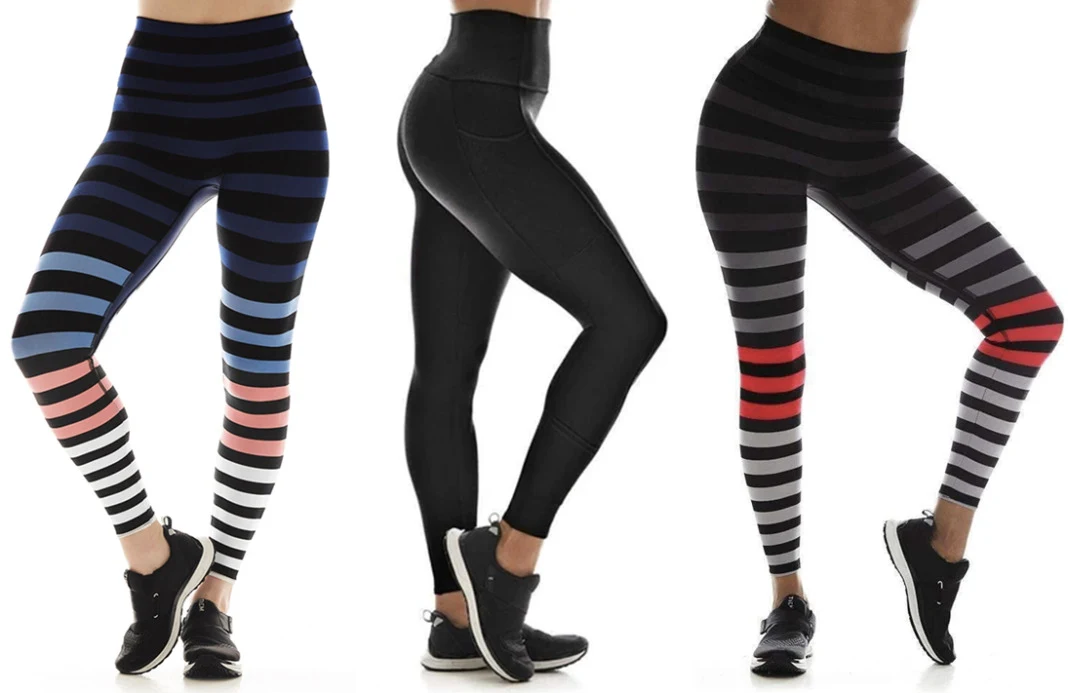 K-Deer makes purposeful leggings. Their Signature Stripes collection donates 5% of proceeds to important causes.
Our favorite silhouette is the sneaker leggings because it allows your ankles to breathe.
Although cute AF, they need to be kept away from rough surfaces to prevent snagging.
Check out our K-Deer reviews here.
#11 Inner Fire Crop Leggings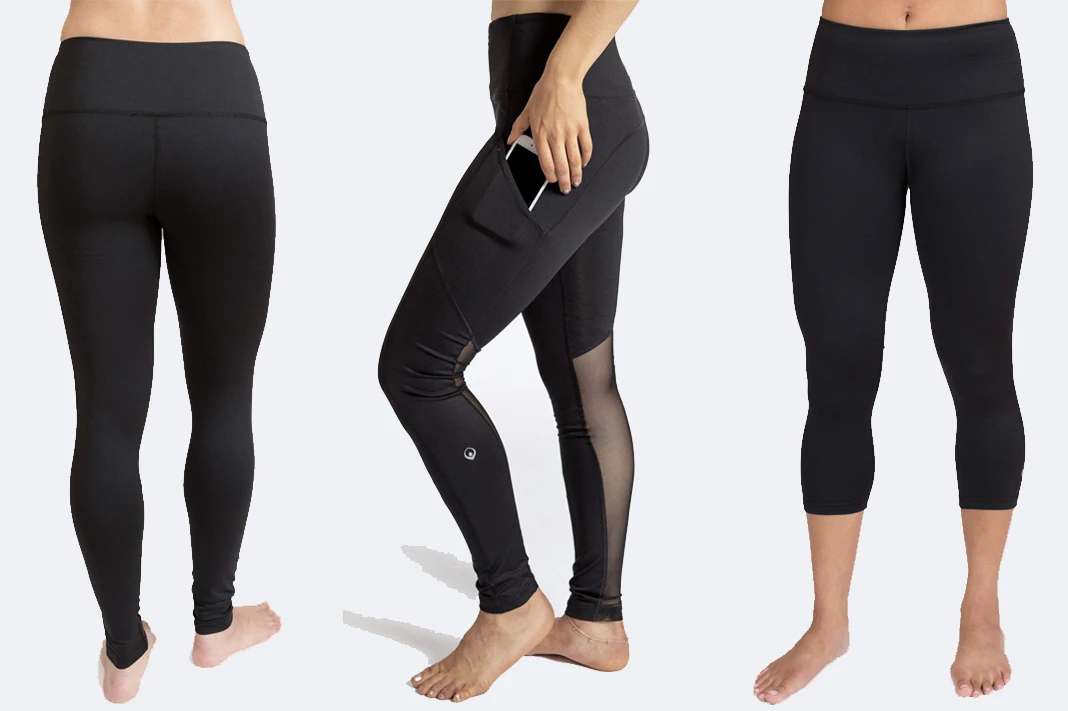 Inner Fire's eco-friendly leggings are made from water bottles. They have pretty prints as well as solids. It's also a woman and minority-owned company! Read our Inner Fire reviews here.
Use code SCHIMIGGY for 15% off your orders at Inner Fire.
#13 Niyama Sol Sandblast Leggings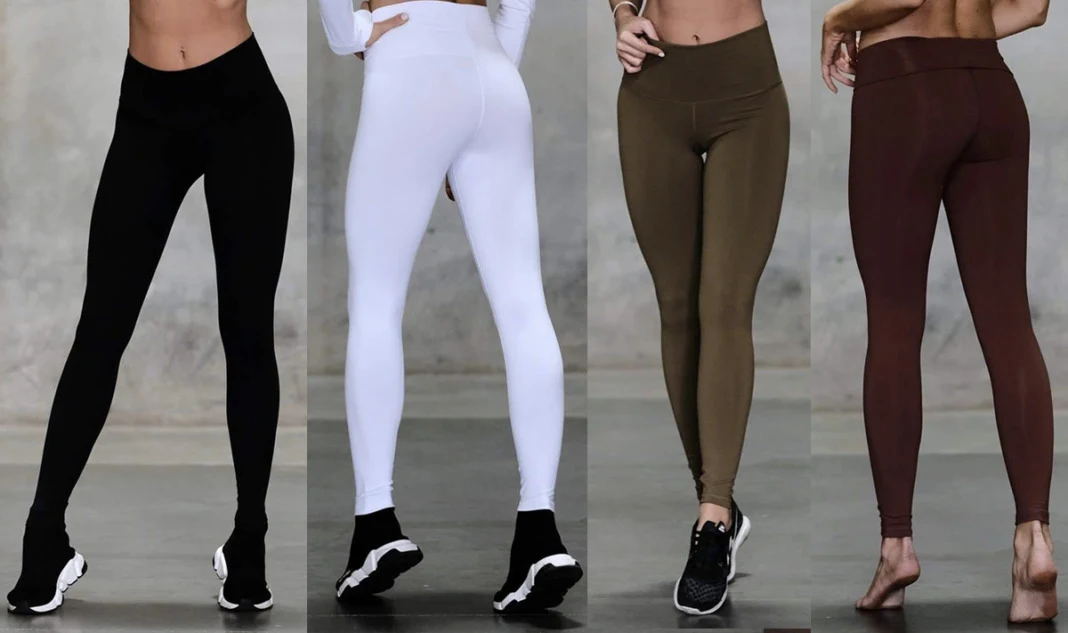 Niyama Sol leggings are made from recycled bottles too! They recently launched their Sandblast leggings which have a matte look and stay put when you move. They also super pretty printed leggings. Read our Niyama Sol reviews here.
Use this link to save $25 off your first order at Niyama Sol.
#14 WERKSHOP Leggings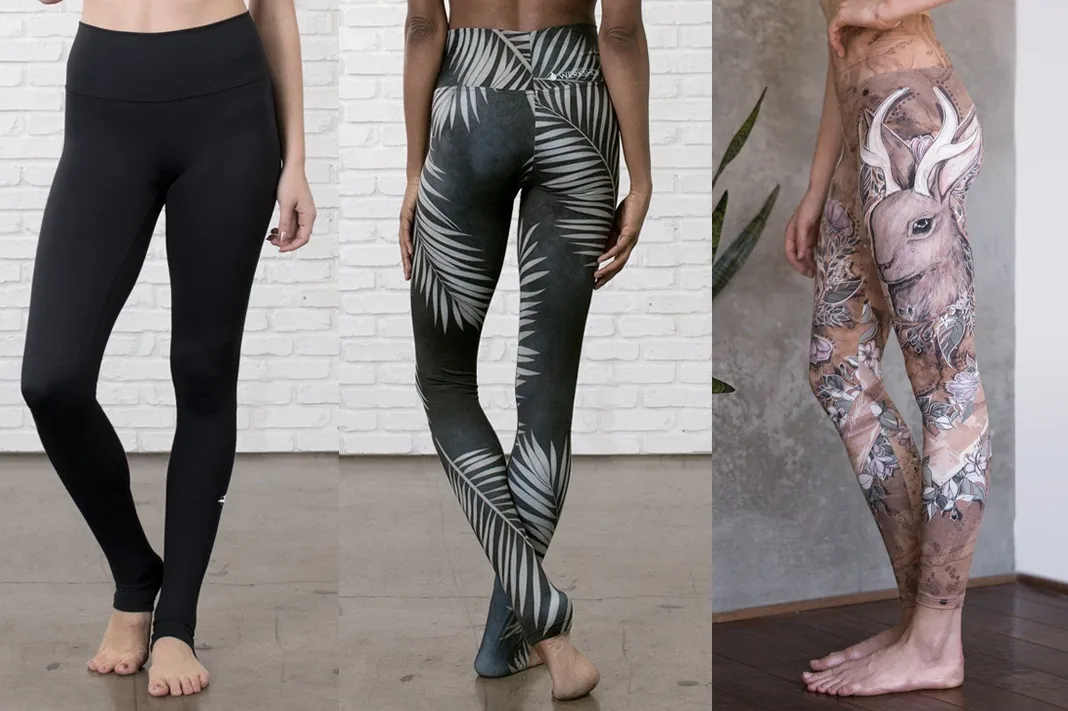 WERKSHOP's athleisure leggings are buttery soft and made in small batches right in Los Angeles.
Each pair is executed with care and attention. Chriztina Marie, the owner and artist, hand draws each of her beautiful designs that are then printed on the leggings.
Read our WERKSHOP reviews here.
Get $10 off your orders with code SCHIMIGGY.
Final Thoughts
We hope you were able to find a pair of comfortable travel leggings from our lineup. We've personally tested all these leggings and only want to share the best with our readers.
Got some fave travel leggings? Share them with us in the comments section of this post.???????????? We'd love to check them out!
If you liked this post, please help spread the word and pin it on Pinterest! Thanks for your support!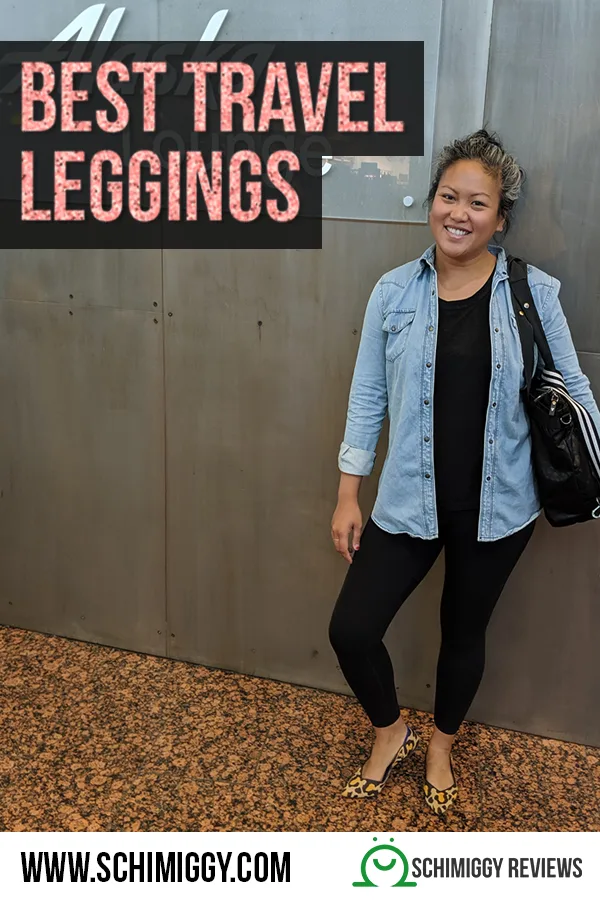 Thank you for visiting today! If you found this encouraging or informative, please connect with us on Instagram or TikTok.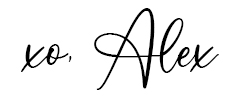 Sign up for our monthly newsletter for updates and more. We promise we won't spam you! Feel free to unsubscribe anytime.
If you're a brand and want to work with us, please visit this page to get in touch.