Reading Time:
5
minutes
Updated: 8/12/2019 | Comfortable Travel Pants
It's always a good idea to have a travel pants. Travel pants differ from regular pants in their construction and purpose. They're usually more comfortable, made out of material that has stretching and dry wicking qualities, are typically wrinkle-resistant and lightweight, making them great for backpackers and for those who like to travel light.
Most of our picks are interchangeable between work and pleasure. If you usually don't have a designated travel pant, it's time to invest in one. It makes all the difference when you're moving from city to city and country to country and don't want your clothing to weigh you down.
Best Travel Pants for Women
Here's our roundup of the best travel pants on the market.
#1 Athleta Midtown Ankle Pant ($79)
These are my favorite travel pants. In cultures where wearing leggings can be seen as disrespectful, these are my default travel pant. My Midtown Ankle pant has traveled with me to over 8 countries and has held up very well.
The pant comes in black, navy, abyss (teal), and light asphalt (grey). Athleta has many other pant styles, however, this is probably my most favorite because it is lightweight and dries quickly, which is much needed on long trips.
Use our link to get 20% off your first order at Athleta.
#2 Prana Summit Pant ($89)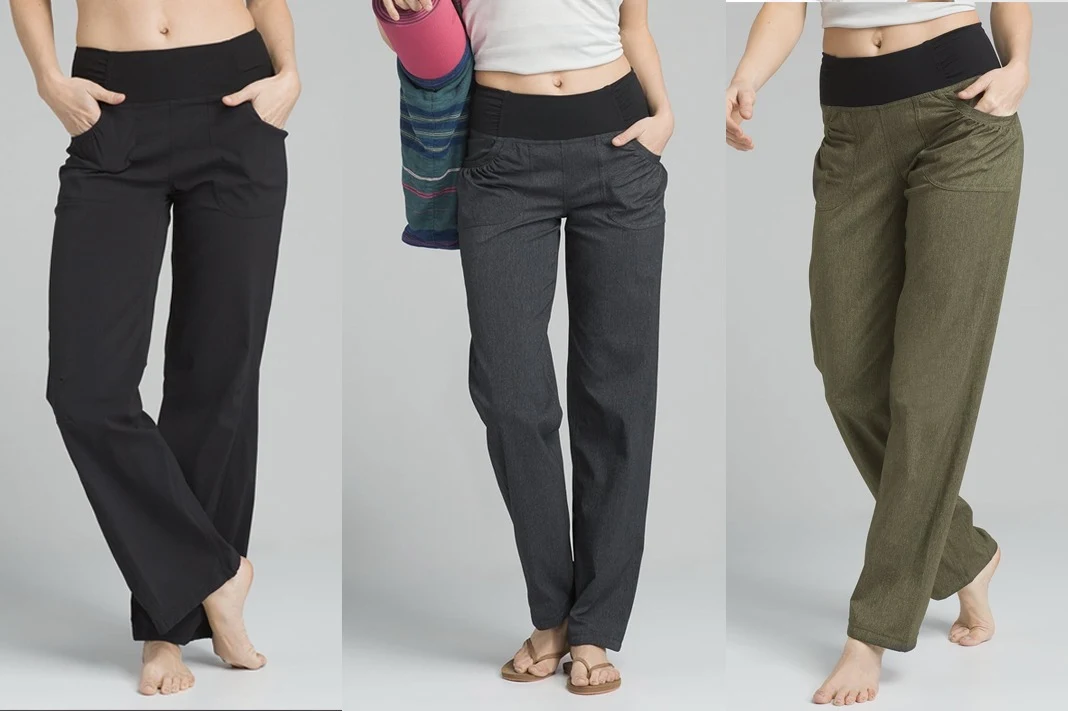 The Prana Summit Pant is offered in three colorways. The pants have an elastic waistband that allows the pants to stay put and is made out of a breathable moisture-wicking material that feels like durable and soft linen. The Summit Pant also comes in plus sizes.
#3 REI Active Pursuits Every Day Pant ($69.95)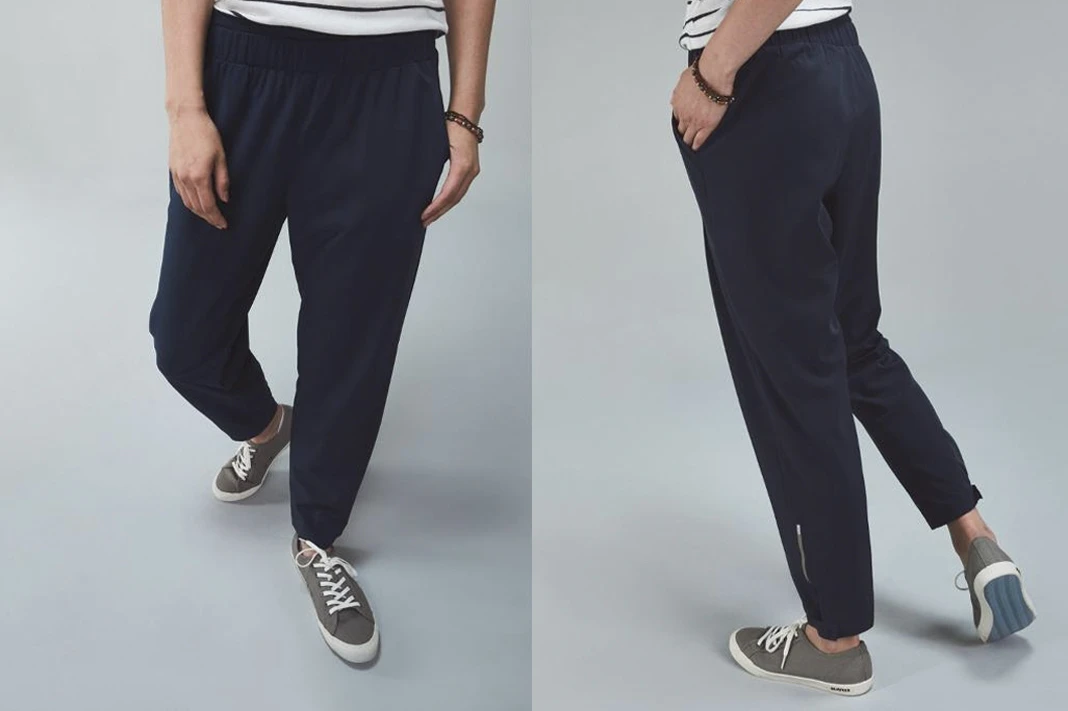 REI Co-op's Active Pursuits Every Day Pants are lightweight and comfortable! They look like joggers that you can wear anywhere.
#4 Betabrand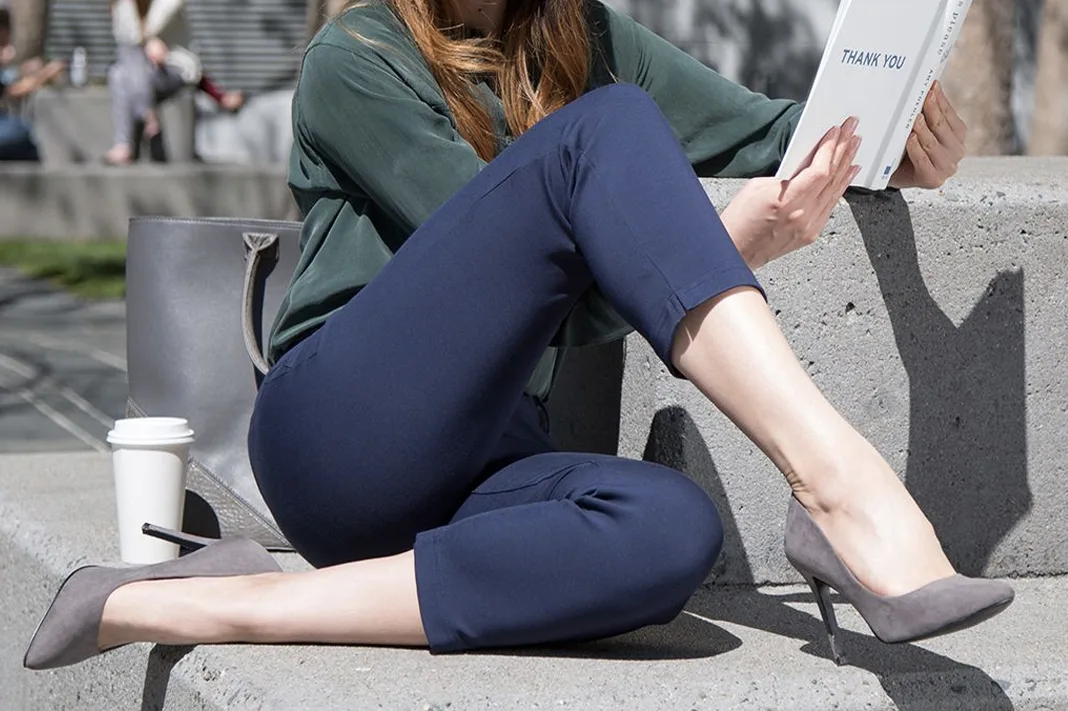 Betabrand started as a Kickstarter, promising work pants that you could also do yoga in. The company is based out of San Francisco, so their model totally makes sense! Go ahead, enjoy your down-dog while you check your emails. Use this link to get $15 off your $75 purchase.
#5 Carbon38 Joggers and Paris Pant ($198)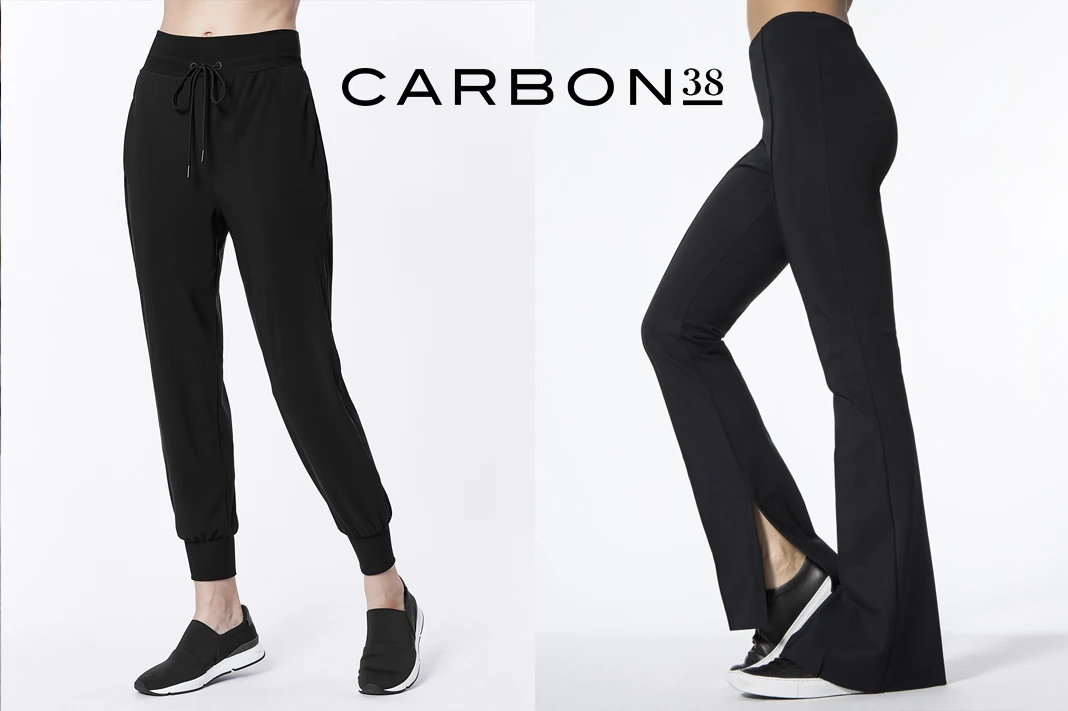 Carbon38 is a women's activewear retailer and have their own line of clothing that includes their Takara leggings and other pants that are great for travel. Pictured above are their joggers and Paris pant.
Use this link or code SHMGY25 to save 15% off your first two orders.
#6 ADAY Turn It Up Pant ($125)
The ADAY Turn It Up Pants are super comfortable due to their stretchy waistband and fabric. The pant comes in sizes 2-14 US and 6 colorways. All ADAY designs are meant to be technical yet timeless. Close contenders include their Easy Days and Cut It Out pants.
Use this link to get $20 off your first order of $100 at ADAY.
#7 Sweaty Betty Enso Culottes ($145-$165)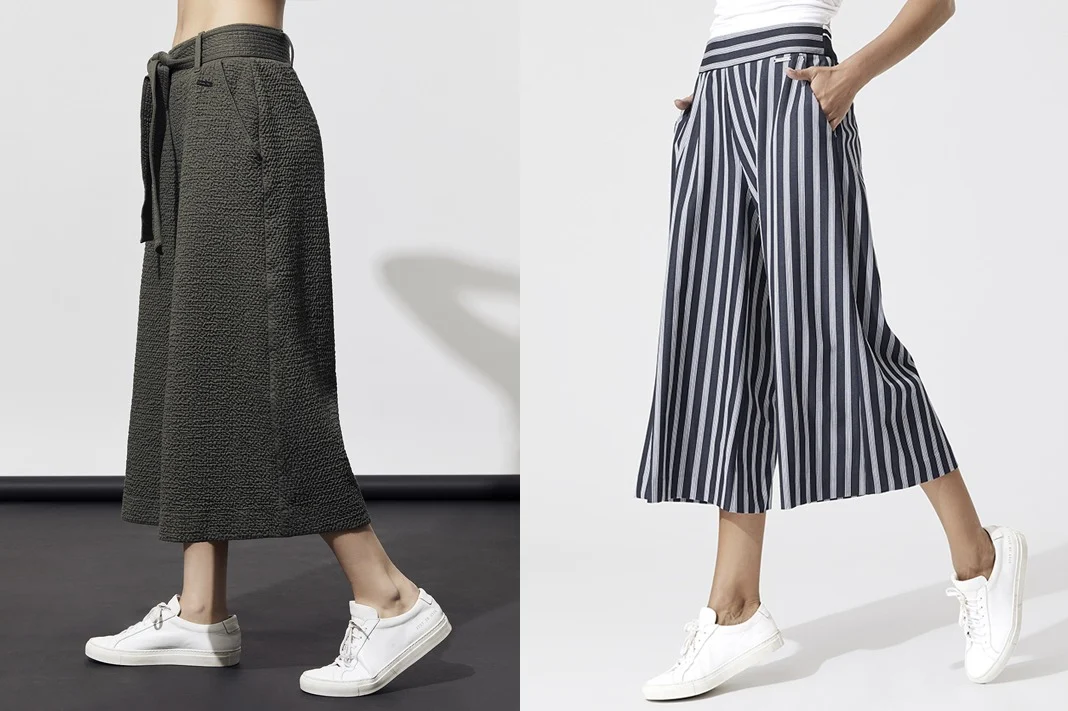 I am obsessed with these pants by Sweaty Betty. The pants offer the same silhouette, however, the materials differ significantly. The green material to the left feels gauzy yet lightweight. The material on the right is more business-like and is very lightweight.
If we're not wearing leggings, we are probably in these culottes.
Buy Sweaty Betty on Carbon38, Nordstrom and Sweaty Betty.
#8 Frank and Eileen Tee Lab – Long Sweatpant with Cuff ($168)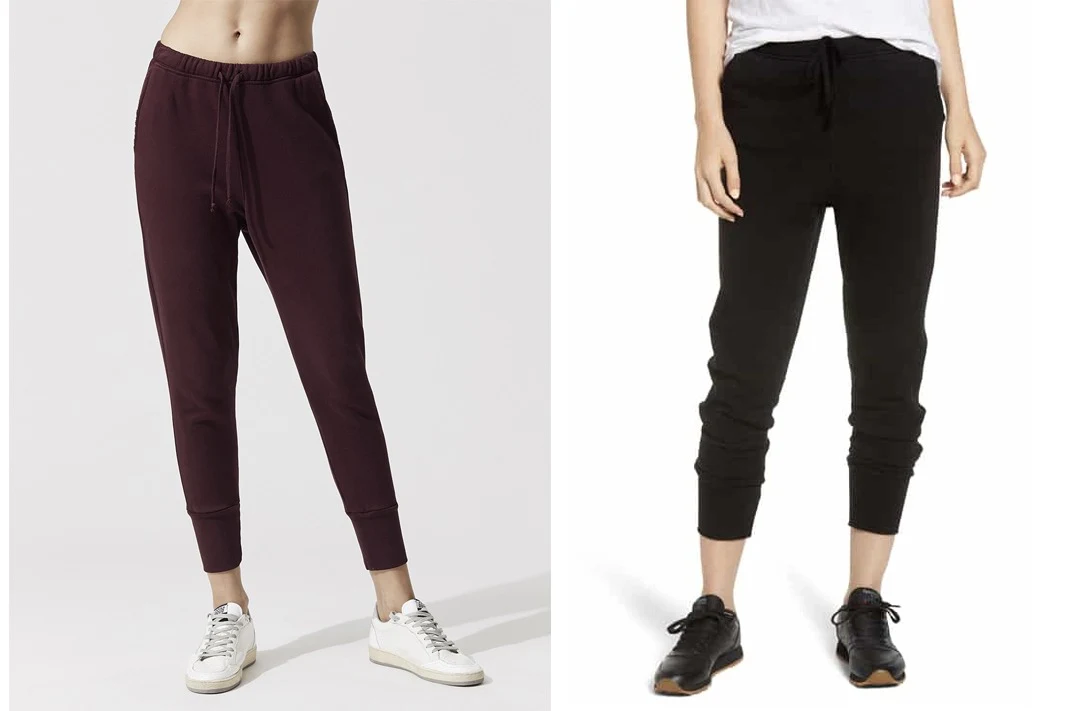 Frank & Eileen Long Sweatpant with Cuff is perfect for the ultimate lounger. I love the cuffed pants with a length that allows your ankles to breathe.
Buy Frank & Eileen on Carbon38, REVOLVE, Shopbop, and Frank & Eileen.
#9 NSF Maddox ($275) and Sayde ($225) Pants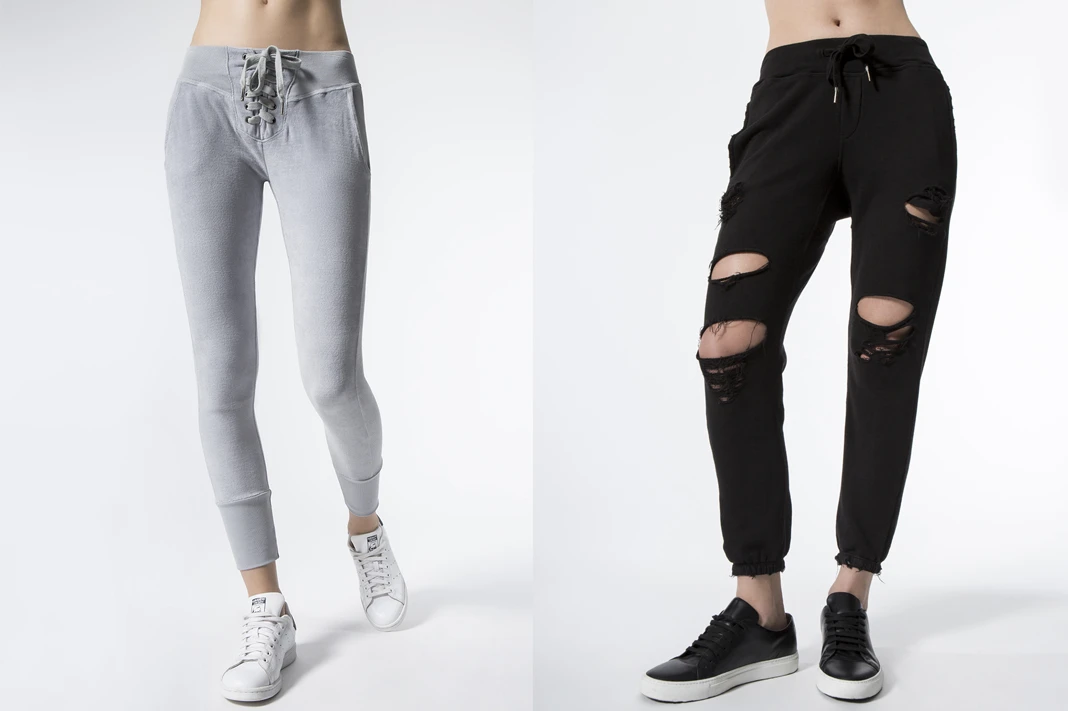 NSF makes sweatsuit sets that are edgy and comfortable. Pictured above are the Maddox and Sayde pants.
Buy NSF on Carbon38, NSF, REVOLVE and Shopbop.
#10 lululemon On the Fly Pant ($98)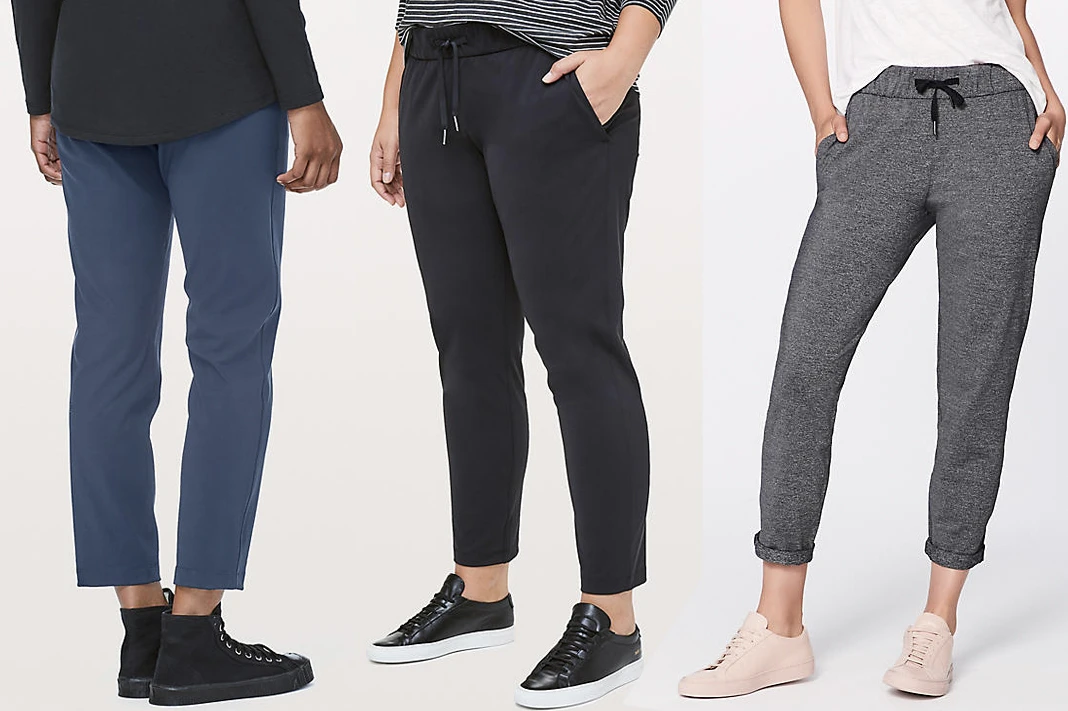 lululemon's On the Fly pants that began to fly off the shelves as soon as they were released. I wanted the camo print but they kept selling out. I opted for grey jacquard instead and they've been great for both work and travel. The On the Fly style has also been recreated into skirts, shorts and wide-legged pants.
Buy lululemon's On the Fly bottoms here.
#11 ONA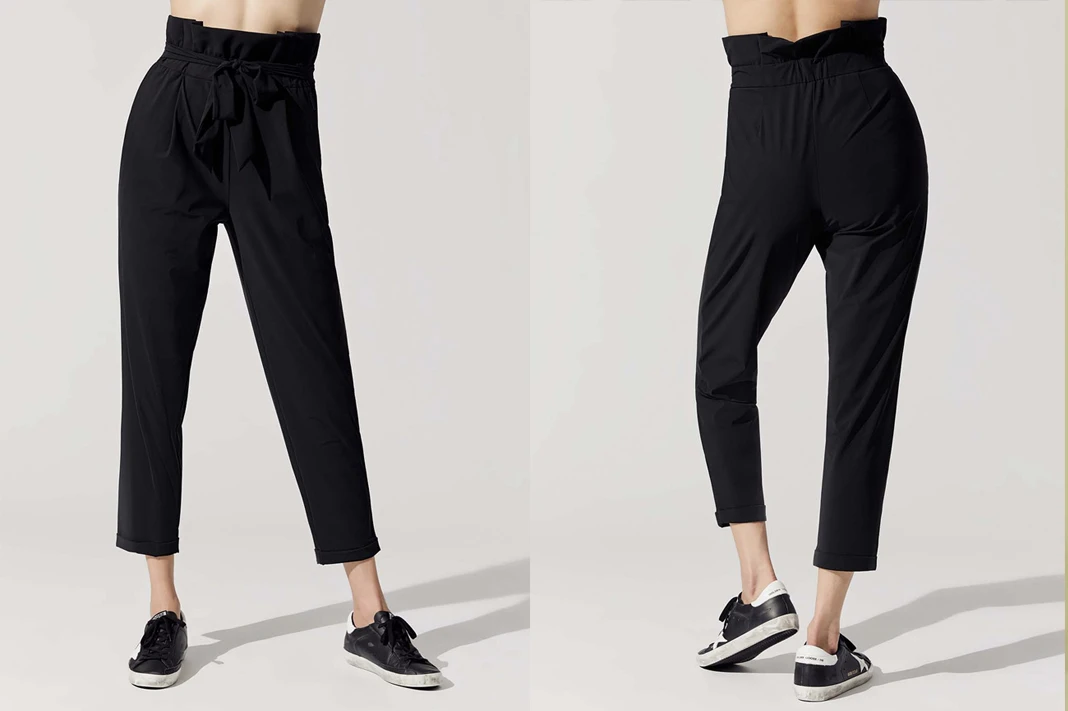 Ona makes awesome clothing that is stretchy and easy to care for.
Our top picks are these ONA Paper Bag Pants ($185) and their Stanton pants ($265). The material they use is lightweight, breathable, quick-drying, and contours to your body.
Buy ONA directly through their website Carbon38. Use code SHMGY25 for 15% off your first two orders.
View this post on Instagram
#12 Pashko
Pashko is a men and women's clothing company that specializes in sustainable travel apparel. Their fabrics are soft, lightweight and perfect for all-weather travel. My favorite pairs are their Serene and Sanctuary styles for women because they have plenty of pockets and feel like nothing when worn.
Get $20 off your first order at Pashko with this link.
Final Thoughts
Your travel can be enhanced with the right and purposeful apparel. I hope we were able to help you find a pair that is perfect for your travel needs and more.
If you would like some travel legging recommendations, please head over to our post and check out our top picks for plane-friendly leggings.
Which ones were your favorite pants? Let us know in the comments. Thanks for tuning in!
If you found our best comfortable travel pants roundup helpful, please share it on Pinterest. THanks for your support!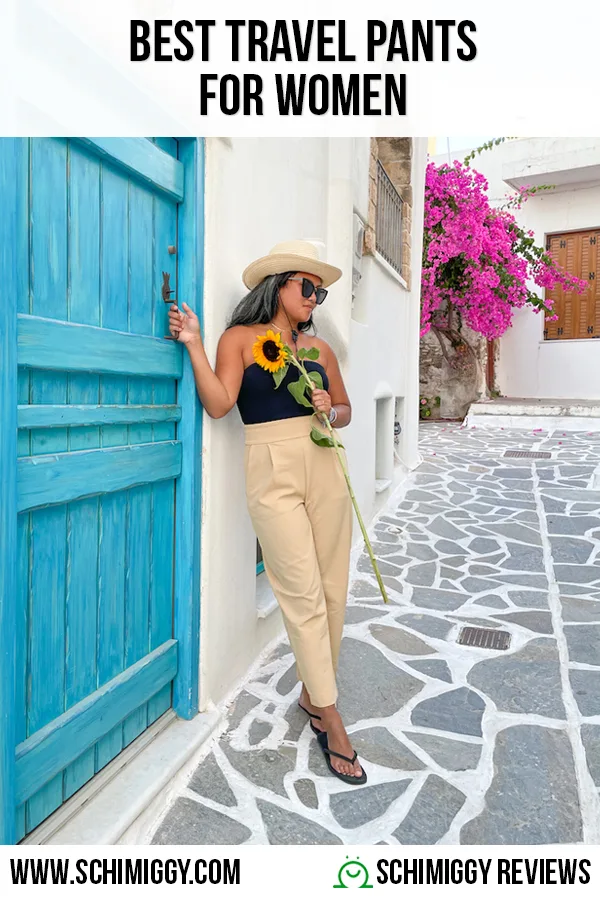 ---
Thank you for visiting today! If you found this encouraging or informative, please connect with us on Instagram, Youtube, Pinterest, Facebook or Twitter. We'd love to meet you!
Sign-up for our monthly newsletter for updates and more. We promise we won't spam you! Feel free to unsubscribe anytime.
For more fitness fashion discounts and offers, please visit our Fitness Instructor Discounts + Brands Directory or favorite brands coupon codes list.
If you're a brand and want to submit a product for us to review, please use this form to get in touch.
This site uses affiliate links. Clicking on or purchasing via an affiliate link may result in commissions for us which help keep the content flowing and lights on at Schimiggy Reviews. You may read more about this in our privacy policy.