Reading Time:
6
minutes
Updated: 1/5/2023 | Best Travel Clothing Brands for Women
We love clothing that travels well yet looks high-quality and put together. Travel apparel is often wrinkle resistant, easy to care for, lightweight, and very durable.
They're made to withstand wear and tear, especially when you're living out of your suitcase.
Here are our favorite travel clothing brands that we think you'll love wearing on all your adventures.
Best Travel Clothing Brands
#1 Everlane
Everlane makes sustainable apparel and accessories for men and women. Choose from dresses, pants, tops, outerwear, jumpsuits and travel-friendly accessories.
What we love about Everlane is how transparent they are about product pricing. They invest in the quality of their products and price it fairly so that they can support their workers and supply chain.
#2 Kosan
Kosan is a travel apparel and gear company that also happens to make awesome travel apparel for women. Their Go Travel Dress has all the functionality a seasoned and new traveler needs. It also comes in many prints and colors.
Read our Kosan Go Travel review here.
#3 Columbia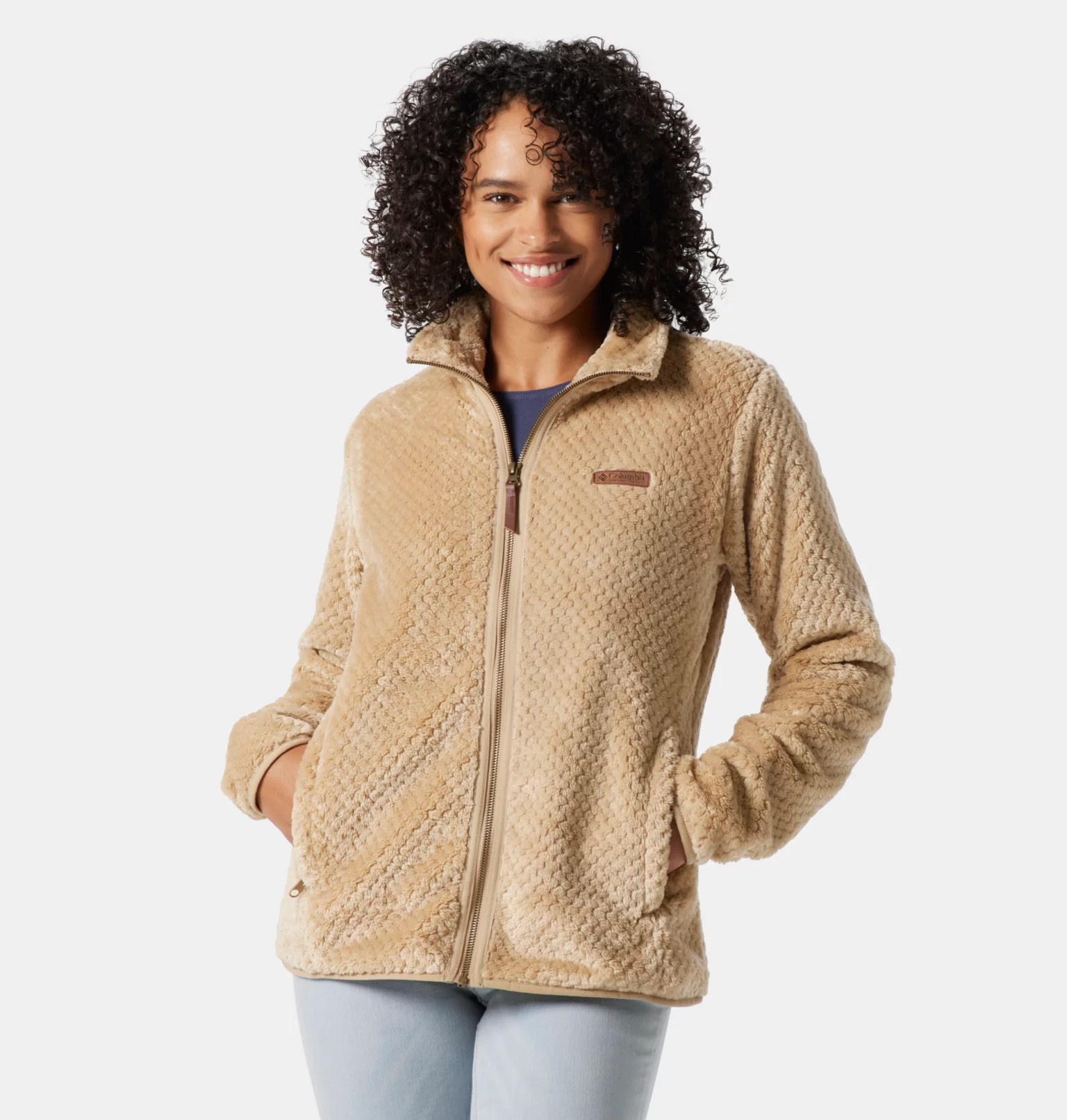 Columbia is a famous outdoor apparel brand for men and women. They offer amazing staples that are perfect for traveling and outdoor adventures.
We especially love their jackets that can be layered and will definitely keep you warm while traveling.
#4 reDEW8
reDEW8 started as a Kickstarter campaign. They create denim jeans made specifically for traveling.
Their collection offers denim pants for men and women. Their fabric is durable yet super soft and stretchy.
We tested their jeans and could do the splits anywhere and anytime.
Buy reDEW8 on Aktiv and save $10 off yourorders with code SCHIMIGGY10. The jeans start as low as $99!
#5 Anatomie
Anatomie makes luxury apparel for both work and travel. Their collection offers neutral colors and high-quality garments that will last you for years to come.
We love their Skyler travel pant ($225).
Use this link to save $40 off your first order at Anatomie.
#6 Carbon38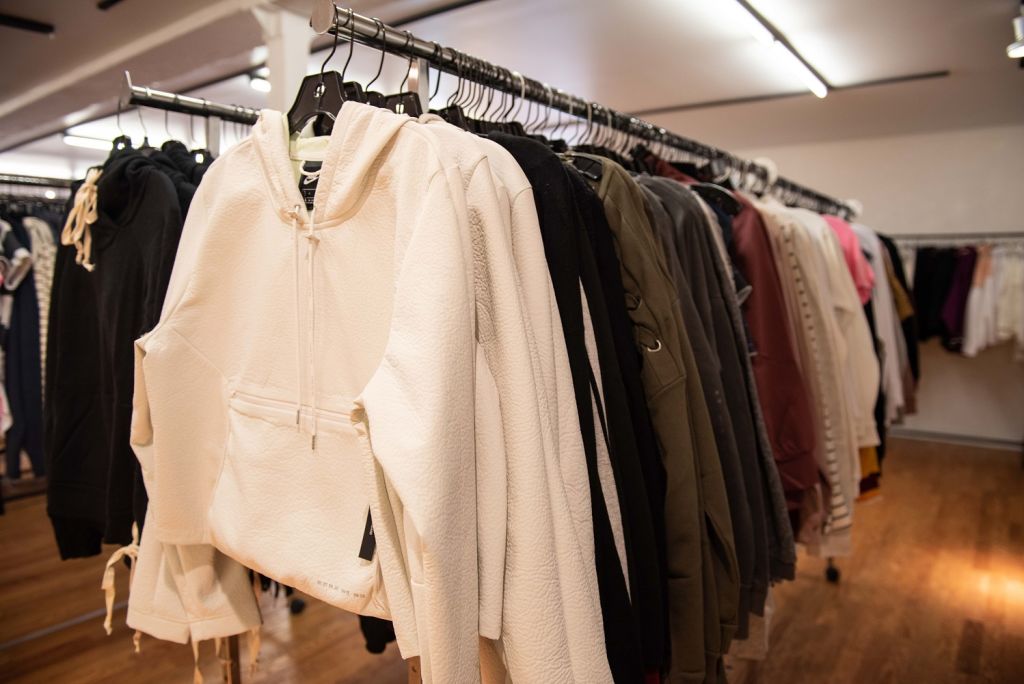 Carbon38 makes travel friendly apparel that is wrinkle resistant, lightweight and super comfortable to wear.
We especially love their pants and jackets for traveling.
Use this link to save 15% off your first two orders at Carbon38. Alternatively, you can use code SHMGY25 during checkout.
#7 Ministry of Supply
Ministry of Supply offers amazing apparel for men and women. You'll want to live in their super soft proprietary fabrics all day long.
Their pieces are a must for any minimalist or capsule wardrobe.
Styles we recommend are their draped pants and button up blouses.
#8 MM La Fleur
MM La Fleur creates luxe travel and work apparel for women.
MM La Fleur Items that we LOVE:
Use our link to save $50 off your order at MM La Fleur.
#9 Paskho
Paskho makes comfy pants that are wrinkle-resistant and look unique. The material is dry wicking and easy to pack.
Use our link to save $20 off your orders at Paskho. >>
#10 lululemon
lululemon makes awesome travel apparel for both men and women. Styles that we love are the On The Fly pants and Love Tees, which pack easily and look effortlessly chic.
#11 Athleta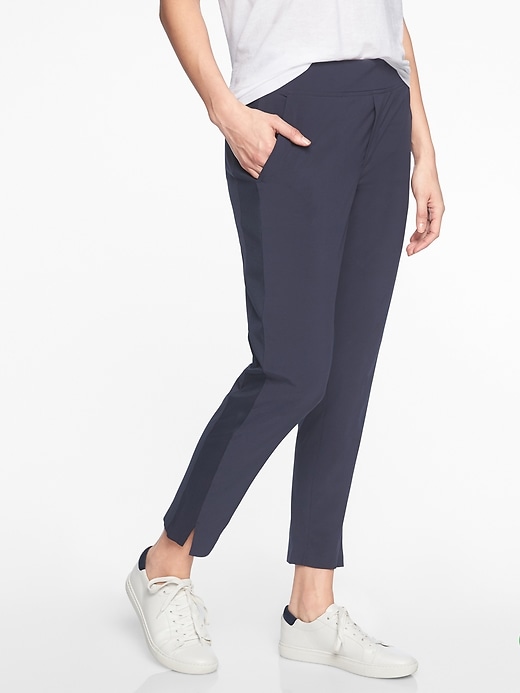 Athleta's street clothing line is very stylish and made with materials that are wrinkle resistant and long lasting. Anything made from their soft Powervita and Featherweight Stretch fabric is perfect for travel.
Our favorite pants are the Midtown Ankle Pant. It comes in many colors and can be dressed up or down.
Use our link to save 20% off your regular priced orders at Athleta.
#12 Origamei
Origamei makes packable dresses that fold into a little rectangle and stow conveniently anywhere. They currently offer three styles and different colorways for each silhouette. Their dresses are wrinkle resistant, easy to care for and are super comfy to wear.
The dimensions of the dress when folded is 7″ x 5″ x 2.5″. The dresses also come with pockets, a small hook to hang your dress and a pocket to hold smaller belongings like jewelry or credit cards.
#13 ADAY
Portfolio Pants ($185)
ADAY specializes in comfy women's apparel that is perfect for travel and work. Their collection is wrinkle resistant and comes in neutral colors so you can create the perfect capsule wardrobe.
Use our link to get $20 off your first order of $100.
#14 Betabrand
Betabrand created the first dressy yoga pants! Their pants are meant to stretch to fit into your lifestyle.
Their pants come in many colors and style. You're bound to find something that fits your style.
Use our link to save $15 off your first order at Betabrand. >>
#15 Encircled
Encircled is a Canadian based company that creates sustainable fashion for women. They're a Certified B Corporation and many of their products are made from organic materials.
Some of their garments can be worn 6+ ways, which is great for creating a capsule wardrobe.
Encircled items that we LOVE:
#16 Nau Clothing
NAU makes minimalist apparel for men and women. Their apparel is made to take you out and about.
Based in Portland, their collection is perfect for creating a capsule wardrobe.
#17 Theory
Theory is known for their timeless pieces that are easily mix and match. Create a capsule wardrobe that can easily transition from work to other facets of your life.
Theory items that we LOVE:
#18 Prana
Prana makes comfy clothing that is also eco-friendly and sustainable.
Their collection changes constantly. They also offer excellent deals seasonally.
#19 lululemon
And we can't forget lululemon! lululemon offers a wide range of apparel for men and women. Their fabrics are great for traveling because they're dry wicking, durable and lightweight.
One of our favorite products includes their Wunder Train leggings and Everywhere Belt Bag.
This sums up our top picks for travel clothing brands for women. Which brands caught your eye? Check out what they offer and use our coupon codes to save some moolah on your next wardrobe!
If you found our best travel brands for women's apparel helpful, please share them on Pinterest. Thanks for your support!
---
Thank you for visiting today! If you found this encouraging or informative, please connect with us on Instagram, Youtube, Pinterest, Facebook or Twitter. We'd love to meet you!
Sign-up for our monthly newsletter for updates and more. We promise we won't spam you! Feel free to unsubscribe anytime.
For more fitness fashion discounts and offers, please visit our Fitness Instructor Discounts + Brands Directory or favorite brands coupon codes list.
If you're a brand and want to submit a product for us to review, please use this form to get in touch.
This site uses affiliate links. Clicking on or purchasing via an affiliate link may result in commissions for us which help keep the content flowing and lights on at Schimiggy Reviews. You may read more about this in our privacy policy.