Reading Time:
4
minutes
Updated: 2/3/2021 | Macrame Plant Hanger Instructions
Macrame plant hangers are all the rage right now. They're super easy to make once you know the basic knots and how to alternate between them.
There are only 4 types of knots that you will need to learn for a macrame hanging planter project. Once you learn these knots, the possibilities are ENDLESS.
The four most common macrame knots are:
Types of Macrame Knots
Below is a chart that shows how the knots look and in what directions they go.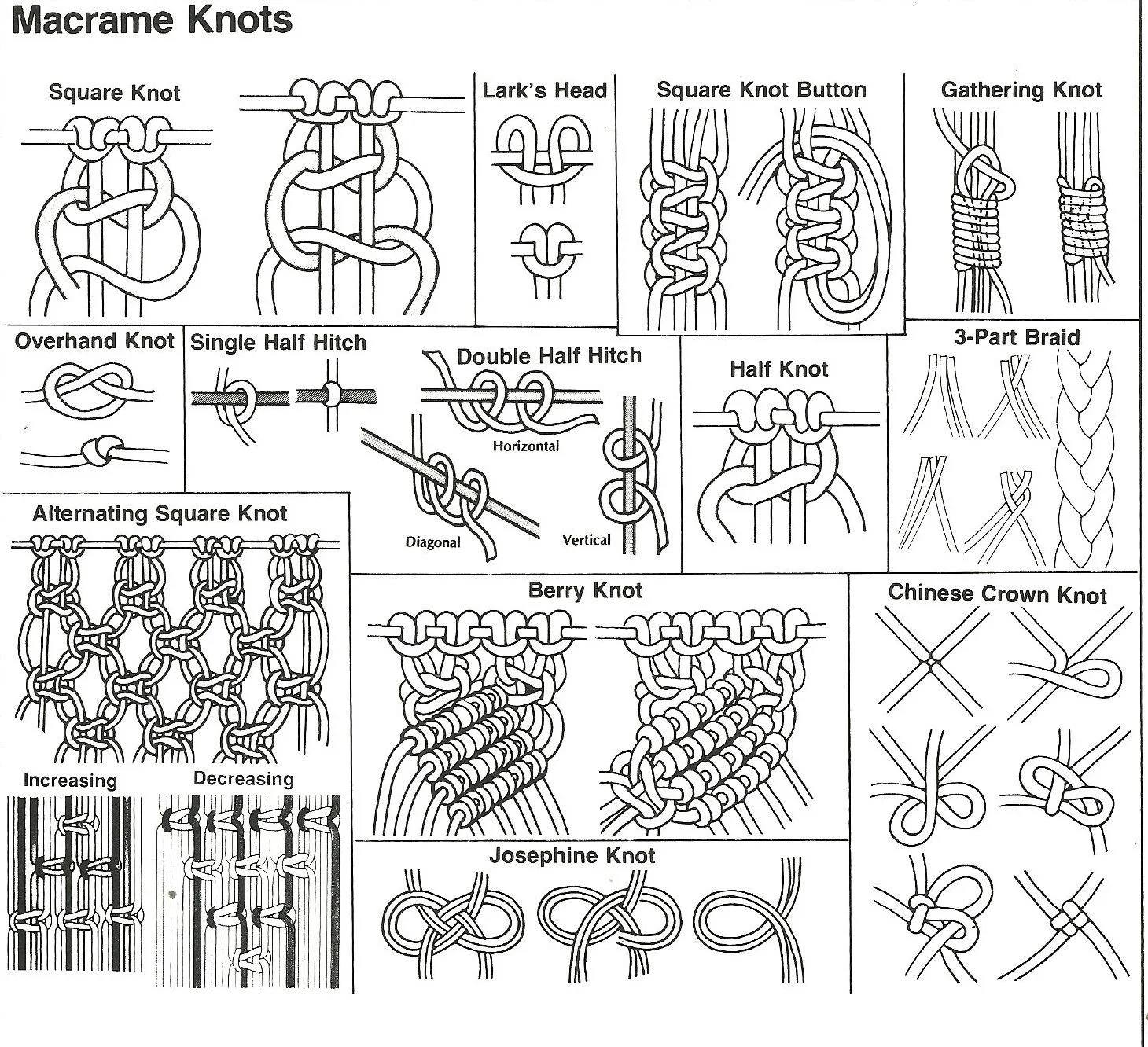 Types of Rope
Choosing the right fiber is an important first step when starting a macrame project. This process can be super exciting because there are SO MANY OPTIONS. It can also be overwhelming when you do not know what to choose.
It comes down to a few things that we think are very important to choosing the right macrame rope.
Size
For plant hangers, we recommend using 4mm or 5mm rope.
Anything 3mm or smaller is great for jewelry or small delicate projects.
Be aware that there is some variation among retailers in the size of the rope listed and what you actually purchase. Some retailers indicate the size as measured when it is wrapped tightly around the spool and that can be confusing. We took our measurements after strings are were cut and given a chance to relax and untighten. Size can also vary widely depending on weather, humidity, storage conditions or how tightly the thread is wound around the spool.
Here is our cord size guide that will help you choose the appropriate string for your project.
Small Macrame Cord Size (1-3mm): These may also be referred to as micro macrame cords. They are ideal for weaving through small beads and buttons. Small macrame cord are great for making jewelry, such as bracelets, necklaces, earring, and small accessories.
Medium Macrame Cord Size (4-5mm): Medium size cords between (3-5mm) are most-likely be your standard macrame cord for plant hangers, wall hanging art, mandalas, and a majority of your macrame projects. I typically use 4mm cord for plant hanger projects.
Large Macrame Cord Size (6mm and up): The large macrame cord size are for large projects that you want to stand out. Cords that are bigger often take less time to knot and will cover larger surface areas.
Twisted vs String Rope
Texture is another important element to consider when choosing rope. Different textures can offer different and unique looks to your macrame project.
Twisted ropes are 3 strands twisted around each other. When you untwist the rope it gives a wavy fringe. It is great for adding texture to your work.
Single Strand rope is an extremely soft and single-stranded rope. It's easy to work with and won't unravel. Comb out the string to create a soft fringe.
Braided rope is woven into a string tube and is very sturdy. It's great for heavy duty projects.
How to Make a Macrame Plant Hanger
Now that you have some knowledge of the string types for macrame projects, let's get into our macrame plant hanger project!
Equipment You Need for a Macrame Plant Hanger
For this particular project, I used the following products:
Step 1
Using a measuring tape and scissors, gather 8 strings of 15-foot long macrame cord.
The strings will look VERY long and that is OK. It looks intimidating but once you start knotting, the strings will become much shorter.
Step 2
Fold your strings in half and loop them through the 2″ wooden ring.
Step 3
Using your 3mm strings (any color you choose), create a gathering knot at the base of your wooden ring.
Step 4
Gather 4 strands and start to make one strand of 6 square knots. After you complete 6 square knots, move onto the next set of strands. You should have 4 square knots strands when you finish this step.
Step 5
6 inches down the string, create a spiral knot by using half knots. The strands will naturally start to twist. You'll get the hang of it after a while. Just move along with the knots.
Step 6
6 inches further down, create a single square knot. Repeat this 2 more times.
Step 7
Create a gathering knot at the end of your macrame plant hanger.
Step 8
Trim off excess string. You can even knot the string at the bottom so that it doesn't unravel over time.
Step 9
Place your planter into the hanger.
Step 10
Hang your decorations from the S hook anywhere you wish.
We find that the S hook gives your plant hanger some length and also prevents your wooden loops from getting destroyed or stained.
Where to Buy Macrame Equipment
Macrame Resources and Inspiration
Check out these websites for some SERIOUS Macrame goals. You'll want to make everything now.
Did you enjoy our macrame plant hanger tutorial? Please share it on Pinterest!
---
Thank you for visiting today! If you found this encouraging or informative, please connect with us on Instagram, Youtube, Pinterest, Facebook or Twitter. We'd love to meet you!
Sign-up for our monthly newsletter for updates and more. We promise we won't spam you! Feel free to unsubscribe anytime.
For more fitness fashion discounts and offers, please visit our Fitness Instructor Discounts + Brands Directory or favorite brands coupon codes list.
If you're a brand and want to submit a product for us to review, please use this form to get in touch.
This site uses affiliate links. Clicking on or purchasing via an affiliate link may result in commissions for us which help keep the content flowing and lights on at Schimiggy Reviews. You may read more about this in our privacy policy.