Reading Time:
6
minutes
Updated: 10/29/2019 | Best Polka Dot Leggings
Polka dots are so IN!
Growing up I would listen to "it was an itsy bitsy teenie weenie yellow polka dot bikini" song all the time. It's upbeat, fun and a perfect beach song. Since then I've had a positive and cheerful association with the pattern. It's inherently feminine, but you'll see men donning the pattern at times.
Brief History of the Polka Dot
Polka dots, or dots, in general, have had a bad rep in medieval days. They represented illness and disease due to their spottiness and disuniformity. Polka dots were hard to replicate without machinery in earlier times, so it was a pattern that people avoided wearing.
In other cultures, the dot represented strength, magic and even devotion. Leave it to the French aristocracy in the 1800s to create evenly spaced dotted fabrics using machinery in the industrial age.
The name polka dot stems from the polka dance, where the pattern was derived from the lively steps of the dance. Polka became popular across the world and during the Mad Men era, marketers began to concoct polka themed campaigns, including a polka beverage with the dotted pattern.
Eventually, the term polka dot was coined by Godey's Lady Book—the Good Housekeeping of its day. The polka dot pattern slowly made its way to the USA in the early 1920s when machinery could replicate the pattern on goods targeted toward women and children.
Walt Disney also donned Minnie Mouse in a polka dotted skirt. It has since them become an iconic pattern that resurfaces in fashion regularly. You can read a fuller history of the polka dot here.
Eventually, polka dots made their way onto spandex. I am not complaining because I love the print and the positivity these little dots exude. Below are polka dot patterned activewear brands that I have tried and can truly recommend.
#1 Beyond Yoga + Kate Spade Collaboration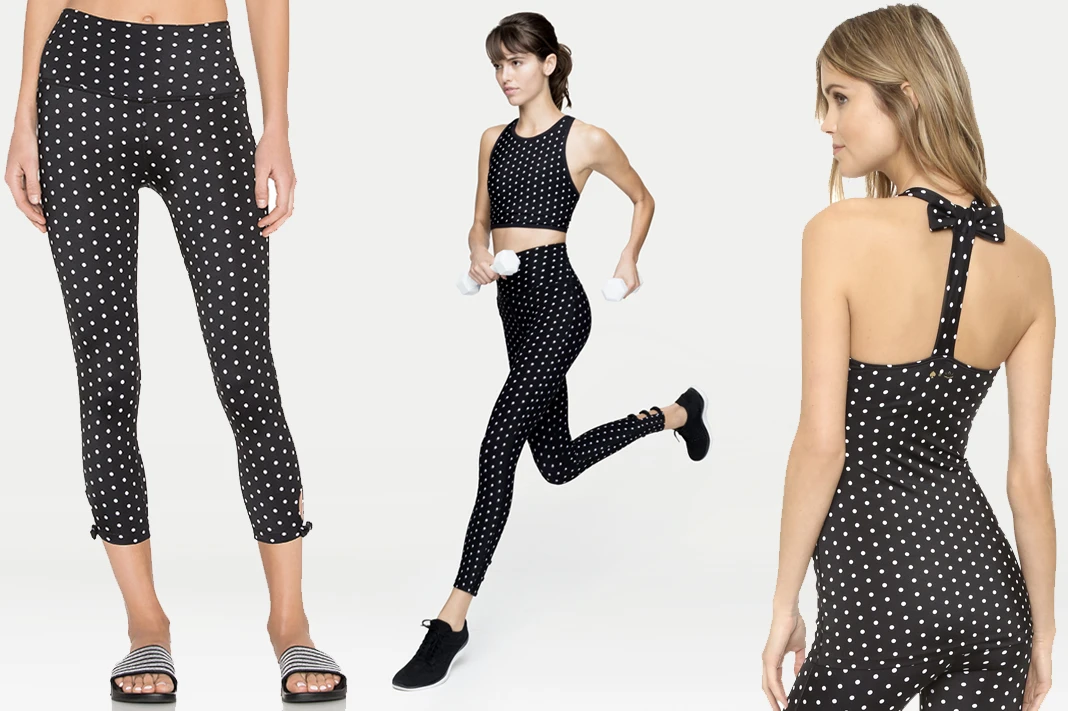 Kate Spade debuted her activewear line as a collaboration with Beyond Yoga. The collection included cut-outs and darling bows that made me go awwww. The fabrics are super soft (as expected from Beyond Yoga) and so comfortable.
Kate Space then launched their own activewear line that is sold in Nordstrom and directly through Kate Spade.
#2 KiraGrace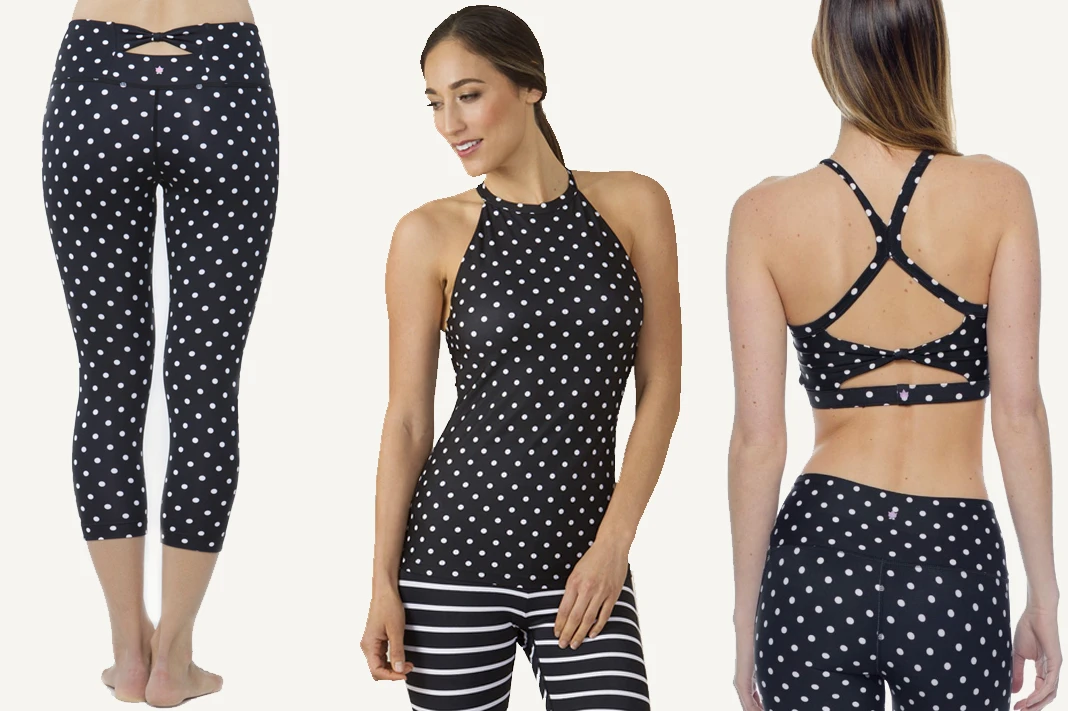 KiraGrace is a San Diego, Calif. based activewear brand created by Kira Karmazin. KiraGrace offers über feminine designs. The polka dots and stripes are part of their Flirt collection. The fabric is very similar to the Kate Spade X Beyond Yoga collection.
#3 Athleta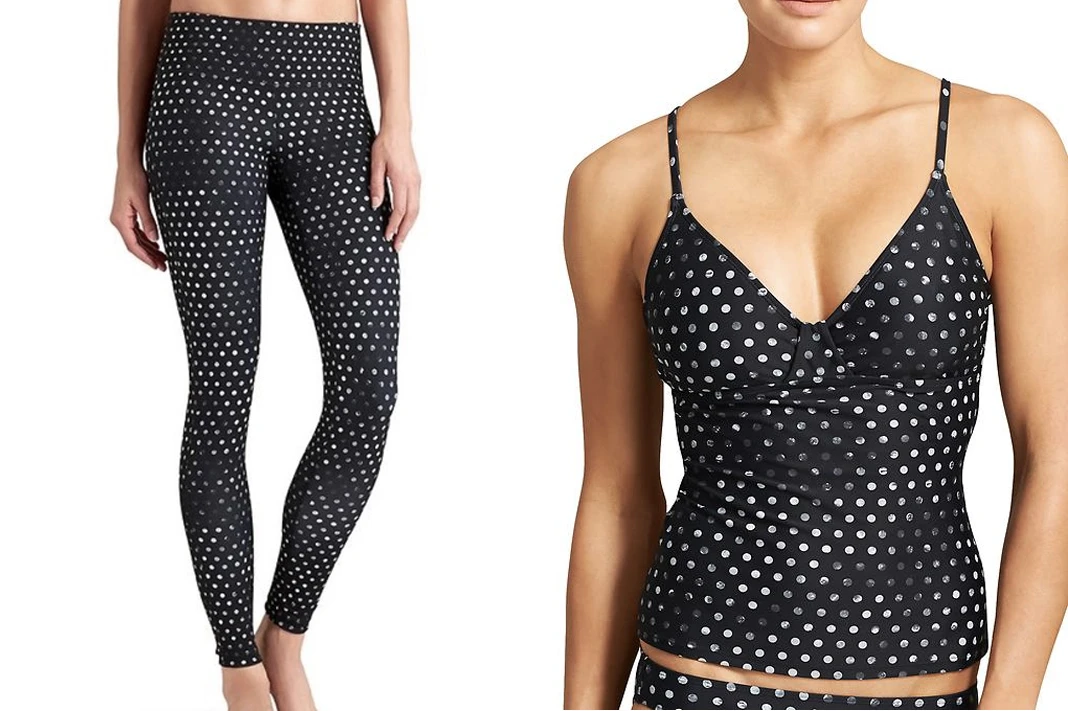 Athleta also dabbled in the polka dot print and made this grunge variation. This Gap family company makes amazing activewear for women.
Get 20% off at Athleta when you use this link.
#4 C&C California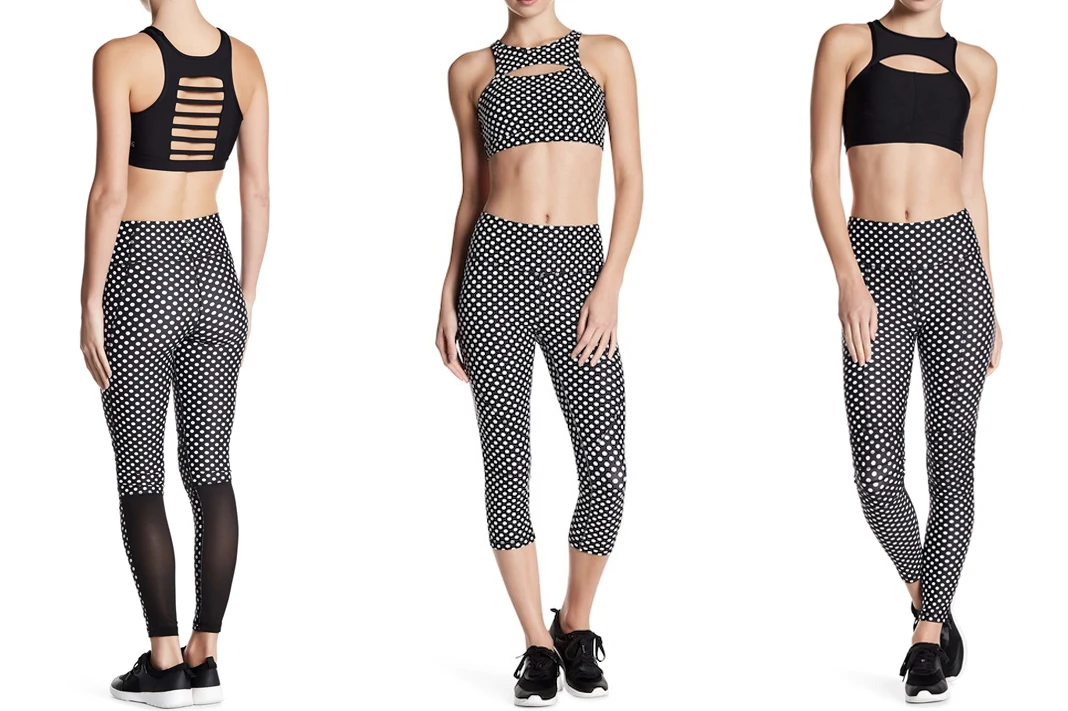 I found a pair of C&C California polka dotted leggings at TJ Maxx and fell in LOVE. Unfortunately, it was too big for me (they run true to size by the way) and I ended up reselling them. Since then I have not been able to find the pant in my size.
Buy C&C California on Amazon, Nordstrom Rack, and at TJ Maxx.
#5 Outdoor Voices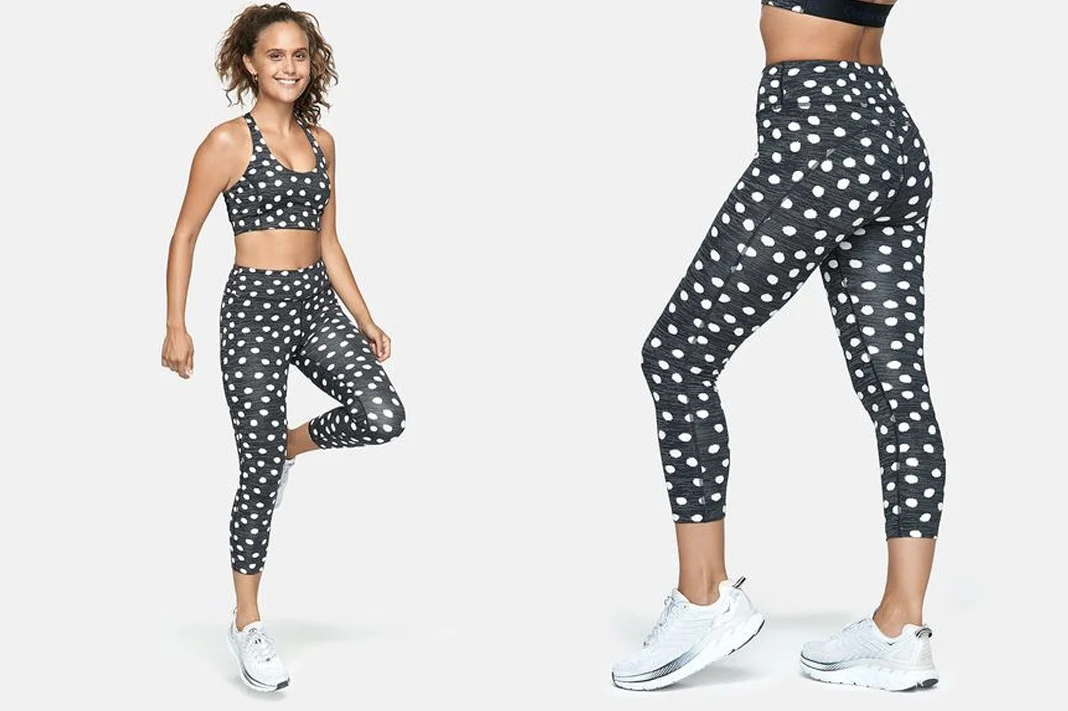 Outdoor Voices has a polka dot set that is so cute! The print is offered in shorts too! It's made with their Techsweat fabric which is soft, forgiving and super comfortable. I recommend getting your true size in this fabric.
Get a $20 off Outdoor Voices coupon code toward your first order using this link.
#6 Same X Carbon38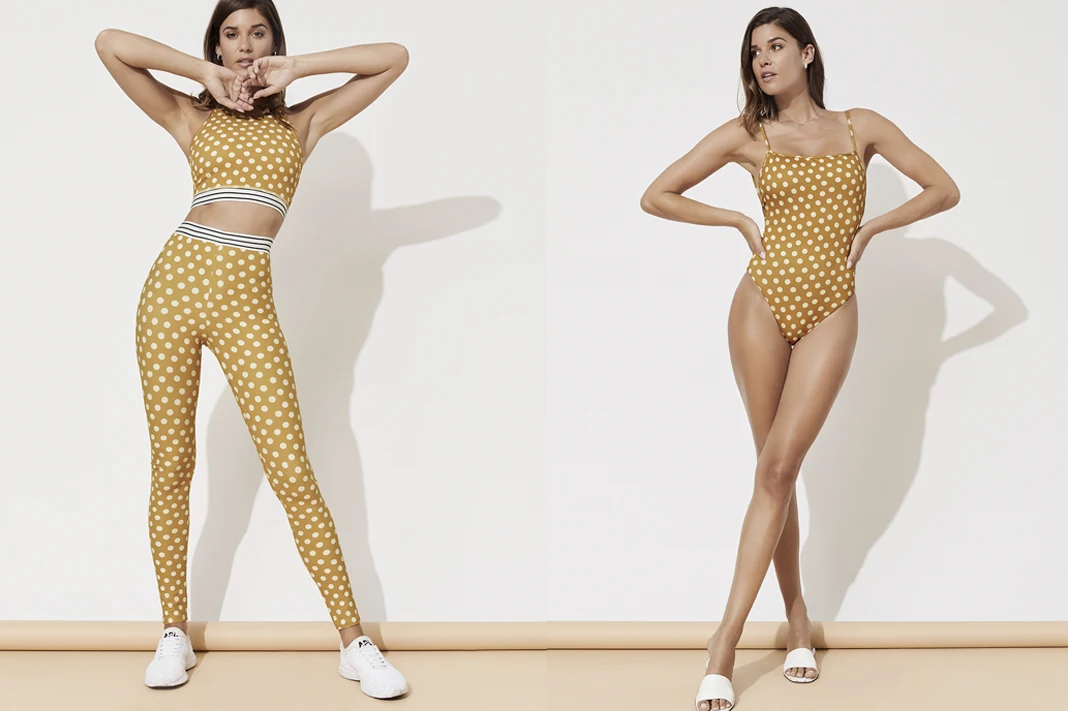 Something to obsess about. The SAME X Carbon38 collaboration is to die for. They actually sell a teenie weenie yellow polka dot bikini as part of their collection. I wore my bikini to Costa Rica and received so many compliments. I highly recommend this collab.
You can get 15% off at Carbon38 using this link or with coupon code SHMGY25.
#7 K-Deer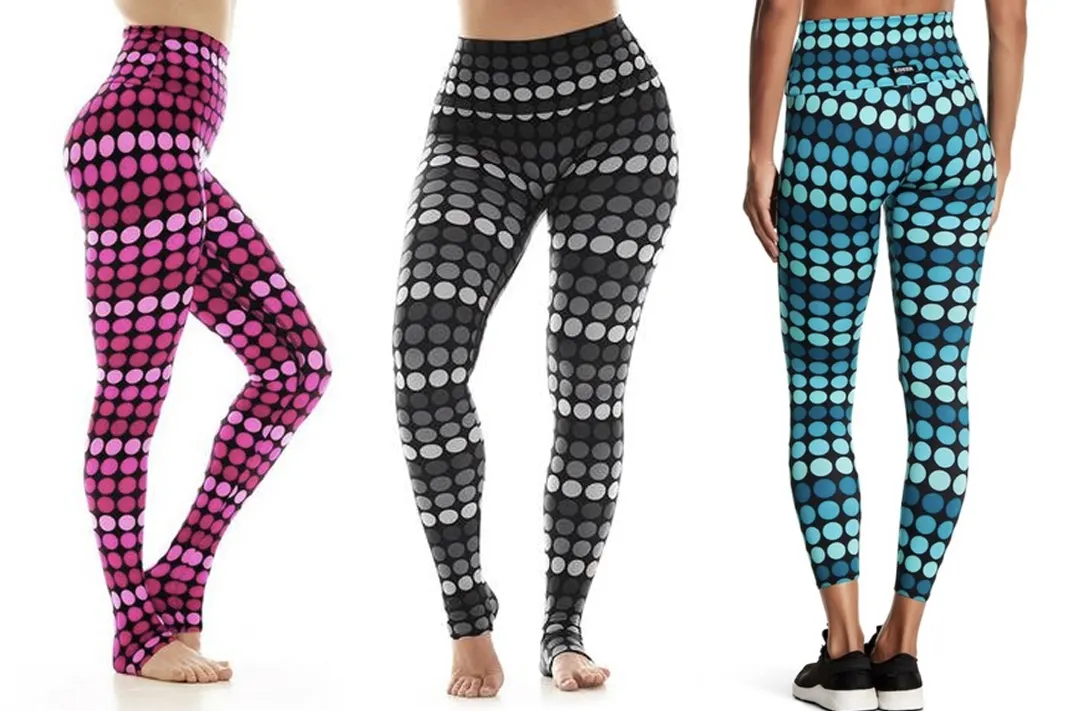 K-Deer is a New York-based women's activewear brand created by Kristine Deer. They have their own funky polka dot rendition that is fun and whimsical. Buy K-Deer here and at Nordstrom Rack.
#8 Glyder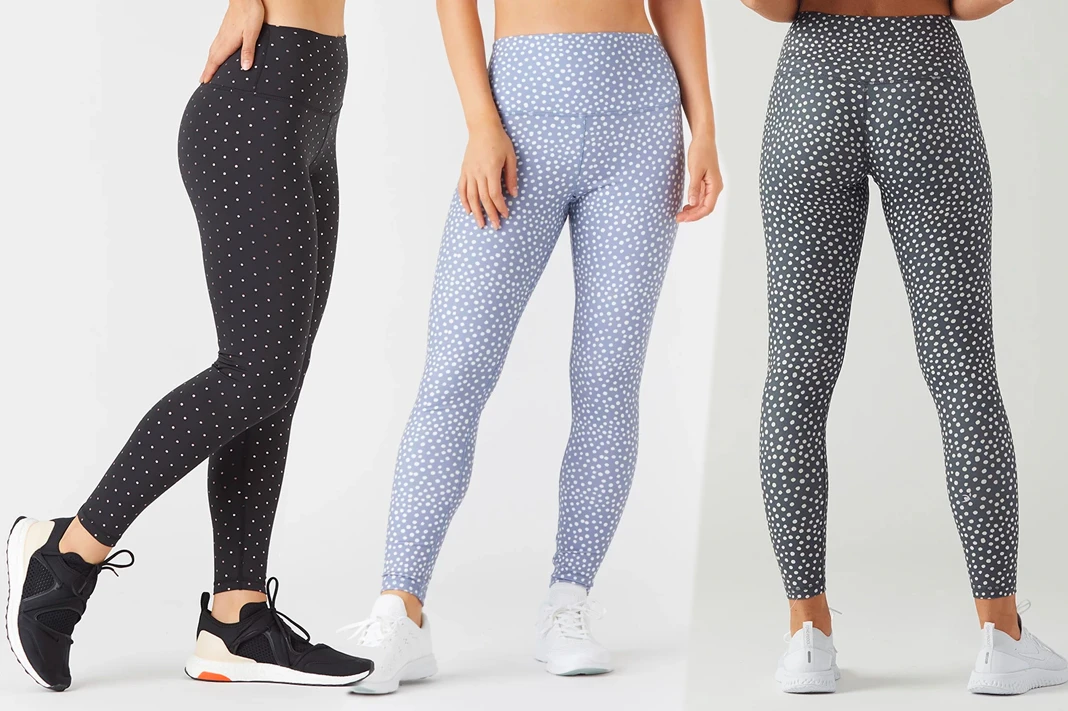 We are huge fans of Glyder! They make comfy and eco-friendly activewear in bright fun patterns. They're also very affordable.
Read our Glyder reviews here.>>
Use our link to save 15% off your first purchase.>>
#9 Adidas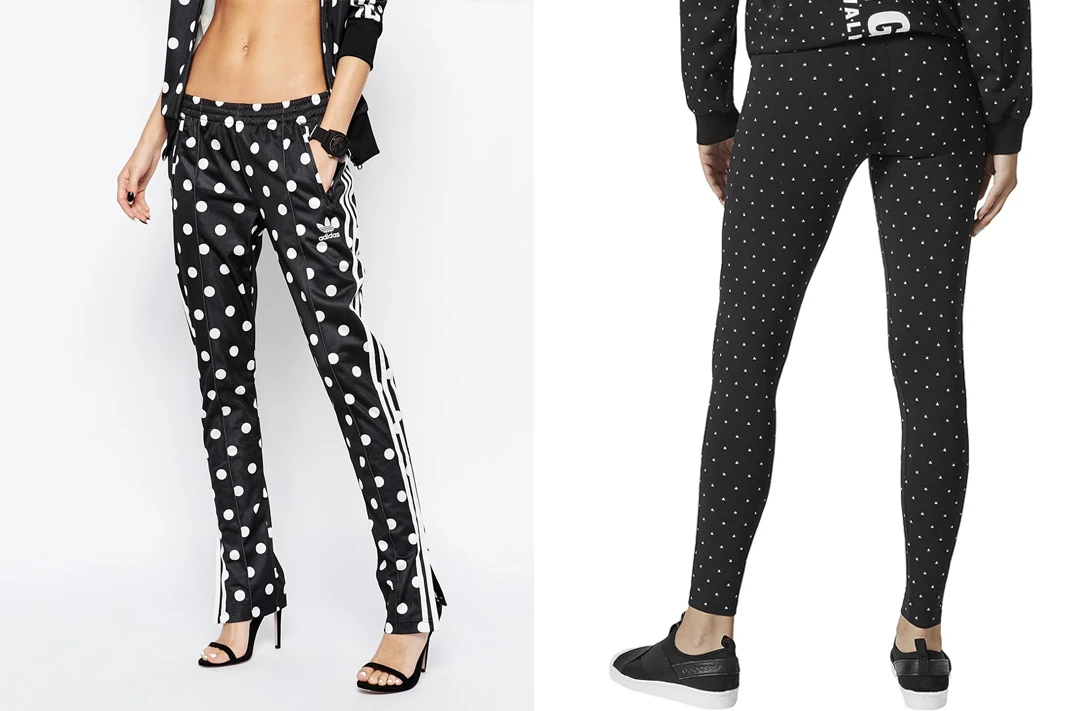 ADIDAS has had polka dot prints on track suits, sports bras, leggings, and even sneakers. I love the ADIDAS originals Womens Pharrell Williams Hiking All Over Print Tight Leggings. It's only $40. Buy ADIDAS on Amazon, Carbon38, Nordstrom, Nordstrom Rack, Zappos, and at ADIDAS.
#10 Beach Riot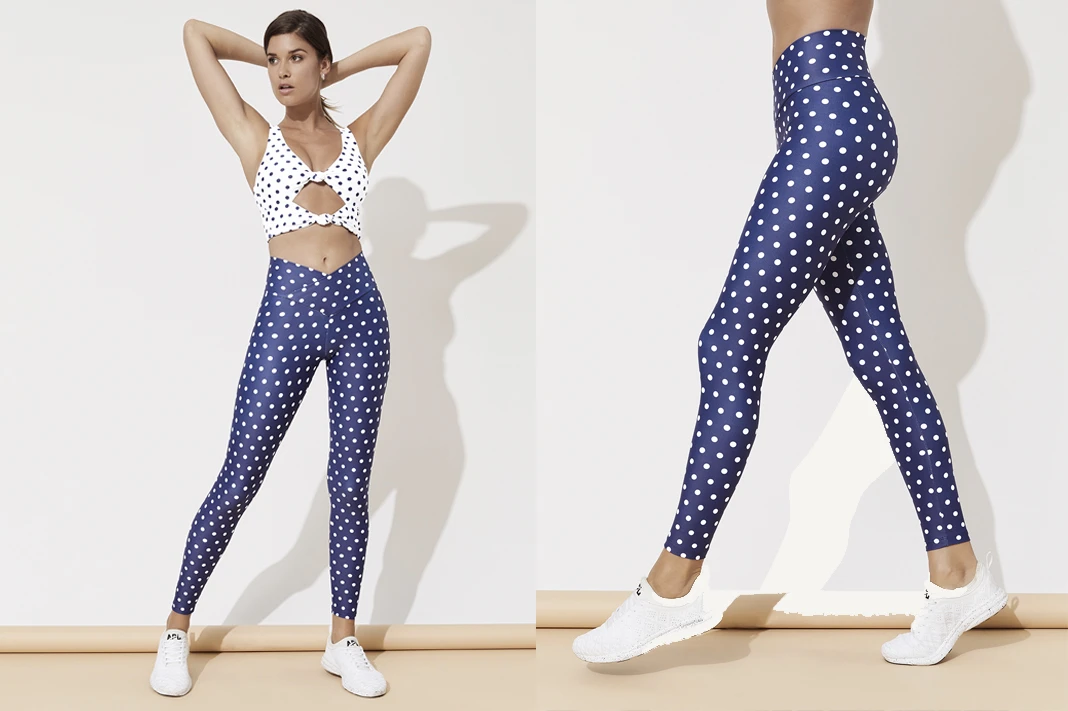 Beach Riot is a SoCal based activewear and lifestyle brand. They offer cute swimsuits, dresses, two pieces and more recently, women's activewear. I love their polka dotted leggings and top. The fabric is very thin, lightweight and offers full coverage. You can buy Beach Riot on Carbon38, REVOLVE, and at Beach Riot.
#11 Terez
Terez make super cute polka dot leggings and even some Disney Minnie and Mickey Mouse collaboration prints.
Buy Terez on Carbon38, Bandier, Shopbop, Amazon, and directly from their e-store.
#12 J.Crew X New Balance
The J.Crew X New Balance collection from 2016 boasts polka dots on a navy blue background. The collab just screams J.Crew! You can find some really awesome deals at Joe's New Balance Outlet and on the J.Crew website.
#13 Lululemon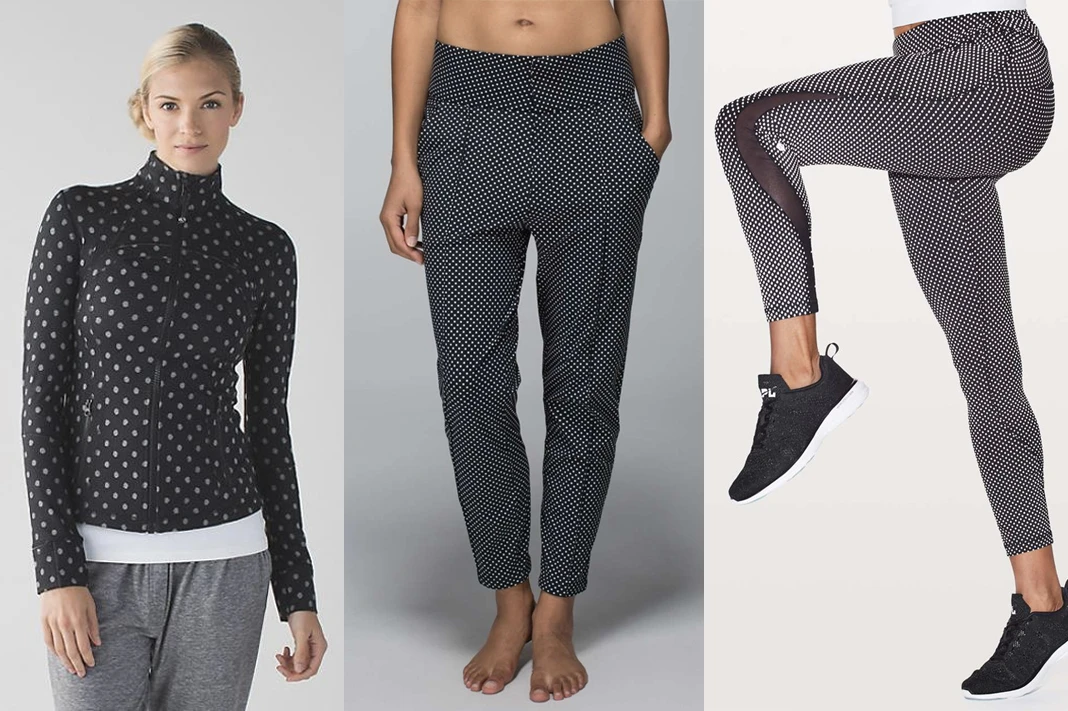 We can't forget that Lululemon created their own polka dot inspired pieces. I own the Departure pants that I snagged for $39 from a Lululemon warehouse sale. Will the polka dots make a comeback? We shall see!
#14 Flexi Lexi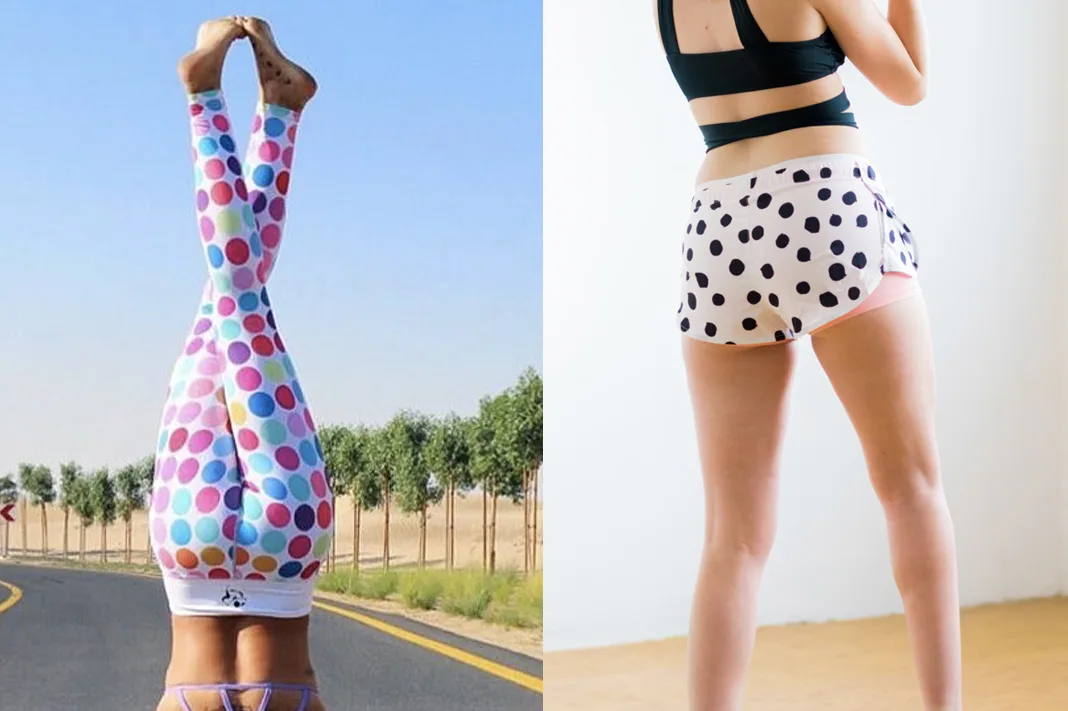 Flexi Lexi is a Thailand based women and girls activewear brand. Their sizing runs small. They have tons of cute and youthful prints. You will have to pay to ship from Thailand so that can make the leggings a little pricey. Buy Flexi Lexi on Evolve Fitwear and at Flexi Lexi.
#15 L'URV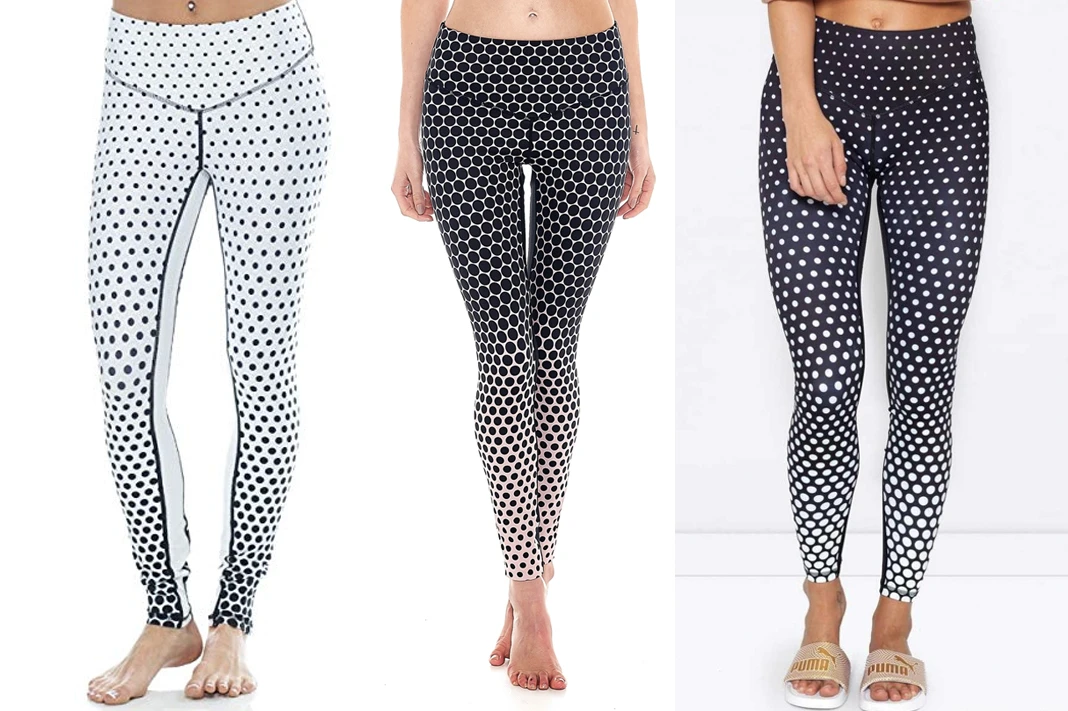 L'URV is an Australian activewear brand for women. Their fabrics are very similar to Onzie. They offered three colorways in their Spot Me Leggings. Buy L'URV on Carbon38 or direct from the L'URV webstore.
#16 Strut This
Strut This is a SoCal based women's activewear brand. This black on white printed leggings will definitely make you stand out. Get 20% off your purchase of Strut This with this link.
Did you like our picks for best polka dot leggings? What are some brands and styles that you recommend? We hope you find the perfect polka dot leggings for your body and favorite activity.
Thank you for visiting today! If you found this encouraging or informative, please connect with us on Instagram or TikTok.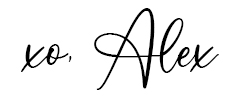 Sign up for our monthly newsletter for updates and more. We promise we won't spam you! Feel free to unsubscribe anytime.
If you're a brand and want to work with us, please visit this page to get in touch.