Reading Time:
5
minutes
I visited a flagship Lululemon store in New York City's Fashion District. I read online about their HUB Seventeen co-working space and studio with complimentary fitness classes. I went here to work for two days and I have to say this was an AWESOME experience. I was able to do yoga on Friday and work on Wednesday and Thursday. I was also able to bring my dog to the co-working space. Dogs are usually not allowed but my pup was able to stay for the day.
Here's a quick recap of my experience with photos!
Lululemon Flagship Store in NYC Fashion District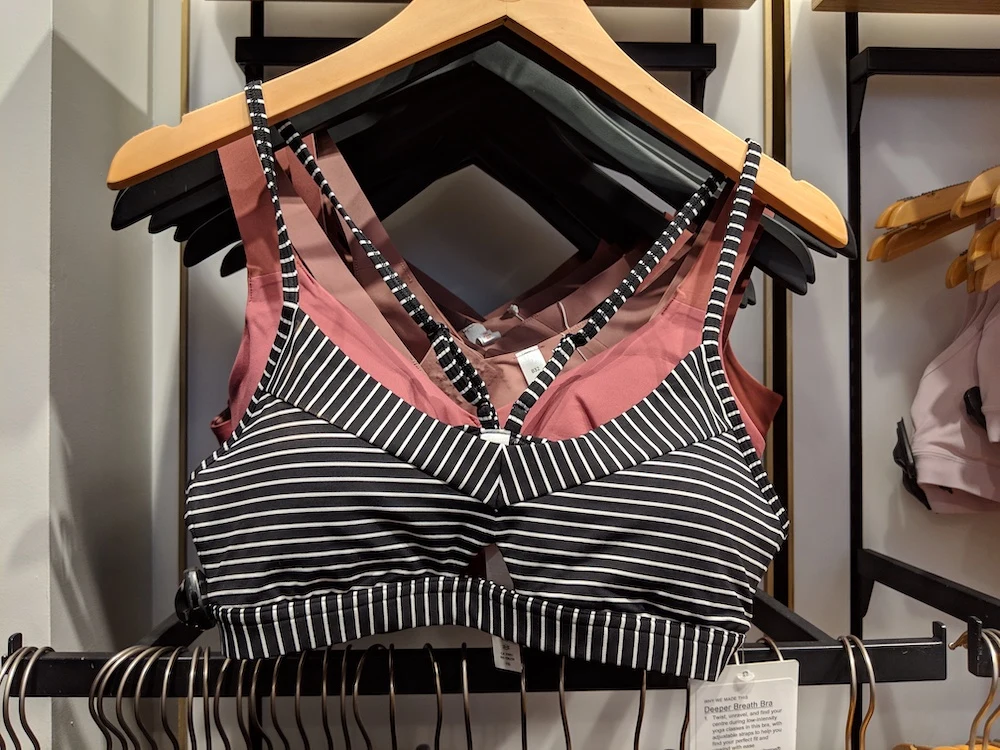 HUB Seventeen Co-working Space
The co-working space is free to use and comes with WiFi. In the morning they offer coffee and bagels for guests. In the back, there is a small stage where they hold speaking engagements and workshops on a bi-weekly basis. To sign-up, visit the Hub Seventeen website. Workshops range from $20-$50 dollars.
HUB Seventeen Studio
All fitness classes are free at Hub Seventeen. Create an account and sign-up for a free class on the Hub Seventeen website.
Flagship Lululemon Lab Try Ons
Of course I had to try on some clothes while I was here. The dressing room space is HUGE. I loved the modern chandeliers and tall mirrors.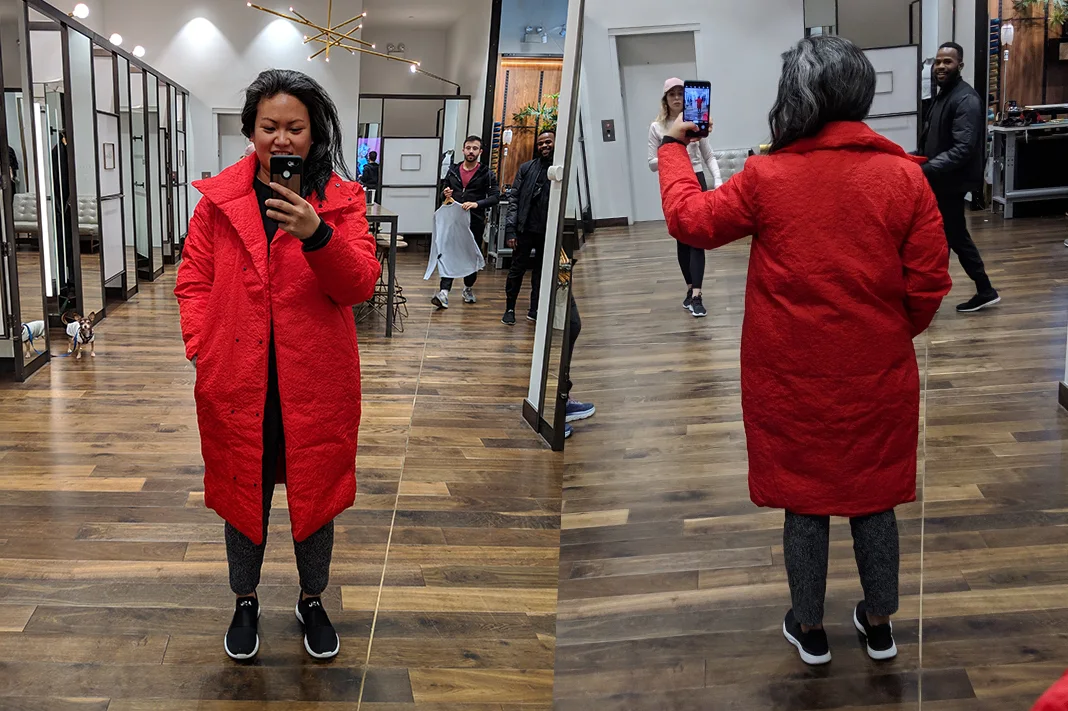 I tried the Lululemon Lab Shiwa puffer coat ($598). It buttons up the front which I thought was unintuitive but it looked really cute on. I decided to buy it and wear it that evening. I wore it for no more than an hour and had issues keeping it buttoned when I was sitting down. I, unfortunately, had to return it the next day. My bank account thanked me that day.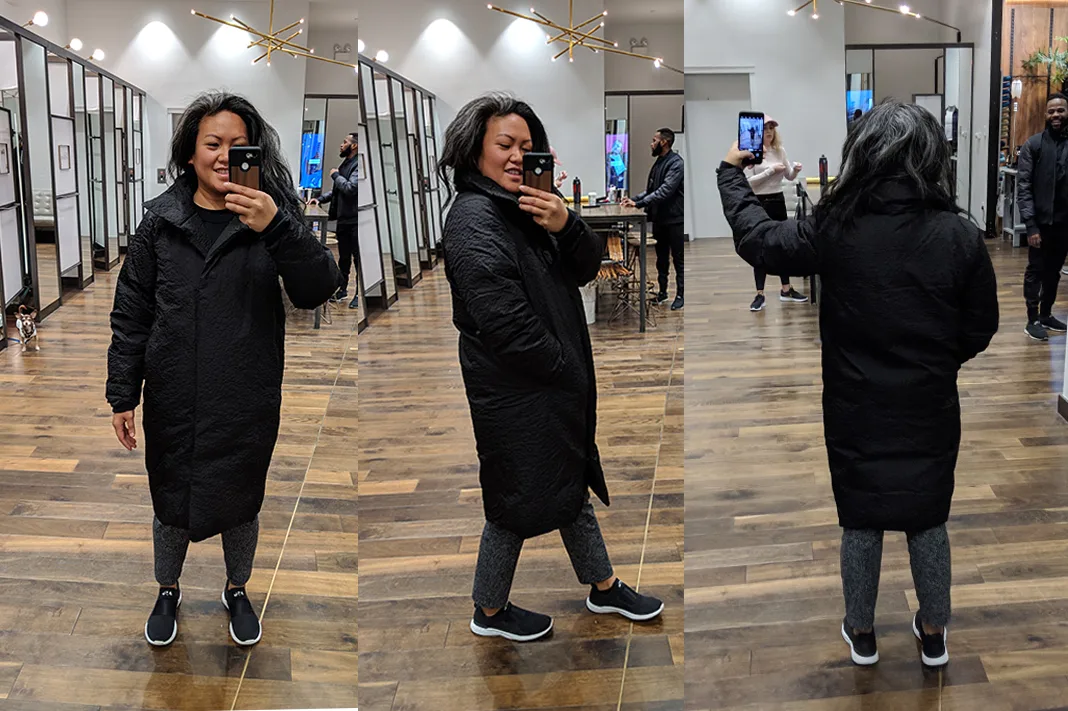 I also tried the Shiwa puffer coat in black. It did not look as attractive or impressive as the red.
The associate recommended that I try the Rappu hoodie dress ($198) in black. It's super soft and comfortable but did not look great on me. I had to pass. It also comes in red but was not sold in-store.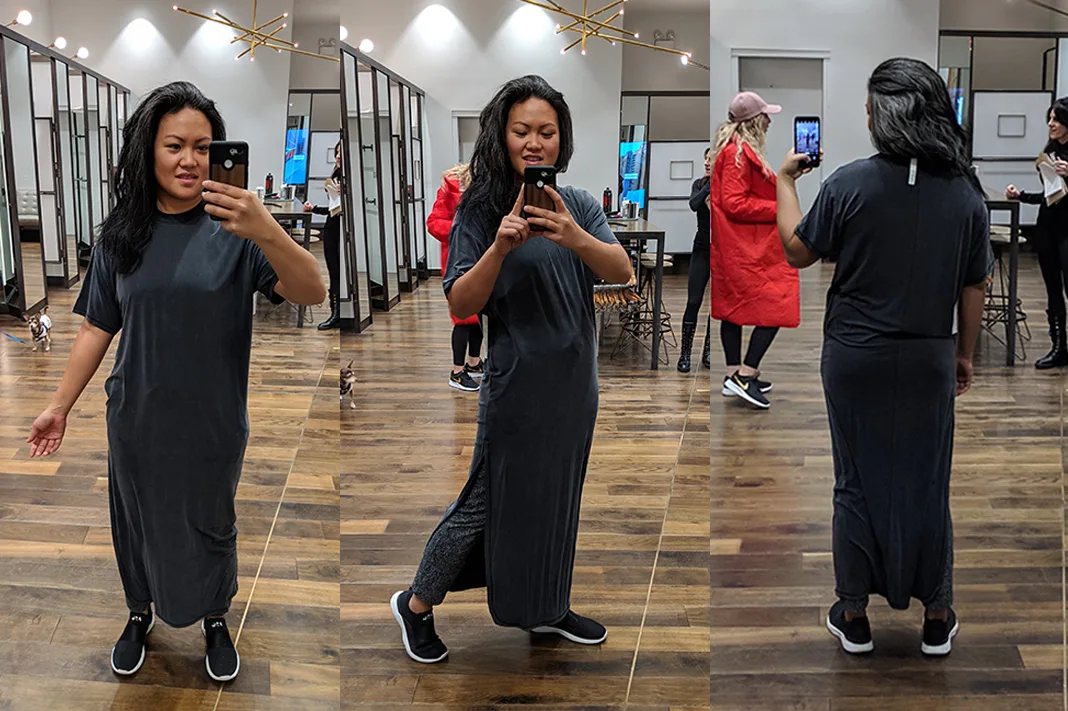 I tried on the Sumu-Su dress ($158) and fell in love. This T-shirt style dress draped over me nicely. I wore my On the Fly pants underneath the dress so it looks a bit frumpy here. I wore it that night to dinner and received so many compliments. It's also a VERY NYC or Seattle dress. The material drapes like it is heavy but it's actually lightweight.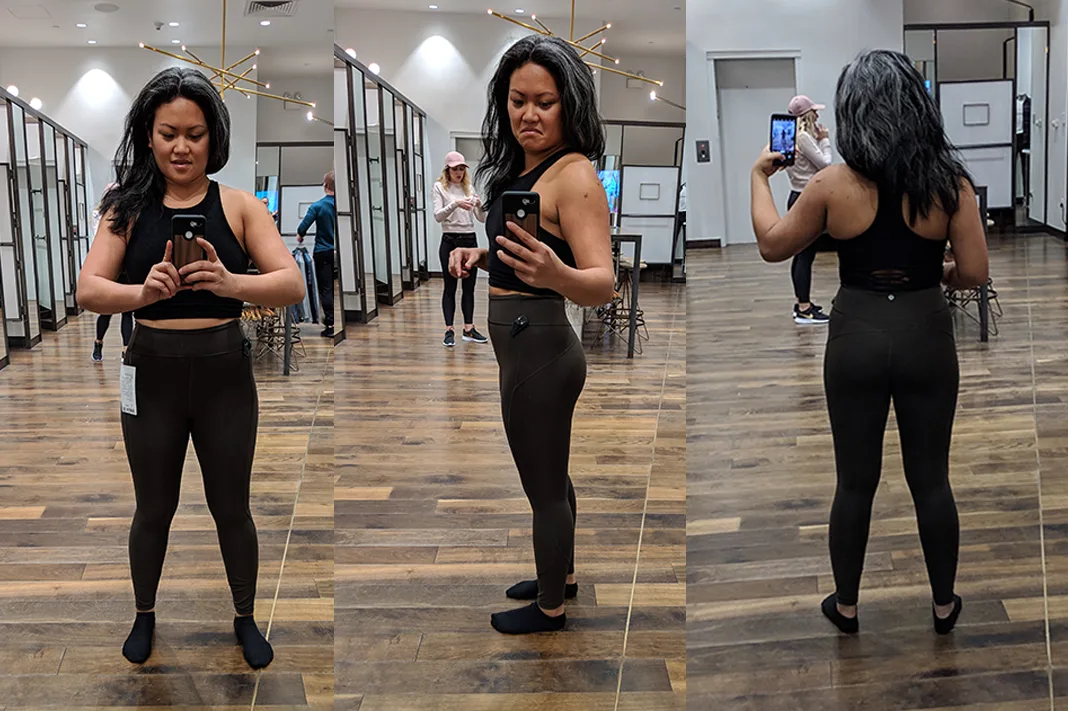 I finally tried the In Movement leggings ($98) that people have been raving about. I think it is personally OK. I did not like how it made me look bulbous around the hips. The pants are affordable but I would rather stick with Nulux for my higher performance leggings.
Thanks for reading my post. I will definitely be back to this location. The Hub Seventeen space is a city dweller's dream come true.
---
Thank you for visiting today! If you found this encouraging or informative, please connect with us on Instagram, Youtube, Pinterest, Facebook or Twitter. We'd love to meet you!
Sign-up for our monthly newsletter for updates and more. We promise we won't spam you! Feel free to unsubscribe anytime.
For more fitness fashion discounts and offers, please visit our Fitness Instructor Discounts + Brands Directory or favorite brands coupon codes list.
If you're a brand and want to submit a product for us to review, please use this form to get in touch.
This site uses affiliate links. Clicking on or purchasing via an affiliate link may result in commissions for us which help keep the content flowing and lights on at Schimiggy Reviews. You may read more about this in our privacy policy.