Reading Time:
6
minutes
Updated: 1/4/2023 | Best Joggers and Sweatpants
Joggers are life. They're great for keeping warm, working from home, lounging around, and being comfortable in whatever endeavors you pursue.
Some of the best joggers and sweatpants have features like cuffed or tapered hems, super soft fabric, drawstring waistbands and pockets!
Joggers can be worn while you work out or worn whenever you need something to relax it. It's a versatile piece that we recommend having in your closet.
Here are some of our favorite joggers that we are head over heels for.
Best Joggers for Women
#1 lululemon Align Joggers
lululemon's Align joggers ($98) are made with their super soft Nulu fabric. This fabric will make you feel like you're wearing nada and that can be the best thing ever.
Align joggers come in full and crop length. They also come in other colors and patterns.
#2 Year of Ours
Year of Ours is a US-based activewear retailer that makes very high-quality apparel. We are over the moon with their comfy boyfriend joggers with a cross-stitch detail. The fabric is also very durable and plush.
Shop Year of Ours at Carbon38 and use code SHMGY25 to save 15% off your orders. Shop now.>>
Shop Year of Ours at Bandier and use this link to save $25 off your first order of $100+. Shop now.>>
#3 ALO Yoga
ALO Yoga is another one of our favorite brands! They make awesome activewear which also includes these awesome distressed joggers.
The distressed detail is the perfect amount of grunge to make you feel right at home. The fabric is also plush and will keep you warm.
Use this link to save 10% off your purchases at ALO Yoga.
#4 Constantly Varied Gear (CVG) Joggers
Constantly Varied Gear (AKA CVG) makes squat-proof pants and athleisurewear. Their joggers come with a drawstring waistband, super soft heathered fabric and pockets that zip to prevent you from losing your belongings.
Their fabric is thin and lightweight. It's great for wearing over their shorts.
Their joggers are also super affordable and only cost $27 USD!
#5 Baleaf Joggers
Baleaf makes affordable and comfortable joggers. Choose from different colors and features such as pockets and seams.
Use code SCHIMIGGY to save 15% off all your orders at Baleaf.
Read our full Baleaf review here.
#6 Vuori Performance Joggers
Vuori's Performance joggers ($84) are so comfy you'll wear these all week long. They come in different colors, have a drawstring waistband, and cuffed at the ankles with enough room for your legs to breathe. The fabric is thin and lightweight, which makes it great for all-season wear.
Men also get their own version of the Performance joggers ($84) so that couples can match if that's your thing!
Shop Vuori directly on their website or at REI.
Read our Vuori Performance Joggers review.>>
#7 Wolven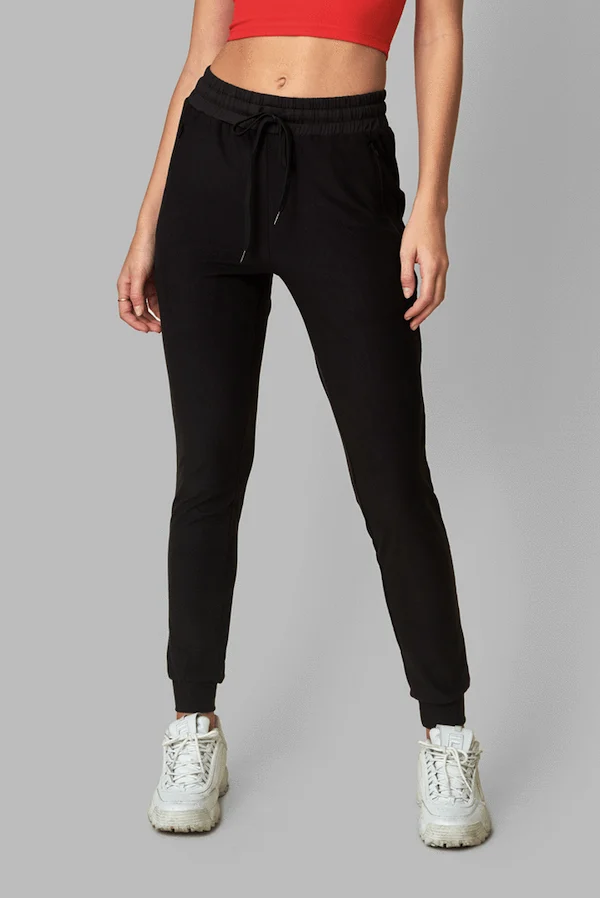 Wolven is a sustainable activewear brand for men and women. They offer joggers for both men and women. Each pair of joggers diverts one pound of plastic waste from landfills.
Use code SCHIMIGGY to save 20% off all your orders at Wolven.
#8 Carbon38
Carbon38 joggers are made with high-quality material and come in neutral colors. They can easily be dressed up or down. We love wearing them as travel pants.
Their fabrics vary, but are very durable. We recommended reading through the reviews or speaking with their stylists to find exactly what you need.
Use discount code SHMGY25 to save 15% off your first two orders at Carbon38.
#9 Spiritual Gangster
Spiritual Gangster makes comfy sweatpants in various patterns and oftentimes with matching hoodies and tops. The fabric is plush and thick yet soft enough to lounge around in all day long.
Choose from tie-dye, striped and solid designs. You're bound to find something you love!
Use our link to save $20 off your first order of $50+ at Spiritual Gangster.
#10 Zella
Zella us a Nordstrom activewear brand. They offer sweatpants that are great for wearing inside and out. They also have awesome deals throughout the year, especially during their anniversary sale.
Read our Zella reviews here.
#11 Sweaty Betty
Sweaty Betty makes comfy joggers and sweatpants that come with tons of features. They're also high quality and great for wearing anytime.
Get $25 off $50 when you use this link.
#12 Sundry
Sundry makes comfy sweatpants with matching tops. They're known for their plush thick fabric and fun animal prints or colorful stripe details.
Shop Sundry on Carbon38, REVOLVE, Shopbop and directly on their website.
#13 LNA
LNA makes a whole range of sweatpants, hoodies and sweaters. We love their plain and animal print apparel. We love their asymmetrical tees too.
They know how to make leisurewear fashionable and fun.
Shop LNA on Carbon38, Shopbop and directly on LNA's website.
#14 Aviator Nation
Aviator Nation makes comfy plush sweatpants and hoodies. They're known for their bold stripes and bohemian beach vibe.
They're a bit on the pricier side with joggers starting at $150+.
Shop Aviator Nation on Carbon38, Bandier and directly on their website.
#15 Beyond Yoga
Beyond Yoga has joggers made with their spacedye fabric. Spacedye is one of our favorite fabrics. It's super soft, lightweight, thin and comes in many colors. You'll want both spacedye joggers AND leggings.
Use this link to get 15% off your orders at Beyond Yoga.
#16 Free People
Free People makes lots of joggers in different styles, fabrics, cuts, dyes, etc. Their fabrics range from plush to thin and breathable. Check out their entire joggers collection. There's a perfect pair for everyone.
Pair it with a comfy t-shirt or tank top and you're set!
#17 Electric & Rose
Electric & Rose is a SoCal based brand that offers activewear and loungewear for men and women. We love their tie-dye jogger sets and cotton based tie-dye leggings.
Shop Electric & Rose on Bandier and use this link to save $25 off your first purchase.
#18 Cotton Citizen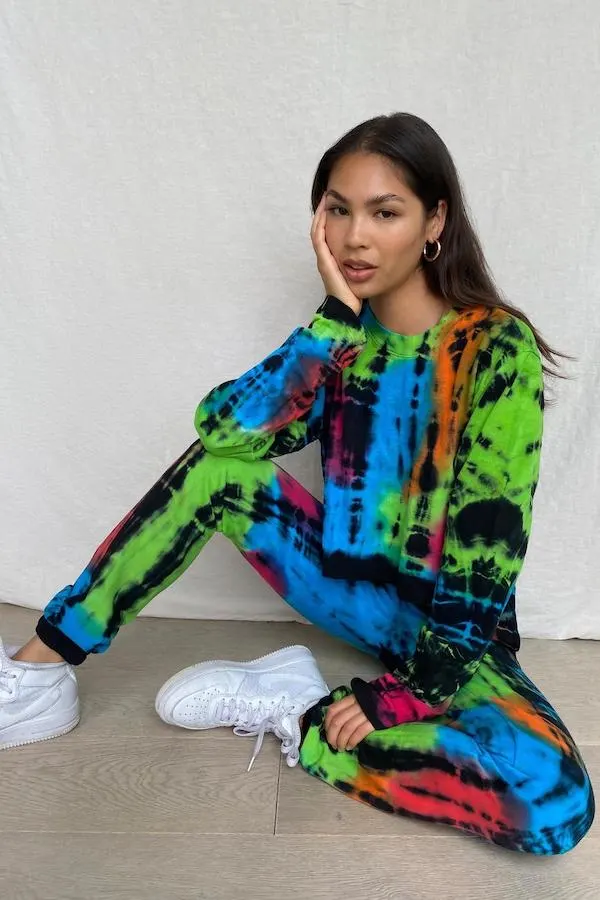 Cotton Citizen makes comfy coord jogger sets that come in solids and funky tie-dye prints on plush terry fabric. Get ready to fall in love!
Shop Cotton Citizen at the following retailers:
Carbon38 – Use code SHMGY25 for 15% off your first two orders.
#19 NSF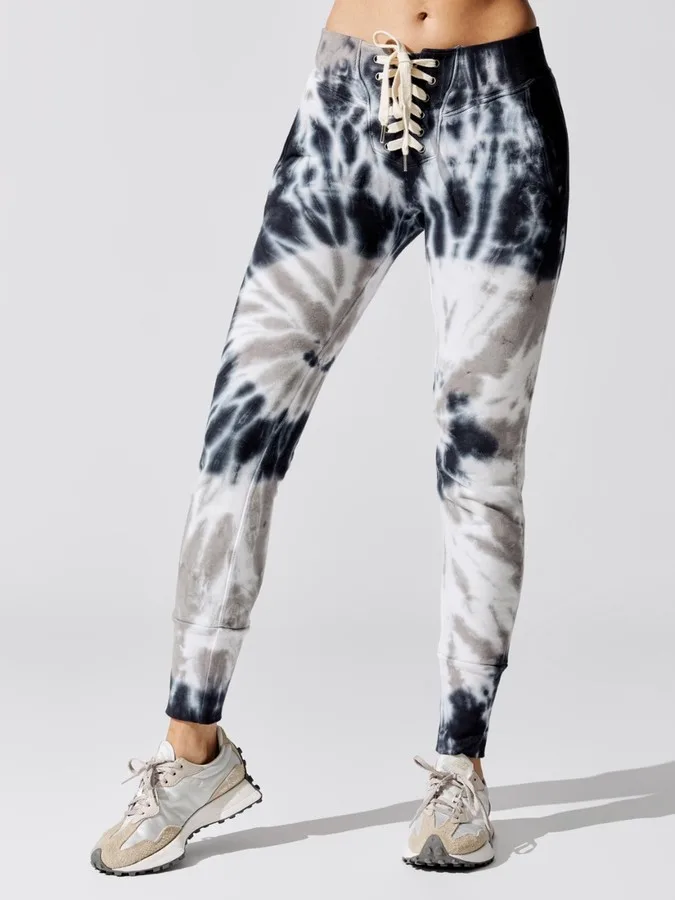 NSF is a brand known for their high-quality fabrics and comfy coords. We love their tie-dye sets. They also offer dresses, tank tops, crop tops and more.
Shop NSF at the following retailers:
Carbon38 – Use code SHMGY25 for 15% off your first two orders.
Did you enjoy our list of best joggers and sweatpants as chosen by our team and readers? What designer did you decide to go with? Let us know your favorite loungewear in the comments.
If you enjoyed our best joggers and sweatpants post, please share it on Pinterest! Thank you!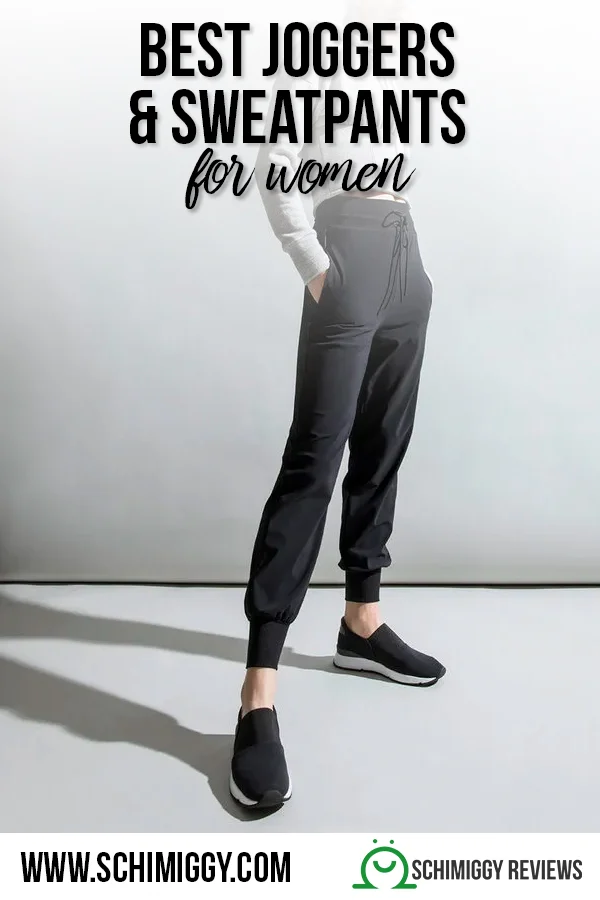 Thank you for visiting today! If you found this encouraging or informative, please connect with us on Instagram or TikTok.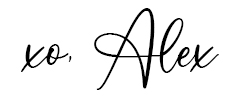 Sign up for our monthly newsletter for updates and more. We promise we won't spam you! Feel free to unsubscribe anytime.
If you're a brand and want to work with us, please visit this page to get in touch.