Reading Time:
9
minutes
Updated: 8/7/2022 | Best Cocktail Bars in Seattle
We love craft cocktails and are always adding them to our things to do and try list. Here are our picks for the best craft cocktail bars in Seattle.
1900 5th Bar & Lounge
This bar is located int the Westin hotel and looks like something out of the Great Gatsby. They have amazing craft cocktails that are representative of Seattle culture. Their food is also phenomenal. If you're visiting Seattle, you might want to consider lodging here.
2120
2120 is near the Amazon Spheres and they serve amazing drinks and food. It's a little on the pricey side, but worth a visit during happy hour or for a fancy night out with friends.
The Alley
The Alley is located in West Seattle. You'll enter through a locker (yes you heard that right) and into a cute cozy bar.
Ascend
Ascend is a fancy restaurant on the East Side in Bellevue. They have smokey cocktails that you'll want to Instagram. Come for their happy hour fare or come for dinner where you can enjoy their prime steaks and more.
The Backdoor
The Backdoor is located in Fremont and is a cozy little place for craft cocktails. For a minimum spend ($150) you can hang out in their private areas with your favorite people. They also have live bands on certain evenings.
View this post on Instagram
Bad Bar
Bad Bar is located in lower Queen Anne and offers a short and sweet cocktail menu. While you're here, check out their restroom where it'll feel like you were transported into a scene from Twin Peaks.
Bad Bishop
The Ballard Cut
Bathtub Gin
Bathtub Gin is a must if you're visiting Seattle. It's a little speakeasy-style bar located in the old boiler room of a hotel building. You'll need to find the entrance down an alleyway. You can order one of their crafted cocktails such as the Death Star or ask for a "Dealer's Choice" cocktail which requires a base liquor and flavor preference.
The Barrel Thief
Betty
The Botanicale
Canon
Canon is one of the best cocktail bars in Seattle. They have specific glassware for their special cocktails. They also sell vintage versions of popular cocktails that may run you as much as $200 a pop. They also have an iPad menu of vintage whiskeys that you can buy and try. We last saw a shot of whiskey for over $1,000!
Carnelian Bay
Charlotte Restaurant & Lounge
Civility & Unrest
Cook Weaver
The Cozy Nut Tavern
Damn the Weather
Deadline
Deadline is AMAZING! It's located in Pioneer Square and has both amazing cocktails and food. The backbar is lit up and illuminates the entire space.
The Doctor's Office
The Doctor's Office is fairly new and offers skewers and classic and craft cocktails. You can also buy the Doctor's Cure which is their version of a Dealer's Choice cocktail.
Fog Room
The Fog Room is a rooftop bar located at the top of the Charter Hotel in Downtown Seattle. It's a snazzy little place that is great for date night or late night drinks with friends.
Frolik Rooftop Bar
Frolik is located in Downtown Seattle and has an amazing assortment of craft cocktails and food. We typically find their cocktails are on the sweeter side and ask them to add less sugar and sweetener. You'll also get an amazing view of Downtown Seattle from their rooftop deck.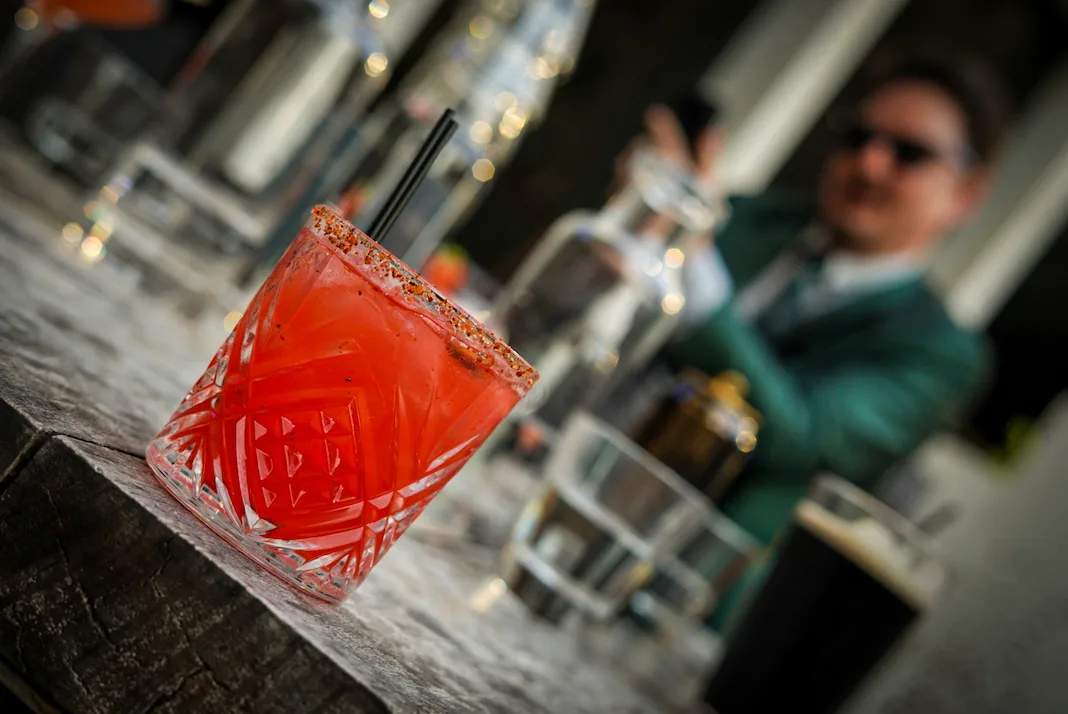 Hazlewood
Herb & Bitter Public House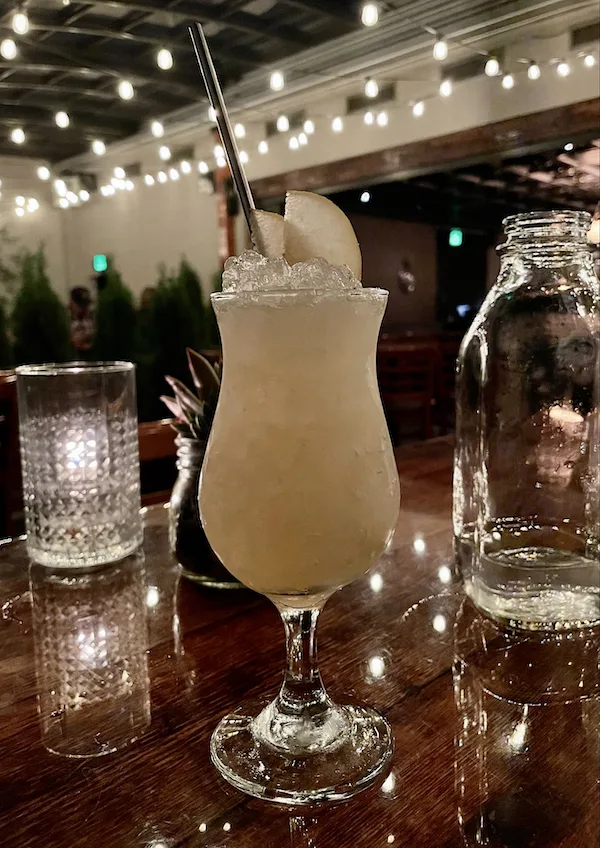 Herb & Bitter Public House is located on the bustling street of Broadway on Capitol Hill. They have awesome food and amazing cocktails. We love hanging out in their string light-lit patio area. It's in a well-decorated space with a dark tin ceiling, a beautiful chandelier, and an oversized patio with a retractable roof. You can rent it out for private parties as well.
In the wintertime, try their hot beverages to warm you up from the cold.
The Hideout
The Hideout is an awesome cocktail bar with artwork lining the walls, that you can actually buy! They also have a quirky vending machine with souvenirs you can buy made by local artists. Their cocktails are strong and creative.
In the Heart Speakeasy Bar
Foreign National
This very dimly lit cocktail bar and restaurant are perfect for date night and small groups. They are known for their cheeseburger baos and creative cocktails.
Gold Bar
Inside Passage
A hidden nautical-themed bar with super fun Tiki cocktails. We loved the Four Boys cocktail which was served in a rice cooker and I See a Light, which is served in a fun angler fish vessel. Look up to check out the Kraken.
Itsumono
JarrBar
JarrBar by Bryan Jarr is a little cozy Spanish-style bar with seafood tins and cured meats. The space is small, but during warmer weather, they have tables set up outside for al fresco dining. You'll want to come during happy hour for a great discount on the tins!
Kelnero
Knee High Stocking Co.
The Knee High Stocking Co offers craft cocktails alongside a Filipino-inspired menu. This two-story establishment has speakeasy vibes and is even hard to find from the street. Happy hunting!
Korochka Tavern
Super cozy Russian tavern serving amazing crafted cocktails, including one with beet vodka. They also serve Russian food such as pelmeni (dumplings) and pickled veggies.
Lady Jaye
Lady Jaye is located in West Seattle. They have an awesome prefix fare and delicious cocktails. We love their patio area where you can keep warm near the fire or enjoy on a warm sunny Seattle day.
Liberty
Liberty is a cocktail and sushi bar located in Capital Hill.
Life on Mars
Life on Mars was brought to life by local radio DJ John Richard. It's located in Capitol Hill and has a great selection of cocktails and vegan food. You'll want to try their cauliflower bites and taco salad. They also have special hours where you can play one of the thousands of vinyl records that line the restaurant wall.
Little Tin Goods & Apothecary Cabinet
Little Tin is a cute Tiki bar located in Ballard. They have Tiki drinks that are on the sweeter side and presented in fun glassware. Each table is separated by plants, so it's a really cool spot if you're a plant parent.
McMenamin's Six Arms
Going to McMenamin's is an experience. Each location has a slightly different menu and the Six Arms location in Capitol Hill has Tiki Tuesdays!
Merchant's Cafe & Saloon
Mischief on Canal
The Mountaineering Club
Navy Strength
Navy Strength is Rob Roy's sister establishment offering creative Tiki cocktails. During the holidays, the bar transforms into a tropical wonderland, with Christmas decor and drinks served in Christmas vessels. It's located next door to Trade Winds Tavern and Vinnie's wine and oyster bar.
Needle & Thread
Needle & Thread is a secret bar located within Tavern Law. It's a small space and requires a reservation. But if you're lucky, you can pick up the phone and ask if they have space available. If they do, you can enjoy small bites and delicious cocktails in their small space.
The NOOK
The NOOK is located in West Seattle and serves up amazing craft cocktails. Their upstairs area is a cozy "nook" with vintage furniture. Dogs are welcome! They may take a polaroid photo of you and your pup for their pet wall.
Octopus Bar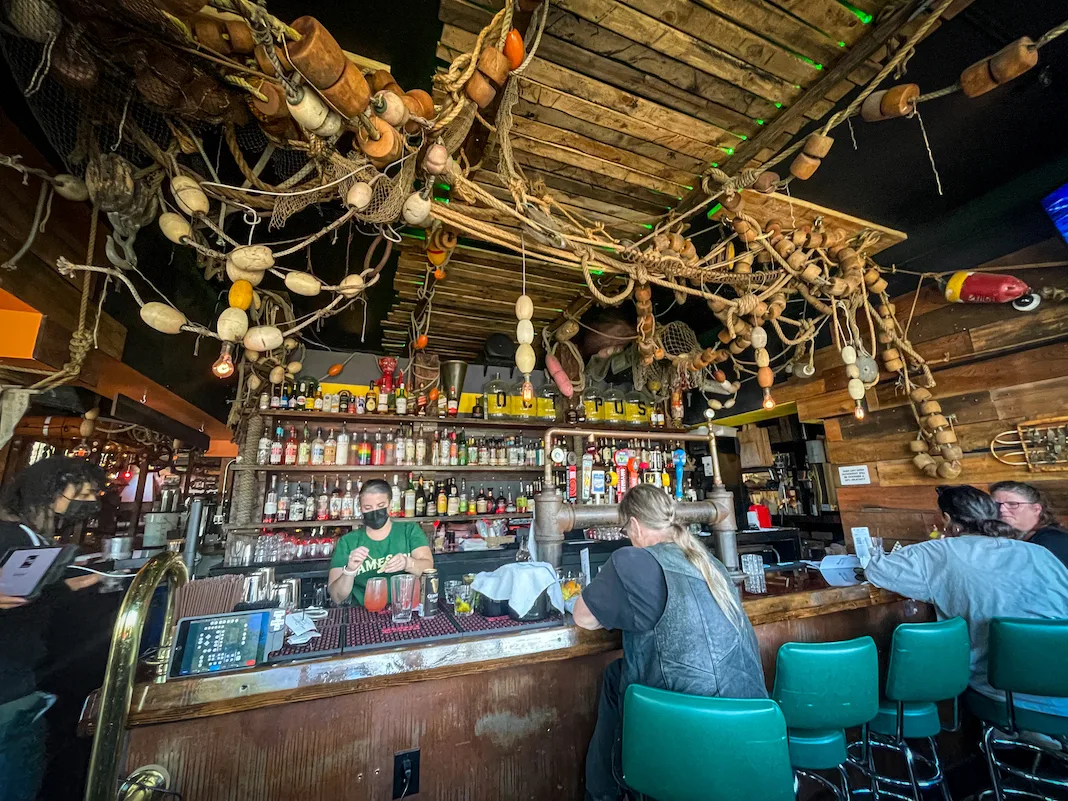 Oliver's Twist
Oliver's Twist is a craft cocktail bar and Khmer restaurant.
Oliver's Lounge
Olympic Bar at the Fairmont Hotel
Percy's & Co.
Percy's & Co serves awesome cocktails and soul food in an apothecary style setting. You'll want to try their Tomatillo cocktail. It's super delish!
The Pharmacy
Phocific Standard Time
Brought to you by the owners of Pho Bac Sup Shop is Phocific Standard Time (PST). It's located above the pho restaurant in Downtown Seattle. In PST you can order a craft cocktail made with ingredients you'll typically find in Vietnamese cuisine such as pickled onions. They also have the Pho Cup (smaller snack size of their pho bowls) and bo la lot
The Pink Door
The Pink Door is located in Pike Place Market. You enter the Italian restaurant through a literal pink door. They have a bar area is that is fully stocked and great for classic and creative craft cocktails.
Pink Salt Restaurant
ROCCO's
ROCCO's not only served the best pizza (IMHO) in Seattle, but they also have a bar that has every spirit you can think of.
Roquette
Roquette is an art deco style bar that serves stiff drinks. It's located in Belltown and is a great place for date night in one of their cozy booths.
Rose Temple
Rose Temple is a funky bar located in Capital Hill.
Rumba
Rupee Bar
Bar Sabine
Tucked behind Sabine Cafe is Bar Sabine. They have cute anime-themed cocktails and Turkish/Mediterranean fare. It's dog friendly on the patio and their outdoor seating equipped with a mister is perfect for warm sunny days.
Single Shot
Six Seven Restaurant
Located in the hip Edgewater Hotel on the Pier, this restaurant has happy hour deals on cocktails and food and an AMAZING view of the Puget Sound. They are known for their seafood fare.
The Sitting Room
The Sitting Room is located in lower Queen Anne and has an awesome cocktail menu. We loved their Cherry Blossom cocktail. We're a sucker for pink drinks.
They also have delicious Mexican food. The Sitting Room is connected to a local theater, so it gets very busy before showtime. It's also dog friendly on the patio!
View this post on Instagram
Smith Tower
Smith Tower was once Seattle's tallest building in 1914. Now they serve cocktails on the 25th floor in the 360-degree observatory. Sign-up to be part of their Rum Runner club for entry for you plus a guest any time and 20% off your bill. We love watching the sunset over the Puget sound from the observatory deck.
Stampede Cocktail Club
Stampede Cocktail Club will activate your senses. At first glance, it looks slightly old-fashioned, but then you turn a corner and Jurassic Park greets you. It's wacky and fun and they serve excellent cocktails alongside steamed dumplings from Little Ting's.
Suite 410
Suite 410 is located Downtown and offers a cozy Art Deco atmosphere with strong craft cocktails. Their food menu consists of small bites as they share the same kitchen as the Oliver's Lounge in the Mayflower Hotel.
Tavern Law
Tavern Law is located in Capital Hill and has a hidden speakeasy (Needle and Thread) upstairs. You'll need to make reservations for their hidden speakeasy. Tavern Law has great cocktails and a delicious food menu. Tavern Law has great cocktails and creative bar food.
Teacher's Lounge
Tin Lizzie
Tin Lizzie is located in the Marqueen Hotel in Lower Queen Anne and offers prohibition-era cocktails, a light food menu in an antique bar setting. They no longer have happy hour but do offer themed and event specials such as dress in 50's costume and get your first cocktail for half off.
Toulouse Petit
Toulouse Petit is a New Orleans style restaurant in Lower Queen Anne. They have a HUGE happy hour menu and their food is super flavorful. They also offer New Orleans style cocktails.
Trade Winds Tavern
Trade Winds Tavern has awesome craft cocktails that are both stiff and balanced. We love their Chai Sazerac. They have happy hour from 3 PM-6 PM and Totcho Tuesdays! Dogs are welcome in their patio area. Brought to you by the same owners of Navy Strength, Rob Roy, and Vinnie's.
Triangle Spirits
The Velvet Elk
Von's 1000 Spirits

Von's 1000 Spirits serves deliciously crafted cocktails and shots. They also have amazing homemade sourdough Rotelli pasta that you can order with plenty of sauce options. And you can ALWAYS enjoy a scratch Manhattan for only $7 every day.
West 5
Witness Bar
Witness Bar is located in Capital Hill and has super interesting cocktails in a comfortable bench seat setting and patio seating in the summer time.
Zig Zag
Zig Zag is one of our favorite bars! It's located on Western near Pike Place Market. The cozy interior is perfect for date nights. Their outdoor area is also great if you want to catch Golden Hour while sipping on a tasty libation.
Did you find our list of best craft cocktail bars in Seattle helpful? Please share it on Pinterest. Thanks for your support!
---
Thank you for visiting today! If you found this encouraging or informative, please connect with us on Instagram, Youtube, Pinterest, Facebook or Twitter. We'd love to meet you!
Sign-up for our monthly newsletter for updates and more. We promise we won't spam you! Feel free to unsubscribe anytime.
For more fitness fashion discounts and offers, please visit our Fitness Instructor Discounts + Brands Directory or favorite brands coupon codes list.
If you're a brand and want to submit a product for us to review, please use this form to get in touch.
This site uses affiliate links. Clicking on or purchasing via an affiliate link may result in commissions for us which help keep the content flowing and lights on at Schimiggy Reviews. You may read more about this in our privacy policy.