Reading Time:
5
minutes
ALO Yoga Black Friday and Cyber Monday (BFCM) sales are the best!
Their 2019 sale ran from Friday until Tuesday evening (extended sale). Items were up to 80% off. Stock was limited, but there were plenty of options for people looking for new luxe workout gear.
We purchased some items for ourselves as well as gifts for family and friends. Below is what we purchased during the BFCM ALO Yoga sale!
My Black Friday and Cyber Monday Sale Haul
#1 Wanderer Long Sleeve
Regular Price: $70 | Sale Price: $21 (70% off)
The Wanderer long sleeve is classy and sexy at the same time. We love this piece for layering or as a statement piece.
#2 Knot Bra
Regular Price: $52 | Sale Price: $26 (50% off)
The Knot bra is so cute! We purchased this in Tuscan Sun and decided to keep it for when Summer comes around.
It's padded and comes in lots of fun and bright colors.
#3 ALO Short Sleeve Cropped Hoodie
Regular Price: $88 | Sale Price: $26 (70% off)
This cropped hoodie was a steal. I love the screen print on the ties. The wide sleeves also offer a slimming feel to the crop top.
#4 Vixen Fitted Crop Tank
Regular Price: $60 | Sale Price: $24 (60% off)
I've been wanting this cropped tank for some time now. I am glad I got it at a discount. It's a great crop top for wearing during workouts or just casually.
#5 Fierce Sweat Pant
Regular Price: $108 | Sale Price: $32 (70% off)
I snagged these comfy distressed Fierce sweatpants for lounging around the house. It goes with my ALO cropped hoodie perfectly.
#6 Moto Pant in White
Regular Price: $110 | Sale Price: $30 (72% off)
I've been eyeing ALO's Moto leggings for some time now and grabbed them when I saw them for 72% off! They're see-through, but at this price point, it doesn't really matter.
Related: ALO Yoga Review: High-Waist Moto Leggings
#7 Pure Tank
Regular Price: $60 | Sale Price: $26 (70% off)
The Pure Tank has been on ALO's sale section for over a year. I snagged it for only $26 and combined it with a $25 off coupon code I had.
When I received the top, it looked way better in person than on the model. I highly recommend this top if you're looking for a black tank top with a subtly distressed design.
#8 Clarity Long Sleeve
Regular Price: $88 | Sale Price: $30 (65% off)
The Clarity Long Sleeve is a comfy sweater top that comes in plenty of neutral colors. We love wearing it with jeans or leggings.
The top is now back to regular price at $88.
#9 Ripped Warrior Bra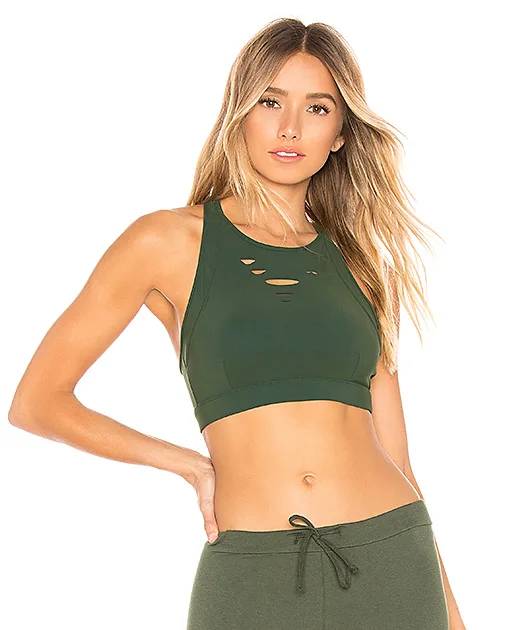 Regular Price: $60 | Sale Price: $18 (70% off)
The fabric used for their Ripped Warrior bra is so comfy and stretchy! The top doesn't come with padding, so it might not be a good option for those who need a little more support. At $18, I had to give this top a try and was not disappointed!
#10 Rhythm Scrunchie
Regular Price: $12 | Sale Price: $9 (30% off)
I am obsessed with ALO Yoga's hair scrunchies. They're made from the same material as their leggings and have a brushed feel so that your scrunchie stays put.
Related: How to Keep Your Hair Up While Working Out
Tips for Shopping ALO Yoga's Black Friday Sale
Here are some things we noticed about ALO Yoga's Black Friday sale that might be helpful to you.
Prices will increase after the sale. We saw some product prices increase back to regular MSRP post the BFCM sale.
Stock is limited. If you don't act fast, an item can be gone within minutes. There were moments where I FOMO'd on a pair of leggings that I've been wanting for the past two years.
Try something new. Their sales allow you to try new products that might not have been on your radar previously. We gave the Clarity long-sleeve and Ripped Warrior bra a try and it has become one of our favorite tops to wear anytime and anywhere.
Try ALO Moves for free. With every purchase, you are given a free trial of ALO Moves, their online fitness program portal. Wait until BFCM or New Years for awesome deals on ALO Moves packages. We were able to get one full year of ALO Moves for less than $9 a month. That's more than 50% off their regular price of $20 per month.
Related: Best Online Yoga Class Apps to Practice Anywhere and Anytime
Is the ALO Yoga Black Friday Sale Worth It?
During BFCM? Totally! You'll find some awesome deals with prices up to 80% off MSRP. It's a great time to stock up on high-quality activewear and refresh your wardrobe.
We love that the sales are not a total bust. I was able to find my size in a lot of styles and colors. I highly recommend taking a look even if you're not going to buy anything.
---
Thank you for visiting today! If you found this encouraging or informative, please connect with us on Instagram, Youtube, Pinterest, Facebook or Twitter. We'd love to meet you!
Sign-up for our monthly newsletter for updates and more. We promise we won't spam you! Feel free to unsubscribe anytime.
For more fitness fashion discounts and offers, please visit our Fitness Instructor Discounts + Brands Directory or favorite brands coupon codes list.
If you're a brand and want to submit a product for us to review, please use this form to get in touch.
This site uses affiliate links. Clicking on or purchasing via an affiliate link may result in commissions for us which help keep the content flowing and lights on at Schimiggy Reviews. You may read more about this in our privacy policy.