Reading Time:
6
minutes
Current ALO Yoga Deals:


What is ALO Yoga?
ALO Yoga was created by Danny Harris and Marco DeGeorge. They recognized the rise of athleisure wear and started ALO in 2007.
ALO was created to spread good to anyone who is experiencing the transformative power of yoga, to the world's best yogis like Talia Sutra, Ashley Galvin, and Dylan Werner who wear ALO to practice because it's the only line that actually elevates their practice, to the celebrities and the fashion-forward who wear ALO because it's the perfect street brand, comfortable, contemporary and decidedly not just for the mat.
Alo Yoga Leggings Review: High-Waist White Moto Leggings
I first tried ALO Yoga back in 2007 when they first came out. They offered their collection at Nordstrom and I was not immediately in love.
In 2010 I attended a conference in Boston, Mass. and found a cute Alo Yoga criss cross tank top that I fell in love with. I brought it home with me and later discovered that the label had fallen off after two wears and the trim used on the top was not stretchy and felt constricting.
I ended up selling the top. I also attended one of their samples sales in Los Angeles years later that year and found tanks, bras, tops and bottoms for an excellent deal! I still was not a huge fan of Alo due to the quality, but I couldn't beat the prices! Afterward, I took a long hiatus from ALO Yoga.
Two weeks ago (fast forward 7 years) I tried on their High-Waist Moto leggings and fell in love. I could see an exponential improvement in their design.
The fabric was much softer and the silhouette was very slimming! I could see why there's been such a huge rise in the popularity of ALO Yoga, aside from their Instagram sponsorships and challenges. So it warranted a space on my blog.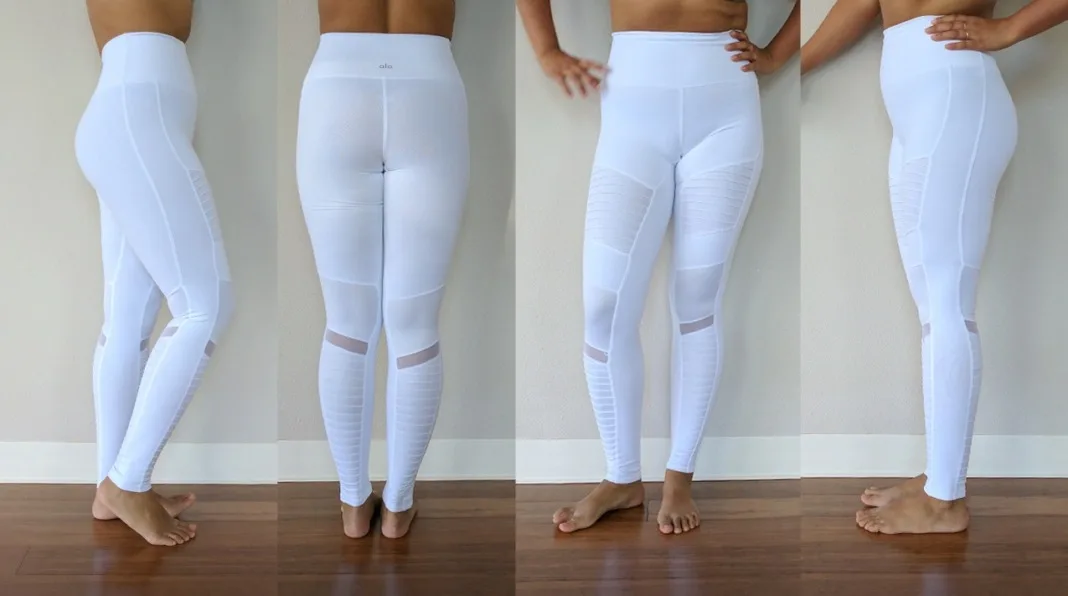 #1 Size: I tried on the black Alo High Rise Moto leggings in a size small at Nordstrom. I am a size 6 in lululemon for reference. The fit was excellent! The pants held everything in and looked very slimming.
I decided to get the pants in white as well! I figured white would fit similarly, but boy was I wrong. The pants were tighter (felt like I was wearing an XS) and see through.

#2 Style: ALO Yoga makes apparel for both men and women. ALO Yoga long leggings come in both high and regular rise. They also make shorts, bras, tops, sweaters, and outerwear. They recently came out with puffy jackets that make you look ski resort ready.
#3 Inseam: The leggings are 29″ long and can be worn over the heel or ankle. ALO Yoga is great for tall gals! For petite gals, I recommend going for their 7/8 leggings.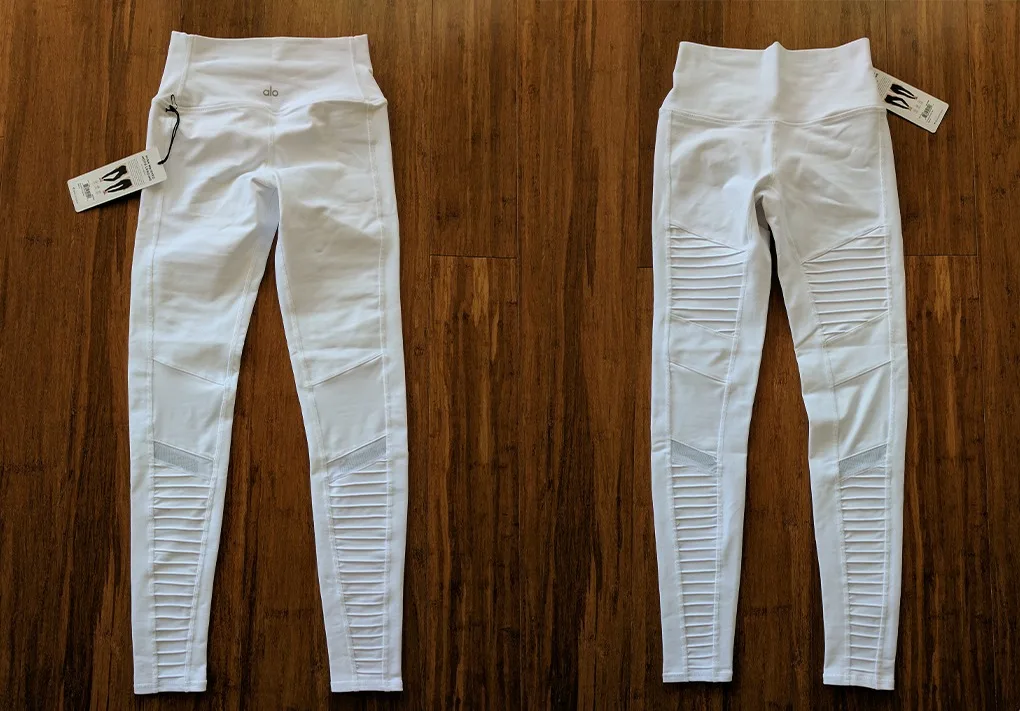 #4 Rise: High Rise pants sit above the navel.
#5 Waistband: I opted for the high waist moto leggings. The high waistband measures 4.25″.
#6 Fabric:
Fabric Content: Moto leggings are composed of Alo's Ultimate Performance Nylon Spandex (UPNS) + Glossy Performance Fabric (GPF).
Fabric Feel: The UPNS fabric feels similar to Lululemon Luon fabric but a bit thicker and softer. The GPF feels like Onzie material. The mixed matte and shine fabric panels provide the perfect amount of contrast, allowing the leggings to transfer easily between street to studio wear.
Fabric Performance:

Alo leggings are dry wicking with anti-microbial properties.
Fabric offers 4-way stretch, allowing the leggings to be form fitting. I did not find the leggings to be overly compressive.
No pilling! I've worn my Motos at least 5 times already. They've gone through the washer and come out still looking brand new.

Opacity: My black leggings were 100% opaque, however, the white leggings were see-through. A friend also mentioned that she experienced see-through in her navy Moto leggings as well. I have the moto pant in gravel (nude) and they are not see-through.
Fabric Features:

Screen printed logo on back waistband of the pant.
No pockets.
Pleated and mesh panel details across the front of the pant.
#7 When to Wear: Alo Yoga products are designed for yoga. They're also great for casual wear and other exercises as well.
#8 Cost: Alo's long leggings range from $88 to $129. The High Rise Moto Leggings cost $114. I've included some discount codes below so you can get it for below retail.
#9 Gusset: The moto leggings are constructed with an H-shaped gusset with a floating layer of fabric to protect and cover your crotch area.
#10 Stitch Seam: Flat fell seams line the inseam of the pants, front and back rise, and waistband of their leggings.
#11 UPF Protection: Not disclosed.
#12 Made in China.
#13 Care Instructions: I recommend washing your ALO leggings inside-out and on delicate in the washer. Definitely separate the white from the the colored fabrics.
Afterwards, I hang to dry on a foldable drying rack such as this one. The leggings will dry very quickly overnight. When hang drying, the fabric will feel a little stiff the next day. It will soften up with wear.
Should I Buy Alo Yoga Leggings?
Yes, you absolutely should get some moto leggings! I would recommend going with a colored or black option for your the moto leggings as they are less see-through. ALO Yoga offers the moto leggings in a variety of colors and sizes. I currently own both the black and gravel moto leggings and they are both 100% opaque.
I have met other people who complain that their black moto leggings were see through. I would order your true size in this particular pant.
I initially thought the Moto leggings were too busy for daily wear due to the piping design. But I find myself wearing them all the time. They bring the right amount of flair to my casual outfits.
I can dress the leggings both up and down and I absolutely love the fit. The pants are slimming, slightly compressive and very comfortable. I am glad I gave ALO Yoga another try!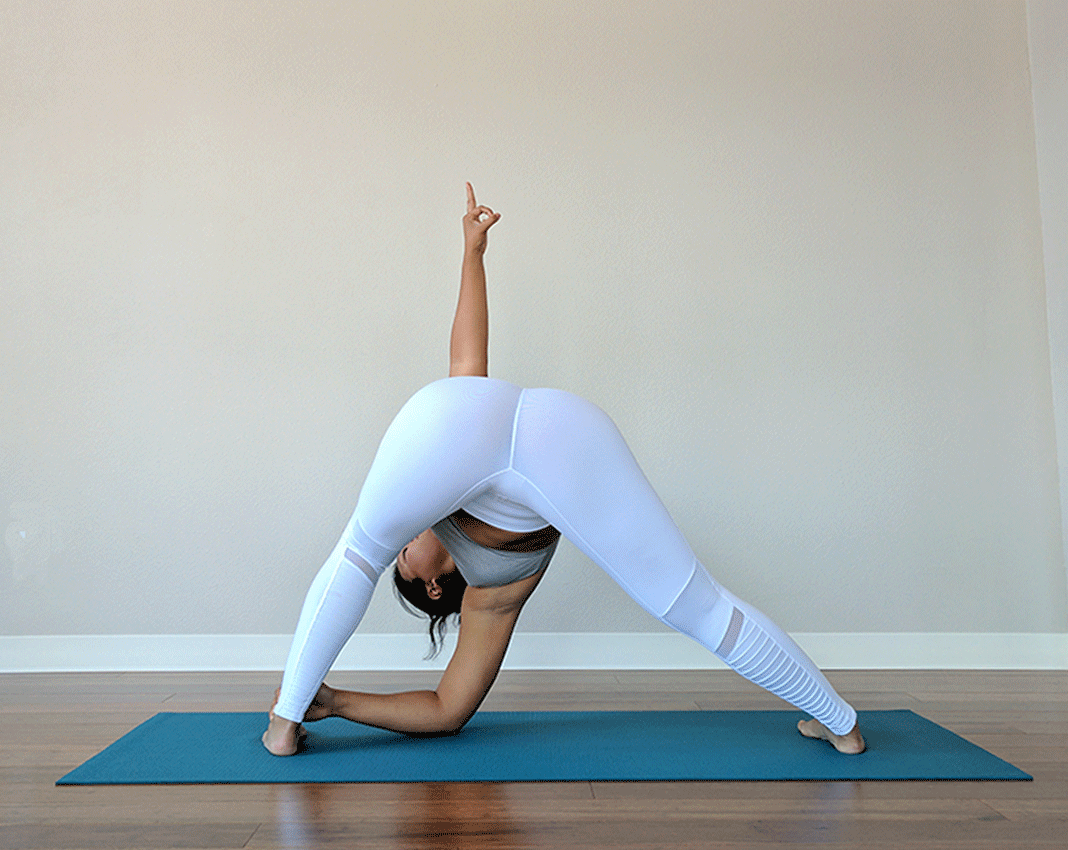 Where to Buy Alo Yoga Leggings?
If you like this post, you might like these articles too:
---
Thank you for visiting today! If you found this encouraging or informative, please connect with us on Instagram, Youtube, Pinterest, Facebook or Twitter. We'd love to meet you!
Sign-up for our monthly newsletter for updates and more. We promise we won't spam you! Feel free to unsubscribe anytime.
For more fitness fashion discounts and offers, please visit our Fitness Instructor Discounts + Brands Directory or favorite brands coupon codes list.
If you're a brand and want to submit a product for us to review, please use this form to get in touch.
This site uses affiliate links. Clicking on or purchasing via an affiliate link may result in commissions for us which help keep the content flowing and lights on at Schimiggy Reviews. You may read more about this in our privacy policy.