Reading Time:
4
minutes

About the Nordstrom Anniversary Sale
Nordstrom is a US-based department store that sells high to low-end goods. They have products perfect for any budget and style. They also have sister companies that include Trunk Club, a men's subscription service, Nordstrom Rack–their discounted department store and Hautelook–an online flash deals website specializing in hard to find designer goods.
The Nordstrom Anniversary sale happens once a year and is usually in the middle of Summer. Nordstrom offers in-store and online products at up to 50% off. Their sale is accessible by Nordstrom Reward members. How do you join Nordstrom Rewards? Just give them an email or phone number to use every time you shop online and in-store. You can also apply online here.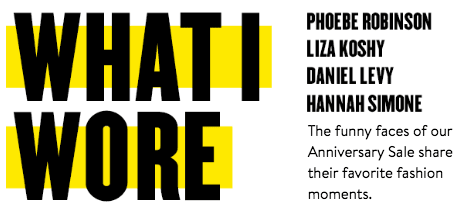 This year they partnered with famous internet and television comedians to promote the sale (see names to the right). I was honestly super giddy to see Hannah Simone in the line-up. Her character Cece on Girl Next Door is one of my favorites!
What I found at the Nordstrom Anniversary Sale
I decided to head into Nordstrom August 1st, 4 days prior to the end of the sale on August 5th. At the end of their sale, prices go back up. I came in with the intention to only look and not buy. And boy I was wrong.
I came in not expecting to buy anything and walked out with some steals. My biggest win was a non #NSALE item–a Mackage Miela-N Leather Moto Jacket. I tried it on and could not resist the fit and look. It was exactly what I'd been looking for. Initially the price tag read $706 and I was willing to pay that much. When I went to check out, the jacket rung up for $250! That's 64% off the original price. It was not an Anniversary sale deal but a crazy deal nonetheless. Thanks karma!
I also purchased an adidas Trefoil Tank for and $23 (originally $32) and Zella Star Crossed Crop leggings made with ZELSWIFT material (similar to lululemon Nulux). The crops were on sale in the sale section for $41.40 (originally $69). Most of the merchandise in the activewear section of the Anniversary Sale was Zella branded and nothing really stood out for me. There were great deals on Zella Live in Leggings. You could buy high waist Live Ins for only $32.40-$35.90. Overall, I felt the Anniversary deals were lackluster.
What I was really hoping for were discounts on ALO Yoga, Koral and other guest brands or items exclusive to the sale.
I also almost bought the Zella wrapped grey sweater pictured above but I resisted. It's Summer Alex, what are you doing? *Pats self on the back*
I'll let you in on a little secret. I use to work in the Nordstrom corporate in their buying department. I knew that the full-line store deals were decent but not significant. We also had to coordinate with full line to transfer items from Rack back over to full-line temporarily for the sale. Some stuff that goes into the Anniversary sale may have been resurrected in full line just for the sale.
The best Nordstrom deals came from closeout deals that were secured with high-end vendors (i.e. Longchamp, Chloe, Alexander Wang, etc.) that would then be distributed to our Nordstrom Rack stores. When we combined the Clear the Rack sale + Nordstrom Rack pricing + 20% employee discounts, I was buying high-end clothing and accessories for upwards of 80-90% off. It's well worth it to get a part-time job at Nordstrom Rack if only for the awesome Rack deals.
Is the Nordstrom Anniversary Sale worth it?
To be honest, I wear activewear for work and rarely find an occasion to dress up. My review will be limited to select items that fit my sporty aesthetic. If you like activewear, I would pass on the Nordstrom Anniversary Sale. I've read that the sale is great for stocking up on basics such as tees and undergarments.
Personally, I felt the sale was not impressive and the fact that my best deal was a leather jacket (with Nordstrom Rack markdown price ending in $.97) that happened to be on the outerwear rack in the activewear department was reflective of how unexciting this sale was. I would pass on this event and just buy from Nordstrom as you normally would or at Nordstrom Rack.
Did you attend the sale? Was it worth it? Let me know in the comments!
If you enjoyed this article, you may like these too:
---
Thank you for visiting today! If you found this encouraging or informative, please connect with us on Instagram, Youtube, Pinterest, Facebook or Twitter. We'd love to meet you!
Sign-up for our monthly newsletter for updates and more. We promise we won't spam you! Feel free to unsubscribe anytime.
For more fitness fashion discounts and offers, please visit our Fitness Instructor Discounts + Brands Directory or favorite brands coupon codes list.
If you're a brand and want to submit a product for us to review, please use this form to get in touch.
This site uses affiliate links. Clicking on or purchasing via an affiliate link may result in commissions for us which help keep the content flowing and lights on at Schimiggy Reviews. You may read more about this in our privacy policy.
Updated: 8/1/2018