Reading Time:
5
minutes
Updated: 5/4/2023 | What to Wear to a Masquerade Party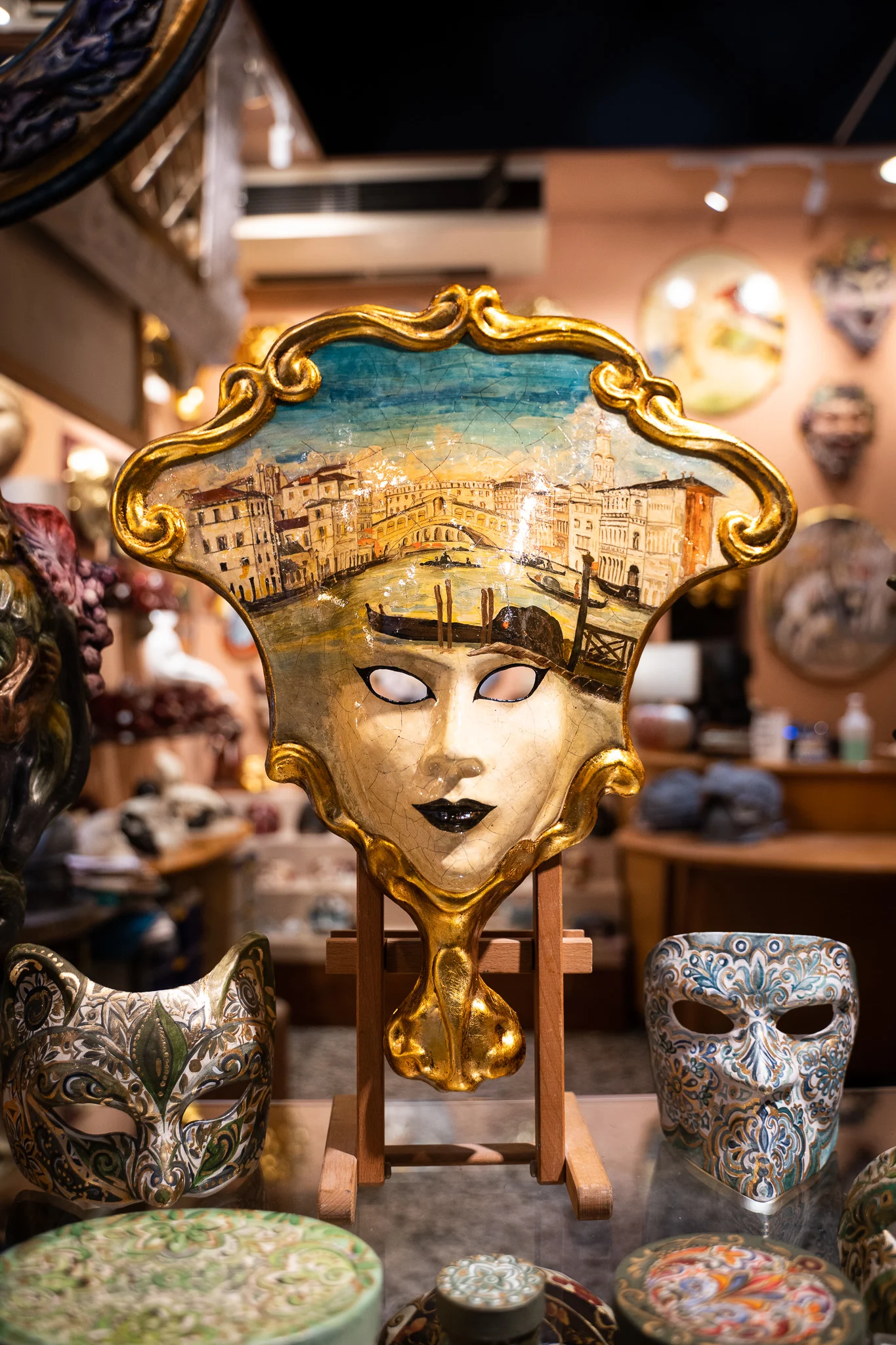 Disclaimer: This post is sponsored by the Venice is Sinking Masquerade Ball held in Seattle, Washington.
What is a Masquerade Party?
A masquerade ball or party is an event in which many participants attend in costume wearing a mask. Less formal "costume parties" such as Halloween or themed parties may be a descendant of this tradition.
A masquerade party usually includes music and dancing. These nighttime events are used for entertainment and celebrations.
During the Middle Ages (15th Century), Christians would observe Carnival season. This was the last chance to indulge in all the food and wine possible before fasting for Lent. People held parades, wore masks, and danced in the streets. All social restrictions were cast aside and the poor were able to mingle with the wealthy. In addition to giving up meat, Christians were required to abstain from "unholy" acts during Lent. As a result, trysts with masked strangers were permitted to put these desires to rest.
Carnival is derived from the Latin words carne vale meaning "farewell to meat." The idea of dressing up stems from the festival of Isis, Carrus Navalis, roughly translated as "naval cart," where ancient Egyptians would carry images of the goddess Isis out to sea to bless the first sailors setting off after winter. This march was accompanied by a parade of people dressed like animals and other sacred costumes.
Masquerade parties evolved out of these adopted traditions. Men and women usually wore puffy outfits with lace around the collars known as Vandykes. The term is derived from Flemish painter Anthony van Dyck who was famous for depicting such outfits in his art. Masks were often adorned by feathers or jester bells. Because of its roots, masquerade balls were notoriously labeled as nights of debauchery.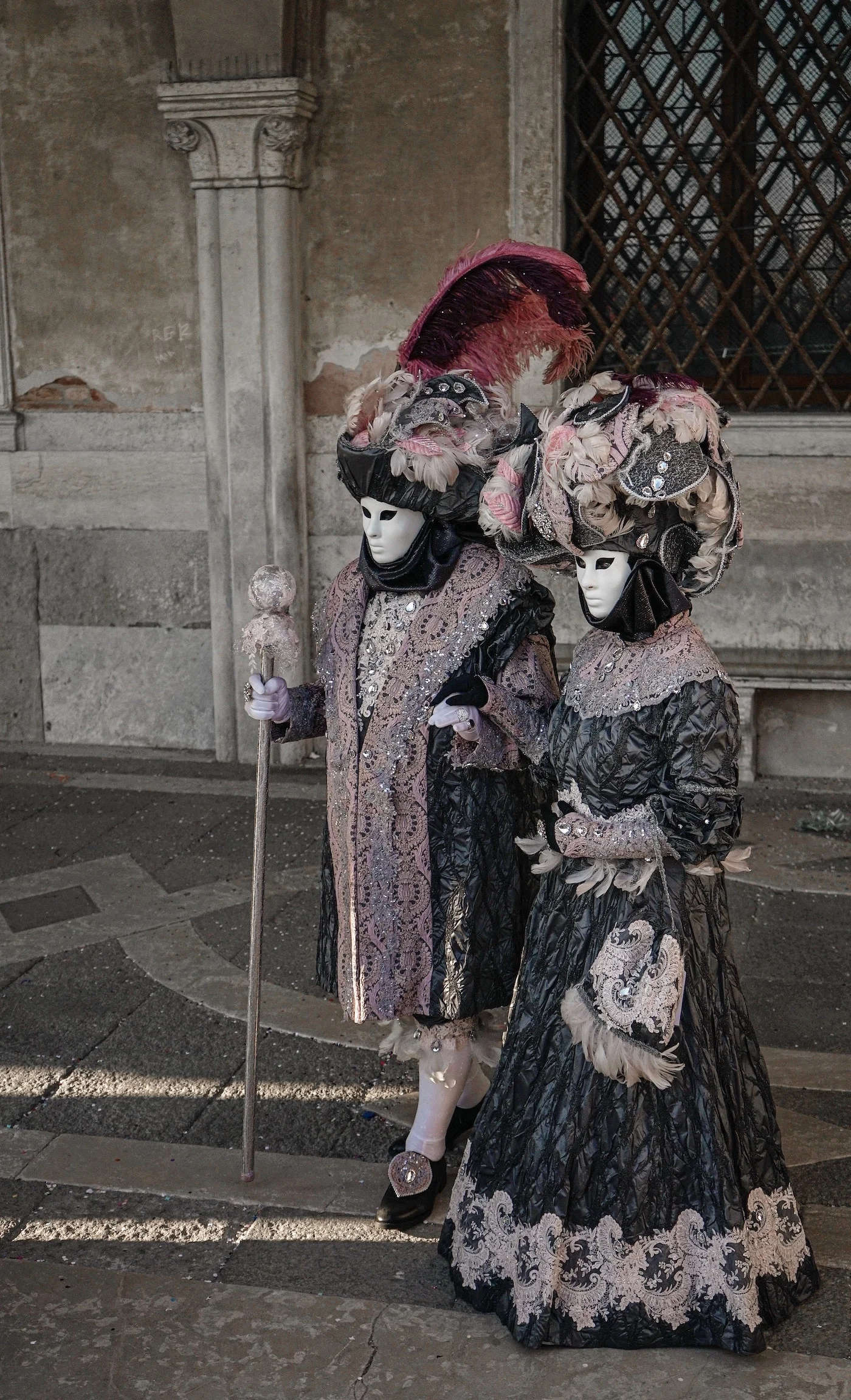 Some examples of masquerade balls of the past include the "Bal des Ardents" ("Burning Men's Ball") which was held by Charles VI of France, and intended as a Bal des sauvages ("Wild Men's Ball"), a form of costumed ball (morisco). It took place in celebration of the marriage of a lady-in-waiting of Charles VI of France's queen in Paris on January 28, 1393. The King and five courtiers dressed as wildmen of the woods (woodwoses), with costumes of flax and pitch. If they came too close to a torch, the dancers would catch fire.
Masquerade parties were eventually extended to the public in Italy during the 20th-century Renaissance. The Italian word for masks is maschera. They were generally elaborate dances held for members of the upper classes and were very popular in Venice. They have been associated with the tradition of the Venetian Carnival.
History of the Venice Carnival
The origin of the carnival is extremely removed from today's celebrations.
The Venice Carnival began in 1162 in celebration of the Venice Republic's victory over its enemy, the Patriarch or Aquileia. The people of Venice gathered in Saint Mark's Square (San Marco) to dance and celebrate their victory.
As time went on, the carnival continued to be celebrated and most attendees probably had no idea how it began. It was simply an excuse to dress up and have fun.
The Venice Carnival carried on for several centuries until it was outlawed in 1797 while Venice was under the rule of Francis II, the Holy Roman Emperor. Venetians' use of masks to conceal their identities was also banned at the time. During the 19th century, the festival came back for brief periods, but it was always practiced privately, lacking the huge public displays and festivities that they're known for today.
In 1979, the Italian government decided to help Venice reconnect with its festival heritage in order to rejuvenate the culture and economy of Venice. The tourism industry also saw the benefits of this decision. Over time, the Venice Carnival has grown and grown over the years into one of the world's biggest and most popular celebrations.
Today, there are masquerade party renditions throughout the world. Consider yourself lucky to get invited to one of these events.
What to Wear to a Masquerade Party
Wearing masks gives us the freedom to be someone else. You can dress up and have fun while remaining anonymous.
Today, masquerades are most commonly experienced around Halloween, Mardis Gras, Day of the Dead (Dia de los Muertos), and Carnival in Brazil. Some of the largest masquerade balls still take place in cities like Venice and New Orleans.
Heading to any masquerade party requires you to have a costume and a mask.
In the past, people have worn elaborate costumes with layers, lace, petticoats, and much more.
Modern-day masquerade parties are much simpler. You can easily wear a formal suit or gown accompanied by a mask.
You can make your costume as elaborate or as comfortable as you want.
Elaborate costumes and masks can be rented. In the Seattle area, you can rent costumes and masks from A Masquerade in Redmond and Vintage Costumers in Everett. They have excellent historical costumes that you can rent and wear to a masked ball.
Want to own your own gown? You can shop for Baroque or Rococo gowns on Amazon. They're affordable and come in various colors and fabrics.
Amazon also has a great selection of full and half masks to complete your look.
Another brand of dress that we love and highly recommend is Selkie. They make those ethereal poofy princess dresses that are perfect for any masquerade ball.
Related: Selkie Review – Is It Worth It?
Attend a Masquerade Ball
Now that you know what to wear, it's time to show off your look.
If you're in Seattle, Washington, we welcome you to attend the Venice is Sinking Masquerade Ball on May 20th, 2023.
There is entertainment throughout the night, featuring: KEXP DJ Darek Mazzone; electric violinist, Jared Burnett; accordion player, Jamie Maschler; Raiz Brazil Samba Dance Troupe; Créme Fraiche Burlesque performer; three different aerialists; unicycle performer; stilt walkers; 18 century mini fashion show; pop-up shops (custom fragrances, jeweler, custom candles, Tarot/Oracle card readers) and more. All tickets include a visit to the dessert bar (macarons, chocolate truffles, mini eclairs) and Italian Gelato.
Use code SCHIMIGGY to save $25 off your order.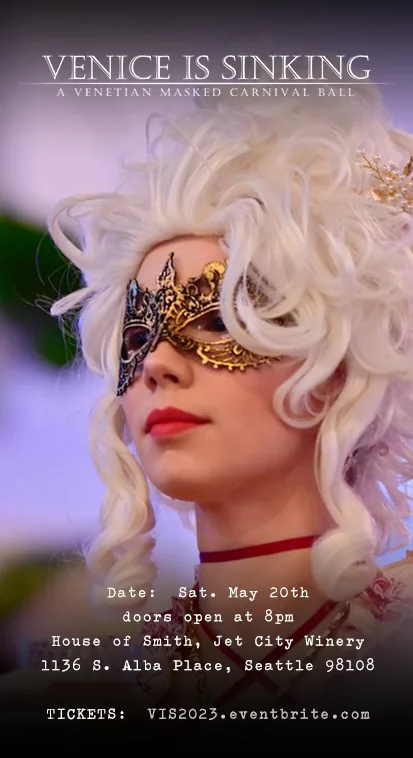 If you found our post on what to wear to a masquerade party helpful, please share it. Thanks for your support!
---
Thank you for visiting today! If you found this encouraging or informative, please connect with us on Instagram, Youtube, Pinterest, Facebook or Twitter. We'd love to meet you!
Sign-up for our monthly newsletter for updates and more. We promise we won't spam you! Feel free to unsubscribe anytime.
For more fitness fashion discounts and offers, please visit our Fitness Instructor Discounts + Brands Directory or favorite brands coupon codes list.
If you're a brand and want to submit a product for us to review, please use this form to get in touch.
This site uses affiliate links. Clicking on or purchasing via an affiliate link may result in commissions for us which help keep the content flowing and lights on at Schimiggy Reviews. You may read more about this in our privacy policy.