Reading Time:
4
minutes
I am using my blog to make an announcement…
DO NOT SHOP AT Lotus Leggings
We always promote shopping with authorized retailers. We live in a time where we can easily buy things for less than retail. Because we're always looking for the best deals, predatory brands steal designs and sell them as their own.
We should be mindful as consumers. Do not support companies that create counterfeits of high-end designs. Not only do these brands use subpar materials and business practices, but they also really harm the way we invest in fashion.
Fashion is a very superficial way of expressing our personalities. What better way to express our values than to support actual small businesses that support the environment and want to connect with their buyers?
We have not linked LotusLeggings(dot)com in this post to prevent website traffic and potential sales.
Related: Copycat Activewear and lululemon Dupes
Why You Should Not Shop at Lotus Leggings
#1 They STEAL Designs
They take away from designers and brands that pour their sweat and tears into making high-quality products. Read our list of Copycat Activewear brands (and avoid them).
Here are some brands that have been counterfeited by Lotus Leggings:
Black Milk
Emily Hsu
Flexi Lexi
Lularoe
Noli Yoga
Counterfeiting affects ALL brands and not just activewear brands.
What to Do Instead: You can do a reverse Google image search to easily source where to find an authentic product. Most counterfeit and low-quality products are being sold on Amazon and by brands originating in China.
#2 Cheap Fabric and Materials
Their fabric is cheaply made in factories in China. They're lazily sourced for best cost and the fabrics are often bad for the environment. They use toxic dyes that leak. All their apparel leaks tons of microplastics into our ocean, affecting our marine life.
What to Do Instead: Ensure that you buy from companies that are eco-friendly and sustainable. This includes slow fashion companies like WERKSHOP and Girlfriend Collective. Slow fashion also ensures that you'll have an item that is unique and not mass-produced.
#3 They LIE
Lotus Leggings suppresses negative reviews on their social media accounts. You won't be seeing negative reviews from actual customers because they've been deleted or not published.
What to Do Instead: It's not worth your time dealing with a company that is not straightforward and dishonest with their customers. Just stay away altogether.
#4 They're Overpriced
Their leggings are being sold for $50 when they probably take a few dollars to make in a factory in China. Not to mention all their designs are stolen, which means they put ZERO effort into design. Yuck!
What to Do Instead: If you're on a budget and have a minimum price limit, wait for sales or buy what you want secondhand. Follow your favorite brands online and sign-up for their e-mail lists. Brands will often announce sales during holidays and offer amazing deals when they need to clear out their inventory.
Related: Best Sites to Buy and Resell Used Items
#5 They Take FOREVER to Ship
Because they're coming from China, they'll take FOREVER to ship. Some people have even reported that they never received their orders. This can cause undue frustration to customers and is just downright unprofessional.
What to Do Instead: Shop with local brands to reduce your carbon footprint (less resources to get to your doorstep) and get your merchandise faster. Authentic brands often invest in eco-friendly shipping practices and will use recycled envelopes and sustainable packaging materials.
#6 They Only Want Your Money
Many brands we work with on Schimiggy Reviews give back to important causes.
Lotus Leggings does not. And we're not surprised. Lotus Leggings is ultimately here to make money off of customers and keep the profit in their pockets.
What to Do Instead: Research charitable efforts made by brands. Brands that give back indicate that they care about the communities in which they reside. Some brands even give to worldwide and international causes.
WERKSHOP has a special collection that donates a portion of their sales to benefit Love Leo Rescue, an animal rescue center in LA. Read more about the campaign here.
Final Thoughts
The next time you see pretty apparel or accessories online, do some research to find out if a product has been counterfeited. It takes seconds to do a reverse Google image search to find out whether a design has been stolen and where to find an authentic product.
Being a conscious consumer will be great for small businesses, the environment and our economy.
And before you leave, one more thing…DO NOT SHOP at LotusLeggings(dot)com! Always #shopsmall.
We really appreciate you taking the time to read this. Did we miss anything? Let us know in the comments.
Please support honest businesses by sharing this on Pinterest.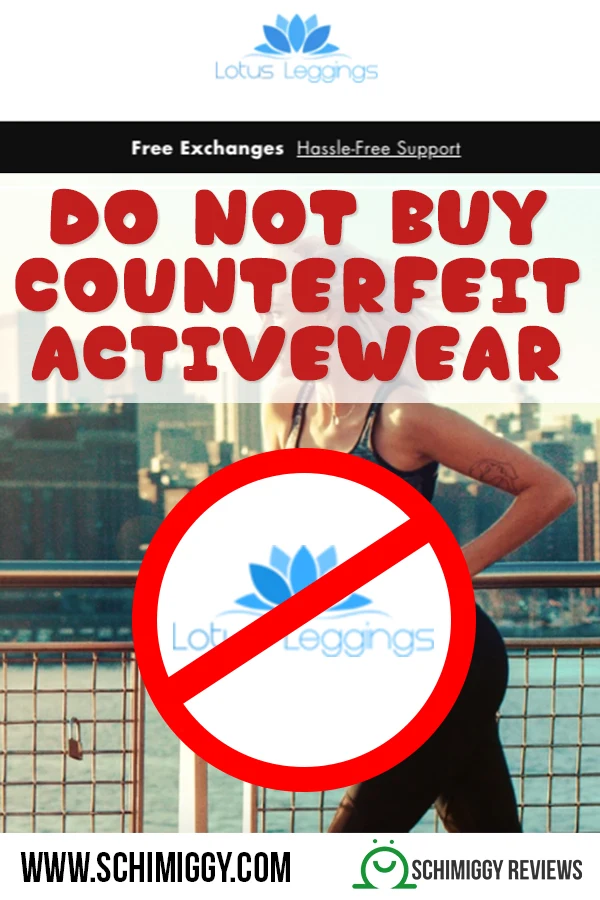 ---
Thank you for visiting today! If you found this encouraging or informative, please connect with us on Instagram, Youtube, Pinterest, Facebook or Twitter. We'd love to meet you!
Sign-up for our monthly newsletter for updates and more. We promise we won't spam you! Feel free to unsubscribe anytime.
For more fitness fashion discounts and offers, please visit our Fitness Instructor Discounts + Brands Directory or favorite brands coupon codes list.
If you're a brand and want to submit a product for us to review, please use this form to get in touch.
This site uses affiliate links. Clicking on or purchasing via an affiliate link may result in commissions for us which help keep the content flowing and lights on at Schimiggy Reviews. You may read more about this in our privacy policy.