Reading Time:
15
minutes
Updated: 8/8/2022 | Complete Tulum Travel Guide
Tulum has ranked among the top beaches in Mexico thanks to its white sand and palm tree-lined coast. Dedicate your first day in Tulum to get acclimated and relaxing on the sand with a refreshing beer or cocktail in hand!
Once a laid-back beach destination, Tulum has become a hot spot for yoga retreats, dining, boutique shopping, and nightlife. Another major draw is the town's incredibly preserved ruins of an ancient Mayan city.
Our Tulum travel guide is filled with travel tips to help you plan your trip to Mexico!
About Tulum
Tulum is located on the Caribbean coastline of Mexico's Yucatán Peninsula, in the Riviera Maya district. In recent years, the town has become more high-end due to wealthier travelers vacationing here. The prices in Tulum have inflated but there are still ways to enjoy the city that won't break the bank.
Tulum is divided into two areas: the town (pueblo) and the beach (playa), which are about 3 miles apart. Tulum Beach is the stretch of businesses and hotels along the beach with one main road running down the entire length. Tulum town is off the beach and is more affordable with tons of street eats.
Language: Spanish is the official language spoken by locals. However, most people working in the tourism industry will speak English relatively well.
Currency: Tulum uses the Mexican Peso ($1 USD = ~20 MEX$). Carry cash with you when possible because many restaurants and bars will not take credit cards. ATMs are also hard to find and can be expensive.
Credit Cards and Banks: Most restaurants and hotels will take Visa and Mastercard payments, but your best bet is to always carry cash. While US Dollars are accepted at some restaurants and shops, you'll typically end up paying more than if you pay with Pesos.
Climate and Weather: The average high temperatures in Tulum remain about 80 °F (or 30°C) year-round. The rainiest time of the year is between June and October. The busiest season for tourism is during their dry period between December and April. We like to go anywhere between March and April.
What to Wear: Pack a good selection of lightweight, loose, breathable clothing so you can be comfortable throughout Tulum's hot days and warm, humid evenings. You'll also want a good selection of swimwear and beach cover-ups, plus waterproof footwear and good walking shoes you don't mind getting dirty (in the event of rain, which can make Tulum's roads to become muddy).
Safety: While Tulum is safe, we still advise taking caution and being aware of your surroundings. Don't leave your belongings unattended. It is OK to walk around at night, just be aware of your surroundings and do not go alone if you can help it.
Bathrooms: Bathrooms throughout the Yucatán will kindly ask that you throw your toilet paper away in the trash can versus into the toilet. Most places will allow you to use their restrooms if you dine or shop there. Keep in mind that the plumbing in this part of Mexico can't handle toilet paper the way toilets can in the US.
And our biggest pro tip is almost every single beachfront hotel will give you access to their private beaches, pools, and amenities if you dine there. It's a great way to save money if you can't splurge on a beachfront hotel, which can often run around $400-500/night.
How to Get to Tulum
The best way to get to Tulum is through Cancun Airport (CUN). From there you can either drive, take a private shuttle, colective (a shared bus), shared shuttle, or get a taxi to Tulum. It's approximately a 1 hour and 15 minute drive.
We highly recommend using Bookaway to plan your transportation into and out of Tulum.
Tulum Travel Guide
Our complete Tulum travel guide was created to help you build the best travel itinerary for your trips. Whether you spend 3 days or a month in Tulum, there is so much to explore!
What to Do in Tulum
Visit Tulum's Beach Clubs
We highly recommend staying at a beachfront property whether it's a hotel or Airbnb. But if you aren't staying on a beachfront property, you can visit a beach club instead.
Some beach clubs that are highly rated in town include:
Visit Tulum's Public Beaches
For a more relaxing time, you can bring your own towel and drinks and head to one of Tulum's true public-access beaches, which are equally beautiful:
Las Palmas
Playa Paraíso
Playa Ruinas
While the beaches of Tulum are super white and nice, there has been a lot of sargassum, or seaweed, onshore. Some hotels will actively remove it but most of Tulum's beaches are still covered in it. We highly recommend getting a cabana at one of the beach clubs to have the best experience and view.
Visit a Cenotes
There are tons of super cool cenotes near Tulum and I encourage you to visit at least one or two during your trip. A cenotes is a cave or sinkhole with a natural pool that you can swim or snorkel in. You'll have to pay an entrance fee plus an additional fee for any camera or drones you plan on bringing with you.
In general, we spent around 45 minutes to 1.5 hours at each Cenote we visited. We have visited Dos Ojos and Ik Kil and highly recommend them.
Here is a list of cenotes that are worth visiting in the Tulum area:
Dos Ojos
Ik Kil – A little too manufactured for my tastes, but great for the entire family. Best to add on after you visit Chichen Itza ruins.
Calavera
Gran Cenote
Casa Cenote
Carwash
Casa Tortuga
Zacil-Ha
Visit the Tulum Jungle Gym
The Tulum Jungle Gym is worth visiting because you can get a workout right next to the beach! It's also fun to use their prehistoric gym equipment.
Do Some Yoga In Tulum
If you're staying at a hotel in Tulum, it's likely your hotel will offer yoga classes onsite for free or by donation. Otherwise, it's not hard to find a studio near you to sweat it out in the jungle heat.
Some highly recommended places to practice yoga in Tulum include:
Holistika Tulum
Sanara Tulum
Yaan Wellness Energy Healing Spa Tulum
Yoga Shala Tulum
Amansala
Explore Tulum Town
Now that you've explored Tulum beach, you can head to Tulum town! The beach and town areas are distinctly different and about 25 minutes apart when driving. While the beach area is more glamorous, bohemian, and expensive, the town is more chill and affordable.
The town is a great place to spend some time walking around, shopping, and grabbing a bite or a cocktail at a much more reasonable price than near the beaches.
Visit the Ruins
No trip to this part of Mexico would be complete without a visit to one of the famous ruins in Quintana Roo.
#1 Chichen Itza
Definitely make a day trip to see one of the Seven New Wonders of the World. It's just two hours from Tulum. The best way to get there is to drive to the ruins around Valladolid. You can also book a tour complete with transportation and a guide.
Once here, you'll be bombarded with people who will be offering guides for the attraction. The guides before the ticket booths are unofficial guides. Continue driving until you get to the parking lot. Parking is 80 Pesos. Once parked, walk up to the ticket booths and you'll find official government-employed guides there. You can combine your party with another group of visitors to split the cost of one guide. The tours take anywhere between 60-90 minutes to complete.
We also love using their App Guide which is only $1 USD and you can take your time on the grounds. We highly recommend wearing earphones if you go for this option. It should take you no more than 2-3 hours to cover the entire grounds. Bring a hat, sunscreen, sunglasses, and good walking shoes because there will be a lot of walking.
We went during the rainy season, so it might be a good idea to bring a rain poncho as well.
After visiting Chichen Itza, many people will visit the Ik Kil or Suytun Cenotes. It's possible to do both cenotes if the weather conditions are perfect.
And if you're hungry and want to explore an authentic roadside eatery, we recommend stopping by La Verdadera Tia de Kaua, which translates to the REAL Tia de Kaua. Their menu is simple and offers poc chuc (grilled pork), camasita asada (stuffed egg tortillas) and longaniza (red sausage). We are OBSESSED with their authentic home-cooked food.
#2 Coba Ruins
Another great day trip from Tulum is to the Coba ruins, which is just 45 minutes to an hour outside of Tulum.
Simply park and then buy your tickets to ascend the Coba ruins. Coba is the only ruin that still actually lets you climb to the top so that you see an endless forest of trees. It's one of our favorites and what we prefer to return to year after year.
We also visited the Dos Ojos cenotes on the same day. It was a great way to complement the sweaty climb to the top!
We recommend driving to Coba ruins if you can. There are also tours you can book.
#3 Tulum Ruins [Closed during Covid 19 Pandemic]
The 13th-century, walled Mayan archaeological site at Tulum National Park overlooks the sea. It incorporates the clifftop Castillo, built as a watchtower, and the Templo de las Pinturas, with a partially restored mural. Inland, the Cobá archaeological site has pyramid-shaped temples with views over the surrounding jungle.
Getting to the ruins is fairly easy from Tulum town. Most hotels will offer bus tours to Tulum, or information on when and where to catch the bus.
The fee to access the site is $35-40 pesos (video cameras are an extra $30 pesos). You will need to park your car at the shopping center's parking lot (an extra fee of $30 pesos) when arriving through the ruin's main entrance.
If you are driving a rental car, take Mexican Highway 307 south out of Cancun. The ruins at Tulum are open between 8 a.m. and 5 p.m., but it's best to get there early in the morning or late in the day to avoid the crowds.
Here is a map that pinpoints the location of the Tulum Ruins.
Visit the Kaan Luum Lagoon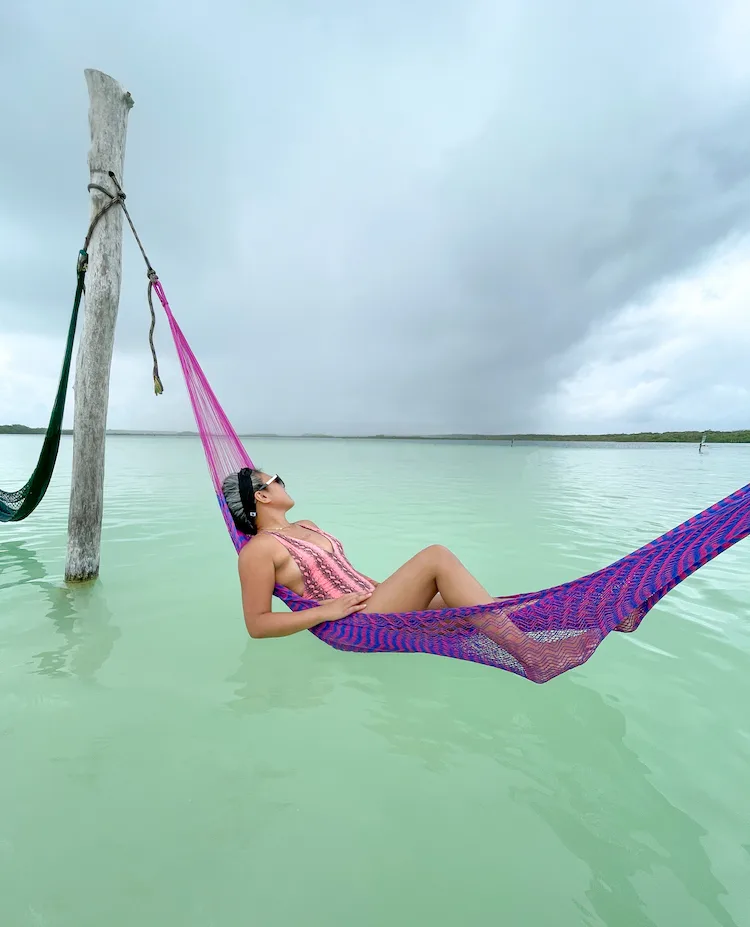 Kaan Luum is a huge and gorgeous turquoise blue lake that is great for the entire family. It also has hammocks and swings that make it a great Instagram photo opportunity.
It is approximately 13 minutes from Tulum town, costs $5 (or 100 pesos per person) and will take 1 to 2 hours of your time to explore.
There is barely any shade and they do not allow guests to wear sunblock. We went on a cloudy day and it was perfect for photos and for our skin.
View this post on Instagram
Visit Laguna or Lake Bacalar
Lake Bacalar is another beautiful destination that is approximately a 2 hour and 15-minute drive from Tulum town.
Located near the Mexico-Belize border, a true paradise awaits travelers in Bacalar. The town sits on the Lagoon of Seven Colors, a lake nicknamed for its beautifully colored water, which makes it the perfect place for stunning sunsets, fresh seafood, and cenote swimming.
Expect to take 2-3 hours to explore Lake Bacalar.
While you can drive there, we highly recommend booking a tour to make the most of your visit.
Take a Day Drip to Sian Ka'an Biosphere
The Sian Ka'an Biosphere reserve is great for viewing the protected plants and animals of Quintana Roo. It's a perfect attraction for families and nature lovers.
We highly recommend booking a day trip to visit Sian Ka'an. The tours last approximately 9 hours.
Take a 1/2 Day Trip to Akumal
Akumal is the Mayan word for "place of the turtles" and is located between Tulum and Playa del Carmen. You can actually snorkel and swim with the wild turtles. Make sure to keep your distance while admiring these beautiful creatures.
We recommend going early in the AM so that you can catch the turtles before their nap time. A 9 AM start is ideal.
Where to Eat in Tulum
Sit Down Dining
BAK by Harry's: Part of a Mexican restaurant chain. We loved this steakhouse, the appetizers and creative cocktails. We highly recommend baked oysters and vegetarian appetizers like the beet and cauliflower dishes.
Casa Malca: Pablo Escobar's old mansion is now a hotel, So, if you're a Narcos fan, you should go here. The property is pretty incredible. I suggest going here for breakfast or lunch with a side of cocktails and take advantage of their unique pools, hammocks + day beds.
Gitano: This st has amazing drinks and the food is satisfactory. We recommend coming on a Friday night to get drinks and enjoy the party because Gitano's is THE place to party on Friday nights.
Hartwood: Best Restaurant on Tulum Beach. Very popular and widely regarded as the best restaurant in the area. Reservations are recommended a month in advance by e-mailing reservations@hartwoodtulum.com. You can also show up around 6 PM and hope for a seat.
Kin Toh: Located in the Azulik hotel. The food is overpriced but the atmosphere is amazing. We recommend getting a few drinks and enjoying the scenery. Also, be sure to check out their net hammocks you can sit in. It makes for a great photo opportunity too.
Mateo's Mexican Grill: Great food, cocktails & live music near the beach. Casual atmosphere.
MEZE
Mezzanine: Yummy Thai-Mexican fusion cuisine. Located close to Mi Amor.
Moro at Habitas
Mur Mur: They have amazing cocktails and food. We really enjoy people watching from their sidewalk table.
Nomade: Nomade offers vegan, gluten-free, vegetarian options set in casual Moroccan-Style seating.
Posada Margherita: Has the best handmade pasta in Tulum and is one of our favorites! A must-visit if you love Italian food.
Cheap Eats
Antojitos La Chiapaneca: This is a MUST if you're new to Tulum. Amazing and unforgettable al pastor and carne asada tacos topped with optional fried cheese. We also LOVED their salbutes, which is a puffy fried taco. SO FREAKING GOOD! Add this as a must-visit to your list.
Bonita: Come here for delicious burgers.
Burrito Amor: Most delicious and health-conscious restaurant in a town. We highly recommend their shrimp burritos and super healthy (low calorie) cocktails. And, best of all, the average price is only about 100 pesos (which equates to $5.25 USD) per dish. Add this as a must-visit to your itinerary. You'll want to eat here more than once.
El Capitan: Best fish tacos in Tulum town.
El Carboncito Taqueria: Best taco al pastor I've ever had. Add this as a must-visit to your list.
La Onda: Best Pizza in Tulum. Delicious wood oven pizza.
Mulata Tulum
Taqueria La Eufemia (CLOSED)- Come here for tacos and margaritas. Enjoy their happy hour from 6pm-8pm where drinks are 2 for the price of 1.
Taqueria La Riviera Costeña: This is the best and authentic spot in Tulum town to have al pastor tacos. I personally LOVE the platillo Costeña, which is an assortment of all their meats with onions and bell peppers. Serve them into the tortillas as tacos and you can feed a family of three! Add this as a must-visit to your list.
Safari Campfire Zama: Located in the hip and upcoming Aldea Zama neighborhood just minutes from Tulum. We came here for their delicious and creative fish tacos, ceviche and refreshing pineapple and chaya (Mayan spinach) juices. You can also buy their delicious house-made habanero hot salsa to take home. They make great souvenirs.
Taqueria Honorio: Amazing pork tacos, quesadillas and tortas. We enjoyed their carne asada (pork) very much! The portions are heaping and the food is cheap. Add this as a must-visit to your list.
Tropi Tacos: Cheap and delicious al pastor tacos. Their tortillas are made super fresh and warm and the sauce tower they give you is a delicious complement to your tacos. Their horchata is also the best in town IMHO. Add this as a must-visit to your list.
The Real Coconut: Enjoy dishes that are grain, gluten, and dairy-free.
Uno Japanese Noodles
View this post on Instagram
Breakfast
Ziggy's: I would only go here for breakfast if you're staying at a Tulum beach hotel. Otherwise, it can be a pain to get to.
Vegan + Healthy
Charlys Vegan Tacos:

Best vegan tacos you'll ever have.

Ki'bok: Amazing coffee and vegan eats.
Matcha Mama: Serves delicious juices, smoothies, and acai bowls. There are three locations in Pueblo, Aldea Zama and Tulum Beach. We loved their Mamacita bowl and matcha coconut latte.
Raw Love: Healthy vegan food, with Instagrammable acai bowls. Visit the one in the Ahau hotel on Tulum Beach.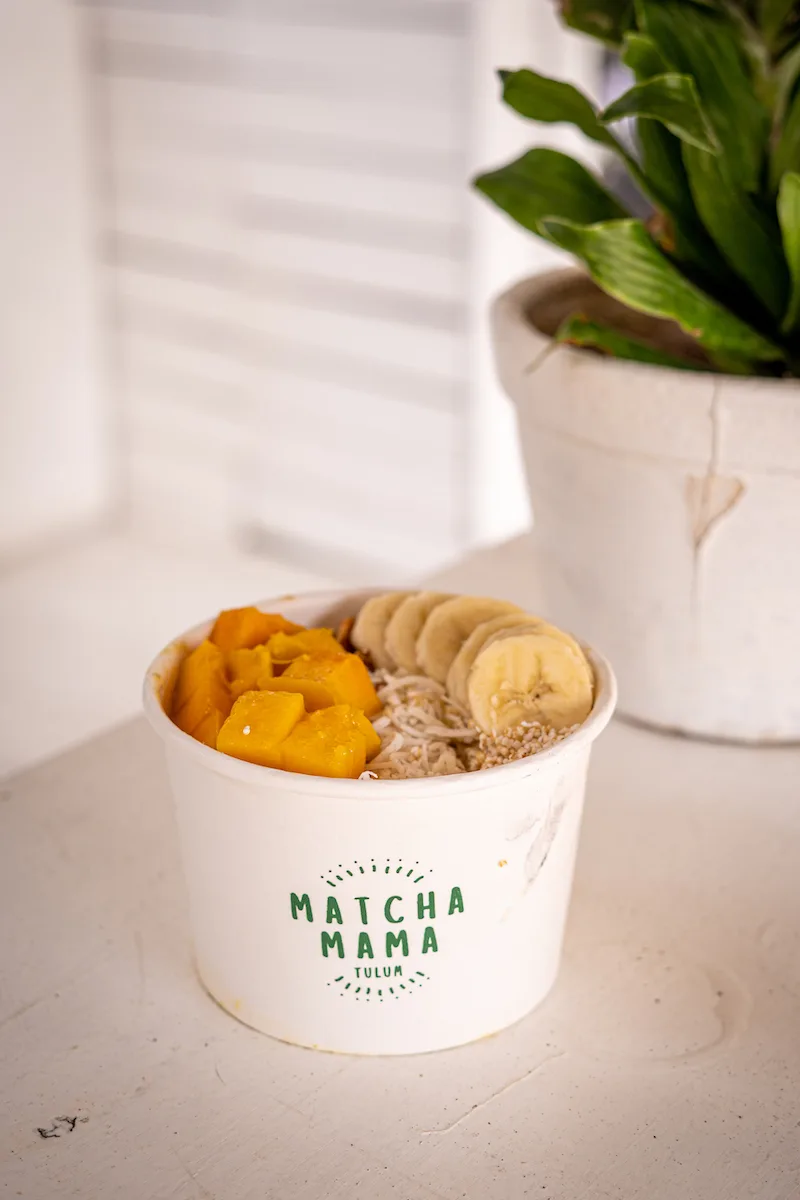 Dessert
I Scream Bar (CLOSED)
La Onda: Good selection of Pizzas in Tulum beach. The dessert pizza with Nutella was not bad either.
Restaurants to Avoid
Don Cafeto: The food is not cheap nor delicious. The food is mostly underseasoned. They are located on the main road and are always packed. It's really deceiving how appealing this place looks compared to how it actually is. I would come here for the live music but nothing else. When I see other bloggers recommend this place, I literally cringe. Avoid it if you can. Just because it looks busy, doesn't mean it's good.
Where to Drink in Tulum
Azulik Rooftop and Beach Bar
Casa Jaguar
Coco Tulum Beach Bar
Clandestino Bar (CLOSED): They have a Cenote in the bar and you can take a dip while sipping on your drink.
Batey
Bejuco
Encanto Cantina
Ki'bok at Night: This place is a cute coffee shop by day and bustling rooftop bar by night.
Kin Toh
Papaya Playa Project
Pasito Tun Tun
Punta Piedra Beach Posada
Tree House
How to Get to Tulum
To get to Tulum, you'll have to fly into the Cancun International Airport (CUN). Most US airlines have direct flights to Cancun. We flew with Alaska Airlines.
From the airport, it will take a 1 hour and 45-minute ride to Tulum. You can rent a car and drive, use the ADO or arrange for a colectivo (shared mini-van). It's best to do it beforehand so that you do not get ripped off by transportation companies at the Cancun airport.
How to Get Around Tulum
If you're staying exclusively in Tulum beach or Tulum town, you should be fine getting around on foot or by bike. Otherwise, you'll need to rely on a car rental or public transportation. Below are your options for transportation.
Bike rentals: Bikes are everywhere in Tulum and pretty easy to rent. Your hotel might even lend you bikes during your stay! Otherwise, I saw a lot of people using Ola Bike Tulum
Hire a taxi (taxis are easy to find all over the hotel zone. If you don't see a taxi in the area, have your hotel call one for you)
Take a colectivo: A colectivo is a shared mini-van ride that'll get you from point A to point B as cheaply as possible.
Take a bus: ADO busses are widely used by locals and those looking for cost savings. Most of the time we traveled by ADO buses which serve the biggest part of the country, and these buses are frequent on Riviera Maya, so we did not have any issue to get from one place to another, for example from Bacalar to Tulum or from Tulum to Playa del Carmen or Cancun. If you plan on traveling during the high season, we recommend you to buy a bus ticket at least one day before the departure date to ensure there will be a seat available.
Where to Stay in Tulum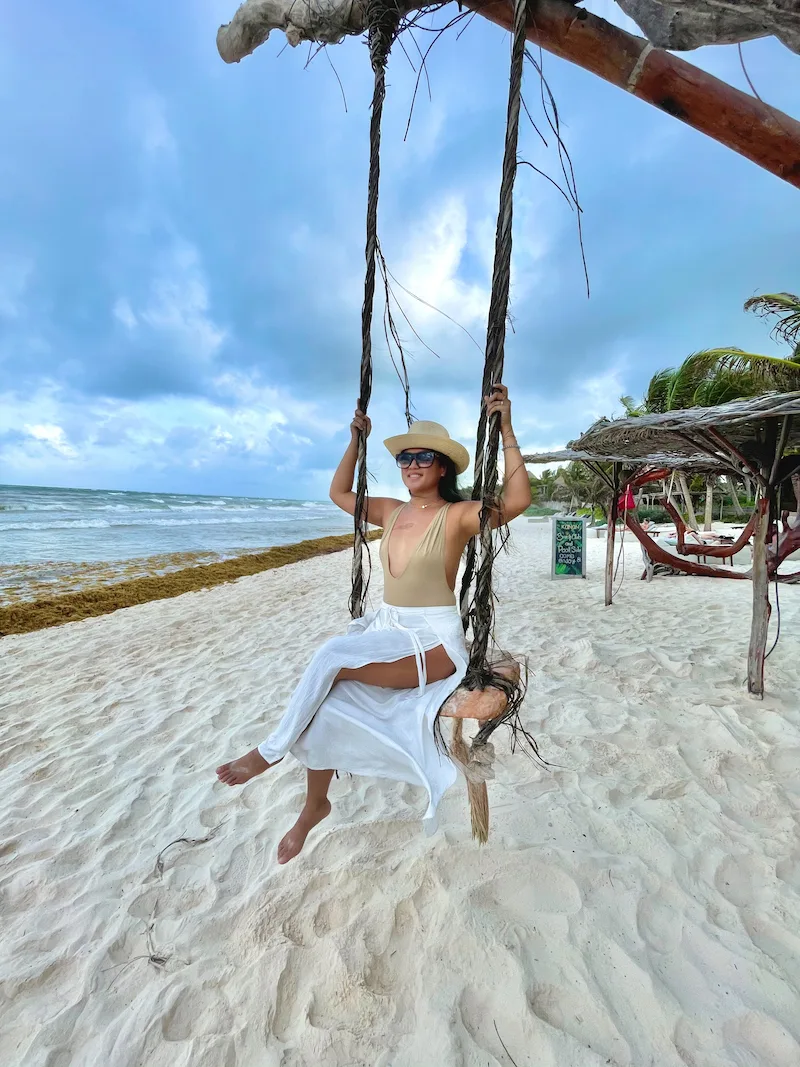 Papaya Playa Project: A bit costly, but if you can swing it, the suites here with private plunge pools are insanely beautiful.
Hotel Tiki Tiki: An affordable hotel with lots of personality! Tiki Tiki is a favorite for visitors and locals. Enjoy their retro pool and bar and free daily continental breakfast.
Alternatively, you can rent a vacation home on VRBO.
We don't recommend Airbnb because they're always a rip-off for both guests and hosts with their high fees.
Tulum Travel Guide Map
Final Thoughts
We hope you found our complete Tulum travel guide helpful! We've been back twice and always find new things to do, see and eat. It's a magical place that we'll continue revisiting for years.
Tag us @schimiggy so that we can follow and share your Instagram posts! Don't forget to check out our Tulum Instagram highlights for some travel inspiration.
If you found our complete Tulum travel guide helpful, please share it on Pinterest. Thanks for your support!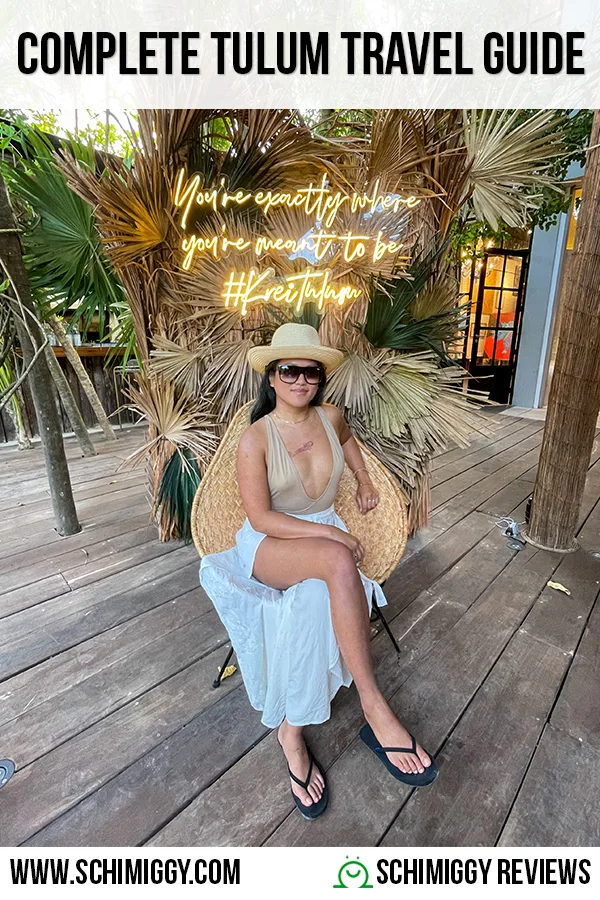 ---
Thank you for visiting today! If you found this encouraging or informative, please connect with us on Instagram, Youtube, Pinterest, Facebook or Twitter. We'd love to meet you!
Sign-up for our monthly newsletter for updates and more. We promise we won't spam you! Feel free to unsubscribe anytime.
For more fitness fashion discounts and offers, please visit our Fitness Instructor Discounts + Brands Directory or favorite brands coupon codes list.
If you're a brand and want to submit a product for us to review, please use this form to get in touch.
This site uses affiliate links. Clicking on or purchasing via an affiliate link may result in commissions for us which help keep the content flowing and lights on at Schimiggy Reviews. You may read more about this in our privacy policy.